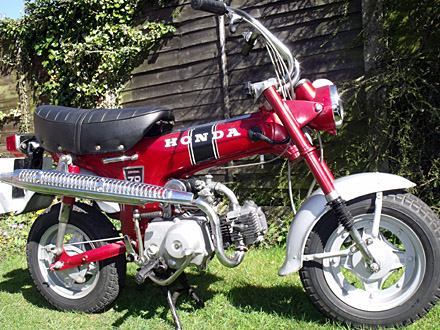 Honda ST70 Dax
Honda's Dax 'monkey bike' series machines are probably most familiar to people in the form of the ST-series or CT-series models, with their distinctive 'T-bone' frames, initially equipped with 50cc & 72cc semi-automatic Cub engines.
These were produced by Honda from 1969–81, before the model was discontinued in Japan. However JH2D licence-built versions continued to be made outside Japan until Honda's patents for the original ST-series expired in 1998, since when further Dax 'replicas' have been made by many Chinese manufacturers such as Jincheng, Lifan, Panda, Redcat, and other brands often sold for export.
When Honda discontinued the Dax they sought to replace it with another more up-to-date monkey bike model, which is where our story really starts…
The trail begins in Japan, way back in 1971, when Honda launched the CB50K1 into its home market. The single-overhead camshaft engine was 42mm bore × 35.6mm stroke, with a compression ratio of 9.5:1 and traditional upright cylinder, rated 6bhp @ 10,500rpm and fitted with a five-speed gearbox. Weighing in at 74kg (less than 11-stone), and built in the style of a sports 50 with a drum front brake, it looked like a proper little motorbike.
The CB50JX-1 followed in 1973, now with a disc front brake, and the engine uprated to 6.3bhp, with factory performance given as 90km/h (56mph) … but it would be some time before export markets would be seeing these machines, and when they did, it would often be to a somewhat different specification.
It was a time when the number of teenagers involved in accidents riding ever faster sports-50cc mopeds was causing social concern. In the UK, the history of the moped was redefined on 1st August 1977, when its official description changed from 'A machine of engine capacity not exceeding 50cc, and equipped with pedals by means of which it is capable of being propelled', to 'A machine of engine capacity not exceeding 50cc, restricted to 30mph, and weighing not over 250kg'.
When the CB50J was launched into most European countries in 1978, the motor power was down-rated to just 2bhp @ 5,500rpm, and top speed given by Honda for the European model as just 40km/h (25mph) … and for some countries it only had a four-speed gearbox!
The power was reduced to suit compliance in most restricted performance European markets, so it allowed younger riders under 17 to be able to ride the bike as a new specification 'Slo-ped'. Regulation had turned a potential sports-50 classic into a total misery to ride.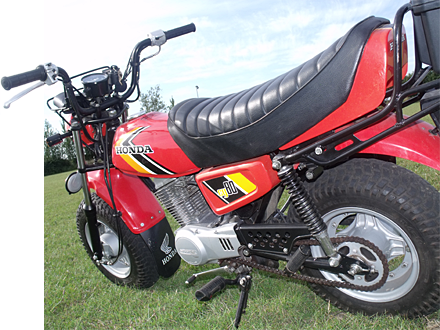 CY80
A spin-off from the CB50 was the CY50 model: a new style of monkey-bike employing the CB50 engine in a tubular steel frame from 1977, and primarily intended for the Japanese home market, Germany, France and Belgium. The CY50 employed the same stifled European engine specification as its cousin to comply with the German market StVZO road traffic licensing order of the time, again limited to a maximum speed of around 40km/h, by fixed position ignition timing, and a restricted carburetter.
The wheels wore much larger width off-road type 'marsh' tyres than its Dax predecessor, which gave more the impression of a small utility motor cycle. The bike could be fitted with front and rear carriers, and had five-position adjustable rear shock absorbers to compensate for loads. A trip meter in the speedometer and a six-litre fuel tank now allowed a practical range of up to 200km, where Dax's tiny 2.5-litre capacity meant you really had to pay attention to your fuel level.
Honda's own advertising curiously coined the name 'Nauty Dax' (Naughty Dax) for the CY50, but its 6V electrics proved a problem when a change in StVZO regulations required the use of daytime running lights: the generator output was never designed to keep up with continuous use lighting, and the indicators failed to function as the battery drained.
In the few European countries where it was sold, the CY50 subsequently achieved a similar popular cult status to its Dax predecessor, but not in the UK because the model was never sold here.
A larger version of the CB50 motor was produced by Honda for the off-road XR75 72cc four-speed 40mph schoolboy scrambler (1973–78), which was re-fitted with a five-speed gearbox in 1977. The XR75 was replaced by the XR80R off-road schoolboy scrambler (1979–2003), with the same single-overhead camshaft engine now increased to 47.5mm bore × 45mm stroke, with a compression ratio of 9.7:1, fitted with a five-speed gearbox, and quoted manufacturer's top speed of 49mph.
Initial production models had silver finish engines, but when second generation versions appeared in 1983, their motors were all painted black.
The XR80 then led to another particularly obscure spin-off, in the form of the CY80: a rare machine in the UK, because, again, they weren't sold here. The main European markets were Germany, France, and Belgium; but even in the countries where it was sold, the model was far less common than the CY50.
Its familiar single-overhead camshaft engine with upright cylinder is much the same as the XR80, with 47.5mm bore × 45mm stroke for 79cc, 9.7:1 compression ratio, and rated 5.5bhp @ 7,500rpm, fitted with a five-speed gearbox, and manufacturer's quoted speed of 75km/h (47mph).
A Honda CB80J was also developed as another intended road bike version, but did not go into series production because of 'classification complications'.
With the same characteristics, the CY80 also failed to meet the requirements of a European market 'light motor cycle' according to the legal regulation of driving licence class 1b from April 1st 1980, for which a maximum 80cc, maximum 80km/h, & maximum 6,000rpm specification was set.
Ooops, it didn't meet the max revs requirement, so the CY80 was therefore classified as a motor cycle when it was first registered, so the driver needed the open licence class 1 for this small capacity two-wheeler. Its appeal was greatly reduced.
---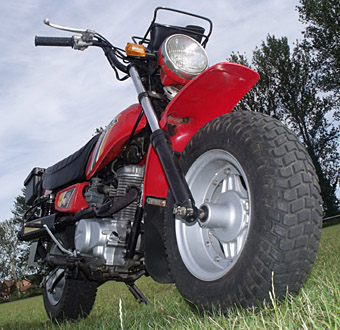 Going from the French language stickers on the fuel tank, our CY80 looks as if it was originally a French or Belgian market machine. The fuel tank is steel, but all the other trim is plastic; both mudguards, side panels, seat tailpiece trim, and headlamp shell. This is a markedly different monkey bike from the pressed-steel, T-bone frame Dax. CY's tubular steel frame looks longer and wider, which, maybe, also makes it look very low, so we measured the saddle height at 27 inches, which actually isn't as low as it looks. The saddle is 2 feet long by 11 inches wide, so there's lots of space for solo riders to spread themselves about and find the optimum comfortable riding position. The seat ends with a 'fastback' trim, which isn't particularly obvious on our example due to the rear carrier and back-box.
The most striking aspect of this bike is the fat tyres, which are 5.40 × 10 Bridgestone 'Rectangle' tyres (probably a special size, and they're going to be expensive), which look like the sort of thing you'd be more expecting to find on a three or four wheeled ATV. It would have looked most unusual and eye-catching to see tyres of this type on a motor cycle in the late '70s & early'80s, and they're appreciably wider than the preceding Dax model's 3.50 × 10.
The wheels have bolt-together half-rims on alloy-spoked hub-centres, so you presumably strip down the wheels to change the tyres.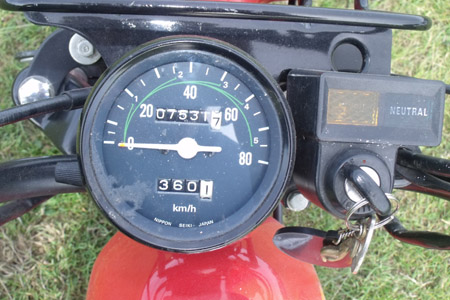 The 80 was basically just a larger capacity engine in the same frame as the 50, but the exhaust systems were different between the 50 and the 80, though both had the same nasty habit of badly rusting out their exhausts from the inside, which is exactly why our machine is wearing a pattern exhaust kit. The 80 also inherited the 50's 6V electrical system, but with no daytime running light requirement in the UK, it doesn't suffer the discharging problem in this country.
Mounted on the left side of the steering headset, the kilometre speedometer is marked with speeds in gears, showing: first 18km/h, second 35km/h, third 50km/h, fourth 60km/h, and fifth to 75km/h, then the dial ends at 80km/h.
To the right of the speedo is an ignition box with a key-switch that only switches from off to on, and simply contains just two warning lamps for neutral and indicators. All other functions are controlled from handlebar switches, with lights off–park–head on the throttle control, then indicators L–off–R, horn, and lo–hi beam on the left-hand bar-set.
What? No electric start?
No, none of these small capacity, upright motor types had electric starts, so it's back to the old-fashioned method: the kick-start…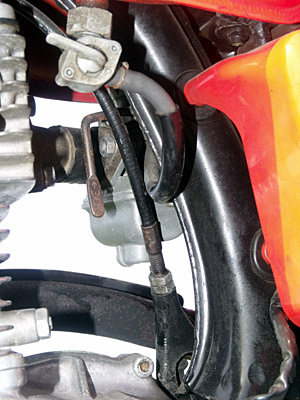 And, if you might be looking for one, the CYs didn't have a centre stand either, just a side stand, which is why they all lean to the left at a jaunty angle.
The fuel tap at the bottom right of the tank is pretty obvious, but where's the choke? There's got to be a choke somewhere, but we can't find any knob to pull or trigger to thumb, there's no obvious lever on the right-hand exposed side of the carb, and there's nothing that looks like an automatic choke mechanism on the carb … hold on? What's that on the on the other side of the carb? Maybe a lever? But you can't reach it at all from the right side. Surely you don't have to access it from the other side? Oh yes you do!
The choke is a lever operated arm, hidden away on the left-hand inside of the bike with access only by reaching right through the cave to move the lever arm up through 90º for choke on, then once you've got the bike going you'll have to do the same to switch it off again. More like Indiana Jones than motor cycling … it's a long way from operator friendly, and hardly what you'd expect from Honda!
A couple of kicks and the motor bursts into life with a noisy growl from the aftermarket muffler. Despite a moderately warm summer's day, CY still wants the choke for a while and premature attempts to open out the choke result in the engine fading out, so you do have to wait for it to be ready in its own good time.
The clutch lever feels light and easy, while the gear pattern is one down/four up on the left foot, and CY capably pulls away, so we do a couple of low speed turns up and down the road to get the feel of its tractability while our pacer kits up.
The 80 motor proves nice and docile on low throttle, and the bike handles well enough in tight turns on tarmac, so the width of the tyres doesn't seem an issue … at this point.
Along the road and going up through the gears, the pattern silencer produces a loud deadened beat on throttle, which would certainly be noisier than the original Honda system before it rusted away, but replacement factory exhausts simply aren't available as replacement parts. That's always the problem with obscure and obsolete models … there's not much choice but to improvise.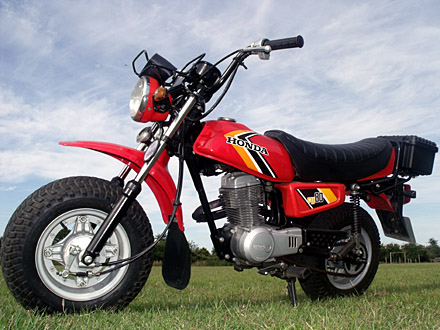 The motor pulls capably enough up a gradient, and it's always an option to drop down a gear or two if required … then you start to notice that exhaust does bark a bit when you throttle-on.
The kilometre speedo doesn't help much to gauge the speed, because it doesn't have any secondary mph scale, and while you're trying to adjust to such an unfamiliar machine, the mental ready-reckoner isn't working fast enough as we drift across the road through a bumpy corner.
The big 'swamp' tyres may look cool, but they don't seem to do much for its handling on tarmac. A few more bumps along the way soon confirm that CY80 does have some unpredictable 'wandering tendencies'. You quickly learn that bumpy corners are not something that you want to be going round fast, as the bike wallows across the road and you soon start to wonder where it's taking you. This really isn't a machine to be ragging round the roads, or you could be looking for trouble. It's far more sensible to ride CY in moderation. While the preceding Dax model monkey bikes often end up fitted with lively 125, XY140, or 160 motors, you probably wouldn't want to be doing the like with a CY, because the handling is too random for further increased power. The 80cc engine is more than enough for the bike as it is.
When you buzz the motor up through the lower gears, the acceleration is much stronger than its CT70 semi-automatic predecessor, then into fifth you have to hold the throttle on to creep up towards the top of the gear. Building up speed on a smooth flat straight, then dipping down into a low tuck, we managed to pin the needle on 80 at the end of the dial, which would convert to 50mph, but our pacer actually clocked it as 54 in real money!
Ordinarily the CY80 is a happier ride up to around 40mph on tarmac, because it's probably more intended for functional operation in the rôle of a utility vehicle.
We tried a little light off-road track riding, for which it felt fine, and that sort of use would generally be done at a more sedate pace anyway.
All the electrics worked fine, though the 6V headlight would probably seem to produce weak illumination at night for many people now more used to 12V electrical systems.
The brakes were good, which is what you'd usually expect for most vehicles with small diameter wheels, and the extra width of the tyres meant there was an effective grip on surfaces.
---
The CB50 series was made up to 1982.
The CY50 was listed from 1977–83.
The CY80 was just produced in quite limited numbers from 1980–82 and only sold in a few markets, so it is an unusual model. The 80cc engine certainly gives the bike a more practical performance than the restricted CY50, and CY80 was the fastest standard monkey bike built by Honda.
For followers of the cult, the CY80 is The Monkey King, and it doesn't need to be customised to make it something very special in the UK.