In the mid-1980s, changing times were steadily catching up with Puch…
The Puch motor cycle company was taken over by Piaggio in mid-1987, who discontinued the entire Austrian Maxi model range in September 1987, to resume manufacture of restyled Maxi models again in Italy, and continuing the moped for another 10 years before winding up the last Italian-built Maxis in 1997.
When Maxi building ended in Austria, Puch also sold the entire manufacturing line of Maxi Plus to Hero Motors in India, where it was built again as Hero Puch from 1988, and sold extremely well for many years, until production ended in 2003.
The Puch brand still continued under the bicycle division of Piaggio, which also included Bianchi Cycles, until Piaggio divested its cycle business to the Swedish Grimaldi Industri Group in 1997.
Other fragments of Steyr–Puch businesses continued to be divested in various forms until the Puch badge had practically ceased to exist in any recognisable form by 2003.
In 2011, Austrian entrepreneur Josef Faber took control of the Puch Cycles brand, and introduced a new line of Puch-badged bicycles produced in France under the Cycleurope Group from 2012.
The original 'Einserwerk' Puch main assembly plant constructed in the Puntigam district to the south of Graz in Austria, where production of engines was started in 1901, followed by cars in 1904, was declared a historical and protected industrial monument. When Graz was awarded a European Capital of Culture status in 2003, a Puch museum was opened in one of the former Einserwerk assembly halls.
As Piaggio made its last Italian Maxis in 1997, it further licensed the Maxi engine design to PS Motor Manet, including the sale of the entire Italian engine production line. This was moved to the Považská Bystrica factory in Slovakia, which had previously produced the Babetta moped.
It just goes to show that you can't keep a good motor down, and this would be fourth time around for the Puch Maxi motor, back yet again.

The story of the Považská Bystrica factory dates back to 1870 when, in order to expand the volume of cartridge production, Georg Roth founded a subsidiary of his Viennese armoury company in Pressburg, and registered the business under the name of G. Roth, Wien und Pressburg. On 1st January 1918, the business became the joint stock company Pressburg G. Roth AG.
After the Great War and the dissolution of the Austro-Hungarian Empire, the Czechoslovak National Council established Czechoslovakia in 1918; the formerly Austrian city of Pressburg became part of Czechoslovakia and was renamed Bratislavská; Georg Roth's plant changed from Pressburg G. Roth AG to Bratislavská J. Roth as. The development of military engineering in the Slovakia and Moravia regions was subsequently influenced by decisions of the Supreme Council of Defence of the State. During the inter-war period, armament manufacturers were required to move their production to strategically protected hinterland in the interests of national security. On 15th March 1928, The Ministry of National Defence pressured Roth to relocate inland by threatening to cancel state orders.
Despite the acceptance of an increase in its ammunition prices, Bratislavská Roth was facing bankruptcy at the prospect of a company relocation at its own expense, but the situation was used by Československá Zbrojovka a spol at Brno (another armament manufacturer formed in 1918, which did not have its own ammunition production), to negotiate purchase of a controlling number of shares in the Roth business, together with a further option for the remaining shares.
Zbrojovka simply translates as 'armoury', and another Czechoslovakian armament manufacturer during this period was Zbrojovka Janeček who began producing grenades and components for machine guns in 1921 as Kohoutek a spol, but František Janeček's company is more familiar to us as JAneček–WAnderer, while Československá Zbrojovka also became a well-known motor cycle manufacturer.
The merger created a new financial situation, allowing the construction of two new plants to begin on 7th July 1929. These were in the Trenčín Region, where there was good infrastructure and a labour surplus in the valley of the Váh river at Považská Bystrica. ČZ Brno bought the remaining Roth shares as both new factories began production in 1931, the smaller being titled the Czechoslovak Munitions and metal works, while the larger started up as a branch of Zbrojovka Brno, Závod 2, Považská Bystrica.
On 1st January 1935, both plants were merged as Československá Zbrojovka - Brno, Závod 2, Považská Bystrica, so like the Jawa and ČZ motor cycle companies, our Manet moped factory also had history as an armament manufacturer.
ČZ was now already manufacturing to capacity at a number of sites and, by agreement with ČZ Strakonice, a further branch of ČZ in Uherský Brod was established in 1936.
On 23rd March 1939, the German Wehrmacht moved in to occupy the ČZ-PB factory and incorporated the armoury into the Hermann Göring Werke Group to supply infantry cartridges for Germany during World War II, and gradually it became the second largest supplier of ammunition for the Wehrmacht.
A separate (first) Slovak Republic existed from 14th March 1939 to 4th April 1945 during World War II as a totalitarian, clero-fascist, single-party client state of Nazi Germany. At the end of the war, Czechoslovakia was re-established as an independent country again, but on 27th October 1945, the entire Brno Armoury (including Závod 2) was declared nationalized.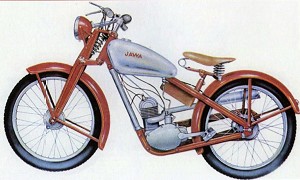 Jawa Robot
On 7th March 1946 a separate company, Považské strojárne np, in Považská Bystrica was established, and all ties to Brno Zbrojovka were disrupted. During this period, the company turned to the manufacture of various unlikely products, including furniture, and was looking for new applications for its machinery in peacetime. Also in 1946 a government contract order came to an end, stopping the production of the Jawa Robot and ČZ 98 lightweight motor cycles in the Prague and ČZ Strakonice factories.
This was seen as an opportunity for the now independent factory in Považská Bystrica. Before the war, designer Josef Ullman at Brno Zbrojovka had been working on a motor cycle model based on the Puch split-single engine. After the war, Ullman moved to Považská Bystrica, where the management of the new company encouraged him to create a design group with Zdeněk Nagy from the ČZ Uxa factory; Sedlák, Lota, Rudolf Žniva, and Vincenc Sklenář from Brno Zbrojovka, who previously worked at Jawa.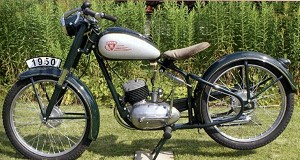 Manet M-90
Starting from Ullman's old Ogar motor cycle frame, the girder fork was updated to a telescopic fork, and the frame and tank were changed. An old Puch split-single motor provided by Nagy was redesigned by Vincenc Sklenář, reducing the engine capacity from the original 98cc down to 88cc, and the gearbox was adapted for die casting. In a short time the team had created a small motor cycle they called Manet M 90, its name being derived from the nearby Manín mountain, which was within sight of the Považská Bystrica factory.
By the beginning of 1947, several prototypes had been created, having a two-stroke, split-single, twin-piston, air-cooled engine producing 3.5bhp and reaching speeds up to 65km/h.
The new Manet motor cycles were first introduced to the public at the 28th International Automobile Exhibition in Prague in October 1947, and went into mass production by the end of 1947. Now Jawa–ČZ motor cycles had a new competitor from another of their former factories, which did not meet with a favourable response from the director of Jawa, JUDr Jaroslav Frei, nor from either of the ČZ motor cycle factories.
Following a coup in 1948, Czechoslovakia became a totalitarian one-party socialist state under a communist administration, during which period the country was part of the Soviet-led Eastern Block; all manufacturing now fell under the control of Czechoslovakian nationalised industry.
A total of 37,630 Manet motor cycles were constructed up to 1951 when assembly was discontinued because of the Korean War favouring a return to ammunition manufacture and the production of vz 52 rifles under arsenal code 'AYM', while other vz 52 rifles were made by ČZ in Uherský Brod under code 'SHE'.
A government directive on 9th May 1953 charged Jawa Prague's chief designer Josef Jozíf and engineer Jan Křivka with the development of utilitarian pedal-assisted motor cycle of less than 100cc, to be a simple and economic transport that would not require a licence, and would be suitable for use by a wide range of general workers.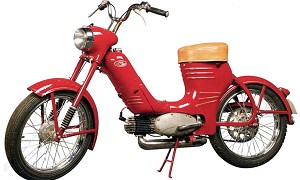 Jawa 550 Pionýr
After the end of the Korean War on 27th July 1953, three workers from Považská Bystrica were involved in the development work and preparation of production documentation and, by 1954, the first prototypes were moved to Považské Strojárne. However, there was an amendment to the regulations before its introduction. This meant that the machines no longer required pedals, but engine capacity, power output and maximum speed were regulated instead. The engineers responded in time to create a revised version that returned the Považská Bystrica factory to motor cycle production in July 1955, but it was no longer a machine of its own design or Manet branding. The new model was the Jawa 550 Pionýr, with a kick-start, air-cooled, two-stroke, single cylinder engine of 49.9cc, three-speed gearbox, and step-though pressed-steel frame. This was soon nicknamed Pařez (stump) because of the shape of the frame's seat section. Manufacture ended in mid-1958 after over 106,000 had been produced.
Several further prototypes were produced in Považská Bystrica, among which was a motor cycle with a four-stroke Manet 350 engine, but this never got into production.
Other prototype motor cycles were being jointly worked on as parallel development at Jawa Prague, and in Považská Bystrica, and although presented as the new 50cc model Jawa 555 at exhibitions and in the professional press, the machine actually went into production in Slovakia, and took over as an updated version of the discontinued Jawa 550 Pionýr. Manufacturing began in July 1958 and, by the end of production in 1962, a total of 327,320 units had been produced, though Považská Bystrica was charged a small licence fee for the privilege of building each machine for Jawa Prague!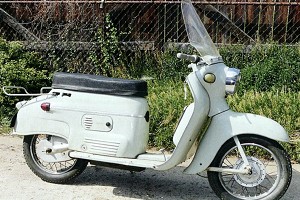 Manet S100
As the Jawa 555 was being prepared for production, simultaneous development of another new design was taking place, which also came into production in 1958—a scooter branded for sale as the Manet S100, in direct competition for the Čezeta 501 scooter, which had only entered production in 1957. The Manet S100 from Považská Bystrica had a two-stroke, fan-cooled single cylinder engine of 98cc and rated at 5bhp. The engine was equipped with an electric dynastart, four-speed transmission and quoted a maximum speed around 75km/h (47mph). It came to be sold in GB as the Jawa Manet.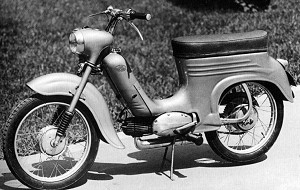 1958 Jawa 555
In 1962, and now in a stable relationship with Jawa, Považská Bystrica began production of another newly updated two-seat model Jawa 05 Pioneer, with a 49.9cc engine, rated at 3bhp, and quoted a maximum speed of 60km/h (37mph).
In 1964 the Manet S100 scooter was replaced by the Manet S125 scooter, with a 123cc motor uprated to 7.5bhp, and joined by a Tatran S125 branded version in 1965, which was imported by IFA for sale in East Germany in 1966.
Považská Bystrica had produced a total 202,263 units of Jawa 05 (standard) and Jawa 05 Sport motor cycles by 1966, when it was replaced by the new 50cc Jawa 20 (1966–80) and Jawa 21 Sport (1966–77) models, and Jawa type-23 Mustang (1968–82).
The Manet/Tatran S125 scooters were coming to an end by 1968, to be replaced in 1970 at Považská Bystrica by its first mass-produced moped, the Jawa M-228 Babetta, which was named after a popular song 'Babetta went to the world'. The lightweight moped was a simple single-speed automatic rated for 40km/h (26mph) but designed for performance variations to suit different export markets, and claimed to have the world's first 'Tranzimo' contactless transistorised ignition system.
By order of PZO Motokov, Považská Bystrica Babetta mopeds had to be branded as Jawa for commercial reasons, and Považské Strojírny paid Jawa 100,000 crowns a year for its licensed use, while the Manet brand seemed to have been mothballed.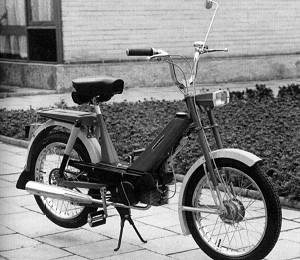 M-207 Babetta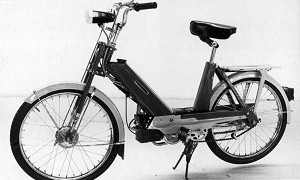 M-228 Babetta
The M-228 Babetta ran up to 1973, when it was replaced by the M-207 Babetta model.
Production of engines for the M-207 took place at a branch plant in Rajec from 1973, while Babetta moped assembly was transferred to the Považské Strojírny plant in Kolárovo in the south of Slovakia from 1976, and later also at another branch plant in Čalovo. Production of M-207 Babetta mopeds in the main plant of Považské Strojírny ceased as it switched over to the manufacture of aircraft engines, though it retained constructional development and control of moped production in the branch plants.
An M-210 two-speed automatic Babetta succeeded the 207 in 1983, but by 1986 the various branch plants became independent, which signalled the end of motor cycle development in Považské Strojírny. ZVL Diamon in Rajec specialized in the production of agricultural equipment, while ZVL Kolárovo with an auxiliary plant in Čalovo continued the production of Babetta mopeds based on the new type M-210.
Although the building of aircraft engines proved lucrative for the Považská Bystrica factory, the company lacked foreign currency sales to Western countries, so it was planned to renew the production of mopeds. However, the documentation and production licence for the Babetta M-210 had remained at Kolárovo, so Považské Strojírny decided to develop its own designs for some completely new and modern moped types. Two frame design proposals from talented artists were submitted for consideration, 'Mambo' by Jindrich Safarik, and the winning 'Korado' by Peter Pocarovsky.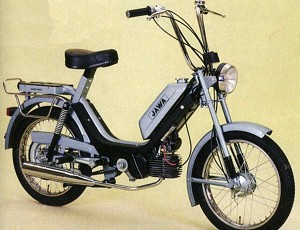 M-210 Babetta
Korado was originally intended to have an engine of the Považská Bystrica factory's own design, but its development was halted when the company entered into discussions with the Italian Piaggio company to license manufacture of the Maxi engine, which Piaggio had secured from Puch just two years earlier.
This all happened at a 'complicated' time—shortly before the 'Velvet Revolution' against the single-party government of the Communist Party of Czechoslovakia brought about a number of political and economic changes in the country.
During the period of communist Czechoslovakia, the PZO Motokov foreign trade company had controlled the distribution of mopeds under the Jawa brand. However, after the revolution, mopeds were still produced at the behest of Motokov, but they no longer compelled the use of Jawa branding, and the M-210 became sold only under the label of Babetta.
The Kolárovo works continued with other variations of the Babetta, such as the M-215 Mofa, based on the basic M-210 model, though the engine had only had single-speed, reduced power, and a maximum design speed of 25km/h. It was primarily intended for Western markets like Germany and the Netherlands, where driving licences were not required for performance-restricted Mofa or Snorfiets machines.
The M-225 Babetta was another variant, created primarily in response to changes in European legislation where kick-starter and footrests replaced the requirement for pedals on a moped.
The Babetta Mini-Stik type-134 was a model prepared in a co-operation between ZVL Kolárovo, and the Latvian manufacturer RMZ (then still part of the USSR), which had mainly produced small motor cycles and mopeds since 1958. RMZ built relatively successful Stella mopeds, but fitted them with an unreliable and outdated engine based on of the historic Czechoslovak Stadion S11 motor from the Jawa 552.
A Babetta Mini-Mokik Stella was created in 1989 by fitting the proven Kolárovo kick-start, two-speed auto engine into the RMZ frame but, shortly after the start of production in 1990, ZVL quickly realised the appalling quality of the Riga-manufactured frames, which had to be laboriously repaired back in Slovakia.
Further trading with communist countries now began to develop fresh complications in the new post-communist era of Czechoslovakia as, in June 1990, the country held its first democratic elections since 1946.
RMZ bought M-225 engines from Kolárovo, though the ZVL Company subsequently preferred to develop and produce its own frames, which after some time resulted in an ending of mutual cooperation.
Despite the initial problems, a folding version of the Mini-Mokik Stella became very popular due to its minimal dimensions and low price, and would be produced until 1999, though Motokov banned the Babetta name from Kolárovo's further use on the Mokik Stella.
The Považské Strojírnám licence with Piaggio for production of the former Austrian Puch engine was still valid, so the Korado project was revived, and in 1992 was presented at the International Engineering Fair in Brno under the Považská Bystrica factory's own Manet brand.
Manet further negotiated rights from Piaggio for the 'Super-Maxi' engine variant, returning this motor type to production for greater power, improved performance, and an extended model range.
On 1st January 1993, Czechoslovakia split into two separate countries: the Czech Republic, and Slovakia.
In 1993, mass production of the Manet 216 Korado began with two basic designs, as a Puch Maxi motor pedal moped, or with the Puch Super Maxi kick-start motor and footrests.
On 10th March 1994, the production of mopeds separated from the rest of Považské Strojírny and a subsidiary, PS Motor Manet, was established.
Manet Korado adverts began appearing in Motor Cycle Trader magazine in April 1996, inviting new dealership applications with the Jawa–CZ importer Motokov UK, so let's have a look at one shall we?
---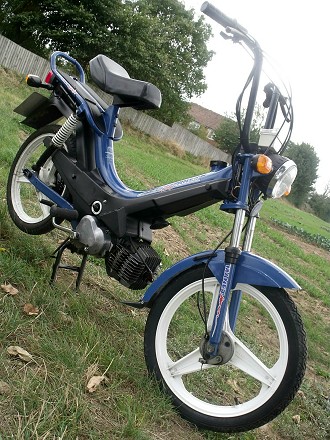 Our blue bike carries production (frame) number 11621 and was R-prefix UK registered in 1997. The frame plate also gives a kerb weight of 57.5kg, and with the kick-start engine & footrests arrangement would have been supplied to comply with UK 'Slo-ped' regulations of 30mph, but we're surprised to note the plate indicates a maximum speed of 25mph, so we're presuming this would have been a version built to meet the European regulations of 40km/h.
The Super Maxi engine fitted with Bing 18/14/108 would have produced a more capable performance than that, but was restricted by an S-shaped exhaust pipe to 'confuse' the gas clearance (Tomos used the same method to limit the performance of some of their models).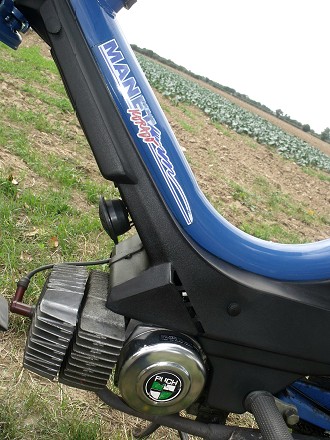 The Super Maxi engine is characterised by the big-fin, air-cooled top-end with larger porting, as originally evolved for sport versions of the MS/VS fan-cooled engines, and used by Puch for the Puch Magnum-X and Turbo Maxi models for greater power–but what's the point if you're then going to restrict the performance?
Our machine, however, has had a 'straight-pipe' conversion to resolve the exhaust issue, and modifications to the intake box and jetting to remove all the restrictions.
The main tube on the step-through frame also doubles up as the fuel tank, and the spine chassis is given a visual shape by the fitment of enormous metre-long, banana-shaped plastic side panels, which run from the headstock to the rear wheel spindle and also act as cable tidies and chain guards.
There's a rear carrier created by a formed steel tube welded to the frame, in-filled with plastic insets, under which clips a hand pump on the right-hand side, and a novel spring-loaded rotary toolbox on the left-hand side, which rotates downward to open. The trouble is you get dirty fingers just touching this, because the drive chain always chucks oil straight onto its underside.
The front forks are telescopic, with conventional swing arm, twin-shock suspension on the rear. Three-spoke cast alloy wheels are shod with 2.25×16 tyres and covered by plastic mudguards.
Sparks come from 12V electronic ignition set, and a 12V AC generator drives the lighting system, which gives good bright lights.
Starting is just like traditional old mopeds with no key switch, turn on the fuel dial through the bottom of the right-hand side panel—if you can work it out? There are two 'O' positions, a black fuel pump symbol, and a white fuel pump symbol? We take it that the O may be off, and the fuel pumps may indicate on and reserve, but who knows which is which? Just try one and, if it doesn't work, then try something else.
There's a choke trigger under the twist grip with a conventional choke symbol on it, so thumb a bit of that, and give it a kick … maybe a bit of throttle too … and yes, the engine starts. Run a little till you can get the choke to clear, then blip the throttle a couple of times to blow out the moths.
The exhaust tone sounds smooth, quiet and civilised then, as you nudge it off the stand, you might notice it seems a long descent? The front wheel or rear wheel can float 4 inches off the ground while the bike is on the stand, which reminds us of the Puch Free Spirit, which was really annoying hovering 3 inches above the floor, but had the stand at the balance point so it bobbed up and down at the ends, or spun easily on the stand, which was particularly silly. Korado isn't quite as bad, because it's off-balance with the back a bit heavier, so the back wheel sits on the ground with the front wheel raised, but it's still primed to go over if a pedestrian blunders into it while parked.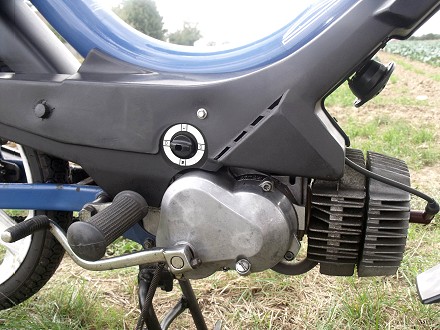 Our pacer gives the thumbs up, and we're ready to go, so no mercy for the bombproof Maxi engine, crack open the throttle wide from cold and blast down the road-leaving our pacer caught napping! Acceleration is most impressive for a single-speed automatic; Korado goes really well, and we find our pacer only closing to catch up as we stop at the second junction.
The ride is a bit like sitting in a comfy armchair, sort of soft and bouncy on the suspension, while you seem to sink into the squishy saddle as it settles in the middle like a firm marshmallow. Brakes are good enough for the performance, so you can ride Korado hard with reasonable confidence.
Left and right indicators are rather unusual, because the back is off while the front flashes on, then they reverse, which is a smart way of making best use of the constant AC generator with only one bulb working at a time. We can't think we've ever noticed that trick before.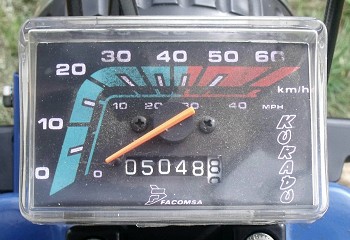 The speedometer is marked starting from zero at 8 o'clock, up to 45km/h (27mph) in a green band, then continuing on to 62km/h (40mph) in a red band at about 2 o'clock. After the end of the dial is printed KORADO in vertical letters down the right side of the dial, and flat out in a crouch on a light downhill with a strong tailwind, the needle was indicating around the end of the first O, just a little after 3 o'clock!
So what speed is that? Consulting with our pacer clocked at 42mph, so that's pretty good going in our book!
Since the speedometer isn't indicating particularly meaningful readings a further check with our pacer confirms comfortable cruising up to 32mph, and Korado also proves very capable against hills, dispatching inclines with little concern.
It's a capable moped, smart looking, with comfortable high-rise handlebars, which naturally give an upright riding posture. All switches are to hand without moving off the grips: horn, lights, indicators, cut-out and choke all neatly positioned, with brake lights working from both lever operations.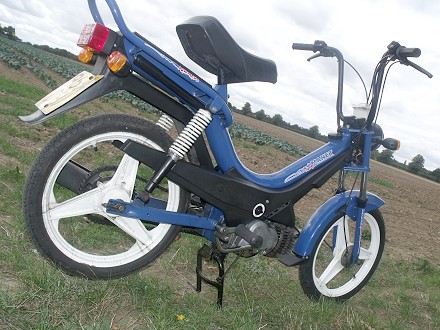 It's a really neat bike, and retailed for a competitive £700 new, with 12 months warranty—so where is it today? Gone!
The Korado moped immediately became a sales hit in its European home markets, and was also successful for export. In the Czech Republic it became the best-selling motor cycle of 1997 and also motor cycle of the year in the 50cc category. On 27th December 1997, Manet received the Slovak Gold Product award and by 2005, a total of 16,836 Korado units had been imported by the neighbouring Czech Republic alone.
Považské Strojírny produced the Manet Korado in a total of eighteen different variations, which could be equipped with various accessories, so what went wrong?
It seems that, due the unfortunate course taken in privatising the company, changing its owners and its management, Považské Strojírny as such, ceased to exist in its previous form, and PS Motor Manet subsequently found itself becoming burdened with mandatory payments to the new owners of the industrial site and the former engineering plants.
In 2005 there was a short cooperation with the Italian Tartarini company, for which Manet assembled electric scooters and off-road quad-bikes. In December 2005, production at PS Motor Manet ended and on 28th February 2006 the company was dissolved.
Between 55 & 60 thousand Manet Korado mopeds were finally built, and thousands more engines and a large number of spare parts made for the Italian Piaggio Company.
It is estimated that some 2.6 million motor cycles were assembled at Považská Bystrica over 58 years of production before, in 2008, the factory resumed the manufacture of light agricultural equipment as VVED.