In 1911, widowed Teresa Benelli invested all the family capital into a garage business, with the prospect of providing work for her six sons, Giuseppe, Giovanni, Francesco, Filippo, Domenico and Antonio ('Tonino').
The Benelli Garage & Workshop at Pesaro started in the business of repairs to cars and motor cycles, but turned over to making firearms, aircraft components & other military parts during Italy's conflict with the Austro–Hungarian Empire during World War One.
At the end of hostilities, and looking toward the developing demand for cheap transport, the Benelli brothers produced their first engine in 1920, a 75cc two-stroke for attachment to a bicycle frame. Mounting was ahead of the steering head, with chain drive down to the front wheel. The motor however, seemed to produce too much power and, with road conditions of the time, tended to demolish any unfortunate cycle upon which it was fitted.
The company went on to building its first complete motor cycle, a 98cc two-stroke, in 1921. A further 150cc two-stroke was added in 1923, and Benelli entered racing history with fifth place in its first event, the 175 category at no less than the Italian Grand Prix at Monza!
Tonino displayed extraordinary racing talent, and riding Benelli 175cc ohc models, won four Italian Championship titles in five years, 1927, '28, '30, & '31. However, a heavy race crash in 1932 cut short this brilliant career that contributed so much to promote Benelli motor cycles about this time.
Engine capacities grew over the following years, as did the factory and the numbers of machines it produced until, by the 1930s, Benelli had become one of the 'Big-5' Italian marques with Bianchi, Garelli, Gilera and Moto-Guzzi.
Tonino died in 1937, following an unfortunate road accident.
Benelli debuted an awesome new supercharged four-cylinder 250cc racer, intending it to be campaigned in the 1940 season but under the looming spectre of World War Two, this was not to be, and the Benelli 4 became limited to competition in just a handful of Italian domestic races.
Allied bombing of Pesaro resulted in extensive damage to the factory, then all the machinery the brothers managed to salvage was promptly commandeered and transported away by German forces to support the war effort back in the Fatherland!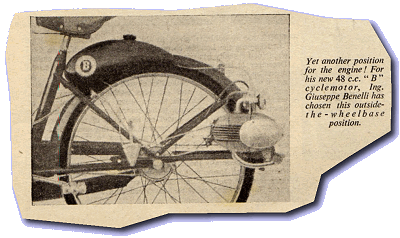 Press cutting of a Moto B cyclemotor
This prevented Benelli from resuming manufacture until 1949, when the reintroduced models would still be largely based on 10-year-old designs of the pre-war period. Returning to production with obsolete machines was seemingly a decision reached from quite some disagreement. Following much argument about taking this opportunity to introduce completely new designs, a row with his brothers resulted in Giuseppe walking out of the Benelli factory in a dramatic split from the family business, and across the street to set up his own rival concern.
Appearing at the Milan Spring Fair in April 1950, these initial motor cycles were simply identified by a large letter 'B' on the fuel tank, but the vague Moto B identity was quickly and naturally evolved into the brand more famously known today as 'Motobi'.
The first engines were 98cc two-strokes with horizontal cylinders, and characterised by a striking egg-shaped design, that was to strongly identify the Motobi Pesaro trademark. Further two-stroke singles and twins up to 250cc followed and, in 1956, Motobi introduced a new range of models based on 125cc and 175cc horizontal four-stroke singles that still followed the same classic egg-shaped engine style.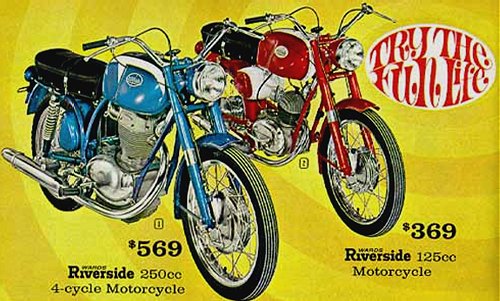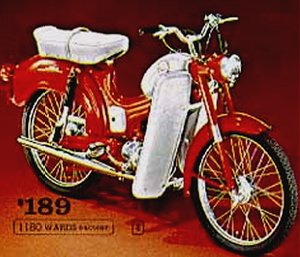 Aged 78, and eldest of the brothers, Guiseppe Benelli passed away in 1957, leaving sons Luigi and Marco to inherit the factory, and their 250cc four-stroke engine designs becoming the final development.
Motobi merged back into the Benelli business in 1962, at which time the combined production accounted some 300 bikes a day. Initially, established products continued the Motobi identity, but the progressive addition of badged Benelli models would gradually begin to erode the marque's individuality.
In the early 1960s, Benelli models up to 250cc were marketed in the States through the American department store chain Montgomery Ward, under the registered brand of Riverside, including a '2 bhp automatic Mo-Ped'. The most striking feature of this Mo-Ped was its frame construction, comprising two welded halves of a one-piece pressing, running from headstock to the very tip of the back mudguard. While this undoubtedly simplified the number of components and assembly of the chassis set, few manufacturers adopted this method, probably due to the enormous investment required in producing press tooling of this size. The stylish Finland-built Solifer Export moped modelled by artist Richard Lindh was another such rare example, however the Benelli rather failed to capture the same elegant lines.
While established products continued, new Benelli models with a Motobi badge were added to the range to increase the brand, and Benelli's distribution network extended sales into wider markets, which is where our featured machine enters the story.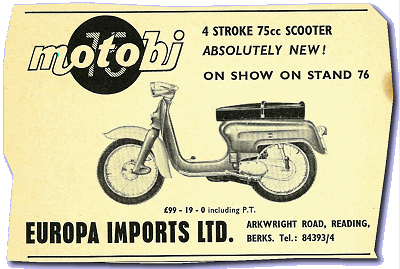 1962 advert for the 75cc scooter
Motobi branded lightweights came to the UK via Europa Imports Ltd in Arkwright Road, Reading, Berkshire, starting in November 1962 with the B75 'Picnic' Scooter, up to October 1963, then replaced by a range of other models from July 1964. 'Two mo-peds, a 48cc sports motor cycle, and three scooters ranging from 50 to 125cc' are stated in the press release, which continues with further confusing references to: a 48cc automatic scooter at 79 guineas, an automatic moped, 2 or 3-speed moped £74-1s-11d, and 48 sports motor cycle with 4-speed foot change.
That might seem more like three mopeds to us, at only one given price, so perhaps Europa Imports weren't too sure themselves what they might actually be getting! The moped motors were given as 40mm bore × 39mm stroke (making the actual capacity 49cc depite the '48' branding) at 6:1 compression, for 2.5bnp output @ 6,500rpm.
According to Glass's rather vague Index listing for 1964, what Europa Imports (now in Reading Road, Pangbourne) actually entered was an 'Automatic' (presumably moped), a '48 Moped' (which we take to be the three-speed moped), '48 Sport' (four-speed motor cycle), and a '98 Scooter'. Neither did Glass's 1965 entry really make the situation any clearer, with the addition of the 'Texan', seemingly a restyled version of the 48 Sport (which still remained listed), and 'Fabulous 48 Scooter' (which appeared to be an ambitious new title for the 48 Automatic scooter that was now making its belated appearance).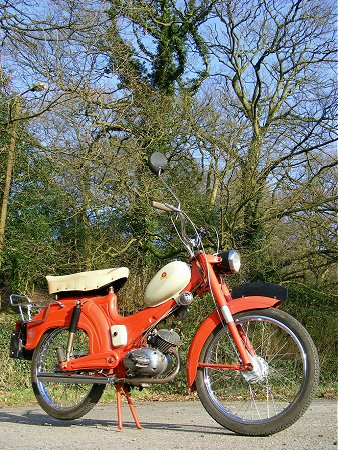 Dated 1965, our featured machine with frame serial B☆813305 started life as a Motobi branded 48 Automatic moped, but subsequently experienced uprating by an engine change to a 3-speed Benelli, with the original Motobi crankcase covers refitted to maintain the badging match. This would still have been a correct period model, since the same Motobi 48 Moped was also imported with the three-speed manual motor.
Symptomatic of a low compression engine with large porting arrangements, the motor seems somewhat lacking in torque at lower revs, so needs to be buzzed up on the throttle, even to pull away in first.
The Ali-Saker hand gear-change proves a considerable handicap to acceleration as the shifter fails to positively locate the lower gears, which demands a lot of trying to 'feel' the twistgrip into engagement position. Even when first or second can be found, this still requires the grip held in location as best as possible, just to keep the gear from 'falling out' again.
The revs require thrashing up in first to allow 'finding' time for the next ratio, before the speed falls away again, all the while attracting disapproving attention from pedestrians, who only appear impressed that you're some sort of delinquent!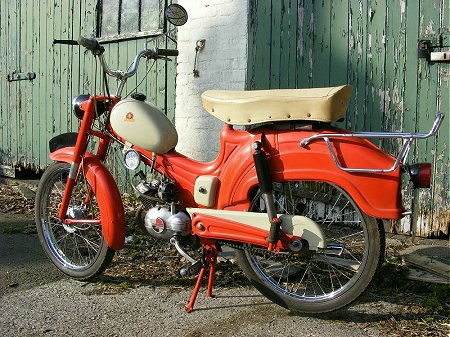 Only third selects and holds correctly, so the readily adopted technique is to rapidly work up to cruising in top, then staying in this gear as much as possible, even to the prospect of labouring the engine.
It's hard to imagine that gear selection was normally expected to be like this; there's probably a fault with the mechanism somewhere, but that's how this bike came, and how the rider has to work round these things.
With the peaky power band characteristics of the motor and the limitations of the gear selection, riding this Motobi becomes something that is done in very classic Latin style—so with a great thrashing of revs and gnashing of gears we get underway…
Motor response is noticeably edgy and, once the revs drop below the power band, the motor falls flat and barely seems to pull at all, just feeling as if it's overgeared, whatever ratio you're in. Generally it's necessary to cog down to get the speed back up again for the next gear as the motor appears to be unable to labour up from low revs.
The whole riding experience seems all revving, thrashing, and crashing of gears.
Uphill climbs are just the same, requiring lots of revs in low gear before you might have any chance of changing up.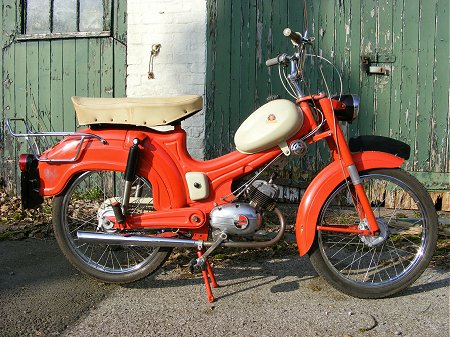 Once you've finally got up to pace, Motobi does pull well, cruising easily on the flat to indicate around 35 on its A.Rolle Milano speedo. The tall top gear allows a fairly high top speed when you have favourable conditions to get it up there, our downhill maximum reading 48.
The back pedal brake proved very efficient at stopping, which was just as well, since the front brake proved particularly ineffective.
No fireworks either when we tried the light switch, just dull yellow filaments that would certainly deter riding in the dark.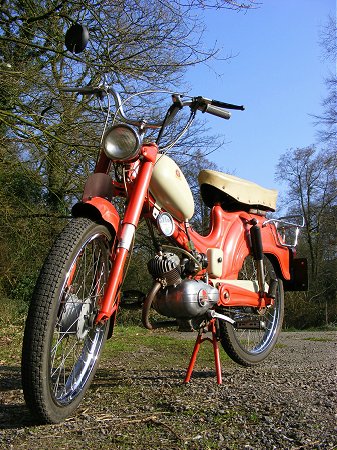 A novel cutaway relief at the tail of the front number plate seems to be of functional intention, so the plate doesn't catch the headlight rim on full compression of the forks.
Balance-wise, the bike rode confidently and kept a straight line with hands off. The undamped rear suspension became somewhat bouncy over the bumpy stuff, but effectively absorbed any jolts before they bothered the rider.
Glass's Index shows a 'Mini 16' (whatever that may be?), added to Europa Imports listings for 1966, with the same 'under 100' line-up then remaining until UK imports stopped in September 1968, after its Motobi-branded models failed to achieve any competitive levels of sales.
The infrequency of surviving examples in Britain only goes to underline the lack of impression the range made upon its commuting public.
So might our moped really be classified as a genuine thoroughbred Motobi, or just a badge engineered Benelli?
Well, the purists always say, 'If the engine's Not an Egg, then it really doesn't count!'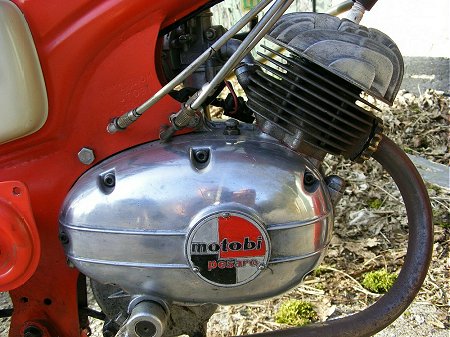 Established as an offshoot of the Benelli motor cycle factory in 1967, Benelli Armi SpA was founded as a firearm manufacturer, producing shotguns, rifles, and pistols, at Urbino (southwest of Pesaro).
In 1973 the Argentinean industrialist Alejandro de Tomaso, acquired Benelli together with its competitor Moto-Guzzi. This led to the development of fantastical new multi-cylinder engined models to briefly leapfrog the Japanese competition, such as the 250, 350 & 500 Quattros, topped by the incredible Sei with a monstrous 750 capacity six-cylinder engine, and later expanded to 900cc! Although technically advanced, the complicated and expensive Benelli motor cycles of this time seemed haunted by technical and quality problems.
The Motobi badge continued into the 1970s, by which time its identity was pretty much lost, since most machines had become little more than re-branded Benelli models.
Benelli motor cycle production finally stopped in 1988 when the company was merged with Moto-Guzzi to create Guzzi Benelli Moto SpA, and the manufacturing plants in Pesaro were sold into general engineering applications.
The brand drifted through the 1990s under other ownerships of Selci and Merloni until April 2005, when the Benelli name was acquired by the Chinese Qianjiang Motor Group.
Now calling itself Benelli QJ, low volume manufacture of motor cycles resumed, producing some 20 to 25 machines a day of custom-built Benelli sports models in Pesaro and located upon the same site that the original proprietors based their facilities!
Motobi motor cycles still continue in a very small way, made by former Motobi works racer Primo Zanzani and sons Athos & Mirko, who build Motobi Zanzani model 250/6 Tiranti classic race replicas in very limited production for specialist customers, priced at 11,800 Euros.
Zanzani Primo & C SNC primarily produces multi-spindle boring units for woodworking machinery, but also manufactures Motobi spares.