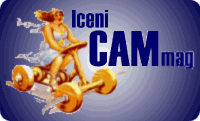 ---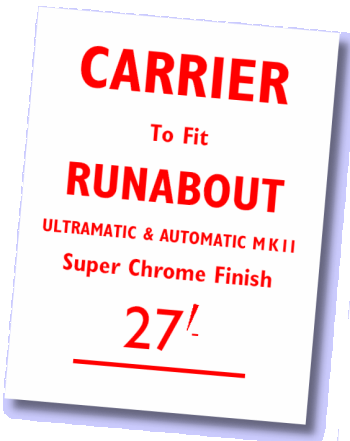 Back in January 2008, we produced the Raleigh RM9 Runabout feature What's in a Number and, incidentally, observed the availability of different patterns of carrier rack that could be mounted on the rear fuel tank.
Following a lead from Robin Cowling at Suffolk Wheels, IceniCAM tracked down and interviewed former Raleigh sales manager David Denny, who joined the company in 1950. The Denny Tapes offer revelations on several company subjects over the period, and we hope to be progressively releasing snippets of this material over occasional articles in the forward programme.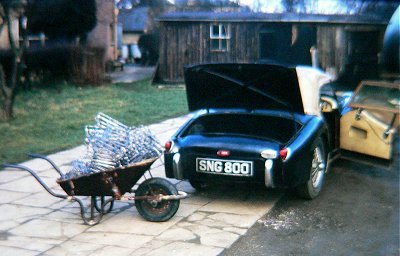 Loading carriers into David Denny's Triumph TR2
from the 'internal factory transporter'
We join this particular episode at the Winter Gardens Show in Blackpool, as it was officially opened by pop singer Craig Douglas at 11am on 15th May 1963: the venue for the launch of the new Raleigh RM6 Runabout moped.
The Runabout theme was further expanded with the presentation of the RM8 Automatic in December '63, for introduction from March '64, and the announcement of the RM9 Ultramatic model in April 1964.
Keenly following feedback on these new models, the sales team were shortly reporting complaints and claims from customers about leaking of fuel from the cap seal, and petrol contamination of items strapped to the tank platform. Also unhappy with the awkwardness of handling a Runabout on-and-off the stand by the bare tank, Mr Denny suggested a carrier rack would give the customer something to manage the bike by, and resolve the fuel issues by raising carried items above the tank platform … but Raleigh expressed no interest.
Following up the idea for himself, David drew up a sketch for the tank top mounting rack, the design permitting unobstructed access to the fuel cap, and allowance for supporting side mounting pannier bags.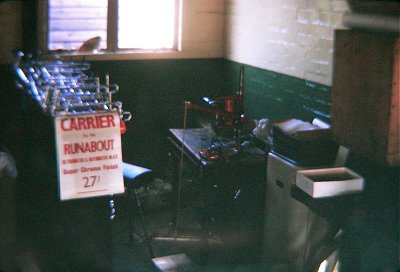 Carriers and poster in the 'factory'.
Living in Dedham at this time as acting rep for the Anglia region, he had established familiarity with Ron Parkinson who produced alloy competition cylinders and head kits for Villiers engine conversions. Ron introduced Cecil Claridge, who turned up the threaded mounting feet from his small workshop at Marks Tey. Wirework and welded assemblies were fabricated by Renzland Forge at Copford, Colchester, then chromed at a quality plating company in Southend who also finished radiator grills for Rolls Royce.
A small press tool stamped out the rectangular clamping plates, which were barrelled free of burrs in a converted washing machine drum. Mr Denny personally pre-checked every rack assembly to a sample tank, then fitted bolts, spring washers, and rectangular mounting plates to confirm that all parts were included prior to packing—this ensured there was never a reject.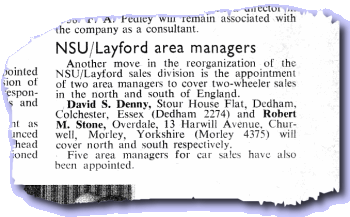 David Denny moves to NSU/Layford
To assist with in-shop advertising, a batch of simple posters were run off by a jobbing printer in Colchester, promoting the rack at retail price of 27/-, and initial sales started by David himself, both selling and delivering direct to local agents.
Just a matter of weeks before leaving Raleigh in March 1965, distribution of the rack was expanded through several ex-Raleigh contacts working as freelance reps, travelling the country selling various accessories on an agency basis for a number of firms.
Motor Cycle and Cycle Trader magazine of 2nd April 1965 included a brief announcement noting David Denny taking up a sales position with NSU/Layford based at Hammersmith.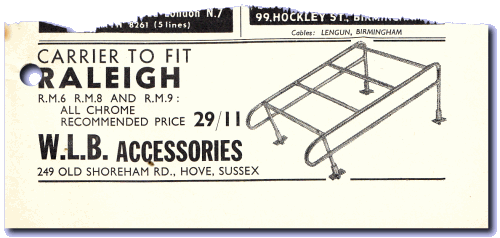 Advert from the Trader
A ¼ page advert appeared in Motor Cycle and Cycle Trader magazine edition 1st October 1965, now listing the rack at a recommended retail price of 29s 11d, increased to cover agents commission and delivery costs. The contact details appear as WLB Accessories, 249 Old Shoreham Road, Hove, Sussex, and the directory at the back of the magazine repeats the advertiser as WLB Accessories. This was actually a former Raleigh associate, William Leslie Billinge, now retired, who forwarded all orders back to David Denny, since it was felt best to keep a discreet connection with the rack considering his former employment at Raleigh, and new position with NSU.
Just the single advert subsequently secured accounts from enough trade outlets to ensure widespread distribution, so it was never felt necessary to repeat this in any further publications.
Following his lead, David related that up to six other copied versions of his Runabout rack quickly appeared on the market in competition, with Raleigh finally conceding the matter by illustrating their own 'official' accessory at 15s 6d in sales leaflets printed as preparation for the 1966 season. This 'factory' tank rack was manufactured for Raleigh by Wistonia Ltd, Saltcotes Road, Lytham St Annes, Lancashire, and was formed from chromed 3/16" wire.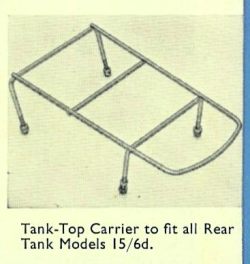 Raleigh's 'factory' tank rack
You very much notice the uncomfortable handling of the thinner 3/16" diameter when naturally lifting by the rack during stand action, and it certainly doesn't feel so 'correct' as the ¼" bar of the 'Denny' rack. The rear loop on the 'official' Raleigh carrier obstructs access to the fuel cap, particularly with items tied to the rack and, due to its simpler form, doesn't really take panniers so well either. We know which we prefer!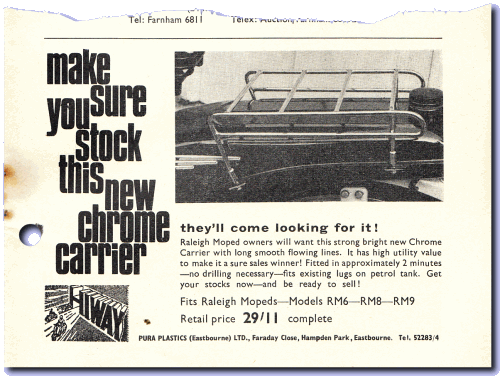 Pura Plastics advert from the Trader
With Pura Plastics of Eastbourne producing accompanying pannier sets compatible with the carrier, marketing of the rack was later given over to this company, who continued selling the carrier among a range of their accessories listed through Halfords.
---
Next—The second support feature rolls onto another diverse subject in pursuit of the eccentric.
Dr Gloom wears a stern expression, 'You've been in a rather nasty accident and it might be quite some time before you may expect to walk again. In the meantime you'll be limited to a wheelchair for getting about, and there'll be no more riding any more of those mopeds that got you into this situation in the first place'.
Well, I don't think so… Have we got news for you?
---
[Text © 2009 M Daniels. Photos © 2009 D Denny. Advert & poster © 1965 D Denny.]
---
Like Round in Circles, the Rackabout story was also first drafted in Cyprus and certainly seemed to continue the oddball theme of the second support feature. Back in January 2008, we produced the Raleigh RM9 Runabout feature What's in a Number, and incidentally observed a reference to the availability of different patterns of fuel tank mounted rear racks. The trail to former sales manger at Raleigh, David Denny, led us to the maker of the rack OK, but to present a properly finished article would also require a certain amount of suitable supporting material to carry it off, crucially copies of the printed poster, and the rack advert that he said appeared in just one edition of Motor Cycle and Cycle Trader. Unfortunately we neither knew which edition this was in, nor had any copies of the magazine!
As time burnt away the days to IceniCAM 11, and nobody coming up with anything, there was no option but to go actively hunting for the missing material. After loads of enquiries, we finally traced a MC&CT collection in the British Newspaper Library at Colindale. With the editorial deadline looming large in the headlights, it was up to the north coast of Norfolk on 26th August for the article review with David, to secure a formal copyright authorisation, and collect some old slides he'd found, then on to North Walsham Motorcycle Museum on a fruitless hunt after the equally elusive rack poster.
The following day involved the trek down to Colindale, completing all the paperwork to secure a reader's pass, then finally settling down to the prospect of going through every page of every copy of the fortnightly issued Trader magazine from January 1963 to December 1965—yes, that really was 78 magazines! Any sense of achievement at finally finding the advert in the October 1st 1965 edition was probably slightly lost after 71 copies and some five hours. Armed with a letter of permission from David to release an official copy of his rack advert, we completed further copy forms with their associated fees to get a potocopy of the advert.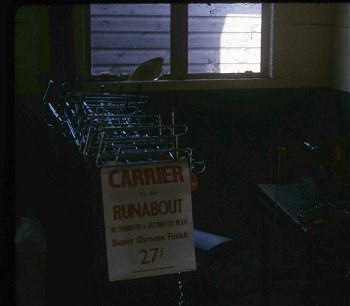 The poster is visible on an under-exposed slide
Meanwhile, back at the ranch, the slide scanner had revealed that one picture included a rack poster in the background, so with a bit of digital magnification, this lost item was miraculously recovered and reproduced by the wizardry of modern computer technology.
With the text reworked to include all the latest details, the Rackabout article just scraped into the September 1st editorial deadline with barely a day to spare. Phew!
As a footnote, first week editions of the magazine could only identify WLB Accessories as William L B???? and it wasn't until David Denny got to read the published article, that this jogged his memory enough to post-datedly come up with the name of William Leslie Billinge on 16th September. Since IceniCAM's unique format cleverly allows for retro text adjustment without the need for formally publishing corrections, the article has subsequently been completed.
The amount of work that went into the Rackabout item might appear completely disproportionate to its content, but there was simply no other way to achieve the result. These research and publication projects certainly only get harder as the years tick by. IceniCAM believes it's important to try to record these things before they're lost forever, and when you look at the sponsorship support our productions receive these days, it seems quite a number of other people also believe in that very same principle!
It's been suggested that the Second support article might have taken more work than the main feature? Well, it certainly seemed like a lot of effort at the time, but the SIM production was also a very considerable project, so maybe we'd say they might have been a close call. It was also said the Rackabout could be the first time that the 'making-of' write-up saga might be bigger than the actual article… Hmmm!
Expenses involved fuel £51 + British Library £1.10, so it seems the second support feature actually cost more to produce than the main feature! Thanks to Keith Robinson, IceniCAM reader from Hartlepool, for picking up sponsorship credit on the Raleigh Rackabout.
---