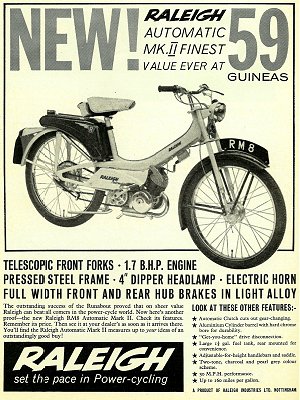 In a tale of two beginnings, our first chapter starts in February 1964 as Raleigh drops its old RM4 moped model from listings when the last few remaining stocks have just been shipped out from the warehouse.
Its successor had disrespectfully been announced in December 1963, before the old bike's cylinder even grew cold.
Introduced as the 'new – RM8 Automatic Mark-2', even the name clearly indicated it was a direct replacement for the RM4 since thats official full title had been 'RM4 Automatic' (if you might have been wondering what the 'Mark-2' was all about).
Finished in Raleigh's 'same corporate colours of the moment': Charcoal and Pearl Grey, RM8 was introduced at 59 guineas (£61–19s–6d).
Raleigh was pulling out all the stops in trying to promote its new RM8 model and to differentiate it from the much cheaper RM6 Runabout (44½ guineas/£46–14s–6d), even pointedly emphasising the RM8 was fitted with a more powerful 1.7bhp engine, while the 'basic' RM6 only had a 1.4bhp motor … though the up-rated 1.7bhp Motobécane engine had actually been advised to dealers in Raleigh Service Memoranda No.7 dated 1st April 1963 and previously fitted into RM4s from frame number R18102, the base RM6 would continue 'burning off' stocks of the earlier 1.4bhp motor until November 1965 when the motor up-rated from engine number R128131.
The main features of the RM8 included telescopic front forks with a hub brake, and a larger 4-inch Lucas 'dipping' headlamp. The RM8 was also introduced with a redesigned silencer made by Burgess that was simultaneously fitted onto the RM6 Runabouts around this time from frame number 6R22579. There were a number of other associated detail differences, like a different front mudguard to suit the telescopic fork. The RM8 also boasted an electric horn.
Around the middle of 1965, RM8s from frame 8R8574 were fitted with a new headlamp of Wipac manufacture complete with Wipac switching and distinctive one-piece glass rim. The bike now became offered in a choice of two colour schemes, the original Pearl Grey and Charcoal, or Pearl Grey and Royal Blue, but from November, the Charcoal/Pearl Grey option was discontinued. Around this time, the RM8 and all current models were fitted only with Wipac 156 series tail lamps from the following frame numbers: 5R10725, 6R46631, 8R11013 and 9R6117.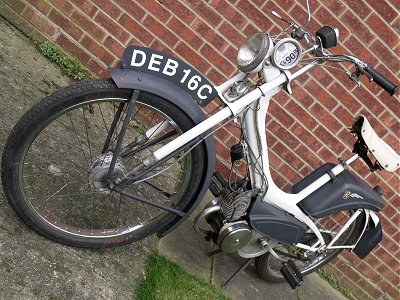 Having specifically established the important identifying features and chronology, we can now introduce our first feature machine:
Raleigh RM8 with frame number 8R9587, registered in 1965, with its original colours being Charcoal/Pearl Grey.
The first thing we feel bound to point out is the apparent colour finish of grey and cream (off-white). The colours are correct, it's just that someone imaginatively describing Raleigh's livery was seemingly 'shade blind'… Pearl Grey to them, but cream (off-white) to everybody else!
Starting procedures on vehicles having no ignition switch invariably begin with turning on the fuel tap, and an off–on–reserve Karco lever tap is sited at the bottom right of the large capacity 1-3/8 gallon tank but, because of the depth of the tank to the front, the tap is located low down, so there's a little bending over to operate the lever.
Refreshing our on-the-stand starting technique … usual twist forward to decompress with the Amal throttle, thumb the choke trigger on the left bar, kick with a pedal to spin the motor, then snatch back throttle … and will she fire right up? Not today … so we pedal up the road for a flying start instead.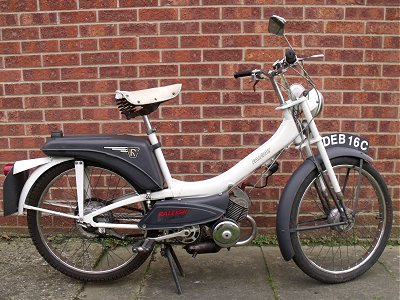 Due to the single drive ratio, once the automatic clutch bites at low speed, initial acceleration is quite sluggish up to 20mph, when things start to pick up, and the bike proves more flexible for general use between 20 & 30.
Checks with our pace rider quickly ascertained the accessory speedometer set was giving a reasonable indication.
Best on flat: 31mph, in crouch position with light tailwind.
Our pace bike clocked off a maximum of 38mph on the downhill run, at which the motor was buzzing fairly enthusiastically, but didn't appear particularly concerned about the revs, so handled this all very well. Keeping the throttle full on down through the dip and into the following climb, there was initially some hope that our Runabout might maintain enough pace to keep within its better running band above 20mph but, by halfway up, our hopes were fading as quickly as the revs were falling away. By ¾-hill, forward progress had dropped dramatically and we really wondered if our mount was going to make the crest on its own, or whether we should be called upon to pedal assist. Sticking with the task the bike just about limped to the summit of its own accord, while our pace rider reported our progress had fallen to just 11mph before picking up again over the brow. Hill climbing was obviously not one this Runabout's strongest points.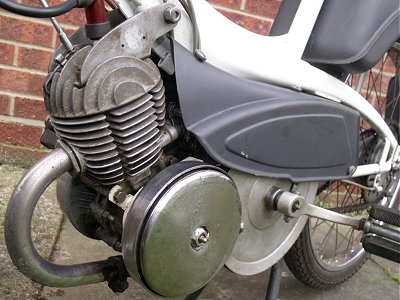 Brakes proved adequate for the performance. The front hub brake proved more civilised than the often creaky calliper cycle type brake of the basic RM6, and almost certainly a little more dependable under wet conditions.
The sprung telescopic forks on the RM8 do take some harshness out of the ride compared to the RM6, you do notice a little difference and take a few less knocks.
The other different feature of this RM8 is the 5-inch diameter Wipac headlamp. This original lamp is quite unusual in having an integral glass rim as part of the lens—other than a few period spotlights, it's hard to recall many other lamps constructed like this. Behind the lens, the 4-inch diameter reflector should theoretically make better use of the generated light, but turning the Wipac switch on top of the headlamp either side to H & L, found there wasn't much beam to report in either high or low positions—just a dim glow.
Our second chapter is a prequel chronology, strangely starting before our first chapter, but is particularly arranged this way to frame our second subject into context.
Tube Investments Group acquired various independent cycle related companies to expand this part of its business but, at the same time, many of these cycle-related companies were experiencing a steadily declining trade, so TI was also engaged in rationalising these various businesses to try to maintain profitability.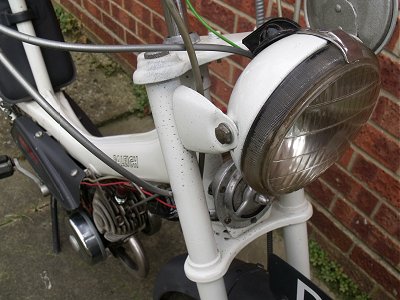 We could pick up these events pretty much anywhere and anytime since the whole process is constantly on-going, but we'll just happen to take up at this particular point since it eases us into an obscurely related but recurring reference to Britannia …
Tube Investments notified acquisition of the Aberdale Cycle Co Ltd in October 1954, which had been badly affected by the dramatic decline of the autocycle market in the early 1950s. Aberdale's Bown plant in Wales closed over the winter of 1954–55. While TI engaged in progressively absorbing its new acquisition's product licences as part of its corporate portfolio, Aberdale returned to the powered lightweight market again at the Earls Court Show in November 1955, with a factored Zweirad Union moped under the Bown brand, now assembled back at Edmonton, London.
The British Cycle Corporation of Tube Investments was formed in 1956 to manage its cycle related subsidiaries, primarily in the Birmingham area, namely Armstrong Cycles (formerly of Sherborne Street, Birmingham); Brampton Fittings + Walton & Brown; Hercules Cycle & Motor Co; Phillips Cycles; Norman Cycles at Ashford in Kent; Aberdale & Bown at Bridport Road, Edmonton, North London; James Cycles; the former business of Raynal and Dunelt cycles; then later adding Wrights Saddle Co & Fittings; and Sun Cycle Co & Fittings as these further businesses were acquired in 1958.
Brampton Fittings historically operated its cycle parts business from a given address of Phoenix Works, Downing Street, Handsworth, as did Walton & Brown Cycle Fittings Ltd (formerly of 315 Summer Lane, Birmingham).
This Downing Street premises was intended to become the centre for a number of the amalgamated BCC businesses operating in this area from the various local sites. Activities would be concentrated into a large factory area based around the Downing Street premises as a central address, but large redundancies would result. In 1956, following deadlock with the unions refusing to reform working practices, Tube Investments made 1,250 employees of the British Cycle Corporation redundant, many of these workers being from Hercules factories.
Building of the Hercules Her-cu-motor moped at Britannia Works, Aston ended in 1958 when Villiers terminated supplies of its JAP engine. The unique arrangement of this machine meant that no other motor could be installed.
Production at Hercules's Manor Mills factory also concluded in 1958, resulting in the loss of a further 700 jobs; manufacture of components transferred to Phillips's Lion Works at Newtown, Montgomery.
Remaining business from the Hercules Cycle & Motor Co Ltd of Britannia Works, Rocky Lane, Aston, relocated to the Downing Street premises, which subsequently became re-titled as Britannia Works, Handsworth.
The Aberdale directorships were formally relinquished in January of 1959 and, on 27th February, Tube Investments advised the press that 'The business of the Aberdale Cycle Co Ltd has transferred to Britannia Works, Handsworth, Birmingham 21, as part of the new buildings of the British Cycle Corporation' (sharing the address with Hercules and James Cycles; at the former site of Brampton Fittings Ltd).
As Hercules Cycles introduced its new Corvette moped built from the Britannia Works at Handsworth in April 1960, Tube Investments Group agreed terms for the take-over of Raleigh Industries on 19th April 1960.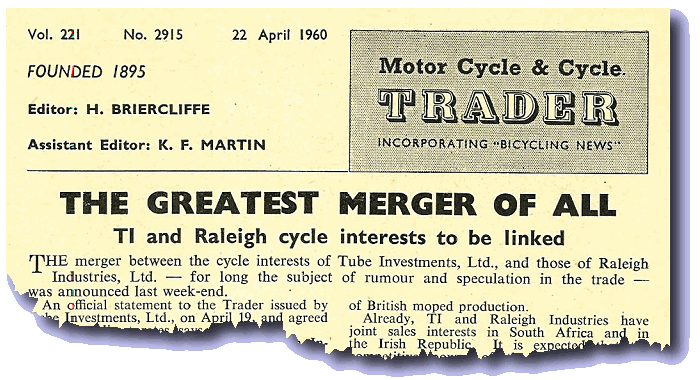 In October 1960, Raleigh de-listed its Sturmey–Archer powered RM2c moped.
On 15th January 1961, 1,000 workers at Phillips's Smethwick factory stopped work for the rest of the day, in protest against a BCC announcement to concentrate cycle production at Nottingham. The following day, cycle production at Raleigh was cut back 30% due to falling orders and built-up stocks, with 7,000 employees going to a 4-day week from January 27th.
In February 1961, Raleigh introduced their new RM4 moped, a licence-built machine based upon Motobécane components and assembled at the Raleigh Motorised Products Division in Nottingham.
In April 1961 an announcement from the newly titled TI/Raleigh Industries Group outlined further restructuring of factories of the British Cycle Corporation. Forthcoming closures were announced of Norman at Ashford, Sun Cycle & Fittings Phoenix Works at Aston Brook Street, J B Brooks (saddles) in Great Charles Street, Birmingham, and Wrights Saddle Co of Dale Road, Selly Oak. A question hung over Phillips's Lion Works at Newtown and it was stated that, over the next three years, manufacture of all bicycles for the group would relocate to Nottingham, while mopeds, scooters, motor cycles, saddle work & luggage from Brooks and Wrights was to concentrate at the Downing Street, Britannia Works. On 30th August 1961, Charles and Fred Norman retired as the Ashford factory doors closed for the last time.
New Phillips Panda Mark 3 and Gadabout Mark 4 models were listed from September 1961, though never rolled down the factory lines at Credenda Works. As derivatives of the Raleigh RM4 and RM5 models, these were actually built from the Raleigh Works in Nottingham, while Phillips's Credenda Works at Bridge Street, Smethwick also now appeared to be in the process of winding down.
Phillips mopeds had now become no more than a group-assembled and market-branded product.
The 'intended relocation over three years' of all group mopeds, scooters and motor cycles to concentrate production at the Downing Street, Britannia Works in Birmingham as stated in April 1961 ... never happened! Raleigh's established motorised division in Nottingham continued to build all products.
After a production run of just 20 months, building of Hercules Corvette mopeds officially ceased in December 1961.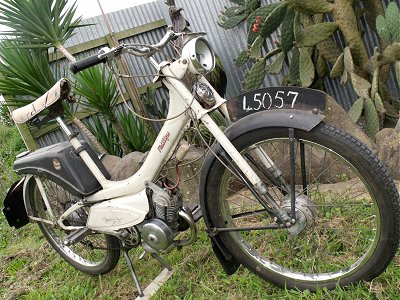 The last Phillips-branded mopeds (Panda Mark 3 and Gadabout Mark 4) completed production at Raleigh's Motorised Division in Nottingham during the closing months of 1963, before the last of these bikes were finally sold off in the following year. The Raleigh RM4 Automatic had effectively been replaced by official introduction of the RM8 in December 1963, so RM4 production was almost certainly concluded at much the same time as the Norman Nippy Mark 5 and Phillips Panda Mark 3 derivatives. With deletion of the Gadabout Mark 4 and Panda Mark 3 models, Phillips branded motorised products officially ended in 1963, while Raleigh's RM4 was technically listed until February 1964, though actually represented little more than a sales extension to clear remaining stocks.
With its export efforts over the years, Phillips had become a familiar brand in a number of British colonies across the globe, and particularly established its name on the far side of the world: in New Zealand! Earlier sales of cycles and mopeds under the auspices of the British Cycle Corporation had established recognition of the Phillips badge with a loyal dealer and customer network—while Raleigh products had little background of sales into this market, and its Heron-head logo meant little in the antipodes.
Nottingham-built batches of Phillips-branded Gadabout Mark 4 models had been sold into New Zealand up to that models last season starting October 1963 … but now the last Phillips models were obsolete!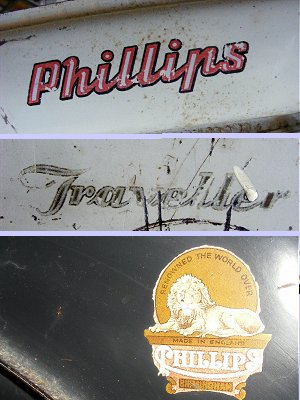 When New Zealand distributors came to ordering new machines for their summer sales season of October 1964 to March 1965, they weren't interested in Raleigh-branded models that nobody knew—they wanted to sell familiar Phillips-badged mopeds that customers could relate to.
To secure the sales order, Raleigh created a 'special export' RM8 Runabout just for New Zealand, and branded this unique version as the Phillips Traveller.
Since there are no known examples of this moped outside New Zealand, if we want to road test one, there's no other way to do it—but to go to New Zealand … so here we are again, driving down the Te Puke road on the way to Pongakawa and our appointment with a very long distance Traveller!
Phillips Traveller frames are still identified with Raleigh's 8R prefix to the serial, finished in the same white (that Raleigh described as Pearl Grey), and charcoal dark grey trim. Frame serial 8R7539 tells us this Traveller was built in first batch specification (before 8R8574), and standardly equipped with the original Lucas headlamp.
All aspects of this Traveller are direct-off-the-assembly-line Raleigh RM8 specification, except being badged with 'Phillips' transfers on the frame and petrol tank, and 'Traveller' decals on the side panels.
1965 registered Phillips Traveller's are recorded in New Zealand, though whether any subsequent export batches were produced is not currently established.
It's fair to describe our Traveller as a 'well used' example, nor is it at its peak of mechanical order, in fact it had only shortly been roused from an indeterminate slumber and received the briefest of trial rides around the yard mere days before our arrival. 'There yarr—she goes.' 'That's fine!'
Starting procedure is identical to our previous RM8, except that this Traveller requires a little more encouragement due to its dilapidated condition (described by the owner as 'a typical Kiwi bike'), but still the old girl fires up, rattling away as we try to warm the motor and keep it running.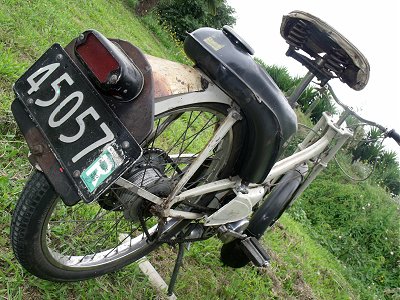 The belt flywheel wobbles randomly as it turns, and we're unsure quite how much of that can be put down to loose needle roller bearings, wear on the shaft, or buckle on the pulley … maybe it's an accumulation of everything? The wheel bearings and chains might be a little dry, and with a smattering of loose or missing screws, there's quite a cacophony of rattles and squeaks to contend with as we plod up to the top of the road, then turn around for a light downhill fly-by, wringing everything we can muster from our vibrating and protesting mount in one mighty charge. Top speed by radar gun, 49km/h (30mph).
That seems fairly comparable to our Raleigh RM8 result on flat in crouch with a tailwind, which seems OK considering Traveller's somewhat ruinous condition.
It's unknown how long the 'Traveller' moped extended the Phillips brand in New Zealand, but this example was certainly 1965 registered. Any Charcoal and Pearl Grey Traveller must have been produced before the end of 1965 when that colour combination was discontinued; by 1966 the RM8 was only in Pearl Grey and Royal Blue.
If there might be any blue & white Travellers in New Zealand, then these would certainly have come from a later batch. At this time we have no evidence to identify any further batches of Phillips Traveller mopeds, but if any subsequently become reported these should be easy enough to confirm identify from frame serials and dating features.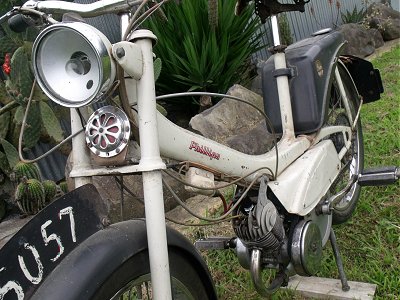 So was the Traveller the last Phillips-branded moped?
You'd probably think it should be … but New Zealand does keep throwing in more curve-balls from left field…
The IceniCAM team has now been to New Zealand three times on research missions, mostly tracking down Phillips mopeds that weren't supposed to exist—and now it looks as if there's another one!
We were contacted and sent pictures of a Phillips-branded (sort of) RM11½. This very original machine is finished in factory RM12 Super-50 colours of Pearl Grey (white) with Fire Red trim, but this colour combination wasn't introduced by Raleigh until 1966, which unquestionably makes it a later Phillips-branded model than our featured Traveller.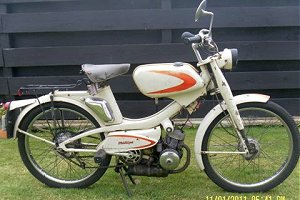 The Raleigh RM12 Super-50 was characterised by drop-bars and a dual seat, but this Phillips variant shares other aspects of the RM11 Super Tourist with touring bars, single-saddle, and a rear carrier. The RM11 was just introduced in January 1966, but only finished in Royal Carmine Red metallic and fitted with a Denfeld single-saddle, where the Phillips 'Tourist-50' mounts a (cheaper) Wrights S.65/3 tension sprung single-saddle.
The New Zealand distributors must have been ordering this Phillips 'Tourist-50' model for their summer sales season of October 1966 to March 1967, so maybe this could have been the last Phillips branded moped?
The Raleigh RM8 was listed until September 1969 in the UK.