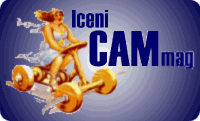 Dedicated to Pat,
who sadly left us while we were
away researching for this article.
World's End
---
Drawn by no more than an old photograph that was presented in the November 1961 edition of The Raligram trade magazine, Volume 2, Number 6—we have a 50 year old mystery! The picture was taken on the Raleigh stand at the first New Zealand International Trade Fair, held in Wellington from August 22nd to September 9th 1961. Among the bikes on display, this picture showed what appears to be a Phillips Gadabout P50 with three-speed Rex engine.
A casual glance at the image might arouse little attention from anyone unfamiliar with the Gadabout models, but this bike is like no other ever seen or previously known by anyone in Britain, since it features a sprung frame with swing-arm rear suspension, while the production P50 Gadabout had a rigid frame!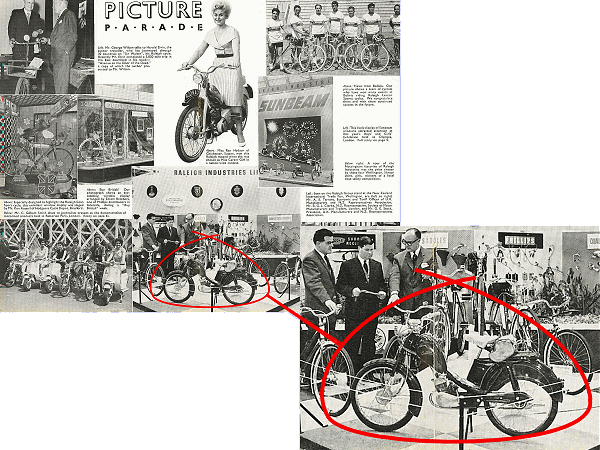 This 'Springer' model never appeared in any Phillips references, nor was it represented in any of Glass's listings.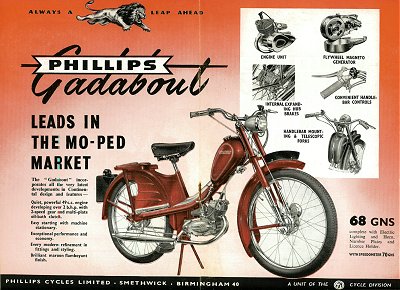 1956 P39 Gadabout
Phillips first introduced the Gadabout P39 model, with a two-speed Rex engine, at the Earls Court Motor Cycle Show in November 1955. These initial Gadabouts were largely based on factored Rex components of continental manufacture, though progressively more parts were replaced by TI Group production in the UK under licence from Rex. June 1959 brought the introduction of a new Gadabout P50 three-speed Rex model. In July 1959, the original two-speed Rex engine in the P39 was succeeded by a two-speed Villiers 3K motor, and introduced as the new P45 model.
Tube Investments Group agreed terms for the takeover of Raleigh on 19th April 1960.
Raleigh introduced their new RM4 and RM5 mopeds in February 1961: models based upon factored Motobécane products.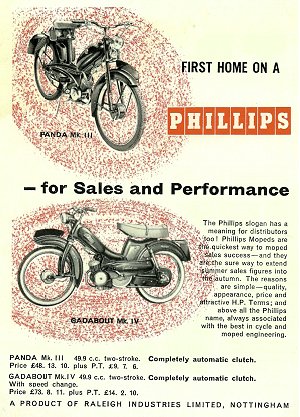 The PM1 & PM2
advertised in the Trader
An ill wind of change began blowing through the TI/Raleigh Industries Group during April 1961 as TI announced further re-structuring of companies and products within of the British Cycle Corporation, with Raleigh being appointed to head up the changes.
For a number of years it had been believed the picture in The Raligram illustrated a prototype model that was taken to show at Wellington in New Zealand, ahead of presentation at the expected Earls Court Show in November 1961. As it happened, there was no motor cycle show at Earls Court in 1961, and neither was there any Springer Gadabout announced.
With the introduction of the Phillips Mark 3 Panda PM1, and Mark 4 Gadabout PM2 in September 1961, all the earlier models became obsolete. It seemed as if the prospective spring-frame Gadabout with its Rex three-speed engine had been eclipsed by the by the new branded Motobécane-based models.
What became of the machine, no one knew. Was it brought back to Britain and scrapped? Was it left in New Zealand, or just tipped overboard from the ship on the way home?
This mystery rested in the dusty archives for several years, until an unexpected picture arrived in the mail from New Zealand—of a Springer Gadabout with a Villiers 3K engine! A number of communication exchanges resulted in further Springer leads—until there was pretty much only one thing to do...

Our feature really starts, with 11 hour flight NZ1 leaving Heathrow, pausing for a 2 hour service stop at Los Angeles, where the US security take an hour to fingerprint and photograph every passenger, just for the sake of spending the remaining time in a first floor transit lounge only 50 yards from the plane. Nobody even gets to put a foot on American soil! Then back into NZ1 again, for a further 13 hour flight to Auckland.
The entire journey is travelled in 26 hours of continual darkness as the flight follows the rotation of the Earth. Having taken off from Heathrow at 4pm on the 15th December 2009, landing at Los Angeles just 5 hours after we left London (local time) and departing LAX at 11pm still on the 15th December, at this point we've now been in the same Tuesday for 36 hours! With the plane crossing the international dateline on the approach to New Zealand, we finally land at 7:05am on Thursday 17th December 2009... so what happened to Wednesday?
Kia Ora = Hello and Welcome ... IceniCAM is now in New Zealand!
We're collected from the airport to spend most of the day with Geoffrey & Brenda Clark of the New Zealand Cyclaid Register, later in the afternoon viewing Auckland from the top of the Sky Tower, before retiring to the Rydges Auckland Hotel to recover from our ordeal of now being awake for 50 hours!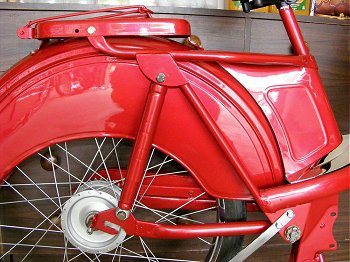 Picking up our car at Auckland on the 18th December, we head South on Route 1 towards Hamilton, then 1B to Gordonstown and Somerset Heights for our first encounter with a bike that doesn't officially exist! It might appear to be a Phillips Gadabout P45, but that model had a rigid rear, where this frame has a swing-arm back suspension arrangement—it's a Springer!
Now owned by Jason and Briar Mokai, this machine is accompanied by its original New Zealand Certificate of Registration issued from Whakatane, to frame serial 8N2199, with Villiers 3K engine 904B/6383 and the document is dated 9th November 1960.
Being installed with the Villiers engine, this is clearly another completely different bike from the one in the 1961 Trade Fair photograph.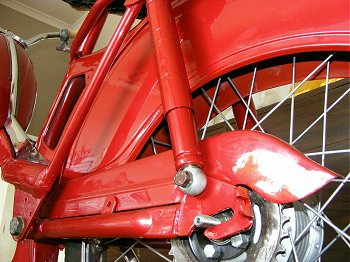 From its initial buyer Peter Allan Martin, Jason's grandfather became the second owner when he purchased the bike on 9th December 1966 with 9,273 recorded miles, and it has remained in the family ever since, so there's absolutely no question about its authenticity. When the Gadabout fell into disuse, it spent several decades stored in the back of a shed, until finally being recovered: decayed and partially dismantled.
Restoration only began earlier in 2009 so, at the time of our visit, only the recently painted and re-chromed main cycle parts had progressed to re-assembly. Though incomplete, it does allow access to examine the swing-arm/frame assembly.
The rigid frame beams terminate just ahead of the back wheel, with a rear sub-frame assembly welded into place from the beam-ends and saddle stem boss. The upper sub-frame tubes are flattened at the ends and turn upward to locate the rack. Triangular plates are welded below the beam ends to create a swing-arm pivot point, drilled and tapped with two further holes above to mount an exhaust bracket on the offside, and a front chainguard fitting point on the nearside.
With Norman being part of the same Tube Investments/British Cycle Corporation Group, we were probably expecting the rear suspension units to be the same equipment as fitted to the Nippy Mark 4, but not so. These are comprised of aluminium eyes at top and bottom, retained in the body tubes by an annular crimp. The bottom tube telescopes into the top tube, simply guided by four more annular crimps along the length of the tube. A central spring (7/8"o/d×1/2"i/d, 7 gauge wire, 33 coils, 8" free length) screws onto threaded stubs in the top and bottom eyes, to fill the unit's full length, with no damping and no central rod. This spring specification differs from types used in both the Gadabout front fork, and the BCC fork (Panda Mark 2 and Hercules Corvette).
From Somerset Heights, our journey continues along highway 1B to Morrinsville, through to Te Aroha, onto Route 2 at Paeroa, Waihi, Tauranga and Mount Maunganui, to spend that evening at Papamoa Beach.
Next day, 19th December, finds us following Route 3 South through Te Puke, and on to our second appointment—with Kelven Martin at Pongakawa. Here we find another two Gadabout Springers, this time with three-speed Rex engines, but both largely dismantled.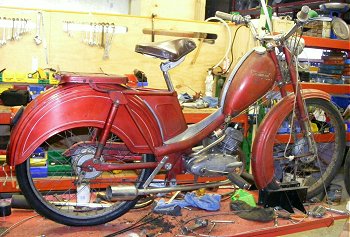 Spending several hours re-assembling frame 4N1472 with Rex engine number 834025 still fails to produce a running machine when we finally discover a pedal drive failure has disabled the motor but, as some consolation, does result in something reasonably complete for pictures.
Being in unrestored condition with all original Royal Carmine Red finish allows opportunity for deductive examination. The most important revelation is that the twin hand-painted coach line style and paint colour on the chainguard identically matches the lining pattern on the frame and front mudguard. Both Dunlop Endrick pattern rims are finished in original gunmetal paint (not chromed), and still fitted with the original Dunlop 'Autocycle' 23 × 2.00 tyres, marked 'Made in New Zealand' which, we are informed, were produced from the old Dunlop Goodyear factory at Feathersten.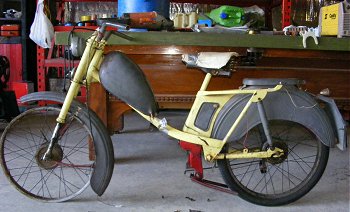 It was further noticeable that this machine also wore the same Lucas CT90 rear cycle lamp as found in a box of loose parts with 8N2199, concluding that this must have been a standard New Zealand fitment.
The remains of the second Springer, rolling chassis 4N1502 with Rex engine 834069 removed, is repainted in a tasteful combination of grey and yellow, with an obvious selection of gruesome aftermarket modifications, which Kelven summarises as 'a typical Kiwi bike'.
There's a lot of ground to cover for our next appointment, so we head south for a couple of days around the Hell's Gate and Te Puia geo-thermal areas of Rotorua, onward down highway 5 for a jet-boat ride to Huka Falls, continuing to arrive Lake Tapau on 21st, before rejoining Route 1 next day for the long haul down to Wellington.
Wednesday 23rd December we drop our first car at the Wellington terminal with 550 miles added to the clock, and leave the North Island behind as we catch the 10:25am sailing of the InterIslander ferry across the Cook Straight. Landing at Picton in the north of the South Island, we collect our second car at the terminal and continue on to Nelson.
Christmas Eve involves a long scenic drive around Mount Richmond Forest Park to Blenheim and down to Kaikoura for Christmas Day and Boxing Day, swimming with dolphins in the Pacific, watching orcas and sperm whales.
The morning of the 27th sees us back on the road taking Alpine Highway 7 from the Pacific Ocean on the east coast, right across the island to the Tasman Sea on the west coast for that evening in Hokitika.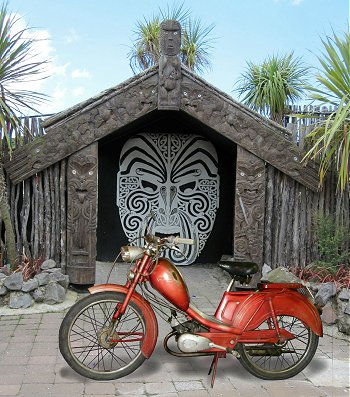 The next day involves continuing the long drive down the west coast road, with all the mountains enveloped in a ghostly cloak of fog, through the central Otago region, to the popular activity hotspot of Queenstown on the edge of Lake Wakatipu. This places us less than an hour's drive the following day, from John & Wendy Martin at Cromwell, with our next Gadabout Springer, frame number 4N1461 with three-speed Rex engine 831787.
Though still in a complete and pretty much original condition, this bike no longer retains its original registration details, though it does wear old dealer decals on its front and rear mudguards that tell us it was "Supplied by Jacksons Cycles, Timaru". It's fitted with the same New Zealand made Dunlop tyres as 4N1472, but has chrome plated Endrick pattern rims instead of gunmetal painted, so it looks as if Phillips were fitting either finish of rim. As well as having the swing-arm chainguard complete with matching coach-line again, this latest find is the first machine we've seen with a front chainguard too, a unique form to match the Rex flywheel cover, and certainly not expected to fit the other Villiers 3K Springer model. This guard is fixed at the back mag cover screw, and by one of the threaded holes on the swing-arm frame plate.
This bike is again fitted with the Lucas CT90 rear lamp, and the same New Zealand made Dunlop 'Autocycle' 23 × 2.00 tyres. Being a complete machine with working engine does allow our first opportunity to ride on of these frames, which proves quite bouncy at the rear as the spring units are undamped—an experience never previously encountered since every other market Gadabout was made with rigid rear.
Further to this working machine, the Martins also have two more bare Springer frames 12P6004, and 12P6027. "TP" is factory stamped on the opposite side of both these headstocks, though what this may signify, we do not know. None of the other Springer frames we examined has this "TP" stamp. The cylinder head mounting plates on these frames are welded onto the outside of the tubes. All other frames we have examined have head brackets located from between the frame tubes.
On the way back to Queenstown, we stop for a couple of hours to watch the entertainment of the Hackett Bungy, where a constant stream of nutters attached to a rubber band throw themselves into the gorge from Kawarau Bridge, in a 140ft drop to the river below.
From Cromwell, we take Highway 6 further south, then Route 94 to Te Anau as a base for a sightseeing diversion to Milford Sound on New Years Eve.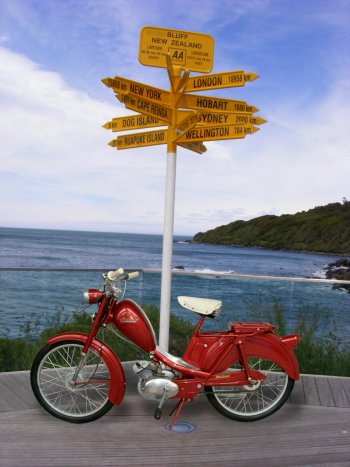 On New Years Day, we're on Southern Scenic Route 99 to Invercargill and Bluff, the most southerly point of the South Island. From the Stirling Point lookout, on the first day of 2010, we look across the Foveaux Straight to Stewart Island, and beyond, only the Southern Ocean to Antarctica. This is pretty much the opposite side of the earth to where we started from in Suffolk.
Having reached our World's End, we now have just one more Gadabout Springer to find.
Following Route 99 along its scenic coastal course takes us round to our next night stopover at Kaka Point just south of Balclutha, and only 15 minutes from the ever shrinking town of Stirling, a once a thriving community that now appears too small to be worth representing on general maps.
Here we meet up with Ian & Linda Mossman, and Gadabout Springer frame serial 8N2180, with Villiers 3K engine 904B/6009. Like 8N2199, this was another example acquired in appallingly decayed condition, and appears as an ongoing and extensive restoration. Now re-assembled and almost complete, this machine displays that the 3K-powered Springer model also had its own unique front chainguard, which is shaped differently to suit the Villiers motor, and essentially a different form to the other chainguard for the Rex engine.
Completing our photoshoot of this bike on the 2nd January, we continue back up the east coast on Highway 1 for a couple of nights at Oamaru, local sightseeing and watching Blue Penguins. January 4th is on up Highway 1 again, through Timaru, then Inland Scenic Route 72, for our final night at Methven. Our last day is spent in a tour of the Banks Peninsula, to Akaroa, then back round the coastal roads to Christchurch airport where we drop our car.
The return trip starts with 8pm internal flight NZ302 from Christchurch to Auckland, then 12 hour international flight NZ2 from Auckland at 11pm on 5th January, flying back against the direction of Earth rotation, and re-crossing the international dateline shortly after leaving. Flying through a fairly short night, we land in the afternoon at LAX, still on the 5th of January, and 11 hours before we've taken off! Again the US security pointlessly take an hour to fingerprint and photograph every passenger, only for the sake of spending the remaining time in a first floor transit lounge just 50 yards from the plane, and still nobody even gets to put a foot on American soil. Flight NZ2 takes off from Los Angeles again at 4pm, on a 10 hour flight through the night, arriving back to a snow covered Heathrow at 10am on 6th January ... so now we've done this 24 hour return flight in only 14 hours?

So, what are the conclusions?
It had always been presumed that the machine pictured in the International Trade Fair photograph might have been a prototype that never made it to production. The theory seemed feasible, but our research trip has exposed too many examples to continue that belief—the Gadabout Springer was undoubtedly a production bike, though certainly never sold in Britain, and seemingly completely unique to New Zealand.
It had been suggested that the Springers might have been specials that were converted in New Zealand, but we don't believe this to be the case. All parts of the original condition examples are finished in factory paint, and most conclusively, the matching works hand painted twin-coachline confirms that these frames with all their primary parts were completely made and finished back in the UK by Phillips.
The original fitment of New Zealand produced Dunlop 'Autocycle' 23 × 2.00 tyres tell us these Springer Gadabouts were shipped in knockdown form for assembly in New Zealand, and did not include available parts that could be fitted upon receipt—eg: tyres and tubes.
This would also have been in line with New Zealand government policy at the time, in trying as much as possible to promote home manufactured industry.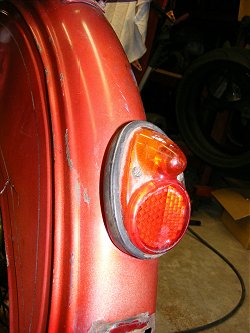 Lucas CT90 cycle rear lamp units were mounted on three of our most complete and original Springers. The CT90 red lens has no 'clear window' to illuminate a rear number plate as required by UK law, but seemingly this was not a requirement for New Zealand at the time. Phillips never favoured Lucas equipment for bikes they made, preferring their own Excelite fittings, or Miller electrical accessories, so this tells us that these Lucas rear lamps were fitted by the New Zealand importer and distributor.

The old dealer decals of "Jacksons Cycles, Timaru" on 4N1461 were another lead to follow, and though this business has long ceased trading, Ian Mossman still managed to track down Brian Jackson, who believed he may well have been the only retailer of Gadabouts in the South Island. Although the business sold a lot of Ducati and Phillips Gadabout mopeds, he knew nothing about the origin of the Springers.
The importer and distributor of Phillips Gadabout mopeds was 'Caves' from Anzac Avenue, Auckland, who are no longer in existence, but operated through a sales agent, Mr Don Worrall, who called to see Brian Jackson at his Timaru bicycle shop, and take orders for bike parts each year, staying with the Jacksons when he paid his annual visit.
Now operating as W H Worrall Ltd cycle dealership and wholesaler at Onehunga, Auckland, Ian did manage to contact Mr Worrall, but neither could he shed any light on why the Springers seemed to have been specially made for New Zealand.
All Phillips cycles were designated with 'P' serials to identify the products.
Though there appear to be no obvious references to what the two Springer models might have been, we may be able to figure this out by working through the known factory model lists...
The P45 Gadabout Glass's Index listing from July 1959 might appear relatively late, considering the 3K engine was introduced by Villiers during the summer of 1958, and Norman quickly showed its Lido with this engine in October 1958. It looks, however, as if the P45 designation was allocated somewhat earlier than its trade listing date, but release of the model was held back until existing stocks of the previous two-speed Rex P39 model had been cleared.
The two Springer Gadabout models appear to have been introduced in conjunction with the three-speed Rex P50 in early 1959. Since the Springer Rex three-speed was built first, logic suggests that this machine was probably the P51, and the Springer Villiers 3K the P52. However, evidence supplied by Keith Guthrie suggest that the Rex-powered springer Gadabout was designated P60
Phillips brought in a new chassis coding system with the introduction of the Mark 1 Panda in February 1959. The first digits represent the month code (1–12), and for the Panda A=1959, B=1960, C=1961. For the Gadabout models N=1959, P=1960, R=1961. The serialisation sequence was restarted annually for each year code
Going from records of accumulated frame serials, it looks as if Phillips was building its models in batches, making Mark 1 Pandas from February (2A) to April 1959 (4A), where they switched to a batch of the new P50 Gadabouts (4N). These included the first lot of three-speed Rex Springers, whose serials appear in a group amid the rest of the rigid frames.
By June 1959, manufacturing was clearly back into another batch of Panda Mark 1s, since we find a sequence of (6A) prefixes, before our Villiers 3K Springers appear in August 1959 (8N).
The bare Springer frames with 12P prefix from December 1960 are presumed to have been the remains of other P52 models, since serials indicate Phillips were building a batch of Villiers 3K Gadabouts at this time.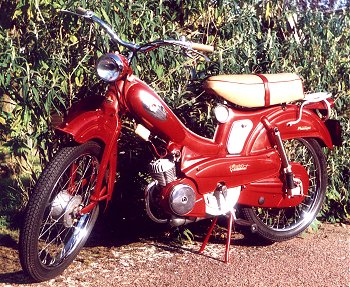 Gadabout Mark 4: Wind of Change
The frame numbers of our Springer Gadabouts recorded so far fall into three batches [see feedback]: three-speed Rex 4N1461, 4N1472 & 4N1502, grouped within a spread of 41 serials, and all made in April 1959; two-speed Villiers 3K 8N2180 & 8N2199, grouped within a spread of 19 serials, and made in August 1959; and believed two-speed Villiers 3K 12P6004 & 12P6027, grouped within a spread of 23 serials, and made in December 1960.
Application of statistical projection as these serial groups are dropped onto a graph, suggest the machines are likely to have been produced in batches of around 50 units at each time.
Raleigh Group's appointment in the restructuring of factories and products of the British Cycle Corporation resulted in the formal de-listing of Phillips rigid P45 Villiers and P50 Rex Gadabouts in October 1962, and these unique spring frame variants should certainly be considered as officially extinct at the same time.
Though it was October 1962 before the P45 Villiers and P50 rigid frame Gadabout models were formally discontinued, this really only represented a listing extension to allow clearance of remaining stocks. A more likely date for when manufacturing actually ended might more logically be September 1961, the month following the announcement of the new, Motobécane-based, Mark 4 Gadabout in August 1961. Analysis of recorded frame serialisation would suggest that production of Rex and Villiers Gadabouts may even have been wound down before this time, since recorded frame serials don't seem to appear beyond 4R (April 1961).
The Mark 4 Gadabout effectively replaced the earlier models at its introduction, and a number of the Mark 4s were listed for export and sold in New Zealand, up until the discontinuance of that machine at the end of 1963, officially concluding the last of Phillips branded motorised products...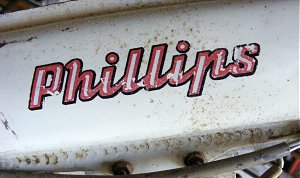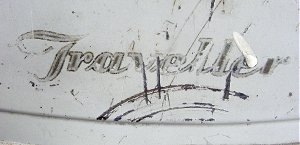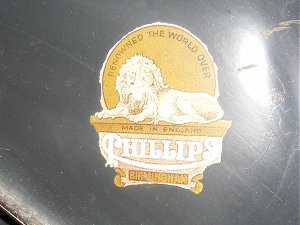 Except that it wasn't!
While the Phillips Panda Mark 3 and Gadabout Mark 4 certainly represented the last Phillips mopeds in the UK, the well-established Phillips brand in New Zealand found a special export version of the Raleigh RM8 Runabout being sold on the other side of the world as the Phillips Traveller!
Still identified with Raleigh's 8R prefix to its frame serial, this Runabout variant is finished in white (what Raleigh described as Pearl Grey), with a unique dark grey trim, and standardly equipped with Lucas headlamp (no home trade Runabout ever had this fitting), then badged with 'Phillips' transfers on the frame and petrol tank, and 'Traveller' decals on the side panels.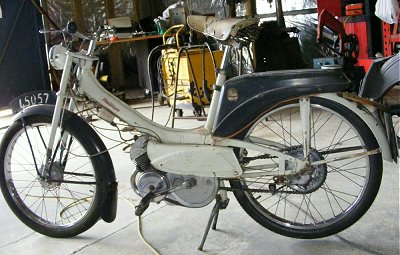 It's not known how long the Traveller moped extended the Phillips brand in New Zealand, but this example was 1965 registered. (There's more about the Traveller in our 'Badge Engineering' article.)
To produce the 'World's End' feature has obviously involved a phenomenal amount of effort, and most considerable expense. The style of its presentation had to follow a different format from our usual 'test' package as a course of necessity, since most of the examples we tracked down proved inoperable at the time of our visit. It could be suggested that we might have waited until later when more of the bikes may have been working, but it's always easy to find some excuse to put things off. Nothing has ever been presented about these machines in 50 years, and we figured it best to publish and get the ball rolling. The hope is that someone might pick up this article, and contact us with some more information on the Springers, which may then presented in a follow-up article. This practice has paid off in the past with several other features we've presented, so we hope there may be more to come on Phillips's lost mopeds from the far side of the world.
We've covered the rigid P50 Gadabout in a feature before, and a number of other mopeds with the Villiers 3K motor, so these are known quantities that can readily be assimilated. The important aspect of this exercise was analysis of the Springer frames and their engineering, and we believe that objective has been achieved to the best of our ability. The New Zealand trip to research the Springer Gadabout, ended up positively confirming the existence of three Phillips production models that were previously unknown—so that would seem a pretty good result!
Now this feature has highlighted what extraordinary and rare machines these Gadabout Springers are, then hopefully the active vintage vehicle restoration enthusiasts will home in and put some real effort into restoring these particularly important models, which are unique to New Zealand.
The Kiwis have some very special Philips mopeds on the other side of the world, and we can only hope they may be preserved in their home country.
And in answer to another question that several people asked upon our return, mostly the water seems to go anticlockwise down the plughole in the southern hemisphere—but not every case! In a couple of instances it went down clockwise ... so we guess it leaves that one still unresolved?
---
Next—Smoky old two-strokes never seemed to be much of an issue when machines were being sold new in the mid 1960s, but 40+ years on now finds some people considering environmental credentials when selecting their choice of classic moped.
Although it wasn't an issue back in its time, today we do have to consider issues of a Green Machine.
---
[Text and photos © 2010 M Daniels. Montages © 2010 A Pattle & M Daniels. Period documents from IceniCAM Information Service.]
---
Feedback
April 2010
Dear Mark
Just seen your Iceni CAM article. Haven't read it fully yet, but I needed to write to you NOW! A year or so ago I saw a Phillips Gadabout at a classic car show. I had a Gadabout in 1972 when I was 16, so I searched for them on eBay to see what was about nearly 40 years later. I also checked out articles by you and others in Buzzing and Iceni CAM Magazine (I'm a member of the EACC and have a 1966 VeloSoleX), but I couldn't find a Gadabout that ticked all the boxes in my memory. These were: Metallic red, Single seat, 'Teardrop' tank, three-speed twist-grip shift, Rear suspension, Back-pedal ("coaster") rear brake. That was, until about 15 minutes ago!
My recollection was that despite being just about the oldest, it was faster than all my schoolfriends' mopeds (this was pre-Fizzy days), had real gears rather than twist-and-go, and more of them than the two-speed mopeds of some of my schoolfriends.
I remember it had a 'sidelight/'headlight' switch, along with the dip/beam function. It was while riding down Prince of Wales Road in Norwich on those "sidelights", that a Renault 4 pulled out of the side turning next to the ABC cinema, right in front of me. I piled into the side of it and somersaulted right over the roof, landing on the road the other side. Amazingly I was completely uninjured, apart from splitting a seam on my too-tight flares! There was not even a scratch on my bright blue Centurion X (with snap-on peak). I called my dad and he came to collect me in my mum's Mini (almond green, white roof). We left the moped behind some bushes propped up against a wall in the small open space that used to be there, and collected it in his Mk 1 Cortina Estate 1500 (Deluxe, not the Super with the tacky 'wood' trim down the sides) the next day.
The frame was a bit of a mess, with the front wheel rather nearer to the engine than previously! My dad must have found an earlier Gadabout for me because I remember transplanting all the mechanicals of the crashed moped into a 'rigid' frame, which I remember was a bit of a disappointment, but on the bright side, teardrop tank + "hardtail" = Easy Rider to a 16-year-old!
I'm guessing the 'rigid' bike either had a non-working engine or I rejected it because it was only a two-speed. I remember having endless problems the following summer, with blowing head gaskets and an occasional seizure, solved by waiting for things to cool down! Then I turned 17 and got a Mini of my own, and that's the start of another series of tales.
My father died about 18 months ago and according to his diaries he paid £7 to a Mr Moore of Reepham Road in Norwich for the original moped on 3 October 1972. I was 16 on 21st October and the crash was on Thursday 28th December 1972.
Unfortunately I haven't come across any photos yet, although sorting through my father's thousands of photos is always one of those jobs for the rainy day that never arrives! One day ... if I come across anything I will forward it to you or Andrew Pattle.
To summarise, you suggest in your article, "the Gadabout Springer was undoubtedly a production bike, though certainly never sold in Britain, and seemingly completely unique to New Zealand". You're the expert—I'm a complete novice—but I think your assumption is wrong!
Kind regards,
Chris Page
---
More Feedback
February 2013
Greetings from NZ,
I have recently purchased a Phillips Gadabout in unrestored condition at a recent Vintage Car Club Blue Smoke and Pedals event in 2013. It has the three-speed Rex motor and gearbox.
I have just discovered your World's End article and realise that you may be interested in hearing about my moped. It is a springer model, engine number 852691 and chassis number GP4710. The registration papers show it was purchased used by a Mr Philip Catcherside of Takapuna in 1963. With the moped came almost a complete second bike, but this one doesn't have any engine or frame numbers on it.
Three owners later, having been last registered 1980, it was offered for sale partially dismantled at a VCC event. I have a Phillips Traveller that I was riding and my partner had ridden his just-restored James autocycle to the event. When we saw the Gadabout I couldn't resist the opportunity of owning it so our Fordson Pickup was called into service to come and collect it for the journey home.
I had a week off work so my partner and I spent some time to get it running. There is still some work to do—but we have done a few runs around our local roads on it after very little work, and been very impressed at it's performance. I was intending to restore and repaint the moped, but am now thinking I may retain in its unrestored state...
It was so interesting to read your World's End article and discover we have something a 'little unusual' down in NZ.
Cazna Payne.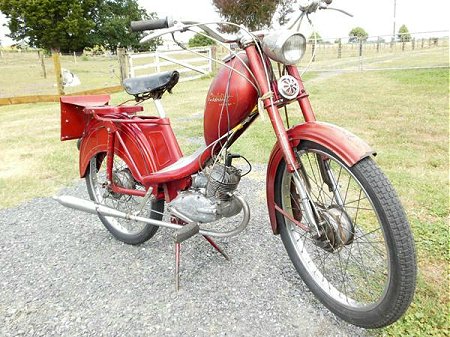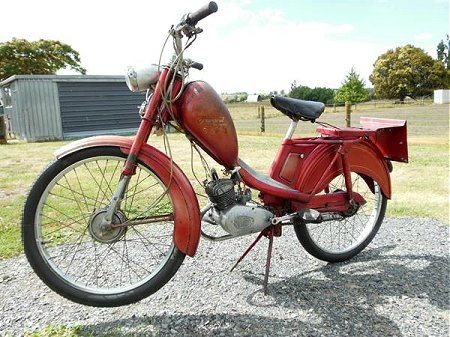 Phillips frame numbers begin with a number (indicating the month the frame was made) and a letter code for the model and year. The reported frame number (GP4710) on this latest discovery is most likely a mis-reading of 6P4710 (not only does a 6 resemble a G, but the rest of the serial number is consistent with P50 Gadabouts from the 6P batch. This P60 would, therefore, indicate that a fourth batch of Gadabout Springers was supplied to New Zealand.
---
Even More Feedback
February 2014
Hello Mark,
Yesterday I met Peter Thorn who has recently bought a Phillips Gadabout three-speed Rex model with rear suspension. Peter alerted me to your interest in the springer NZ model.
In the early 1970s we (Cycle Trading Co Ltd) had a couple of customers with this model, and I well remember working on their Phillips. The parts book designated Phillips P50, crossed out and entered P60, and which I still have, only shows the P50 model without rear suspension in the diagrammatic parts entry. I think I still have some parts for this model including rear suspension arms.
I am surprised someone didn't steer you my way while you were in NZ.
The agents in the 1960s & '70s were F W Cave Ltd, Anzac Avenue, Auckland, who had a rep' who called on us about every 6 months. We did all our business directly with Caves, which included monthly spare parts ordering, and indenting new mopeds about every 6 months. Caves also kept a small number of new mopeds ex-stock to satisfy unexpected demands. Caves were opposite W H Worrrall & Co Ltd, who were also on Anzac Avenue in those days. Possibly Don Worrall took the order across the road to Caves? We still do a lot of bicycle business with Worrall's, which is now run by Don's son Allister. Don is still very much alive and well in Auckland.
Bryan Jackson was in business in Timaru until the 1990s, and I although I haven't seen him for years I am sure I would have heard if he had died.
Cave's went out of the moped business in the very early 1980s. We bought all their moped inventory, which wasn't that much.
The Oamaru Cycle Works shop is a modern 'mock-up' of an old time bike shop set up for the Historic Precinct in south Oamaru. It's artificial but very well done.
There is probably a lot more information I could give you, just let me know.
Regards
Keith Guthrie.
---
Hello Mark,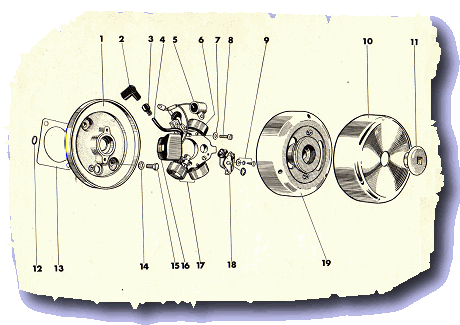 Magneto fitted to exported Raleighs
I've been thinking about the various Raleigh Industries mopeds with the Motobécane motors imported by F W Cave Ltd in the '60s and '70s.
Phillips Gadabout MkIV moped model PM2: Reasonable quantities, as models keep coming up for sale still.
Phillips Traveller PM8: All my literature refers only to Raleigh RM8 and doesn't even mention Phillips or Traveller. They must have brought in a lot of these as they were fairly common in Christchurch in the late '60s and '70s. All were the Phillips Traveller model.
Raleigh Supermatic RM5: Only a few.
Raleigh Super 50 RM12 (white/cream only): The early Wipac magneto was a disaster, later replaced by the French Novi as used on all the other models. Did Raleigh never learn? They kept trying to modify the already excellent Motobécane motor, and thereby giving us mechanics many headaches.
Raleigh Wisp RM7 (Gold & Blue): This time all my literature refers only to Raleigh Wisp and doesn't mention RM7.
I'm pretty sure that this is the definitive list of models imported by Cave's. After the demise of Raleigh/Phillips mopeds we imported the Motobécane Mobylette, MobyX, and Cady models; I think from about 1970.
Regards
Keith.
PS: Raleigh were well known in the bicycle industry for mixing brands for export, ie: BSA, Phillips, Triumph, Sunbeam, etc. Of course Raleigh could not use BSA on their mopeds as their agreement with BSA prohibited the use of the BSA name on any motorised machine.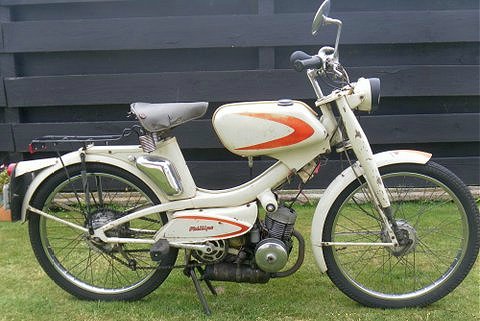 The Phillips version of
the RM12 Super 50
(Photo by 'rickashaye')
---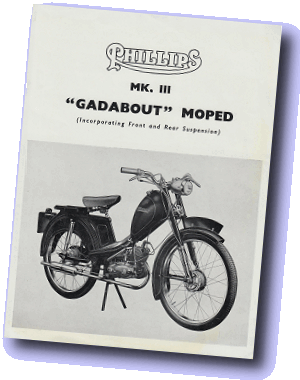 A missing link?
February 2018
Another bit of the story turned up when this leaflet appeared on an internet auction site. The leaflet is a little odd, printed on one side only and with very little information on the front. Maybe it was intended for Phillips dealers and would have been sent with an accompanying letter. The year 1960 is pencilled on the back but since we do not know when that was written, or by whom, it is not necessarily correct. However, the interesting thing about is that it depicts another version Gadabout 'springer', different from the two models described in the main article. This is a rear-sprung version of the P39 Gadabout; it is fitted with a two-speed Rex engine. The UK-style front number plate and the 'Mk.III' designation are also intriguing. Was it intended to be a two-speed Gadabout 'springer' for the UK market or is it just a mock-up with a 'spare' two-speed Rex engine?
---
A copy of this leaflet and several other Phillips documents can be downloaded from our on-line library.
---
Mk.III Feedback
February 2018
Hello Danny,
Well, disappointed isn't the word—I was just certain that there was going to be info on the rear of the leaflet. In a way, it can be said that we've taken a few steps backwards! I think that the 1960 date is a red herring.
If it is a real photo of a Gadabout, my current thoughts are that it was probably a late 1957 creation. My reasoning follows:
In view of what I've learned during the last few years from you & Iceni CAM Magazine, the internet, and a few Gadabout ownerships (one bike with high Rex content—no log book—I estimated as being late 1956), I think that the very earliest Gadabouts could have been little more than Rex XVIIs with their leading link front forks swapped for Phillips tele forks adapted from the Phillips No 1 telescopic fork designed for the P36X Mk II. Perhaps they also had Phillips saddles from the outset? How long did it take for them to be fitted with as many British components as you named in The Twins? Personally, once I realised the differences between the early P39s and the Anglicised version, I started calling the early bikes P39 Mk I and perhaps Phillips did, too?
So, my theory is that Phillips regarded the later P39s with 4-inch brakes and every possible British component as Mk IIs. Maybe they were also the first Gadabouts actually to have the Reynolds Tube Manipulators frame?
When Phillips decided to update the Gadabout to have rear suspension (which had already happened with the Rex XVII, but Rex went for plunger rear susp), I think they would have incorporated the latest updates to the P39 Mk II—except that there hadn't been any up to that time!
My personal Web study has shown that all Rex engines sold on the continent (or is it just in Germany?) have a 'Baujahr' date on their ID plate, but it's absent from the engines sold to Phillips. On the Web, I don't recall seeing any FM509 3-speed engines having a build date earlier than 1958. If the FM509 had been available when the Mk III was being dreamed up, I suggest that Phillips would have regarded it as a 'must have' for their new bike.
The rear light fairing which tidies up the rear end so much wasn't seen until the P50's introduction in June 1959. Had the designers known of it when they were busy at their drawing boards, I'm sure they would have added it to the Mk.III.
The Mk.III's saddle looks like the old coil sprung Phillips (P65/3) item. The P50 introduced the much more comfortable Wrights E1 continental rip-off (IMHO), rubber pan, cantilever suspension saddle. It just doesn't seem to have been fitted to any British moped prior to 1958. I'd be interested to know when it came onto the market. Do you have any info? Brown Brotherss catalogues might show it.
What was the origin of the Mk.III shown? Well, it has chrome plated fork 'bottom housing nuts' (as Gadabout parts lists call them). Plated nuts are a feature of the artwork in the early Gadabout advertising leaflets, so presumably they were fitted to the early P39 wheeled out for the use of the advertising artist & illustrators; maybe this bike was originally the Gadabout Prototype No 1? There doesn't seem to be any other evidence of fitment of plated nuts. I'll suggest that this bike was retained at Phillips's Credenda Works as a general works 'hack' for trialling any proposed Gadabout mods. In fact, these turned out to be few until, finally, it became the Mk.III prototype. I know, the nuts are slim evidence indeed! Think of it only a suggestion…!
As first trialled by Phillips, the first prototype Gadabout is likely to have been little more than a Rex XVII (later advertised as the '17') fitted with the custom-designed Phillips No 2 telescopic forks and, to be legal, an electric horn (German mopeds only needed a normal cycle bell: 'Get out of my way; I'm a moped!' Ring, Ring!) It may have also had a Phillips P65/3 saddle, and Phillips No 152 pedals as these parts might have been readily to hand in Credenda Works. In its approximate 4-year production period (c1954–58), the XVII featured most of the possible suspension designs, initially having leading link front forks and rigid rear end, then plunger rear suspension was added, and finally the front forks were swapped to telescopic. Rex developed their own tele fork so apparently weren't interested in Phillips's No 2 forks and, likewise, Phillips could have added Rex's plunger suspension but, as we know, chose not to do so. Perhaps Rex's plunger suspension inspired Phillips to go 'one better' with the Mk III: swinging arm rear suspension having long stroke telescopic spring units is undoubtedly a better solution. If the Mk III does date from 1957, it was roughly contemporaneous with the XVII model with plungers.
The Mk III is also shown fitted with the Burgess silencer fitted to the P50. I'll suggest that this bike was used for road testing this new silencer design.
Why isn't there a Phillips 'P' number for the Mk.III? Maybe it was built as a single prototype, or a pre-production batch (which might account for that Reader's letter)? Perhaps limited production didn't acquire a P number? If it does date from late '57, why did it hang around for, say, 3+ years, before entering series production alongside P45s and P50s—for NZ only? It would seem that the P45 & P50 weren't sold in NZ, and what about the P39?
I rest my case. Over to you!
Cheers,
Ron Henry
---
Comment
February 2018
Ron makes some very good points there but it is possible to draw a different conclusion from them.
He says:
'Plated nuts are a feature of the artwork in the early Gadabout advertising leaflets, so presumably they were fitted to the early P39 wheeled out for the use of the advertising artist & illustrators; maybe this bike was originally the Gadabout Prototype No 1? There doesn't seem to be any other evidence of fitment of plated nuts. I'll suggest that this bike was retained at Phillips's Credenda Works as a general works 'hack' for trialling any proposed Gadabout mods.'
That is a possibility—and if this is an older Gadabout converted to a spring-frame, the picture could date from 1959–60; The fact that an earlier machine that had been altered would explain all the out-of-date features in the picture. Secondly, Ron says:
Why isn't there a Phillips 'P' number for the Mk.III? Maybe it was built as a single prototype, or a pre-production batch (which might account for that Reader's letter)? Perhaps limited production didn't acquire a P number?
Why isn't there a 'P' number? From the dates in the table of P numbers it can be seen that these numbers were allocated before machines went into production. Numbers are allocated in order but don't appear in order because the different models spend different amounts of time in development. Surely anything that got as far as the leaflet stage must have had a P number? If the picture was produced in 1959–60, that number could be P51.
The flaw in that argument is that it has the the wrong engine for a P51: the P51 had a 3-speed Rex, the leaflet shows a 2-speed.
Look at this 1959 advert: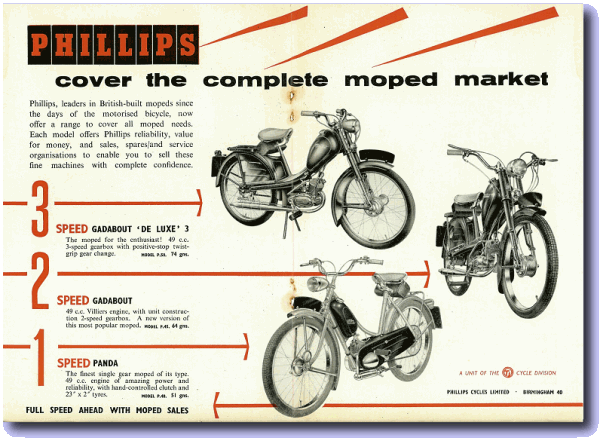 This advertises the P50 Gadabout with a 3-speed Rex engine and the P45 Gadabout with a Villiers 3K engine. However, the illustrations for both Gadabouts show a P39 with a 2-speed Rex engine. It couldn't have mattered to Phillips if their 'artist's model' for the Mk.III leaflet had the wrong engine.
---


Making
World's End
Over the last three years IceniCAM has presented some pretty ambitious articles, but World's End surely has to take the biscuit!
Flying 25,000 miles to the far side of the world and back, about 100 sea miles, then a further 2,800 road miles to cover the dispersal of our Springer Gadabouts from Hamilton and Pongakawa in the North Island, right down to Cromwell and Stirling in the South Island.
Producing just this single article on these unique Phillips mopeds cost a ridiculous total of £9,750 and, before anyone feels the need to ask, no it didn't come out of expenses—Danny and Dawn paid for it all themselves. It's hard to imagine any article, ever again, coming anywhere remotely close to the cost and effort that went this one ... but then, who knows what may turn up next year? You certainly can't question the commitment!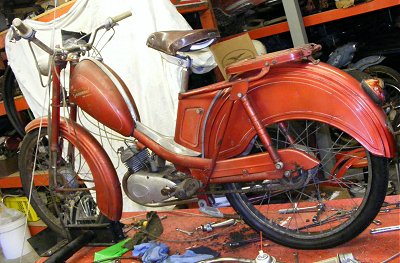 The mystery started way back in 2004, while doing research on the Norman Nippy Mark 5, for an article called Journey's End. This turned up a couple of old Raligram trade magazines, which included that haunting picture taken on the Raleigh stand at the first New Zealand International Trade Fair, held in Wellington from August 22nd to September 9th 1961.
Over the following years no amount of UK-based research into Phillips managed to turn up any reference to this mystery Springer Gadabout, which was always presumed to be a prototype that failed to make it to production.
The theory seemed plausible, since the Trade Fair was being held in Welllington at much the same time as the P50 Gadabout was replaced in the UK, by the new Motobécane-based Mark 4 Gadabout model.
Was the P50 Springer left in NZ, or dumped over the side of the ship on the voyage home?
When Ian Mossman sent pictures of his Springer to IceniCAM, the confusion increased, since this Villiers 3K engined model was obviously a different machine. Enquiries to our main New Zealand contacts in Geoffrey & Brenda Clark flushed out Kelven Martin's pair of three-speed Rex Springers. Jason Mokai independently contacted IceniCAM about his 3K Springer, then Ian spotted a picture of yet another Rex Springer in the Clutha Leader newspaper on 11th December 2008, taken at the Otago Vintage Vehicle Show, and after a few enquiries, tracked down John & Wendy Martin at Cromwell.
Kelven saw yet another Villiers 3K Springer among a job lot of assorted moped stuff being listed on Trade Me, an NZ equivalent of Ebay, but didn't buy it, so there's certainly more of them out there somewhere.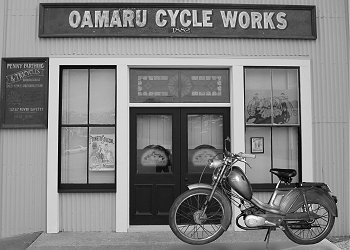 There was absolutely no realistic way to ever get this article to any form of practical publication other than by physically going and checking out all the bikes. It may seem completely crazy, but the Phillips Springer Gadabouts really were so incredibly special, they might actually justify travelling to the far side of the planet! Then, amazingly, that's exactly what happened!
Very few people would have spotted it in the pictures, but J&W Martin will probably be puzzling how their Springer Rex in the South Island came to be pictured in front of the entrance to Hells Gate in the North Island. Likewise, Ian Mossman may likely be wondering how his Springer 3K, that never left his garage in Stirling, came to be pictured in front of the NZ southernmost 'Lands End' signpost at Bluff. Well, it's just a matter of shooting the sets you'd like as you travel, and Andrew painstakingly working up what we want by digital trickery. It seems the technology can now bring the mountain to Mahomet!
Another backset was taken outside an old cycle shop at Oamaru, but never completed digital make-up for the magazine—what the trade probably calls an out-take.
We obviously needed to commit to the World's End production for the leader to appear at the end of the Back to the Future Lido feature in CAM Magazine 12 but, considering the vast and ambitious scale of the plan, slightly hedged our bets with a fallback article option.
With the unreality that anyone might have financed the staggering cost of this production, it wouldn't have appeared right to attach anyone's sponsorship credit to World's End. It just seemed more appropriate to attach a fitting dedication instead.
And when we got back, what's the first thing people ask? Which way the water goes down the plughole!
---
| CAMmag Home Page | List of articles |
---