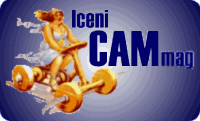 A market place for cyclemotors, mopeds, autocycles and parts
If you've anything connected with autocycles, cyclemotors or mopeds that you'd like to sell or buy, then why not place an advert here? It's free, so you've nothing to lose. Adverts will automatically be removed after 90 days—or when you ask us, if you sell it before then. New adverts—those placed in the last three or four days—are highlighted in pink. If you'd like to place an advert here, please contact us.
This market place is meant for selling any 'one off' items you want to get rid of—if you have stocks of spares that you regularly sell, our Directory is the place to be listed.
Advertisers: please be aware that a number of advertisers in our Market section have received approaches from scammers.
More details here
---
Wanted for post-war James autocycle, 1946–48, De Luxe with spring forks: steering head tube with 7/8" bore (to suite 7/8" dia handlebar stem). Also large domed locking nut with or without hole for the handlebar stem.
Tel: Jeff,
E-mail:
Please look at the items for sale and make me reasonable offers! (Typically, £5 for each Speedo, 6V Rear lights, Side Panels, etc.) Not shown is a brand new 17" Tyre (£16) and a Raleigh RM5 Rear Mudguard (£8).
Richard: (West Norfolk).
Villiers engine. The engine is marked as a VIIIc and apparently dates from 1924–1934. The engine number is 51810. It is complete with magneto (Villiers), carb, both manifolds, and control levers including throttle/choke and decompressor. The decompressor valve is present. It has some damage to two fins on the head. It turns over by hand. I have not cleaned it as you can see!
I don't know much about this engine or what it was fitted to. Information would be welcome. Because of the period it comes from I am looking for £300 ono. Perhaps best to come and see it if you are interested. Delivery/collection by agreement.
Guy Bolton. Suffolk.
Tel: .
Booklet for sale: British Magnetos. 8 pages complete. Dated 1928. Nice tidy condition. £10 including postage.
Guy Bolton. Suffolk.
Tel: .
Booklet for sale: Villiers instruction manual & parts list. Dated March 1952. Used but complete and readable. £10 including postage.
Guy Bolton. Suffolk.
Tel: .
Booklet for sale: BSA instruction manual 1938 to 1953. Covers C10, C11, and C12 models as you can see. Comprehensive 88 page booklet. Garage soiled but complete and readable. One page is unattached but present. £22 including postage.
Guy Bolton. Suffolk.
Tel: .
BSA Dandy, 1957, 70cc. Registered MSU 145 with V5c available. Largely complete and original (centre stand missing, has cycle sidestand instead). Later type kick start model. 2-speed handchange pre-select gears select OK, clutch works. Engine turns over and sparks, but not running. £495 ono.
Call Dick on Mobile: (Woodbridge, Suffolk.)
WANTED: Carburettor for Honda P50 (Motorwheel).
Particularly float & float needle, but will buy complete carb if available.
Call Brian on Mobile:
Plastimo 8ft inflateable tender for 5–10hp outboard motor. Good sound condition. £100.
Call Nelmo, Tel: (Felixstowe, Suffolk).
If ansaphone, then leave message and will get back to you.
Or mobile: .
Yamaha SR250 US Custom 4-stroke single. Electric starting. Reg 1980, NBA 137W, with V5c. MoT'd and taxed, in regular use. Starts easy, runs and rides well. Everything works properly. Good sound bike. Good tyres. Clean and tidy. Incudes fitted rear carrier, backbox and windshield. £750 ono.
Call Nelmo, Tel: (Felixstowe, Suffolk).
If ansaphone, then leave message and will get back to you.
Or mobile: .
Ariel Colt 200cc 4-stroke single. Reg 1954, 86 APU, with V5c (number non-transferable). MoT and tax exempt. Runs fine and everything works. In occasional use. Plunger rear suspension, tele forks front. All original parts. Sound condition. Good tyres, but paintwork poor. £1,750 ono.
Call Nelmo, Tel: (Felixstowe, Suffolk).
If ansaphone, then leave message and will get back to you.
Or mobile: .
Apollo TDF100 yellow racing bike. Alloy Shinig Etreo rims 622—13 with race tyres. Alloy frame, alloy stem and bars, alloy cranks, 16 speed gears. Good sound order—£75.
Call Nelmo, Tel: (Felixstowe, Suffolk).
If ansaphone, then leave message and will get back to you.
Or mobile: .
Dawes 'Progeny' Mountain/roadster bike. Telescopic forks, rigid rear. Alloy rims with road tyres. 24 gears. Scruffy but sound (needs service). £20.
Call Nelmo, Tel: (Felixstowe, Suffolk).
If ansaphone, then leave message and will get back to you.
Or mobile: .
SABO rotary petrol lawnmower with 18" cut. Single point height of cut adjustment. Electric and recoil starting. Starts, runs, and cuts fine. Mower sound, but grasscatcher shredded. £20.
Call Nelmo, Tel: (Felixstowe, Suffolk).
If ansaphone, then leave message and will get back to you.
Or mobile: .
Wanted: autocycle or NSU Quickly in running useable order to ride and restore.
I have £800 to spend.
Contact me at
1955 BSA Bantam 150cc D3 model with plunger rear suspension. Registered 965 UYJ (non-transferable) c/w V5c. I used to ride this bike on the road several years ago, and have done many miles on it, but it's been laid up for a while no, so probably time it went to a new home. Everything works properly, runs well, lights and brakes all good. Wheels rebuilt with new 18" rims, and fitted with good tyres.
Felixstowe, Suffolk. £1,650 ono.
Tel Mobile: or landline: (ansaphone).
E-mail:
The Tandem—An Illustrated Guide, Volume II,
The second volume of this copiously illustrated guide to the development of the tandem bicycle from its earliest days to its finished design during the 20th century.
72 pages, £10.00 including p+p. (Overseas: £15 International Money Order)
[Volume I also available at the same price]
Available from J. Peatling, 36 Park Lane, Wimborne, Dorset, BH21 1LD.

Reviews of Volume I:
'A really useful source of reference in years to come'
David Twitchett

'A comprehensive guide to the tandem—years of work'
Ian Hall

'A brilliant job—I could not have done it'
David Higman MBE, Curator National Cycle Museum 1997-2010

'A splendid work—most interesting and a surprise that it has not been attempted before'
Ray Miller

'An excellent piece of research of such a much ignored subject of cycling history'
Derek Davis
Wanted Puch Maxi bikes or parts
Can collect. Please call Ben on
or e-mail
Bond Mk D Tourer 1956. 197cc Viliers 4-speed with Dynastart. Engine completely overhauled and in good running order. Registered OAW 728 with V5c. MoT and tax exempt. Lots of work done. New wheel bearings, brakes, tyres, all cables replaced. New wiring harness professionally fitted. Good metallic gold paint. Soft-top and sidescreens. On road and just drive away—£6,000.
Phone Brian at Ipswich. Mob: .
Original Amal leaflet printed in orange and black on white: 'Amal Mk1 Concentric carburetters spares, parts list and specifications'. 4 × A4 size pages (folded). Also includes Amal Complete Carburetter Spare Parts and Accessories price list (issue 36) August 1992, comprising 8 × A4 size pages stapled folder. Genuine Amal leaflets. Good condition, though have been folded across the centre. £10 ono. Can post.
Dick Fryer, Tel Mobile:
1970s' Puch M50—no documentation but is complete and runs very well. Wheels are very good considering age. The 2-gear box functions very well, in fact a joy to ride. Brakes work OK. I am getting older and need the space in the garage! Feel it needs someone to love it and should she be possible to get DVLA age-related registration. Needs only slight electrical tinkering with lights and horn. £350.
Ted: or

1953 Hercules cycle with Power Pak Syncromatic (with clutch). Running but unrestored, original 'patinated' condition, all complete including period lights. Last taxed in 1955, registration number PRO 51 has expired, but may be recoverable from DVLA, no documents but first registration record may be available at Hertfordshire records office. Asking £750.

Tel Dick on (South Cambs).

Also for sale:
Cyc Auto, new exhausts, wheels, & tyres, overhauled engine, needs finishing, £500.
Kerry Capitino, painted, good engine, needs finishing, £750
Vincent Firefly or Ducati Cucciolo wanted by club member to ride, not to add to a collection or place in a museum and never get used!
Will consider any condition: complete or incomplete, working or non- runner.
Can you help me please?
Cash waiting I will travel to collect.
Contact Doug (Essex)
Looking to add to my small collection of 1980s Yamaha 50cc things.
Does anyone have a Yamaha MJ50 Towny?
I know it is probably the ugliest little machine ever produced by Yamaha, but that's the point!
I am based in Berkshire, but please contact me if you have one available; my e-mail address is —my name is Chris.
Thank you, it will be well looked after.
Puch Maxi NOS Exhaust pipe—£10 + p&p or collect from Cambridge.

Honda P50 rear wheel rim. Sound & true but could do with rechroming—£10 + p&p or collect from Cambridge.

Wanted: Cyclemaster
Would prefer registered and in good running order
Cash waiting
Tel:
Garage clear out pending move:

Honda P50, 1968, V5c, MoT to May 2018, some surface rust—£495 ono.

Raleigh RM4, 1962, V5c, side panels missing, engine not turn over—£325 ono.

Phillips Panda, pre-1963, old tax disc, some parts missing—£120 ono SOLD.

Jawa 130 for spares—£40 ono.

Old rod-braked front axle complete with springs, right & left handed wheel nuts (as removed from my old trailer years ago)—any reasonable offer.

Home:
Mobile: (text or phone).
1999 Honda SH50 (Scoopy) City Express. Very scruffy, but with an MoT to September 2018; the sticker bombing would be easy to remove. Kick start is stiff, but functional, electric start works OK with a bigger than normal battery. I've been using this for commuting 12-mile round trips without any issues—I will include a new rear tyre for it as well.
Price for the SH50 is £275 ovno and collection from Preston in Lancashire. I'm looking for a Tomos or Puch type bike and would love one with a 70cc or similar kit fitted so I'll consider part exchange / swaps for either or both (see next ad) together.
or e-mail
WANTED by enthusiast: Cyclemaster 26cc or 32cc.
Preferably in bicycle and running order.
Registered or un-registered OK.
Please call Mike (mobile)
In Wirral, Cheshire, but will collect from anywhere. Cash waiting.
Wanted: Villiers 98cc motor cycle or autocycle,
complete and running preferred,
up to £600 please.

Contact me on
Raleigh 18 × 2¼" wheels, with decent brake shoe sets, Huret speedo gear, chainwheel and with scrapeable/paintable rims! Michelin tyres have good tread, but some cracking. Also rear mudguard. The lot: £35 collected.
Richard - (West Norfolk). Limited delivery possible.
Nice solid bike trailer, can fit three bikes, brand new tyres and ramp. Offers.
Please call (Ipswich).
Old trailer, new tyres & hitch last year—£60.
(Bury St Edmunds, Suffolk).
Wanted: Rod-braked gent's bike suitable to take a 26" Cyclemaster wheel.
Condition unimportant as long as it's sound.
Anything considered.

Vaughan Miles:
or tel:

I am in North Warwickshire.
Wanted: Sim 50 (Speedway In Miniature) Kids off road motorbike. Dead or alive, any condition, anywhere. Contact: Martin or .
Wanted: Garelli Tiger Cross or Rekord Parts.
Complete bikes dead or alive, anything considered.
Contact Dave (Essex).
---
Previously Sold
Probably a French aftermarket rear light fitted to a vélomoteur or light motorcycle. Indicators plus tail light and number plate light in one unit. Complete. Needs a clean. Approx size 4 inches wide and 3" high. Price £20 plus postage.
Phillips Lady's rod-brake cycle with 21" frame—£45 ono.
Sturmey–Archer 3-speed Dynohub. All original fittings. Sound useable condition. Suitable bike for period cyclemotor.
Leopard Bobby Mk5. Original registration TVB 153 issued Croydon in June 1958, but records do not survive to reclaim the number so it may require re-registration. I don't have a V5c for it, and I have never had it running. Sachs engine with two-speed gears, 1.6bhp. Unfinished restoration. As far as I am aware, all parts are there except for the exhaust pipe and chain. £500 ono.
Suzuki GN125 e/s 4-stroke single. Reg 1994, M521 NKO, c/w V5c. MoT'd and taxed, in regular use. Starts easy, runs well. Everything works properly. Good sound bike. Good tyres. Incudes fitted rear carrier, backbox and mirrors. £750 ono.
1977 Mobylette AV89. MoT to end of November 2018. £275.
Westwood 26 × 1½ (larger Shrader valve hole) rear wheel rim for cyclemotor. One of a batch commissioned some years ago by the NACC. I bought it as a spare & had it chromed. Slight pitting due to storage which should rub out—£30 + p&p or collect.
New Hudson Autocycle Replica L/H chain guard, small differences to original, in correct shade of green, unused, fits the 2F model—£15 + p&p or collect.
Excelsior Consort light motor cycle, 1959, registered MAS 144 (non-transferable) with V5c doc. 2-speed foot-change Villiers 6F 99cc engine, only 500 miles since rebuilt. MoT and tax exempt. Early restoration by Dave Berry (Andy Tiernan mechanic). Starts easily, runs cleanly, goes really well. Satnav paced 40mph on flat/48 downhill. NEW tyres just fitted, tank professionally cleaned inside. Lights all working. Good brakes. Rides well. £1,500—firm price, no offers please.
1979 Motobecane M40, went off the road in 1981 and then stored. Minor surface rust. Starts and runs, needs the headlamp wiring back up (it's disconnected—lord knows why). Currently no MoT but does have V5c—also included is a pair of leg shields which need light restoration & fitting.
Price for the Moby is £275 but this is firm.
1978 Puch Maxi K. Kick-start model. Goes well. MoT to end May 2018. £350.
Motobecane 50V, 1978, with V5C, for sale. Bought for straightforward restoration, but no time to finish! Engine turns freely with compression. £395.
For sale: 1937 Raleigh gent's frame bicycle, 24-inch frame with 28-inch wheels, 3-speed, in original condition. New tyres have been fitted, brakes need adjusting. Ideal for cyclemotor. Restoration project. £80.
Ceccato Romeo, 49cc roller-drive cyclemotor, 1954. UK registered with V5c. Currently on the road and in use. MoT and Tax exempt. Starts easily. Runs well, rides fine. Lights & horn work. Good working order. £425 ono.
Bernardi Buzz roller-drive cyclemotor engine kit. Pre-used. Turns over. Not currently running because missing crank nut on flywheel. Good compression. C/w petrol tank, tap, cap, control levers and cables. Spares or repair—£80.
Spartamet cyclemotor in Apollo mountain bike. Running order. Good condition. Not registered. Fitted with rear carrier and lights. £100.
---


This page was updated on 16 January 2018

| CAMmag Home Page |
---