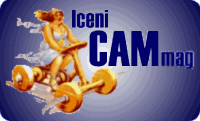 Some events for Cyclemotors, Autocycles and Mopeds
---
Full Calendar

Suitable for cyclemotors
Some organisers make special arrangements to make runs suitable for cyclemotors and similarly slow-moving machines. These runs are marked with a green logo. A ride doesn't have to be especially short or hill-free to qualify. Arrangements to prevent cyclemotorists being left behind on their own and getting to the lunch stop half an hour behind all the mopeds are what is needed.
If you'd like an event listed here, please contact us.

A Village Hall Event
Events with this symbol have a village or community hall as their starting point. You can be sure that there will be toilets and a cup of coffee available when you arrive ... and usually there will be a jumble too. Read more...
---
Every Tuesday

EACC and FMCC meeting at the Half Moon, Walton, Felixstowe. Map
From around 9:30pm.

3rd February
Oldtimer Bromfietsclub Meppel Oldtimerbeurs for powered two-wheelers up to 1985.
Roekebosscheweg 3A, 7946 KE Wanneperveen. Map
8:20 to 14:30, €5 entry.
Info:
25th February

VMCC Cyclemotor Section Winter Wanderings Run from The Plough, 17 Ploughley Road, Arncott. OX25 1NY. Map
10:30am for 11:00am start.
Norman Smith:
4th March

De Schiedamsche Bromfietsbeurs, Sporthal Margriet, Nieuwe Damlaan 5, 3119KA Schiedam, The Netherlands.. Map
Only 20km from the Hook of Holland.
10:00 to 17:00
€5.00 admission.
Call +31 (0)641-010900 for stallholder information.
E-mail:
Website: www.mdv-evenementen.nl
11th March


EACC Alex's Birthday Run from Bruisyard Village Hall. Map
The hall will be open from 9:00. There will be a run of approximately 25 miles including a pub lunch stop before returning to the hall for a cuppa and some cake.
Note: there will not be a moped jumble on this occasion.
Everyone welcome - Free day membership if you're not an EACC member.
31st March
Motormarkt Hardenberg, Manege Hoogenweg, Hoogenweg 52, 7793 HM Hoogenweg, The Netherlands.. Map
08:00 to 16:00
€4.00 admission.
Call +31 (0)6-13050100 for information.
Website: www.motormarkthardenberg.nl
25th March


EACC West Anglian Section's Duloe Daffodil Dash from Duloe Village Hall. Map
This run will take in villages around North Bedfordshire and Cambridgeshire in the area of Grafam Water and Kimbolton. There will be refreshment facilities at the village hall from 9:00am An informal moped-style 'bring and buy' is envisaged, so bring along items for sale or swap.
Directions: Duloe is ¼ mile West of the A1 trunk road.
From the East: journey through St Neots town on the B1428, over the river bridge and straight on at the roundabout (where the B1048 goes right). Turn right at a mini-roundabout, follow the road up hill to a roundabout, go straight on, under the A1. The village hall is on a right turn in Duloe, ¼ mile after the A1.
Everyone welcome—Free day membership if you're not an EACC member.
1st April (Easter Sunday)

VMCC Cyclemotor Section The Welsh Run from Castle Street Car Park, Abergavenny, 10:30am for 11:00am start. Map
Philippa Wheeler: .
7th April

EACC South East Moped Enthusiasts club stand at The Heritage Transport Show at the Kent County Agricultural Society Showground, Detling, Maidstone, Kent, ME14 3JF. Map
10:00am–4:00pm. This will be the section's biggest show event of the year. The allocated club area will be in the main hall and all owners of officially entered bikes receive two complimentary entrance tickets. So being indoors with excellent facilities it doesn't matter what the weather does, this is the event not to be missed.
For further details and entry forms contact Clive Fletcher on .
8th April

EACC South East Moped Enthusiasts The North Downs Run, meet up at Edenbridge Leisure Centre car park, Wellingtonia Way, Edenbridge TN8 5LU. Map
10:30 for a 11:00 departure.
Contact: Martin or Sharon Wikner on or or
15th April

The Radar Run - ideal for cyclemotors
The Radar Run has an optional, shortened route for cyclemotors, 11 miles shorter than the main route. The cyclemotor route runs along the same roads as the main route but omits two 'dead end' spurs. This means that the back-up vehicle can cover both routes.



The EACC 15th Radar Run and Mopedjumble starts at Bromeswell Village Hall.
There's a superb circuit around Bawdsey peninsula with lots of historical interest details on the course notes. All welcome—free Day Membership if you're not an EACC member, the usual free pitches for jumble stands—call Paul on to allow him to set your spot in the hall. Jumble opens from 9:30am, run sets off at 11am.
Everyone welcome - Free day membership if you're not an EACC member.
15th April
Bromfietsbeurs Heerhugowaard, Sporthal Noorderend, Zeldenruststraat 5, 1704BR Heerhugowaard, The Netherlands Map
120km from Hook of Holland.
10:00 to 16:00 hrs. Admission €5.00
www.eerstenoordhollandschebromfietsbeurs.nl
6th May

EACC South East Moped Enthusiasts The South Downs Run, meet up at the Civic Approach car park, behind the library, High Street, Uckfield, TN22 1AR. Map
10:30 for a 11:00 departure.
Contact: Martin or Sharon Wikner on or or
6th May (provisional date)


VMCC Cyclemotor Section The Nasty Run from the Rising Sun, Hall's Green, SG4 7DR (TL275286 on Landranger sheet 166). Map
Meet from 10:30am for an 11:00am start to the run.
This will be following its traditional route through gently rolling Hertfordshire countryside. The full route, which passes through the village of Nasty, is 26 miles. There is a shorter version of 19 miles, missing out the Nasty bit, designed for cyclemotors and lower powered machines. For more information call Chris on 07950 903794.
7th May (Bank Holiday Monday)


VMCC Cyclemotor Section May Bug Buzz from The Swan, Radcot Bridge, Oxfordshire. Map
Meet at 10:30am for 11:00 start.
Information from Alan Hummerstone on .
(We're guessing that this will be suitable for cyclemotors because Alan himself regularly rides one.)
13th May


VMCC Cyclemotor Section The Postcombe Run from England's Rose, Postcombe, OX9 7DP, Map
10:30am for 11:00am start.
Information from Alan Hummerstone on .
(Alan himself regularly rides a cyclemotor so it's a safe assumption that this will be suitable for cyclemotors.)
20th May



EACC 37th East Anglian Run from Lord Thurlow village hall. Map
The Village Hall in Great Ashfield will be open from 9:30am for refreshments, toilets and mopedjumble. The run sets off at 11:15 on a route of around 30 miles through lovely country lanes and villages.
All welcome - free Day Membership if you're not an EACC member.
For more information. e-mail: .
20th May

EACC Wiltshire Section: The Merkins Café Run from Merkins Café, Merkins Farm, Bradford Leigh, BA15 2RW. Map
Arrival time is normally around 9:30am, departure on the run around 10am, the distance is about 34 miles and, as the name implies, has a very nice café on-site that lots of people take advantage of.
For further information contact Richard Woodbridge on or Steve Hoffmann on or
27th May


EACC Reservoir Dogs Moped Run has a small change in format this year. As before, it will be starting from The Bungalow Diner in Marks Tey: 45 London Road, CO6 1EB. Map
Then the normal 11:00am start with the same stop as last year at the Railway Tavern in Kelvedon. Then the new bit: the return run will be a 9-mile run to the East Anglian Railway Museum in Chappel. They have their Transport Extravaganza open day. Classic vehicles get free entry to the museum and rides on the trains and normally a couple of classic busses. Parking is on grass so bring wood for stands if possible. Please e-mail Richard if you are interested: so he has an idea of how many riders to cater for.
All welcome - free Day Membership if you're not an EACC member.
27th May

VMCC Cyclemotor Section Frampton Mansell Fun Meander from Jolly Nice, Cirencester Road, Frampton Mansell, Stroud, GL6 8HZ. Map
A 30-mile ride with a competitive aspect!
Information from Reg on (before 9pm please).
6th June (Wednesday)

VMCC Cyclemotor Section Box Hill Revisited from the Surrey Oaks, Parkgate, Newdigate, RH5 5DZ. Map
Please check in case of alterations
Vic:
24th June

The David Silver Honda Collection
This motor cycle museum features over 150 classic Honda motor cycles produced between the 1950s and 1990s. The collection is based within an all-new purpose-built showroom and spans over two floors.

Honda Owners Club (GB) Classic Show at The David Silver Honda Collection Museum from 10:00am to 3:00pm.
Free Entry
All marques welcome
1st to 3rd June

The EACC Northern Camping Weekend at Hooton Lodge Farm Campsite And Fishing, Kilnhurst Road, Hooton Roberts, Rotherham. South Yorkshire, S65 4TE Map
Toilets and shower on site, camper vans £15.00 a night including electric (18 hook-ups available), tents £7-00 pounds a night. There will be group rides out on Saturday and Sunday and these will be marshalled to make sure the slower machines don't get left behind.
Would people that wish to attend please try and let John know please: 01709 855411 or
3rd June

Rando Cyclo à Sars Poteries (59), France. This is the 27th Rando Cyclo; it starts from 9:00 with the bikes going on display around the town bandstand and a jumble. Map
There's a midday meal in the salle des fêtes from 12:00 to 13:30. The road run starts at 14:00 with a stop along the route. It returns to Sars Poteries salle des fêtes by 16:30 for the presentation of awards and a draw for a moped. Thre were 135 riders at the 2017 Rando Cyclo.
Details from the Association Touristique des Cyclomoteurs Anciens, Office de Tourisme, 59216 Sars Poteries, France.
Tel:
E-mail .
23rd & 24th June

EACC South East Moped Enthusiasts East to West Side Adventure starting from Crimdon Dene Coastal Path (near Hartlepool) Map
This adventure sets off on at around 10:30am and makes its way across the country to an overnight halt at Alston. The following morning the journey continues to Whitehaven in Cumbria. There will be some interesting deviations from the 'established' route. It's more than a run, it's an adventure in some very scenic parts of the country with the chance to meet up with friends both old and new.
For more details please contact Martin or Sharon Wikner on or or
8th July



EACC Sixteenth Peninsularis Run and Mopedjumble from Bucklesham Village Hall. Map
A busy and atmospheric day that is one of the major events on the cyclemotoring calendar; it features full reception facilities and free refreshments on arrival. The route is a superb and fully marked course through the quiet countryside of the Felixstowe peninsula, including a super riders' section between Nacton and Levington, a classic drag down a 'passing place' road to Trimley, lanes through to Falkenham, Kirton, the greenhouse village of Newbourne, then more lanes on to Waldringfield Maybush, an idyllic spot for lunch and ale in the sunshine. The jumble is supported by both the larger trade stands and the smaller pitches of club members. Please make contact if you'd like to book a jumble spot in the hall or the car park ( or tel: ). The jumble opens 9:30am, the run sets off at 11:00am, the jumble re-opens at 2:00pm when the run returns.
All welcome - free Day Membership if you're not an EACC member.
29th July



EACC CARD Run from Iliffe Way Car Park, Stowmarket. Map
CARD means Cyclemotors And Roller Drive, and this 20-mile ride should also be suitable for most electric bikes.
All welcome - free Day Membership if you're not an EACC member.
For more information. e-mail: .
12th August


The 7th EACC Periwinkle Run from Cottered Village Hall, SG9 9QL Map
The start will be from Cottered Village Hall as usual; the hall will be open from 9:30am and and the ride will set of at 11:00am. The goes through some of the prettiest villages, lanes and roads in Hertfordshire. It will be stopping at The Three Tuns public house in Great Hormead for lunch and a chinwag. There will be a raffle as usual; if anyone would like to donate a prize, could they please bring it along on the day? It would be greatly appreciated.
For more details contact Andy Cousins on or .

Everyone welcome—Free day membership if you're not an EACC member.
18th August
Brommerbeurs Hemrik
Indoor & Outdoor Market
Time: 8:00 to 3:00 p.m.
Admission: € 3.00
Play (grass plot) for children
Canteen with terrace.
Engbert Piersweg 4, 8409 JW Hemrik, The Netherlands. Map
19th August

EACC South East Moped Enthusiasts The Bluebell Run. Meet up at the Horsted Keynes Station car park, Station Approach, Horsted Keynes RH17 7BB Map
10:30 for a 11:00 departure.
Contact: Martin or Sharon Wikner on or or
Notes
Many events listed in this calendar are "closed to club members". The EACC offers free day membership to visiting riders at all its rides. The NACC, British Two-Stroke Club and the VMCC Cyclemotor Section also offer day membership at selected events, for which there is usually a charge. The golden rule is: if you want to take part in an event listed here and you do not belong to the organising club, always contact the event organiser to see if you are permitted to take part.
Generally, riders of veteran and low powered machines are also welcome at these events. Contact the event organiser for details.
Please call at a reasonable hour when telephoning for details of events (not forgetting the time difference if you're 'phoning another country).
---
---
See what goes on
7th January 2018—EACC Mince Pie Run
---


This page was updated on 11 January 2018.