Sante Pogliaghi began his lifelong trade at the age of 11, when he started working with his uncle Pierre Brambilla, a famous frame manufacturer from the 1920s. Sante quickly learnt how to weld and soon became one of the greatest craftsmen the Italian racing bicycle world had ever produced. Following the death of his uncle in 1947, Pogliaghi adopted the same tiny workshop to start his own business in the city centre of Milan, where he started building his own custom steel frames, adopting decal and head badge graphics carried forward in a similar style to his uncle's design, and which readily became esteemed by both the professional riders and amateurs alike.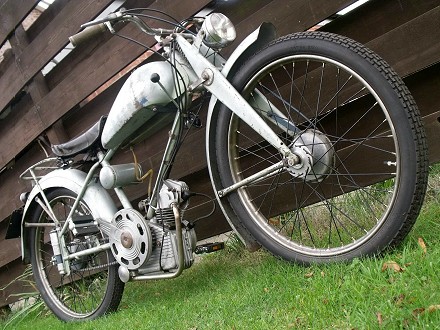 Sante worked as a truly skilled artist who did much of the work himself, and imbued his individual craftsmanship into his creations. Pogliaghi quickly established himself as one of the acknowledged masters of post-war Italian cycle frame building. He became much sought-after by top Olympic and competition cycle road racers, where the quality of his superb track bikes became most famous.
Known as il maestro sarto delle biciclette (the master tailor of bicycles), Pogliaghi built the very finest tandem, stayer, and track racing cycles, and his track frames were usually tested in the nearby Vigorelli circuit. Beside that, he built magnificent road race bicycles for the Giro d'Italia and Extraleggera, equipped with Campagnolo Record group sets and Universal brakes.
There appear to be no motor cycling encyclopædia references to suggest that Pogliaghi ever made motorised frames but, because of the nature of his work as a specialised builder, if he did make any frames to mount a motor, they'd almost certainly be to very special order only, and of very limited production. There does seem some indication however, that maybe he did at least build some—because this is exactly what we seem to have today!
The petrol tank of our very original and unrestored Pogliaghi Ducati Cucciolo M55 displays the faded remains of our makers old decals, with further brand transfers on both the front and rear mudguards.
With Pogliaghi, it's going to be all about the chassis, since this company was a specialist racing bike frame maker, and this machine gives a precious insight as to how a top cycle frame builder interpreted the challenge of constructing a motorised frame.
One can only presume that one of these mopeds would have been an extraordinarily expensive machine!
The frame is stamped 406 at the top of the headstock, and further stamped 24 at the bottom of the headstock, but we have no idea how this serial coding translates to any indication of its model type, the numbers built, or year of manufacture.
The best dating estimate for our machine comes from the Ducati Cucciolo M55 engine number 310565, which would be 1957. The M55 engine was a later series motor with enclosed valve gear, while earlier engine models had exposed pull-rods and tappets.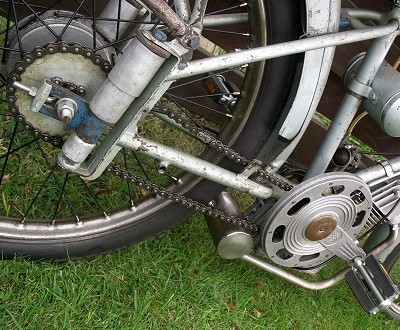 The rear of the frame is sprung with plunger rear suspension, and before you start thinking that plungers might be old-fashioned and ineffective, they're actually the very opposite of that. Plungers don't flex like lightweight swinging arm suspension systems, so they track round corners very well while also providing a degree of springing. Just in front of the plunger units, the frame is fitted with threaded bosses welded under each side of the rear tubes. These are probably intended for fitting footrest bars, but not for a pillion passenger—they're for sports rear-set pegs, which may also double up for locating a paddock stand, because there is no stand or stand mounting bosses of any sort fitted to this frame.
While some features of the cycle chassis suggest it was built with sporting competition in mind, there are other aspects about the bike that indicate it was also intended for use beyond track racing.
The girder fork blades look very solid, as if they're cast out of metal, but tap them with your fingernail and the hollow tinny ring tells you they're actually a lightweight steel sheet fabrication built over a tubular frame but, like the chassis, all the fork joints are perfectly bronze welded so you can't really tell how it's made. The headlamp brackets are welded onto the forks, and carry a headlamp unit by Sien of Turin, and there's a rear lamp too, and an electric horn.
You wouldn't normally put a lighting set on a circuit racer, and there's a toolbox, heavy road-going mudguards, and a rear carrier, which very much suggests this was a specialist machine constructed and intended for road use.
Considering this frame must have been created at a time when traditional and heavy brazed lug methods were the general standard, its construction is clearly extraordinary. We presume the chassis to be assembled from the same grade of lightweight tubing used in construction of the cycle frames. All joints appear to be fully bronze-welded, have been perfectly fettled and blended into a smooth union, so the frame tube junctions seem to have organically grown together like the branches of a tree. Though the frame looks like a motor cycle chassis, it's clearly not, because the build integrates a conventional cycle bottom bracket and pedalling set, so it's obviously designed for no other purpose than mounting the Ducati Cucciolo cyclemotor.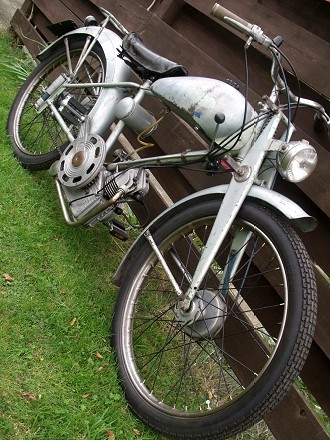 Curious about the bike's weight distribution, we roll it across the scales to read 3 stone front and 3 stone 6 pounds rear.
When it comes to the controls there's a bit of figuring out to do here, because some aspects of this arrangement are a little odd.
The wheels are fitted with 20×2¼ tyres, and laced onto 'Opes–Milano' half width cast aluminium hubs. Though it's not so immediately obvious quite how these might be worked.
The left handlebar lever is a clutch, with the two-speed gearshift lever crowned by a knob to the forward right-hand side of the petrol tank: up for first–middle for neutral–down for second.
The rear brake is not back-pedal operated because the Cucciolo design features a pedal freewheel behind the 'chainwheel', so that just leaves the right handlebar lever for the front brake … which also has a second cable coming out of the lever bracket, which goes to the back brake. Ah, it's got linked brakes!
We're not so sure how legal that might be for road use in the UK, which normally requires two independent braking systems, and the other problem with this arrangement is that your hand effort on the single lever is halved between the two brakes, so the pressure you can apply is markedly reduced and usually results in a poor braking performance.
We give it a try just pushing the bike along in the garage with the lever pulled as hard as we can grasp, but it achieves little, so that'll be something to look out for … basically, it's not expected to stop.
There's a small lever tap under the left-hand back of the tank, down for on, and we watch the fuel run down the clear pipe, then tickle the flood button on the Weber 15MFC carburettor (which is also marked 'Ducati 60'), until a splash of petrol appears at the top of the float chamber.
There's a valve lifter on the motor, operated by twisting the left-hand grip to decompress. This may seem like something to aid starting by getting the engine turning over, but when you're trying to pedal the motor over in gear, pedalling this machine proves a clumsy and most inelegant operation due to the low saddle position, and would be most ineffective for riding as a bicycle. Pulling in the clutch disengages the engine from the drive, and allows you to pedal, but it's not so easy to hold the valve lifter trigger at the same time as holding the clutch in, so this seems an increasingly less likely method of starting. Consequently we opt for a sort of push start, latch the gear lever into first, pull in the clutch, 'paddle' the bike off, and just drop the clutch, which produces a couple of coughs on the first attempt, then the desired result at the second effort.
Chug down the road a little, then pull in the clutch, and feel the gear lever back into neutral.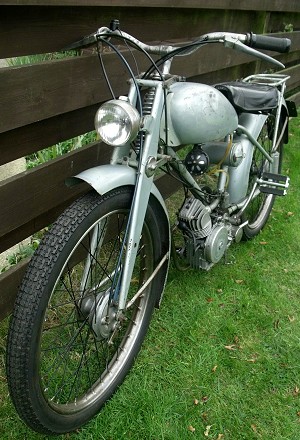 Running the motor at light revs to warm it up, reveals a pleasantly subdued waffle from the custom-built stainless steel exhaust system, which has seemingly been remade in the original Ducati pattern.
While warming up, we curiously twiddle with the light switch … and the headlamp actually comes on! It's not exactly bright enough to see by, but it is there, and a back light too—and even the horn manages a feeble rasping rattle!
Time to check out the pull away, so clutch in, notch into first, throttle up … and this feels fairly high geared, so the take-off is unspectacular. Maybe we were expecting something a little more exciting from the Cucciolo's alleged performance reputation, but power delivery also feels somewhat 'soft and woolly', so we're already wondering if the motor might be slightly down on power?
Shifting into second returns a soggy response to throttle against the higher ratio … maybe things might improve as the motor heats up … no it doesn't! The motor constantly labours against a seemingly too high drive ratio that it doesn't have the power to overcome. As a result, the Cucciolo just about struggles up to 26mph on flat in still air with the rider sitting upright. Assisted by favourable light downhill inclines, following winds, or adopting a crouch, it's possible to tease the speed up slightly higher, but the best we could manage was a disappointing 31.
Returning to base, we found the motor had now settled to a steady idle, so the valve lifter came into operation as the best means of stopping the engine.
Our conclusion was that the motor must have been pretty tired, which was obviously a great disappointment, but probably saved a potential accident, as the linked brakes proved completely ineffective.
Pogliaghi's cycle frames built before 1970 are very rare and highly valued since they were made by Sante himself, at which time he produced roughly only a hundred frames a year. Taking on a few more employees from 1970 increased production to 300 frames a year, and by the late 1970s had expanded his workforce up to six staff, which had further increased the output to around 800 frames a year, and each chassis branded with the abbreviation ✫PSM✫ (Pogliaghi Sante Milano) and with a serial number on the seat-lug.
The difference between a Pogliaghi frame made under his direct supervision, and one that may not be, is the ✫PSM✫ stamp on the seat-lug, and a chronologically-sequential serial number on the seat-lug or the head-lug. This serial number sequence appears to date all the way back to when Pogliaghi's uncle Brambilla owned the shop, and when Sante Pogliaghi worked for him.
Older 6000/7000 series frames are attributed to his uncle Pierre Brambilla, and Pogliaghi continued the serial number sequence when he took over in the late 1940s.
Pogliaghi's frames were also used by cycle racing champions such as Eddy Merckx, Patrick Sercu, Leandro Faggin and Marino Basso.
When Sante was interviewed for the book The Custom Bicycle, Pogliaghi went on record stating he would retire by 1980, though he officially closed his workshop a little later, in 1983. Pogliaghi then sold or licensed out the rights to build bicycles under his name around 1983–84, when Marco Rossin began producing frames under Pogliaghi Italcorse branding, and a number of Pogliaghis appeared with Rossin-style pantographing. The PSM stamp and the serial numbers disappeared from the seat lug after the marque's transfer.
Somewhere around the late 1980s, rights to the Pogliaghi name had passed to the Basso brothers, and since 1993 has become a brand owned by the Basso Group.
Sante Pogliaghi died in 2000. And if you ever tell a cycle historian that Sante Pogliaghi made moped frames—they'll probably never believe you.
---