Sometime back we produced a couple of sequential features called 'Shop till you Drop', and 'Evolution', which presented a selection of Japanese machines that resulted shortly after the infamous 'Slo-ped' law change of 1 August 1977, when manufacturers were producing various interpretations of the new moped definition to try and hit upon what might become the new accepted formula.
In the old days, that all seemed pretty obvious, because a moped was simply 50cc and had pedals, but what might it be now that the new category comprised any machine of 50cc with a maximum speed of 30mph?
Shop till you Drop introduced to the UK the Honda Express (February 1978) and Yamaha QT50 (1979), while Evolution presented Suzuki FZ50 (April 1979), Suzuki FS50 scooterette (May 1980), Honda Caren (Feb 1981), and Honda Melody (June 1981).
In 'New Generation', the earlier evolutionary dead-end designs of the late '70s and early '80s have started dying out—and now there's a new wave coming.
As a progression of the first scooterette and mini-scooter models, a modern form of 50cc scooter is beginning to emerge as the new successful species; but these are still early days, and we're not there yet…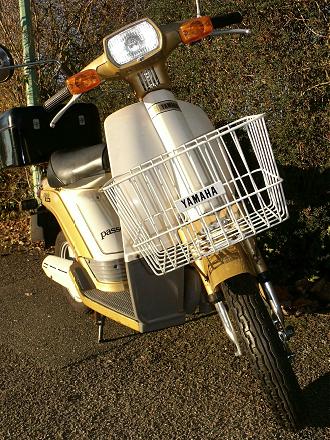 Evolved from the earlier naked-frame, step-through Passol S50 model launched in 1977 (but not sold in UK), the Passola was a panelled mini-scooter derivative developed in 1978. Yamaha released their Passola SA50M kick-start mini-scooter model to the UK in May 1980. It was powered by a fan-cooled two-stroke motor of 40mm bore × 39.2mm stroke for 49cc, had a 12mm carburettor with reed valve induction, and was rated 2.8bhp @ 6,000rpm, with maximum torque delivered at 4,000rpm. The engine compression ratio for the original kick-start SA50M model was given as 6.4:1 but, when followed by an electric-start SA50ME version in July 1982, the compression ratio was 'softened' down to 6:1. It's likely that the compression was reduced to let the feeble 6-Volt electric starter have some chance of being able to spin the motor, but such a change would compromise the power output and seems to be reflected in a lower rating for the 'Electric' of 2.27bhp @ 5,500rpm.
There would appear to be an explanation why the kick-start Passola models might perform a little better.
So, let's have a look at what we got for our money when our new Electric-start bike was registered on 29 March 1982 (notably earlier than the official listing date for the ME model, and another example of how inaccurate these supposedly 'formal' records can be). Our example is finished in 'Fox Gold', looking cheerful and festive … like an obsolete Christmas decoration … and that genuine Yamaha forward mounted basket defines exactly the 'soft market', girlie mini-scooter shopper this bike was targeted at.
Equipment is basic and controls are simple: the left bar set has switches for beam–dip, horn, and indicators left–off–right, then the right bar set has lights on–off, and starter button, while brake lighting works from both levers.
A 40mph speedometer sits in the handlebar nacelle, with a key ignition switch off–on and just a single warning indicator light: for oil reservoir level.
A steering lock is fitted into the headstock column and is operated by the same ignition key from a lock inside the front apron. A helmet lock is fitted to the back-left of the saddle, and, again, works from the common ignition key.
The 6-Volt battery can be accessed for service by tipping up the seat, so you can slide the battery cover forward without having to take off the rear carrier frame (and box). Beneath the saddle is the fuel tank with indicator gauge, the oil reservoir filler, and a sparking plug spanner kit strapped beneath the seat—though that might be of little use if you needed to employ it by the side of road, because the sparking plug is completely inaccessible without several other tools to dismantle most of the back end of the bike to remove the obstructing panels. It's like a scootering version of an executive puzzle, but with no solution.
Rear suspension is by the engine pivoting to a single strut, while the front forks are short travel telescopic.
The pressed-steel fabricated wheels are shod with 2.75 × 10 tyres.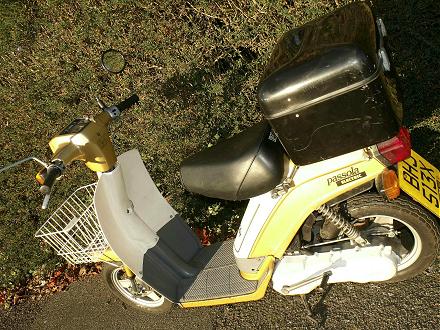 A noticeable aspect about Passola is its complete lack of the in-built storage that one would more typically associate with a scooter. Passola was primarily just a basic form of personal transport and may only have the small rear and front carriers (if fitted), so any real carrying capacity could only be created by fitment of the front wire basket or aftermarket rear box.
Passola's dating places the model in the early years of 'Slo-ped—30mph restricted' regulation, and it accordingly wears a 'limited specification' decal stuck to the forward frame tube, though Yamaha 50s could often seem somewhat 'indifferent' to actual performance compliance, so let's see how it goes. Our test bike has genuinely less than 1,000 miles on the clock, so we're hoping this should form a very representative example.
There's a useful raised handle-hold on the rear carrier frame, which still manages to present itself between the box and the saddle, and can provide a helpful lifting point to get the scooter on and off the stand easily—because you can't lift the bike by the edge of the saddle, or the seat pops up!
Starting can be as simple as you may imagine, just put in the key, turn the ignition to 'on', and press the starter button. Passola even pre-dates what now seems to have become a standard requirement to pull in a brake lever to enable 'safety' starting. If it might happen that an old battery could be weakened by a cold morning, there's also a kick-starter mounted on the transmission case; you'll need to stand off the left side of the bike and kick with your right foot.
An automatic vacuum fuel tap will enable petrol supply as the engine spins, and the automatic thermal choke mechanism disengages as the motor warms up. Throttle response may prove a little 'fuzzy' in the early choke phase, so it can help to let the engine run and settle for a while before setting off.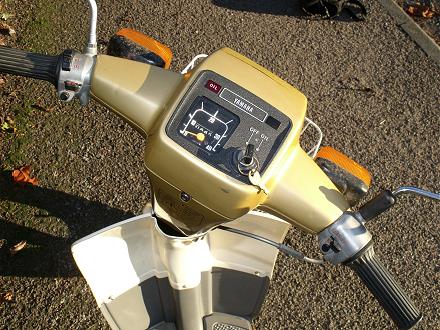 Opening the throttle from standstill delivers a very capable getaway, with good acceleration in first gear up to a change point around 15mph (indicated), where the mechanical two-speed automatic transmission slides the shift into top, at which the motor continues to pull just as hard again in the higher ratio, accompanied by a muffled induction draw from within the air box.
Initial take off commonly seems to be accompanied by a little steering weave as the rider comes to terms with some inherent twitchiness from the small wheels, which reflects a nervous supermarket shopping trolley with a sticking castor, but you'll soon get used to this because the sloshy handling continues right up its range. A firm hand at the tiller points Passola along the course you might like it to go, but at every bump or bend the bike feels as if it's waiting for an inattentive moment from the rider, when it might bounce away into the roadside bushes. The awful handling really isn't helped by the lively performance as we silently scream along in seemingly infinite revs.
Passola rides quite similarly to Honda's Melody, but the Yamaha feels appreciably quicker in acceleration and top speed, so might be more likely to get its rider into problems unless they slow down a bit.
Indicated speeds appeared comparable to our memories of the Suzuki FZ50, but the Passola still felt quicker … maybe it seemed that way because of the edgy handling … until we got back to base and compared notes with our pacer. Best on flat and tucked in a crouch indicated 34mph, but actually paced at 38. The downhill run only indicated 35, but paced at 40, and the uphill climb at an indicated 28–29, actually paced at 32mph.
This speedometer seemed to be indicating about 12% slow throughout its range, which would suggest that the automatic change-up point from first gear was actually occurring around 17–18mph.
All electrics worked reliably, though it did seem odd that Yamaha had 'skimped' on a high beam indicator lamp—different times…
Passola's road-holding was wholly dreadful—it handled like a drunk at the end of an evening, stumbling out of a bar and into the cold night air.
Brakes proved effective enough, though a firm application at speed could contribute to further instability of the bike's road manners.
While the Suzuki and Yamaha two-speed automatic transmissions felt very similar in their respective operations, Passola's motor seems to deliver a better punch than the FZ50 engine, though the Suzuki chassis offers appreciably more stable handling.
The SA50M kick-start model was UK de-listed in October 1983, while the Passola SA50ME Electric continued on listings until October 1985, so even the youngest examples are now over 30 years old.
If you are wondering about the last time you saw a Passola on the road, there are a number of reasons why you may not have seen one for some time—they didn't prove particularly durable…
The centre stand comprised a riveted assembly, but the rivets commonly worked slack, so the stand fell apart, and the bike fell over. The plastic moulded panels were particularly brittle, and completely shattered plastic leg shields were very common. A combined unit with a common diaphragm jointly operated the vacuum fuel tap with the automatic thermal choke control, which is fine as long as it works, but when it doesn't—the unique special parts are obsolete, which can be a problem.
The rear brake tended to receive harder use than the front (for obvious reasons) and, because of the small drums, their linings wore out quickly. To remove the rear wheel meant removing the exhaust, but Passola's odd engine arrangement really didn't suit the wetter northern European climate. Passola had its carburettor at the front of the motor, with reed-valve induction direct into the crankcase, which meant its exhaust was sited at the back of the cylinder and exited directly into the front of the rear mudguard—where the tyre threw all the water directly onto the hot exhaust pipe and the manifold nuts. The exhaust systems rotted like crazy, and trying to undo the rusted manifold nuts invariably sheared the studs off in the cylinder. A metal cover inside the front of the rear mudguard to shield the exhaust could have made a big difference to Passola's chances of survival, but it was all getting too late by then … the mechanical two-speed automatic transmission system was beginning to look obsolete, and something new had already come along.
---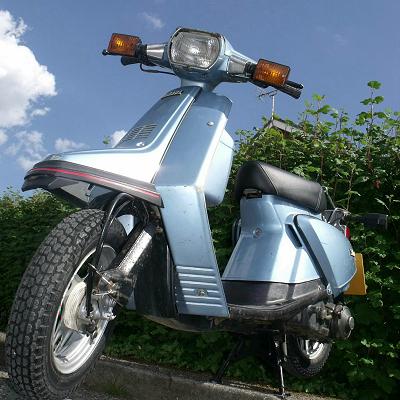 The Yamaha CA50 'Salient' was introduced to the UK in April 1983, with America receiving the model at much the same time, however in the USA the same machine was called the 'Riva-50'. The CA50 was presented with a two-stroke fan-cooled engine of the same 40mm bore × 39.2mm stroke for 49cc as Passola, 12mm carburettor with reed valve crankcase induction, CDI ignition, electric starting, automatic choke, and 'autolube' oil injection, but the motor differed from the Passola's two-speed automatic arrangement, in that Salient featured a CVT drive.
It might have seemed as if the new Salient could be set to succeed the Passola, however the SA50ME continued—so now Yamaha now had two practically equivalent models of 50cc mini-scooters selling side-by-side!
While CVT has subsequently become the universally established norm, back in Salient's time there were several other transmission systems vying for the new crown, and CVT was just another contender.
Yamaha specified the CA50 Salient with a 7:1 compression ratio, delivering 3.6bhp @ 6,000rpm, but this extra power might be paid for in a heavier fuel consumption than the Passola, and Salient's CVT drive is going to deliver its performance in very a different way from the Passola's mechanical two-speed automatic transmission.
Colours listed were White, Red, Forest Green, or like our bike, a nice 'Baby Blue'.
Weighing in at 8 stone 8 pounds (55kg), Salient looks bulkier and more like a traditional scooter than the Passola mini-scooter.
The control switches look a little more 'techy', where the right-hand switch operates lights off–on–pilot, and an electric start that still works on the button, still without needing a brake pulled on to enable the solenoid!
Left-hand switch cluster controls beam–dip, which 25/25W lamp seems pretty bright for 6-Volt electrics, while indicators switch left–right, and a centre button that prompts the horn to a perky bleep (though the system is now supported by a healthy sized 8Ah battery).
Ignition is switched on–off–steering lock from a point down the steering column above the apron tray.
A dashboard under a Perspex cover in the handlebar nacelle houses a 40mph speedometer, fuel gauge, and warning lights for main beam, indicators, and oil.
The pressed steel wheels are shod with 3.00 × 10 tyres and stopped by drum brakes both ends.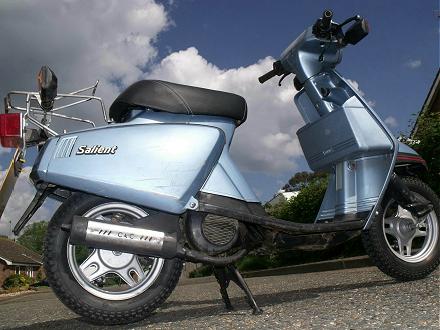 Front suspension is trailing-link, which will dive like telescopic forks when the front brake is applied.
Salient is described in period literature as 'American styled' which at this time seemed to mean the front mudguard was fixed with the front panel so the forks and front wheel turned within it, and the mudguard (oh sorry, 'fender') was edged round with a bumper trim.
The one and a half pad seat was not designed to accommodate a pillion, and doesn't have any obvious rear footrest position, however you might be able to squeeze a passenger on if pushed, and behind the saddle, a small chrome plated rear carrier offers some capability to strap on some minor luggage items. Salient does seem acutely limited on storage for a scooter, the only other place being what the Americans would call a 'gear-slot' behind the front apron, which is rather like a small office waste paper bin with no top, and has little more capacity than a stateside mailbox.
Our bike is fitted with a C&C pattern exhaust, being a common period replacement when the original systems had done their usual trick of rusting away.
Salient is another of the early first generation scooters having all-plastic panels, which would become the curse of generations to come: cheap and lightweight, but they fracture at a glance.
There's a key lock to operate if you want to lift the seat to access the fuel tank and oil reservoir—but there's no helmet bin below, just the fuel tank, as Salient is a very 'old school' scoot and pre-dates that design.
Since Salient is made within the 'Slo-ped' era and wears a 30mph 'Slo-ped' compliance plate, you might be expecting some sort of performance limiter … but again this is a Yamaha in the early years of the restricted speed laws, so you may not want to bet on that!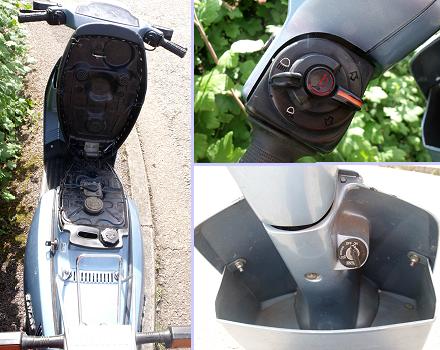 We're not sure that what seems to be a useful lifting handle extension to the front of the rear carrier is actually meant to be a lifting handle, because it seems to bend up and down too readily; prolonged use might be tempting a fracture of the bar. There doesn't however seem anything much else to get hold of for loading the bike on and off the stand, so the jury is out on this.
The fuel tap is vacuum operated and choking operation is automatic. Really all you have to do is turn the key and push the starter button, though there is an auxiliary kick-start tucked away on the left-hand side transmission case, which works with a conventional backward kick action requiring the rider to 'stand off' the left-hand side of the scooter to work the starter with the right foot.
Being a temperate day, Salient doesn't take much time to warm up its engine and soon proves ready and eager to depart.
Just twist and go, so open the throttle and you can easily feel the transmission is fitted with heavy rollers that readily effect the variator set at relatively low revs, so Salient relies more on motor torque for its acceleration rather than screaming revs, resulting in a more leisurely riding style than its 21st century counterparts.
The CVT variator runs out of range between 20 & 25, at which Salient begins to climb into its rev band and capably runs up to 30+ on the flat. We found it easy enough to push up to 32–33mph in an upright position, and tucked in a little for the downhill run to a creditable 37mph. There was a feeling that even more pace could be quite possible by working the bike a bit harder under favourable conditions. We have to say that Salient didn't perform like a 30mph limited scooter, but maybe the engine performance wasn't intended to be its limiting factor?
The 'American styling' also seems to carry over to the 'American limousine handling', which is Salient's critically weak point. There's certainly no pinpoint road-holding here; with sloshy and wallowy handling, it's all over the place! Soft suspension, ineffective damping, and lack of stiffness in the chassis—everything really!
Uphill climb proved very capable, with the bike barely dropping a few mph and delivering enough torque to keep it in the power band to confidently crest the rise at 28mph.
Hub brakes proved efficient for all requirements, the front being quite effective as the trailing-link front suspension dived into the brake for stronger stopping grip. This reaction is far better than the unnerving rearing-up effect of leading-link systems, which can cause alarming moments on occasion by a tendency to lock up their brake in slippery conditions and throw the bike into a front wheel skid.
Powered by a good engine, the heavyweight reactive rollers that were typically fitted to these early Yamaha variators would limit the acceleration (the same condition applied to the 80cc Beluga), though they didn't really improve the fuel consumption since the bike would invariably be accelerated at full throttle.
Though our example was certainly cursed with diabolical handling, Salient represented one of the pioneering first generation modern scooters that paved the way for the new formula, and represented Yamaha's first 50cc model with a CVT drive.
Surviving Salient examples are now over 30 years old, though there seems little sign that they might become collected or preserved yet—such may be their disposable fate, even though it was a herald of the coming storm for the 50cc scooter to take over the world from the moped.
The CA50 was sold until 1986, at which point it was replaced by the Razz SH50 and Jog CE50 models.
---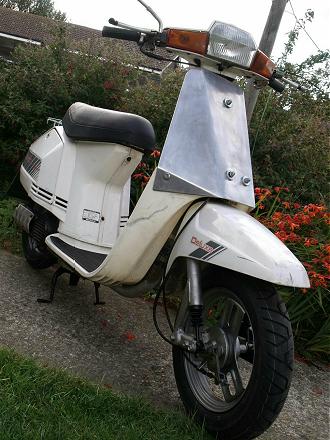 Our 'delights' continue, with a 1984 Honda Melody the workshops bought in for £40, accompanied by its V5c registration document, and a very new-looking manual that never seemed to have been opened in its life. The bike however was a particularly sad looking, derelict and rusty example with a pile of loose plastic mouldings that didn't include a front apron panel.
It has to be said that reactions to this latest workshop acquisition were generally 'unfavourable', however this model was considered somewhat better than our earlier 'standard' Melody, since this is a later evolution, top-of-the-range NB50ME De Luxe with electric starting! Err, wow…
Having recovered from our initial surge of enthusiasm, we decide to try and give it a fair chance … so, what does this offer over-and-above the base model?
Well, the front indicators are built into the headlamp & handlebar nacelle, which also carries a different speedometer. The rear indicators are incorporated into a lighting cluster in the rear body shell, and the bulbous rear side panels are bigger, presumably to present a more 'traditional scooter' look by covering the back-end of the bike—however you have to remove all this plastic completely just to regain practical access to the sparking plug and carburettor, so what sort of improvement is that then? Oh yes, nearly forgot to mention, there's a small lockable toolbox space in the right-hand rear side panel (with a sticker inside to warn the owner its seal isn't watertight, so any contents could get wet!)
There are also plastic covers to trim the front fork leading-links (useless marketing decoration—we're not fooled), and 'Wing Visor' trims to fit up the sides of the old plastic apron panel. A few plastic trims don't really seem to add any quality, or perhaps we've just become cynical about company marketing ploys?
The workshop mercilessly consigns the wing visors to the rubbish-bin-of-certain-doom when a new custom panel is fabricated from 3mm alloy plate, and yes, the Melody appears strikingly improved with its replacement body section … perhaps if the workshop had been contracted as styling consultants over Honda's Marketing Dept, this scooter might have looked a whole lot better than the white amorphous domestic appliance that spread to the west in the same manner as H4N bird-flu!
Melody! Ugh! Have you noticed that manufacturers don't use girlie names for their scooters anymore?
We did however find one significant improvement over the last Melody we tested, our ME has a proper rubber mat screwed to the footplate, so your feet won't slide about on the plastic floor—hooray!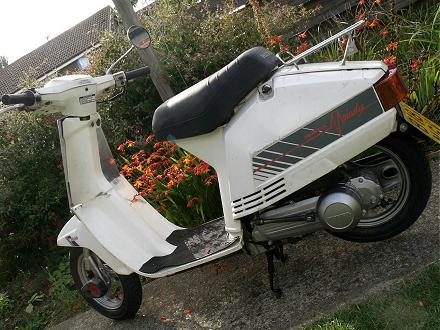 Our NB50ME Melody De Luxe took a lot of fixing, and the workshops fitted new tyres and new brake linings both ends. Even at trade prices, its replacement parts cost more than the initial purchase price of the bike, so the project probably wasn't exactly commercially viable, but did give us opportunity to trial this comparatively less common top-of-the-range 1980s' model.
In comparison with the usual old dinosaurs we test, Melody's starting is still a great novelty with automatic everything … vacuum fuel tap, thermal choke, just turn the key and push the button—ahhh! Nothing happens. That's because this Melody now has 12-Volt electrics, and a relay that needs a brake to be engaged to enable the starter solenoid—it seems that the mini-scooter has now entered a wonderful new era of health and safety.
The 12-Volt electrical system was 100% effective, spinning the starter briskly, giving good lights, indicators that blinked smartly, and horn with a loud and clear beep.
The engine runs fast in the early choke phase, but soon settles down as the motor runs to warm.
With bore & stroke 40 × 39.3mm for 49cc, a compression ratio of 7.2:1, 14mm carburetter, and reed-valve crankcase induction, the specification might seem higher than Yamaha's motors, so you'd think it might go better, though it wears the familiar 30mph restricted 'Slo-ped' plate, and Mr Honda used to take these matters very earnestly—so it probably won't.
The speedometer indicated slightly slow against our pace vehicle. Maximum on flat: indicated 29, paced at 31.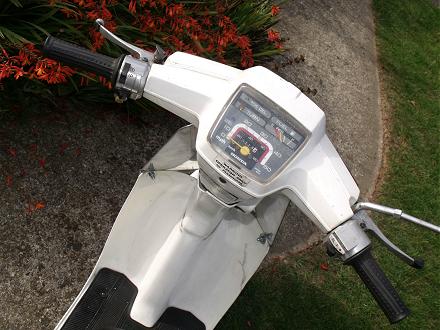 Maximum downhill: indicated 30, paced 32, at which speed, rev disruption began limiting its capability to go any faster, so that was the absolute ceiling.
Handling on the little 2.75 × 10 tyres was a bit sloshy and twitchy, certainly not confidence inspiring, and it's probably a good job these Melodys don't go any faster. The brakes didn't prove so great, possibly because the brand new brake linings hadn't yet bedded in, which maybe was the reason the front brake felt spongy & poor, and the back brake was just average. Normally small-wheel machines have fantastic brakes.
Melody NB50ME De Luxe had a whole bunch of new plastic panels with integral lighting clusters, but its cockpit is still small and cramped, the performance and handling are pretty miserable, and it's still the same old horrible Melody underneath … Fail!
This particular model of Melody NB50 MS-E De Luxe was only listed for just one season of March 1984–April 1985, so might this make it more rare and collectable? Any survivors are over 30 years old now, but we haven't heard of anyone seriously collecting them, so maybe extinction beckons?
---
Dated 1993, our L-registration fourth machine might seem a little late and 'out of period' from the previous three bikes, but it isn't really, because this long-running model started as a European Model E built in Belgium from 1984–86, then models H, K, P, D, & DP (with cast three-spoke wheels) built in Spain from 1986–96.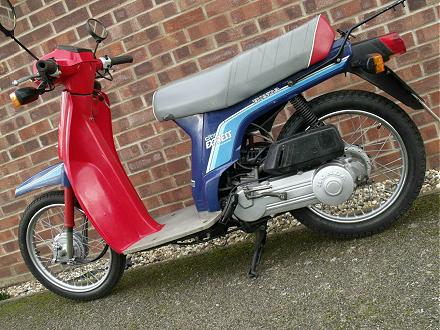 Don't be misled by the 'Express' name, that this bike might be a later derivation of the Honda Express moped from the late 1970s or 1980s—it isn't at all. It has a different style of frame, different engine—no, it's all different.
The SH50 City Express is a sort of cross between Honda's Cub and its 50cc scooters like the Melody and Vision.
City Express uses the same basic 40mm bore × 39.3mm stroke 49cc two-stroke engine with reed-valve induction and CVT belt drive as the scooters, and rated 3.1bhp @ 5,000rpm, but is mounted in a step-through type of frame, with 2.25 × 16 front and 2.75 × 16 rear wheels with 110mm hub brakes, a telescopic front fork set, twin-shock swing-arm type rear suspension, and 12-Volt electrics.
In Melody and Vision scooters this same engine is driving 10-inch wheels, so the City Express engine variant must be built with a lower drive reduction ratio for its 16-inch wheels.
It's classed as a modern moped with 30mph restricted 'slo-ped' plate, but designed and distinctly built as a two-seater with a spacious 26-inch long saddle and folding rear footrests.
The saddle is released by a lockable latch to hinge forward at the front but, unlike many modern scooters, City Express still has no helmet bin beneath—just a fuel tank, battery compartment, and two-stroke oil reservoir.
The 40mph speedometer in the handlebar nacelle contains a fuel level gauge, and warning indicator for low two-stroke oil level, with indicator lights beneath the speedometer for high beam and winkers.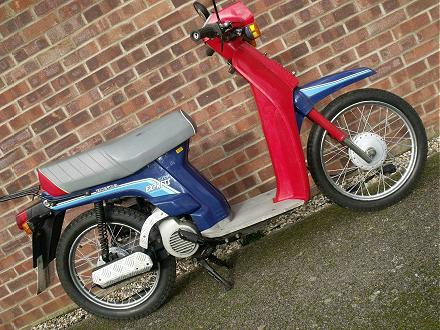 There's a parking brake latch on the rear brake lever, though it's almost impossible to fathom what possible use this device might be? Maybe it's some standard requirement to suit some other market compliance?
Electrical switchgear is simple and basic for this commuter level bike, with lights off–on and starter button on the throttle side bar set, then beam–dip, indicators left–off–right and horn button on the left bar set.
An ignition and combination steering lock is set to the top right of the steering head within the leg shield set.
The chassis is only fitted with a centre stand (no prop stand), while brake lighting works off both brake levers and requires a brake to be engaged to enable the electric start.
The vacuum petrol tap and thermal choke mechanisms are automatically operated so just turn on the ignition, pull in either of the brake levers to enable the starter solenoid, and then press the starter button to go.
The automatic choke operates with a thermal bi-metallic valve switching off choke function as the engine warms up to working temperature, and will automatically re-engage the choke again as the engine cools down.
There is a folding kick-start to the middle of the transmission case, though the rider would probably have to stand off the bike to use the lever.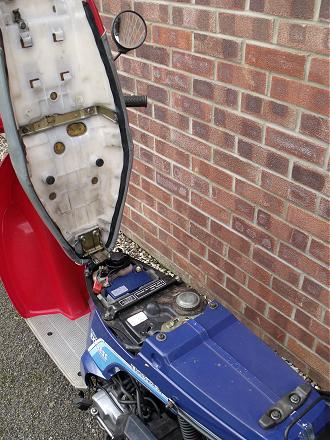 As long as the electric start works, you'd probably choose to simply push the button—and so do we!
The motor fires straight away, revving a little above normal idling rate in the choke phase, until dropping back to tick over as the engine nears working temperature. Riding the bike in choke phase finds it rich and spluttering on throttle, which inhibits the performance till the choke clears, so we take the bike for a good ride round the test course to make sure we get the best results from our run. This was an uneventful run, mainly accompanied by a wailing induction scream from the seemingly unsuppressed air filter box.
Generally the bike can cruise steadily up to 30mph, and occasionally up to 33mph at full throttle in upright stance, but when we say 'cruise', it's actually howling along in a demented banshee scream of silenced, super-smooth revs. There is no leisurely cruising with City Express, it's just quietly revving itself to death, and they do seem to do that, with quite a reputation for main bearing failure.
Given top speed was quoted at 50km/h (31mph), though our best on flat paced at 35mph (according to favourable wind conditions or crouch in still air).
Our downhill run showed a top of 38mph, and all speedometer readings were accurately confirmed by the pace vehicle.
The uphill climb faded down to 25mph before cresting the rise, but managed this ascent quite capably for a 50cc.
Handling was OK with reasonably surefooted confidence in corners, and brakes were good, but on the whole City Express gave a soulless ride.
One particularly irritating aspect of the City Express is putting the bike onto the centre stand. This proves really difficult to do because the smooth panelled body offers no handhold to lift—other than flimsy plastic panels, which will readily break if you try it! While single-seat versions had a rear carrier frame to hold for handling, this seems to have been an oversight for the dual-saddle equipped model, or is there a lifting handle missing somewhere?
Because you can't get a handhold to lift the frame, the only way to put a City Express onto the stand is by pulling it back by the handlebars, which causes the full weight of the bike to lump back onto the stand pivot—which may be why so many City Expresses seem to have busted stands.
After spending several hours properly reconditioning the stand, bracket, and pivot, the workshops went to the further trouble of making a rear carrier—not particularly for carrying anything, but just to create a handhold for lifting the bike onto the stand.
We were originally planning for a fifth bike to be included in the New Generation feature, but the article seemed to have become too big with the preceding four bikes, so we've cheated a little to sort of squeeze it together as originally intended … New Generation follows on with a second chapter, which makes our third feature for this magazine: Mutation.
---
id="next">
Next—Our Italian 1960s' sports-50cc two-stroke track main feature is complemented by even more exotica in an Italian 1960s' sports-50cc four-stroke road bike support feature. How will our standard Road Rocket compare to the tweaked track bikes?
---
This article appeared in the January 2017 Iceni CAM Magazine.
[Text & photographs © 2017 M Daniels.]