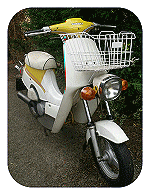 Since the first 50cc definition appeared in Vichy France during the war years, and manufacturers subsequently began producing vehicles to that specification, mopeds had largely followed variations on the general theme of having pedals and employing chain drive.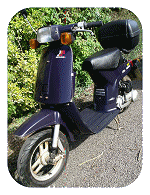 From the late 1970s, however, in a number of European countries, the legal definition of a moped began to change from a 50cc pedal assisted machine, to a 50cc vehicle that could accommodate footrests and kick-starting like a motor cycle, but with limited performance according to market dictates.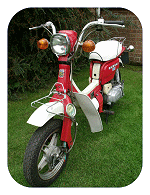 Established pedal mopeds would still be considered acceptable to the new definition provided their performance was compliant, so any considered faster than the new regulation might need to be restricted to remain marketable.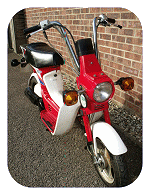 While some manufacturers considered the prospect of compromising and adapting existing designs, others looked upon this as an ideal time to start new projects from a blank drawing sheet and produce fresh commuter 'Slopeds' to suit the new specifications.
Honda probably claimed the first introduction of a new specification kick-start/footrest 'moped' with release of the NC50 Express in the UK in February 1978. We already covered the Honda Express in our earlier 'Shop till you Drop' feature back in October 2013—but today our team of archaeologists will be looking at a number of other interpretations of how the moped theme was looking in the new 'sloped' era.
Our Evolution starts in 1978 as Suzuki introduces its theme on the new specification moped in Japan as 'Youdy', called 'Rascal' in other markets, and later the 'Suzy', but introduced to the UK in April 1979 as the FZ50N.
The FZ is presented very much in the style of a pressed-steel frame, step-through moped, designed and built to the new specification, with footrests, kick-starting, and a 'sloped' plate indicating 30mph restricted construction.
Engine specifications list: bore 41mm × 37.4mm stroke for 49cc, with a 7:1 compression ratio, reed-valve induction through a 14mm Mikuni carburettor, for a given 3.2bhp—which might seem a very capable output for a performance-restricted commuter moped?
The saddle hinges up from the front to reveal the fuel tank filler and oil reservoir beneath. Set into the rear top section of the petrol tank is a glass port with a coloured bar to indicate fuel level. Another glass port is set into the two-stroke oil reservoir and sighted through the frame panel trim below the seat. There's a vacuum operated petrol tap at back right beneath the fuel tank, which is normally left to 'On' all the time, though has a 'Reserve' position if you run out, and 'Prime' to reset the system.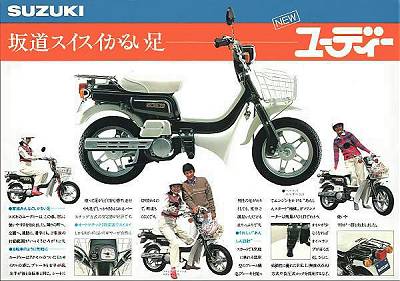 Lockable ignition switch off–on–main lights–parking lights, while the same key also works a steering lock inside the stem tube, and a helmet lock located under the back left hand side of the seat. The big, round, orange lens indicators now look very 'traditional' compared to the LED micro lights bikes have today, and the chrome shells look too shiny to be anything but 'chrome plastic' but tap the casing and they're real chrome-plated metal (die-cast zinc), so no fakery there!
Starting is invariably going to need thumbing of the trigger choke lever under the left handlebar cluster, which is also home to the horn button, indicator switch L–off–R, and Lo–Hi–beam.
Trying to 'feel' for compression with the kick-start gives the impression that something might be broken, since the lever moves freely without turning the motor, but it's one of these 'safety operation' mechanisms that requires you to pull on the rear brake lever to engage the kick-start. A couple of kicks soon has the motor running and filling the garage with smoke, but trying to thumb off the choke finds the motor dying out, so we navigate the bike outside before somebody coughs to death. Blipping the throttle a little still doesn't clear the need for choke so, accepting the motor may take a while to warm, we compromise on the seemingly interminable wait and settle for pulling away on half choke. The bike doesn't seem to mind this, eases up the road in its first gear, then automatically slides up into second around 15mph.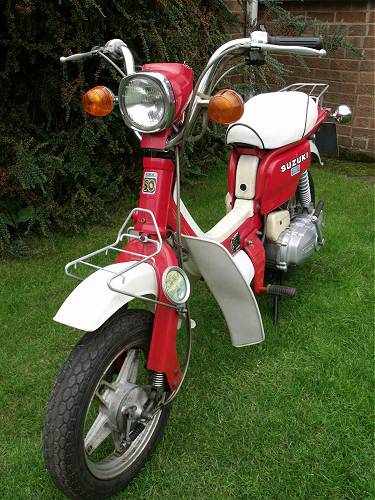 Suzuki's initial pull-off phase is quicker, yet seems much more leisurely and far less strained than the labouring and frantic revving of comparable single-speed machines like the one-speed Honda Express and Yamaha QT mopeds. The very definite two-speed automatic change could also feel quite odd to modern scooter riders, who would be more familiar with the constant flat range of CVT systems. Though the general engine arrangement looks fairly similar to a modern CVT scooter, it's not until you step back to this old-style mechanical two-speed auto mechanism that you appreciate how different and distinctive the operation actually feels.
As the engine warms, we finally get to clear the choke completely, and settle down to a smoothly revving and vibration free ride, while floating along on the soft suspension. Despite the gentle suspension, the ride appears quite confident, much firmer than the pogo-stick handling of Honda's Express and the Yamaha QT. Suzuki seemed to have got the FZ much tighter with a stiffer frame, a heavier rear suspension strut, stout leading-link fork set, firm 12-inch composite alloy-hub & steel rim wheels, and solid 3.00 inch wide tyres. The whole frame package is much more soundly built than the comparable Express and QT flimsy 14-inch spoked wheel arrangements, and you can certainly tell the difference—the FZ does feel better to ride.
The FZ speedometer is marked from 0–40 in 5mph graduations, and running a little chit-chat with our pace rider established the dial actually seemed to be indicating fractionally low, showing 20 at actual 21, and 25 at actual 26. The same condition continued up its range, indicating 31–32 along the flat in upright stance while the pace bike clocked off 33. Tucking down into a crouch along the flat saw our needle creep up to 33, which our pacer reported at 34. Sitting up again promptly caused the speed to fall back again.
Our best downhill run saw 35 on the dial, which our pacer clocked actual 36. The smooth revvy feel of FZ's ride can mislead into the impression that it might lack pull in a climb, and we were surprised how well FZ tackled the following uphill run, cresting the rise at 25.
Brake lighting works off switches set into both hand levers, and both brakes were equally good. While indicators, brake light and horn operate from a battery-assisted circuit, head lighting beam–dip and the rear lamp work direct off a generator coil.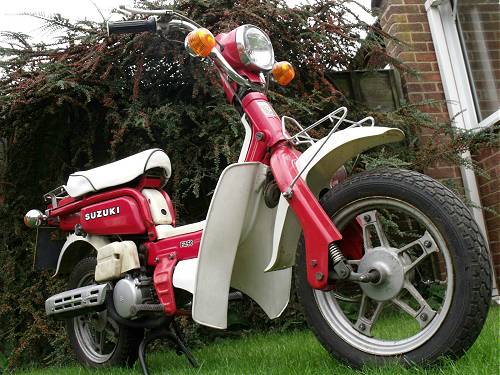 FZ gave a very soft ride on both its front and rear suspension sets, yet was neither bouncy nor wallowy, and handled quite well. Though the bike would rise slightly on its leading-link front suspension under forward braking, the general firmness and limited movement of this set in combination with the smaller wheels seemed to minimise the rearing-up effect so that it was hardly any concern: all very comfortable and civilised.
Riding on a cool day soon gives you an appreciation of how silly the little 'leg shields' are, since you notice your knees quickly get cold. The leg shields really only stop your shoes getting splashed, which seems quite pathetic and generally pointless.
Carrying capacity is accommodated by a small rectangular rack atop the fuel tank and behind the seat, with another much smaller carrier just above the front mudguard with little other purpose than carrying a wire-framed shopping basket (which seemed to become an inescapable fad with mopeds and scooters of this era).
While the silencer is fitted with a heat shield, removal of the rear wheel requires the whole exhaust system to be removed, which rather seems to defeat one of the main advantages of the single-sided suspension design. The same problem still carries over to modern scooters.
Impressions of FZ50:
the two-speed auto delivered capable and calm acceleration,
the engine was smooth and revvy, completely vibration free,
handled well, stopped well, easy to manage, everything worked fine,
a very comfortable and civilised machine—though maybe felt a little soulless?
Complication of Suzuki's mechanical two-speed automatic drive system on the FZ and FS models has come in for some historical criticism over time, though we found no issues with a properly maintained set, which would seem little different in reliability from any modern CVT drive arrangement.
The FZ was re-named as FZ50X 'Suzy' in August 1983, and then continued through to March 1986, when the model was withdrawn.
---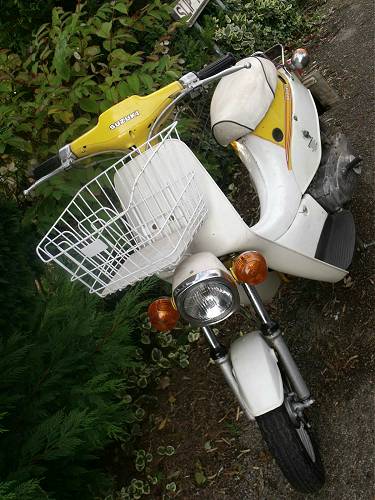 Following on from the FZ50, in May 1980, Suzuki introduced another design variation based upon much the same basic engine: the FS50 'Scooterette'. It looks rather a strange machine now as we've all somewhat acclimatised to the general appearance of today's 50cc scooters, which this obviously isn't. Maybe you might glimpse a long-lost and ancient lineage that might be evolving toward the modern scooter, but this is some odd prehistoric throwback that really has quite a bit of development to go through before its species might glimpse that pinnacle of success.
It needs to be appreciated that there weren't really any other mini-scooters quite like this at the time the FS50 first appeared 35 years ago. Possibly its nearest relatives might have been the various step-through Honda Cub 50/70/90 related machines, but they were all classed as motor cycles and technically failed to comply with the new restricted 'moped/sloped' specification.
There was a brief period in the late 1950's–early 1960s when a few manufacturers produced a few bizarre 50cc Bromscooters (scooters with pedals), but that idea met with little success and quickly fizzled out, so Suzuki's FS 50cc moped/scooter actually represented some quite original thinking at the time.
Up to the early 1980s, the moped was still trying to find a new direction following its UK re-definition on 1st August 1977.
Up to this moment a moped required pedals, but after this time, simply became a vehicle of less than 50cc and limited to 30mph. The new qualification no longer demanded pedals, nor did it specifically require footrests; what riders put their feet upon was no longer a relevant criterion. A footplate would now be equally acceptable, so the specification change was now allowing for a technical new breed of moped as a mini-scooter!
Our example registered with a W-suffix plate dates around 1981–82, and though being a little scruffy, still appears in completely original specification.
The FS50 mini-scooter features a combination pressed-steel and plastic panelled frame, small 2.75×10 wheels & tyres, and much the same horizontal cylinder kick-start engine as the FZ, with no option for electric start.
Comparing obvious differences against Suzuki's FZ moped, the FS scooter has an inverted telescopic fork set with steel fabricated legs. Admittedly this is a shortened fork, where the stanchions only start at the bottom yoke, but the quality looks good for a 50 of the time, and appreciably more technical than the basic leading-link fork of the FZ.
The engine seems identical to the FZ, but instead of FZ's 12-inch wheels, FS has smaller 10-inch, so either Suzuki has done some trick inside the transmission to raise the drive ratio, or FS will be geared 20% lower and revving itself out at 25mph—we'll be particularly looking out for that on the road test. A glance at the speedometer confirms it to be the same 40mph instrument as the FZ, but just with the letters on the dial printed in green instead of black, so no real change there. Otherwise, the handlebar trim is simply presented with only the ignition switch and an orange indicator lamp to keep the speedometer company.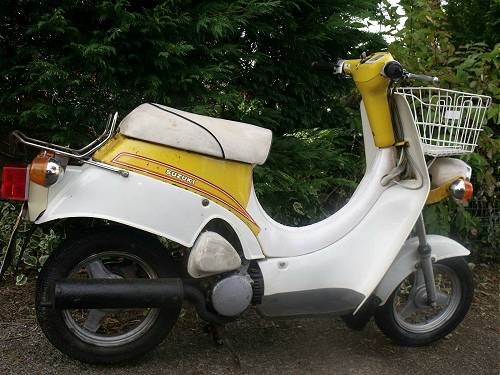 Since both bikes use a common engine, you might half expect the FS pressed steel frame to be the same as FZ's, then use plastic panels to change the appearance, but not so. The FS has its own unique chassis, so the two models are quite distinctly different.
The fixed seat height is 28 inches, and feels fairly comfortable when you settle into place. With legs astride the frame section, your feet naturally settle onto the footplates, which are steel pressings trimmed with moulded rubber mats, and they feel 'right' as your feet nest into them properly and don't slide about.
The plastic moulded front leg shield set rises full height up to just below the handlebar like a proper scooter, much better in this respect than the FZ's half-height/half-hearted leg shield effort, while the FS handlebar comprises a neat and tidy scooter-style moulded headset with integral speedometer.
The FS mini-scooter is fitted with a forward carrier frame, which is too slim to have any practical use in its own right, other than carrying a wire basket. Since a load in the front basket could possibly obstruct any headlamp in the handlebar nacelle, this dedicated arrangement then places the headlamp below the basket, off brackets on the bottom yoke.
All seems generally reasonable so far, but then we get to the body styling … the trouble with body styling is that it's quite an 'individual' thing, some people may like it … and some may not. The FS body form does seem a little unsettlingly strange, slightly like a snail coming out of its shell, and may not be to everyone's taste! It somehow creepily reminds us of the ill-fated Ariel Pixie.
The frame tail is fitted with a small wire rack frame, only 8 inches (200mm) long, which should be OK for strapping on small items, or just about enough for fitting a box carrier, though this would certainly overhang the back of the bike. The obvious impression is that the FS50 was expressly designed as a lady's mini-scooter for shopping.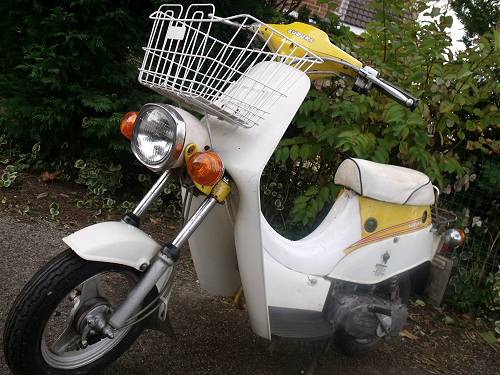 Set within the left side of the frame are two ports, the forward porthole being a sight glass for pozi-oil level, with a red needle swimming around in the green oily window, and the back porthole viewing petrol level, with another red needle swimming around in the fuel. Between and below these, and completing the Bermuda triangle of round devices, is a fuel tap dial with lever marked for on–prime–reserve, with a sticker below giving a long-winded explanation as to operational use:
On—normal position (Auto) [Which we presume to mean it has a vacuum tap.]
Res—reserve supply (Auto) Use only when out of fuel
In 'on' position allow 1 or 2 minutes in 'Pri' position before using Res.
Pri—direct fuel supply (manual) for filling empty carburettor only. Do not leave in 'Pri' position.
Well that's explained everything, but we wonder if everyone might have understood it all?
Ignition turns on by a three-position key at the headset: off–on–lighting. There's a choke lever under the left hand cluster, which irritatingly requires holding on. Since the kick-start is forward action on the left side of the bike, you really can't work this from a seated position and have to stand off the bike to kick with your right foot in typical scooter fashion.
It takes several attempts to get the motor to fire, from which it runs a few moments and peters out … more kicking, more petering, more fiddling with choke position, more petering—damned infernal thing! More kicking (and maybe a little cursing), and finally we get the motor to catch and keep running, so rev it hard on throttle to make sure it keeps going this time—that'll teach it to mess us about! (Sorry about that, but there's something about these little scooters that make you fall straight into character whenever they don't want to go!)
Initial acceleration is quite effective as the two-speed auto gets you away smartly in first, then automatically changes up into second around 12–15mph, followed by a renewed surge of acceleration up to 25+. Once the motor is warm it proves readily capable of getting to 30mph, and if dipping forward on a downhill run, 32–33mph. That's fairly similar to the FZ50, so Suzuki must have raised the transmission ratio by 20% to account for the smaller wheels (which might allow more performance options if you put an FS engine into an FZ—and considering the range of piston over-sizes available from standard 41mm up to 48.5mm/70cc).
The mechanical two-speed auto worked very well, changing up and down quite effectively, and created a little more riding interest than the bland operation of a CVT drive.
FS's 6-Volt electrical system was supported by a battery to drive the usual indicator equipment, etc, but the head lighting was diabolical. Riding out on a dark evening, forward illumination was only a dim puddle of light ahead, with little peripheral scatter, so it wasn't possible to see well enough to use even the restricted performance of the machine.
It is rare that we make any adverse observations about relatively modern battery supported DC electrical sets, but the FS was truly a creature of darkness worthy of comment.
The spark plug proved practically inaccessible for service, requiring lying down to peer along the leg shield tunnel, and there it is, right at the far end at the top of the head—that's clearly no easy job to get at!
The FS50 'scooterette' seemed to quietly fade away from UK listings during 1983. In itself, an unpopular and evolutionary failure that didn't seem to have lasted very long at all, but the significance of this brief moment was right at the front end of a new evolution toward the subsequent dominance of the modern 50cc scooter.
---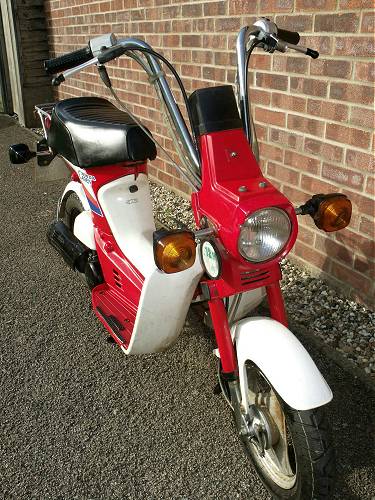 Honda Caren sounds like a scooter you'd find dancing round its handbag at some local nightclub—who thinks up the stupid names for these things?
Honda introduced the NX50B Caren in February 1981, accompanied by the NX50MB Caren de Luxe with electric starting.
This machine appears to be Honda's reply to Suzuki's FS50 'scooterette', and considering it took Honda nine months to follow the Suzi's lead, then it could have been exactly that? Perhaps Honda thought Suzuki was on to something with the FS50 and created its own variation on the theme.
To the casual glance one might easily think the Caren could be a Honda Express trimmed with a few plastic panels, and while the Express is very probably a significant part of its lineage, there are a lot of pronounced differences.
While Express started with 14-inch spoked wheels, Caren has comparatively tiny 2.75×10 pressed steel wheels, which results in shorter forks and a lower slung motor.
Express came with an all-tubular frame, but tickle around Caren's bodywork with your finger, and the back frame section comprises a steel pressing with plastic panels to trim down to the footplates. The headstock is lower, the handlebars rise higher, and the 40mph Nippon Seiki speedometer sits atop a bizarre plastic binnacle built from the yoke like a gentleman's top hat. Caren's handlebar arrangement does seem untidily cluttered with levers, a forest of cables, wires, and that peculiar speedometer carbuncle rising like an ancient lost edifice through some overgrown jungle!
The actual engine seems barely visible beneath the panelling and even if you lift the top moulded cover to the frame where a label says the plug spanner is stowed, we're not sure that you're going to have practical access to the spark plug from this route … seems you would have to lie down on the floor to get at it from under the footboards? Can't see many young lady Caren owners doing that now, can we?
The Caren is pretty much based on an Express engine, with horizontal cylinder of 40mm bore × 39.6mm stroke for 49cc, 6.7:1 compression ratio, and reed-valve crankcase induction.
The only visible motor parts are the main casing and drive case, which is marked by a 'Honda-V-matic' decal, which means this is Honda's version of a CVT belt transmission.
There's an integral ignition and steering lock, which seems to be quite a technical development, since Honda steering locks were previously separately mounted beneath the bottom yoke.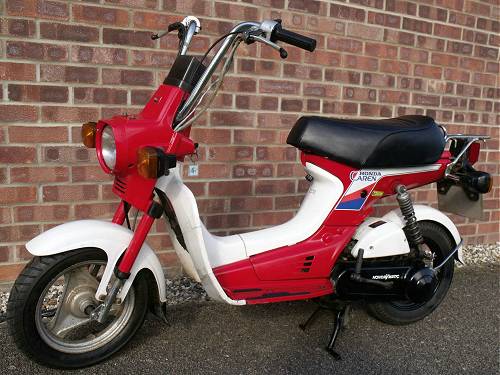 We look around for a fuel tap, but there doesn't appear to be one, so guess this has a vacuum operated tap hidden somewhere we can't see it … then look around for a choke control, but there doesn't appear to be one of those either, and we guess that's automatic too, so nothing to do but turn on the ignition, one jab at the forward acting kick-starter and the motor fires up first time.
The exhaust generates a mellow popping tone, not totally stifled, and with a little clearer note than we might have expected. While the engine will respond to early throttle in the start-up phase, it's clearly still choked, and will cough and splutter until warming of the motor clears the running. Pulling off quickly after starting will certainly find the motor faltering and may convey a false initial impression about how the bike actually runs once it's got a bit of heat into the metal.
Initial acceleration proves quite effective while the CVT variates up to 20mph, where it runs out of range, after which the revs rise to a smooth and silent scream around 25mph. Get the motor hot and you can work up to around 27ish on the flat, and despite the alluring 40mph Nippon Seiki speedometer implying a false promise of more possible speed, Caren barely struggles to 30mph on the downhill run, where rev clipping then seems to prevent any prospect of the bike going any faster.
Honda's critical observance of this 30mph restricted moped specification is such that Caren seems hardly capable of achieving 30mph, and with absolutely no prospect of ever exceeding this. Caren's muffled and silenced screams are heard by no one as her engine quietly revs itself toward some distant but inevitable conclusion.
The seat folds up from the back to reveal the fuel tank with a gauge in the top (how does that really work for the rider when the gauge is covered up by the seat?) and a two-stroke oil reservoir, which has a level sight window in the left hand panel.
Rear suspension works off a single-sided strut on the left hand transmission case, while the front forks are another of these short telescopic arrangements, the general ride proving satisfactory enough for the scooter's limited performance. Repeating the FS formula of small wheel, short forks, and low mounted headlamp also gives Caren a similarly odd frontal appearance that so came to characterise a number of 'shopper' machines of this time, ending up with a common forward geometry dictated by obsessive marketing requirements to carry a forward wire shopping basket. For basic specifications we measure a 28-inch seat height (exactly the same as Suzuki's FS), 60 inches long nose-to-tail, and the 'sloped' frame plate tells us Caren weighs 61 kilogrammes (9½ stone), which saves us having to get out the scales.
The half-height plastic leg shield set seems like another of these pointless marketing additions that has little real practical purpose to the rider.
Lighting control is switched on the right hand cluster off–park–head, while left cluster switching gives beam–dip, horn, and indicators L–off–R, and stop lighting functions from both brake levers.
Like Suzuki's FS50, the Honda Caren appears another slightly strange creation, halfway between a moped and a scooter, but not really either.
Caren is a physically small moped/mini scooter that was clearly targeted at a very specific market sector … let's put it this way: it's really not a man's machine!
The electric start version seemed to disappear from UK listings after just its first year, leaving the standard kick-start version to soldier on alone for 1982, before that too was de-listed in March 1983 … another complete evolutionary dead end! Suzuki's FS50 and Honda's Caren were technically hybrids, crossing over somewhere in the no-man's land between the moped and the scooter—now things are about to get really nasty!
Here we go with another girlie-titled mini-scooter—we wonder who the target customers were supposed to be? Wasn't 1980s' marketing a wonderful thing?
---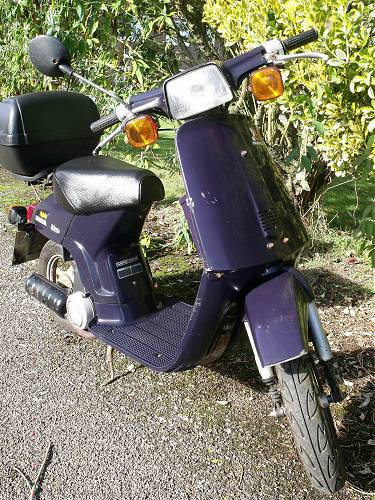 Honda introduced its first true mini-scooter models in June 1981, comprising the basic kick-start NS50 Melody, and NS50 Melody de Luxe with electric starting.
In 1983 Honda's marketing people must have decided that everybody needed a little more confusion in their lives, and listed a new NP50D Mini-Melody, to join the NS50 Melody de Luxe and NS50 Melody II de Luxe, which were both electric start.
From March 1984 there also came a NB50MSE Melody de Luxe to replace the NS50 Melody de Luxe, which had been de-listed the previous month, while the II version was seemingly now re-coded as NS50MSB Melody II de Luxe.
The 30mph restricted 'sloped plate' on our test machine seems to suggest this might be a Honda NT50 Melody 49cc mini-scooter and registered in 1984, but we're a little confused as to how that could be since the NP50D Mini-Melody wasn't officially re-designated to the NT50F coding until April 1985. So quite what have we got here? Who knows? And does anybody really care?
The chassis plate also gives a weight of 56 kilogrammes, so at least saves Melody the embarrassment of us putting her on the scales.
There are seemingly the same 2.75×10 pressed-steel wheels & tyres as Honda's Caren, but Melody has a miniature 'Earles type' front fork set, with a single-sided rear suspension arrangement that was fast becoming the norm around this time. The tubular spine frame is completely clad with plastic. Front mudguard, apron, footplates, body trims—all horrible plastic, which constantly seems to creak and groan in sympathy with the bike's age.
The body is conclusively a single-seater arrangement and the 15-inch by 10-inch saddle provides a comfortable & spacious perch for one, though its lowly 26-inch seat height feels a bit as if you're squatting on a short stool.
The non-adjustable handlebars are positioned somewhat too close to the seat, unless the rider is particularly petite, so the average western pilot is going to find the cockpit quite cramped. There's a natural tendency to sit back on the saddle to try and find more space, but then the riding position becomes increasingly silly … basically this bike just isn't going to suit any larger or taller riders, and with the name of 'Melody'—realistically, it's another girlie scoot.
Behind the saddle the rear body mounts a carrier, which our example demonstrates with a fitted box. Though this box is only normal size, it looks quite enormous on Melody, which gives some impression of how small this mini-scooter actually is. And guess what? Yes: the design allows for the capability to carry an accessory wire-framed shopping basket off the front panel!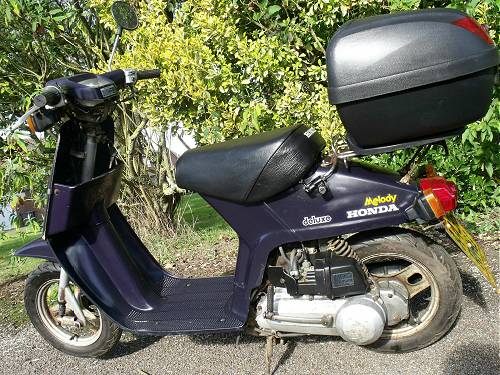 Though these different makes of scooter engines seem to be of almost exactly comparable specification, 40mm bore × 39.6mm stroke for 49cc, with reed valve induction into the crankcase, and rated at the same 3.2bhp, this fan-cooled engine layout has now developed into an early evolution of the conventionally adopted construction used in many modern scooters.
At first glance Melody's motor looks a similar arrangement to Caren's engine, but the Melody cylinder is disposed in a backward/upright layout, while Caren's was horizontal. At the front instead, our Melody de Luxe has an electric starter, though a left-hand kick-start is still retained on the transmission case.
Cycle fittings are generally conventional format for the time, with fuel tank and oil reservoir beneath the seat.
We note the fuel gauge is now an electrical instrument, and has migrated to a more logical and visible location within the 40mph speedometer, rather than the previous generation of machines, which featured crude mechanical gauges in the tank behind the rider.
There are the usual lighting–horn–brake lighting–indicators—all very formulaic, but now with a 12-Volt battery to drive the starter electrics.
We really wonder why Honda fitted a 40mph clock to a bike we're pretty sure will only go much the same as Caren, and probably barely struggle to 30 at best.
Oh well, let's see…
Turn on ignition below the steering head inside the front apron, pull in left hand (back) brake lever to enable starter, then with vacuum fuel tap and automatic choke, there's nothing else to do but thumb the starter button: zig, zig, brmmm … yeah, that was easy.
The choke phase is thermally controlled so motor running will be inhibited until the engine warms up, though can be ridden like this, however in a spluttering and faltering manner until the cylinder heats the sensor to clear the choke.
Once the choke clears, initial acceleration is quite nippy up to 20mph, when the variator runs out of range, after which Melody's revs rise to a silent screaming crescendo around 25.
With a hot motor you can just about wring 26–27mph out of it on the flat, and maybe scrape 30 downhill as the engine runs super smooth in a quiet scream-like some horror movie with the volume turned down.
Brakes were very good, all electrics worked predictably. General handling felt like something you might never get to trust on a loose surface, in damp or frosty conditions—it just seemed that the tyres might be capable of letting go at any time.
Having just four inches running clearance to the low-slung body meant that the stand readily dragged on corners.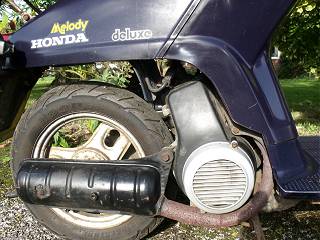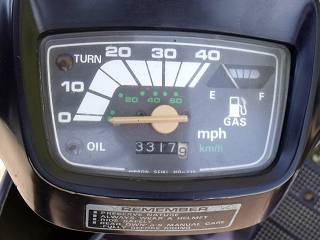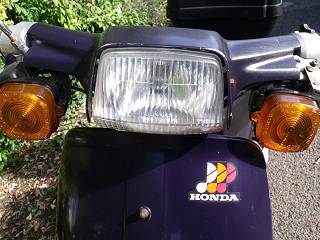 Your feet sliding about on the hard plastic footplate was an unpleasant sensation, and felt particularly cheap and nasty. Overall the Melody ride was: well, horrible! Maybe Honda should have called it the 'Malady'!
Despite the seeming advantage offered by having single-sided suspension at the back, removal of the rear wheel still requires the exhaust system dismantling from the motor.
Melody serials indicate F & G models for 1985 & 86, then H for 1987, when it was replaced by the Mini-Vision 50.
What particularly appeared to characterise machines of this time was there seemed to be a ridiculous design definition developing between 'shopper-scooters' intended for dainty ladies to ride, and 'other styles' of machines intended for men.
Fortunately the wire basket carrier soon became consigned to the waste bin of history, whole marketing departments were taken out and shot, engineering got smarter, and the future motor cycle industry experienced the good fortune to be able to embrace a new concept of unisex designs.