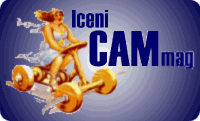 October & November 2010
Photos by Andrew Pattle
(unless stated otherwise)
---
At the end of 2009 the Iceni CAM Research Team travelled to New Zealand in search of a moped that doesn't officially exist. The story of that moped appeared in World's End ... and other pictures from the trip are published here. Well, we've been back. Not to research anything in particular this time ... just "because it's there".
Napier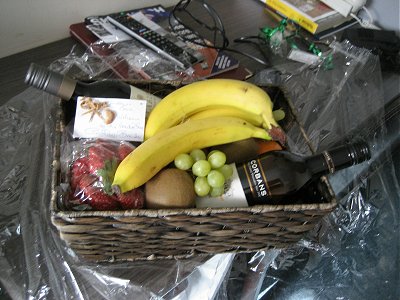 Napier is renowned for its wealth of Art Deco buildings ... but as well as those, we were there to visit Geoffrey and Brenda Clark. On arrival at our hotel we found that Geoffrey had got there first and left a welcoming gift.

[Photo: Jane Pattle]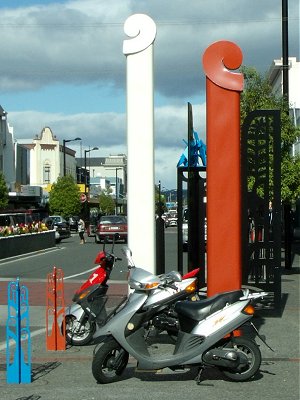 Most of the under-50cc machines you see 'on the streets' are scooters these days ... but in Napier, the parking spots are particularly decorative.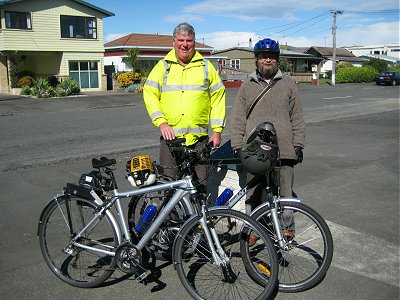 The first thing Geoffrey had planned for us was a ride on some of his more modern cyclemotors.

[Photo: Brenda Clark]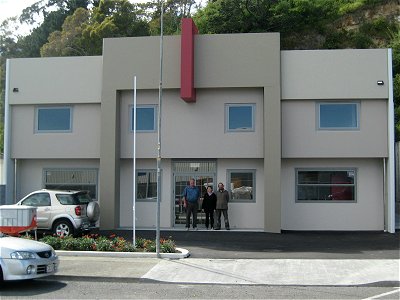 Geoffrey's collection will be housed in this new building. At the time of our visit the building was complete but empty, awaiting the final 'signing off' by the local council. Although newly built, its design reflects Napier's Art Deco heritage.

[Photo: Brenda Clark]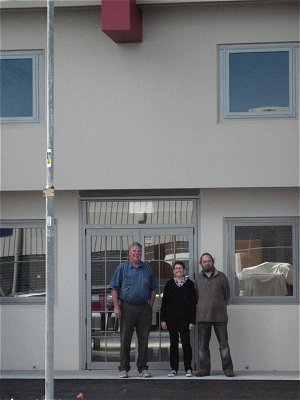 Left to Right: Geoffrey Clark, Jane Pattle & Andrew Pattle outside the entrance to the new building.

[Photo: Brenda Clark]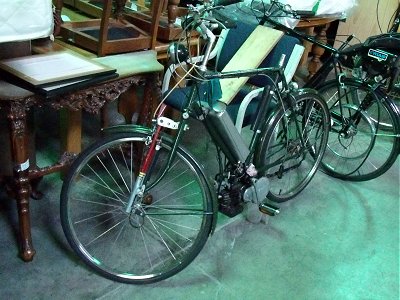 Until the new building is ready, most of Geoffrey's bikes are stored in a warehouse ... so let's go and see what's there, starting with this Vincent Firefly. It's on a Raleigh cycle that is fitted with Telelink forks.

[Note: You may notice in these photos that this, and several others of Geoffrey's restored machines, don't have a saddle. No, there isn't a mysterious shortage of saddles in New Zealand; it's simply that Geoffrey uses a saddle he's comfortable with and moves it from bike to bike.]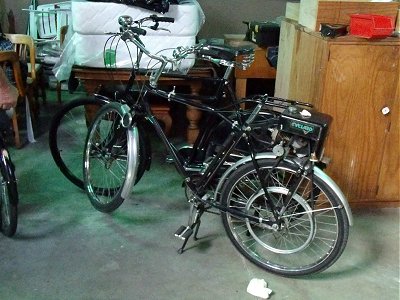 A Cyclaid ... one of many ...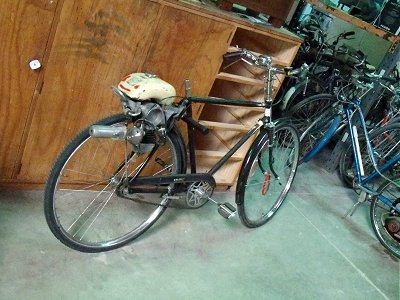 A Power Pak on a Raleigh cycle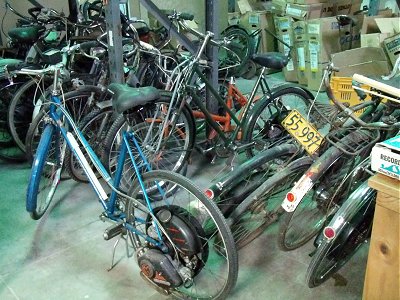 Cyclemasters ... there are at least three of them in this picture.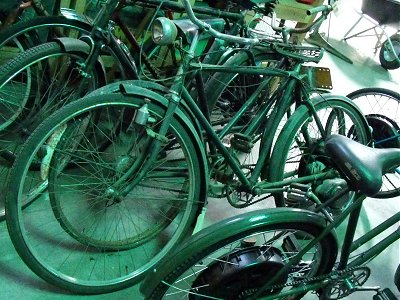 Looking at the Cyclemasters from the other side, we see that this one is in a Royal Enfield cycle.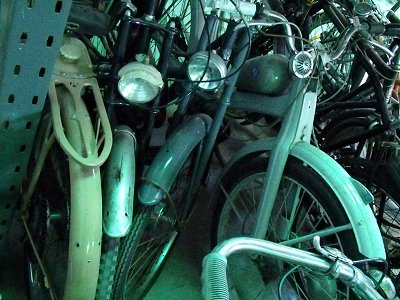 A group of mopeds, including a Mobylette and an NSU Quickly.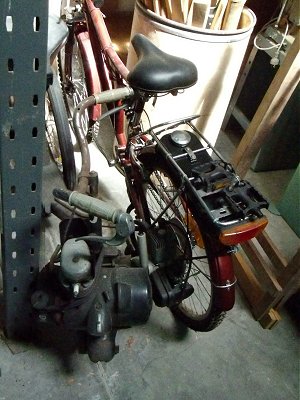 On the right, that's one of those 40cc Morini cyclemotors; it's in a spring-frame cycle. The lump on the left is VéloSoleX.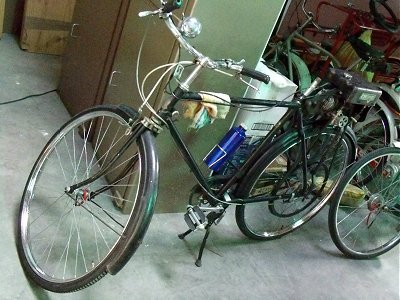 The next Cyclaid we see is on a Humber bike with its distinctive duplex forks.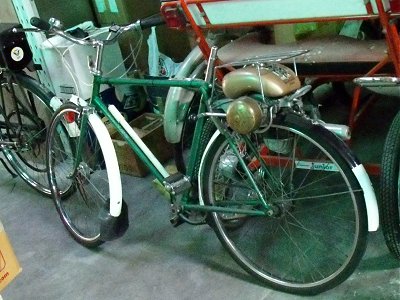 Behind the Cyclaid is another Power Pak - this is a Synchromatic model.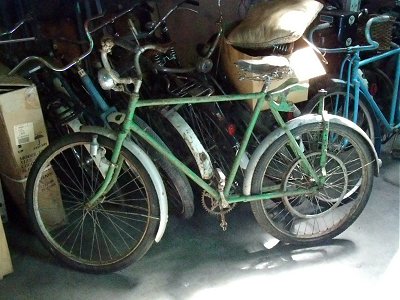 Cyclaid fans will immediately recognise the brackets attached to this cycle. The blue bike in the background isn't a cyclemotor, just a pedal cycle, but we're going to look at it anyway...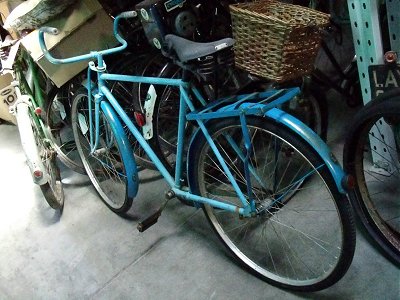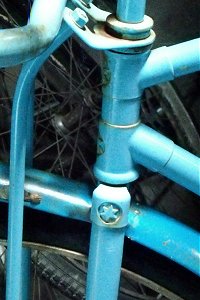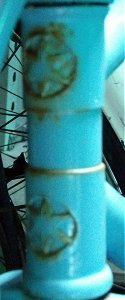 ...because it's a Malvern Star, made in Australia by Bruce Small. The star-shaped cutouts in the ligs are a distinctive feature of Malvern Star bikes. Malvern Star also made autocycles and Bruce Small was the agent for Berini in Australia.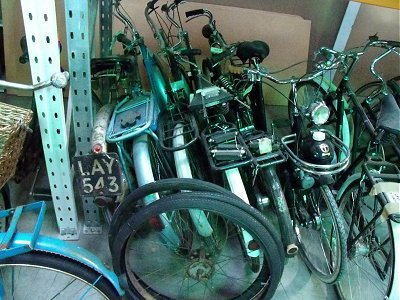 Speaking of Berini ... there's one here. Over to the left, the cyclemotor with the blue petrol tank under its rack is a Victoria. Next to that is something with a UK number plate ... we'll come back to that.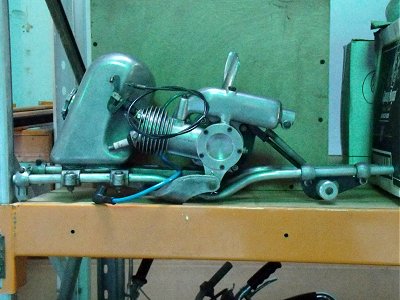 On a shelf above us we find a GYS Motamite.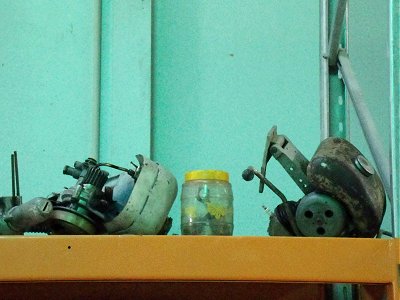 And on the next shelf, a Mini-Motor and a Power Pak.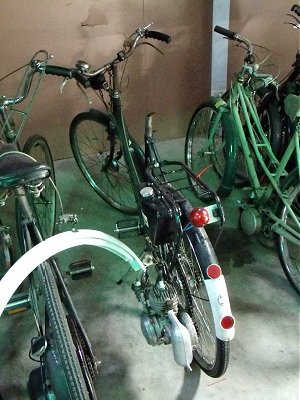 Here's an ABG VAP-4 next to a ...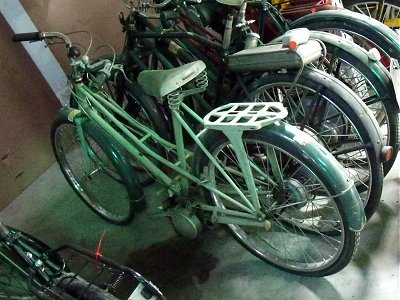 ... Peugeot Bima.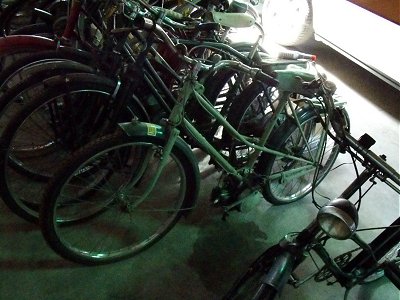 This is the Peugeot Bima again, seen from the front.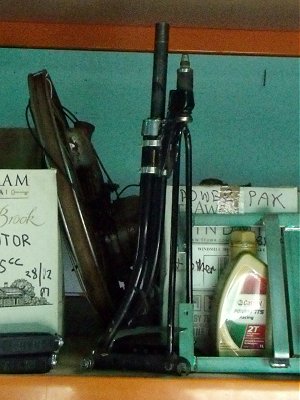 Going back to the shelves, this is an unusual suspension fork.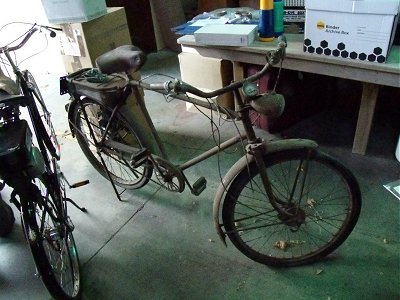 This is another Victoria cyclemotor in 'as found' condition but absolutely complete.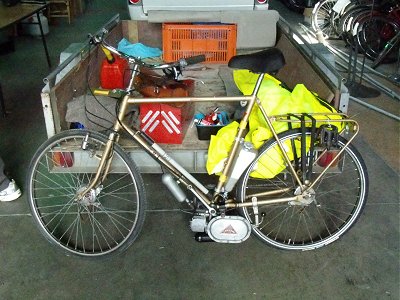 A Lohmann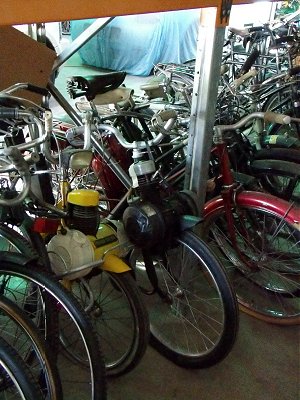 A pair of VéloSoleXes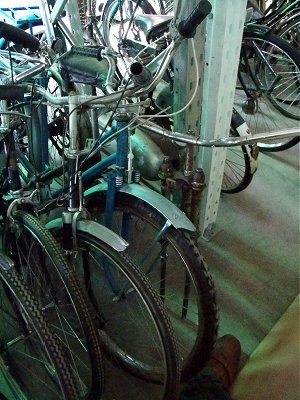 The spring forks are Victoria, so the bike behind it is the one we sais we'd come back to, the one with the UK number plate. It's a Phillips Motorised Bicycle.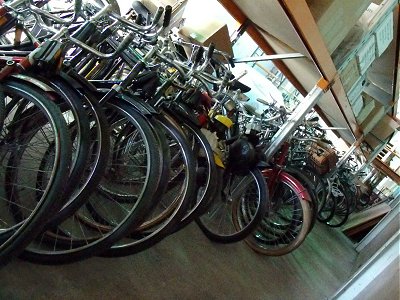 A view of some of Geoffrey's collection.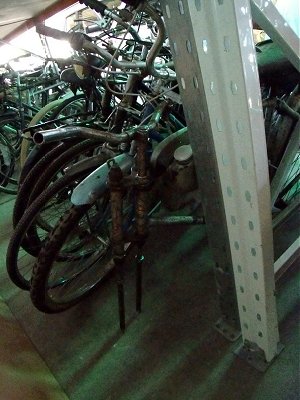 A view of some of Geoffrey's collection.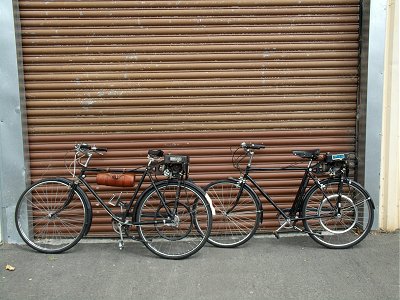 We were also able to try out some of Geoffrey's machines on some of Napier's many cycleways. This pair of Cyclaids were the bikes we used. The front one is on a Humber cycle and the rear one is on a BSA. The front one is an early version of the Cyclaid, as you can tell from its...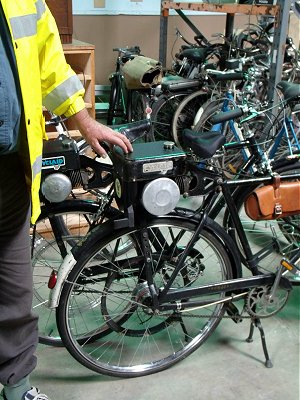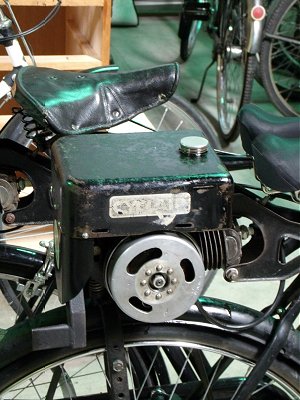 ...Bosch magneto (So that's why Cyclaids have that cutout in the fuel tank).

That's the end of our visit to Geoffrey Clark's collection but, before we left Napier, we spotted another interesting bike on the street...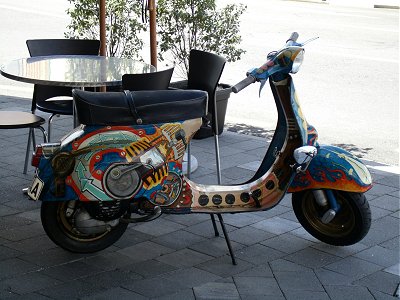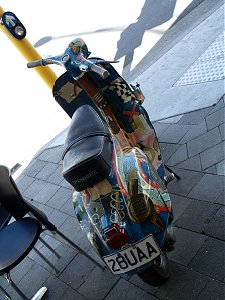 ---
October 2010
| CAMmag Home Page | List of articles |
---