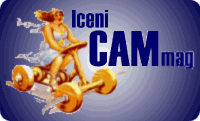 IceniCAM News Archive
2020
---
Moronic Moped Marathon
August 2021
Dear Andrew and Mark,
Firstly congratulations on such excellent work with the IceniCAM mag; I've read quite a few articles over the years and they are all excellent!
I thought you may be interested in my Moronic Moped Marathon, where I undertake a 1,800-plus mile journey around the UK on my Tomos Moped for the Institute of Cancer Research, and in memory of my good friend Alexis Leventis. My route includes some of the silliest and rudest place names in the UK and you can see some more info on my Just Giving page here: www.justgiving.com/fundraising/paul-taylor233 and my route map here: goo.gl/maps/YsSTb5DE14rnZbzo8
Paul Taylor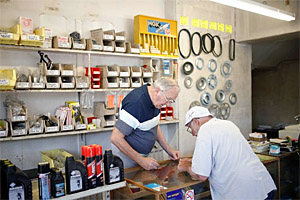 Photo: James Beck/Bristol Live
End of an era: Aplins has closed.
July 2021
After more than 60 years, Aplins of Bristol closed at the end of July. Although it was his father, Bill, who started the business on 1 June 1959, the current owner, Brian Aplin, was involved right from the beginning, so Brian has been in the trade for 62 years.
'After 62 years service to the moped world, I'm going to take a break. I'm going to relax and play bowls at Knowle Bowling Club, and I shall see more of my grandchildren' Brian said. 'But I won't leave customers in the lurch; the property is being sold on, but all the spares will continue to be sold by another party, who we're negotiating with at the moment.'
Now those negotiations are complete, we can reveal that it's Malcolm Corrigan of Classic Moped Spares who will be continuing the supply of spares.
DfT News: Standard petrol is changing to E10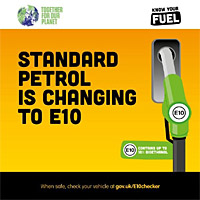 June 2021
This summer the standard petrol grade in the UK will become E10. Currently, UK petrol is E5, meaning it contains up to 5% bioethanol. E10 petrol will see the amount of bioethanol increase to 10%.
Petrol cars manufactured after 2011 and most modern motorcycles are E10 compatible. However, around 5% of petrol vehicles made before 2011 will need to continue to use E5 petrol which will remain available as the super grade petrol option at the pumps.
Using E10 fuel in an incompatible petrol vehicle will not cause immediate harm but continued use could damage your engine's parts. If in doubt about the compatibility of your vehicle, you can use the online E10 vehicle checker or seek further advice from the vehicle manufacturer or garage.
Filling stations that stock two grades of petrol and supply at least one million litres of fuel in total each year will have to have at least one pump with the Super E5 protection grade. While not all filling stations meet these criteria, almost all towns across the UK will have a filling station that supplies the 'Super' grade. The main exception is in certain parts of the Highlands, north, and west coast of Scotland, which will be covered by an exemption process and allowed to continue to market the 95-octane E5 grade.
Note that some Super E5 Protection grade products do not contain any Ethanol as the E5 designation is for fuels containing up to 5% Ethanol. Similarly E10 petrol can contain between 5.5% and 10% ethanol by volume.
Fuki What?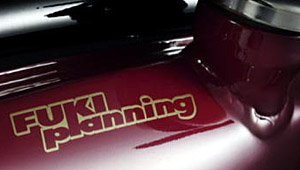 March 2021
Andrew:
I was perusing your IceniCam site today and noticed that you've not done any articles on this Japanese moped manufacturer with (to Western eyes, at least) a rather unusual name: Fuki Planning
The company is building some cool looking machinery that features its own 31.7cc two-stroke engine. Like the Honda People you road-tested in my part of the world about a dozen years ago, the FK310 series is specifically designed for a particular class of motorised transport in Japan, with a maximum speed of 20km/h.
As an aside, I'm amazed that Blue Wing Honda would have considered bringing the PY25 to NZ, as the only market it would have been suitable for back in the 1980s was Canterbury. There were more VeloSoleX mopeds sold around Christchurch than anywhere else in the country for obvious reasons—the place is as flat as a pancake!
I've tried to buy an FK310 for my collection via a Japanese dealer-only auction that I've been associated with for more than a dozen years, but they tend to go for more than the new price! I had planned to visit the company or one of its dealers to buy a new one, last year, but COVID put things on hold.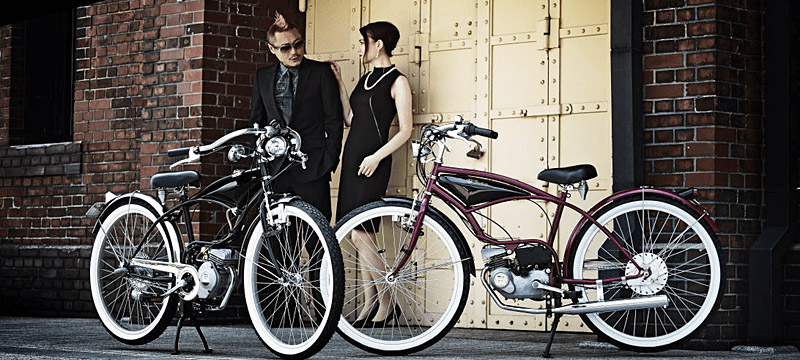 Fuki Planning FK310LAⅢ in Sport [Left] and Classic [Right] versions
Anyway, I hope you find the link of interest…
Stay safe.
Kind regards,
Peter Cooper
Waihi, New Zealand