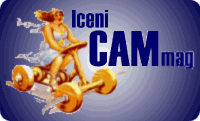 ---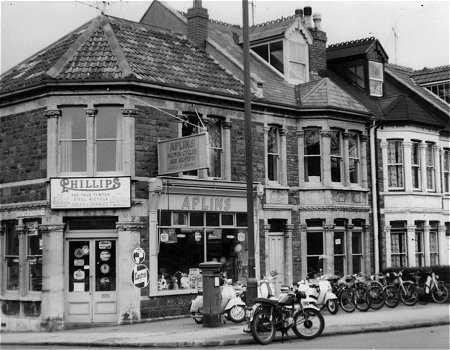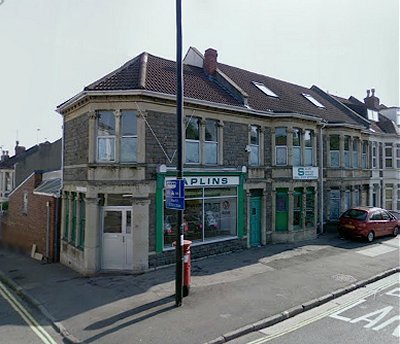 Aplins shop in 1960 … and in 2009
2008 saw the 50th anniversary of the Raleigh moped. Hot on its heels, the following year, came the 50th anniversary of a business that had become inextricably linked to the Raleigh moped: Aplins of Bristol.
Although it was his father who started the business on 1 June 1959, the current owner, Brian Aplin, was involved right from the beginning, so Brian was also celebrating 50 years in the trade.
Although Aplins is the name that springs to the enthusiast's mind when in need of parts for Raleigh or Mobylette mopeds, the first two machines in the shop were NSU Quicklys. Aplins has dealt in a huge variety of marques in the intervening years: Ariel, AutoVAP, Berini, Bown, Capri, DKW, Excelsior, Garelli, Gilera, Hercules, Honda, Kerry, Laverda, Norman, NSU, NVT, Paloma, Phillips, Suzuki, Tomos and Victoria. This continued into the 21st century with CPI, Keyway and Sym scooters.
However, Raleigh and Mobylette were the most prominent marques in Aplins' history and the shop's involvement with these has been more than that of a mere dealer. In the early 1960s, Brian went to the Raleigh factory where he worked on the assembly line and also dealt with engines returned under warranty. At that time Raleigh was experiencing problems with the big-ends in Runabout engines resulting in a number a warranty claims.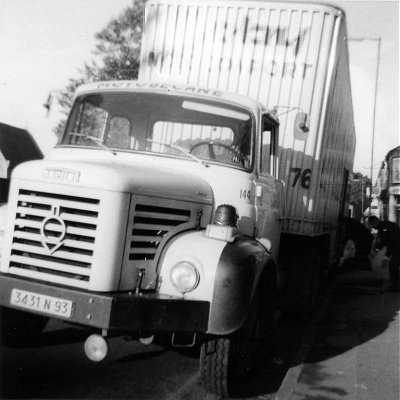 1967 and a lorry-load of mopeds arrives from France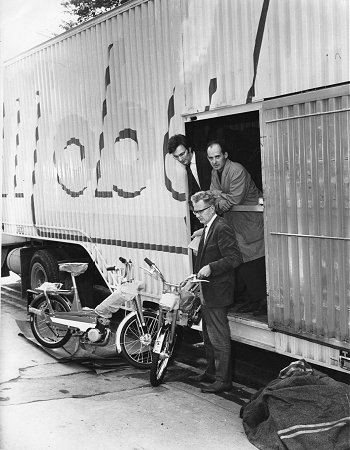 Unloading the new Mobylettes
When Motor Imports, the UK importers of Mobylette mopeds, ended their connection with the French manufacturer in 1967, Aplins became the main dealer for the area. This involved ordering large batches of machines and spare parts direct from Motobécane and distributing to the dealers in the area, which stretched as far away as Taunton. Orders for new mopeds had to be planned well in advance so that Motobécane could convert a batch of machines to meet UK regulations. It would be about two months after the order was placed that a huge Berliet artic would draw up outside the Bristol shop and around 80 mopeds would be unloaded and lined up on the pavement. This arrangement continues until Motobécane appointed Thamesdown as main dealers for the whole of the UK.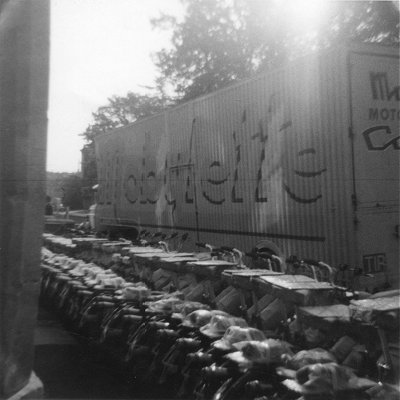 The complete delivery seen from the shop door
Thamesdown's period as main dealer ended in the 1980s; the company was taken over by Fowlers of Bristol. Fowlers were only interested in the bigger bike portion of the business so Brian tried to buy up all the remaining Mobylette spares. However, he was not successful and Fowlers scrapped the remaining stocks. Nevertheless, Aplins of Bristol continued its long association with the Mobylette as Brian sourced spares - many of them direct from France—to help enthusiasts to keep the remaining examples on the road.
Finally, at the age of 77 and after 62 years in the business, Brian decided it was time to retire and the shop closed on 30 July 2021.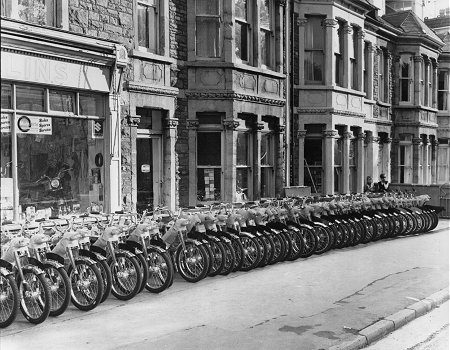 1967 - New Mobylettes outside Aplins' shop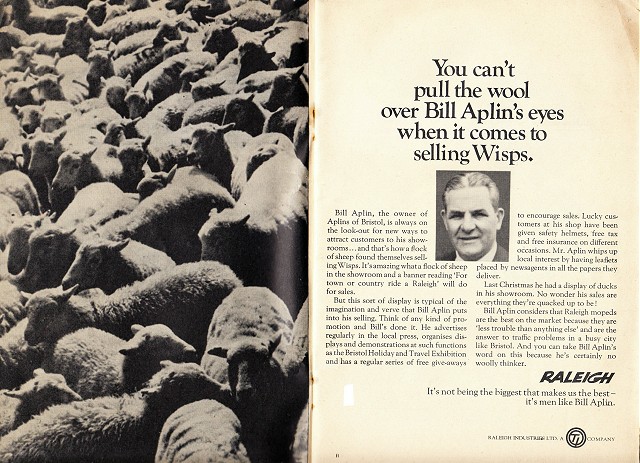 1968 - Bill Aplin is featured in a Raleigh advert in the Motor Cycle & Cycle Trader, 21 June 1968
---
| CAMmag Home Page | Trade Directory |
---