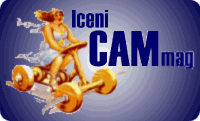 EACC West Anglians go further West

or the Norman conquest of Northern Ireland
---
29th June to 1st July 2012
Report by Ralph Richardson
---
Alex Lees, Matthew Cox, and I, Ralph Richardson, ventured west to the VMCC Northern Ireland section, Antrim Coast Run.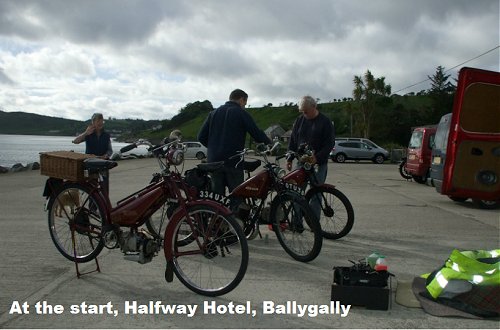 The weekend event started at Ballygally near Larne on the Antrim coast road. Saturday's run of approximately 135 miles with a carvery lunch stop at Portrush after 70 miles, set to challenge our three autocycles: two Norman Model C's and a Rudge... Obviously this was no flat country jaunt for an hour or so, no way: immediately on leaving our starting point we headed inland and up and up into treeless moorland. Lots of pedal assistance from the start.
The countryside and views were breathtaking, (so was the LPA!). As we climbed, the clouds got lower to form mist, drizzle, then rain. After about 50 miles or so, we were tested by storm conditions on the run to Portrush making 20 miles seem like 200!
Parts of my Rudge decided to fall off and stay in Northern Ireland somewhere (carb cover and filter).
Matthew's Model C's clutch started to slip, slowing him on inclines to almost walking pace. This made for a tortoise and hare situation with Alex and me frequently stopping on hill crests waiting for Matt to creep up the inclines, only to whiz downhill rapidly.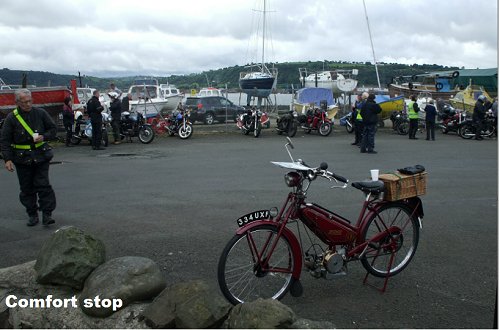 The monsoon conditions and puddles on the run into Portrush finally drowned Alex's magneto, so the back-up team came into play, bringing him to lunch.
Ram-air Rudge soggily arrived under its own steam and Matt's slipping clutch brought him home.
Around 60 riders and passengers, on bikes from Scott two-speeders to Norton Commandos, were in the rally, but no other autocycles.
I must say the Irish know how to feed people - no potato famine in 2012! A grand spread was enjoyed by soggy bikers at the Royal Court Hotel, Portrush, incidentally, close to the Open Golf Championship on at the same time.
Matt, draining all oil from the clutch case hoping that would improve grip, and I set off in front of the main pack for leg of about 65 miles around the coast to Ballygally base. Alex elected to abort repairs and come back in the back up vehicle.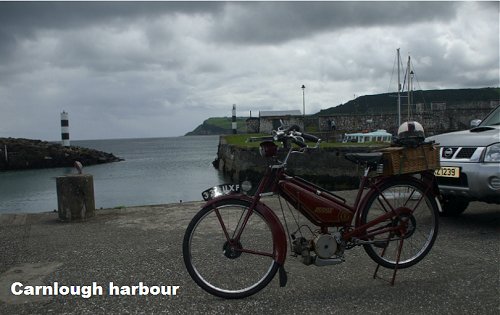 A couple of long climbs past the Giant's Causeway, then it was down to sea level at Carnlough and on to the coast road.
Dry at last, the remaining 20 miles was idyllic, touring, waving, smiling, through the coastal villages, with the sea literally lapping at the road's edge and craggy rocks towering above on our right. A great experience. Rudge and Model C made it to base, 135 miles covered.
After everyone had showered and refreshed we all gathered for an evening of food and entertainment: Irish dancing, music and members encouraged to get up and sing.
Sunday's run started again from Halfway House Hotel, Ballygally. Matt decided that the clutch was spent so decided not to ride. Alex's Norman did fire up after dying out but only lasted for about five miles before giving up - so back in the trailer again. Ram-air Rudge pressed on into more rain, mist and head winds. Arriving at a 'comfort stop' after 25 miles or so, my saddle spring decides to snap. Bent washer and cable ties later, I was riding again on a board-like saddle.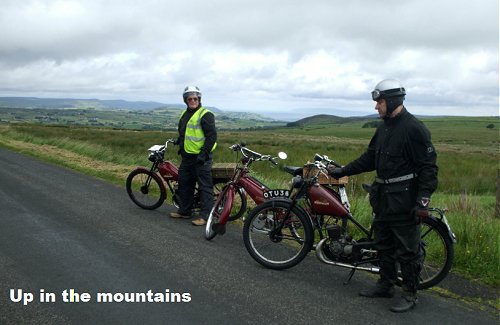 Ninety miles was the target for Sunday; I was advised to miss out the 1 in 5 up and down Glenarm Glen. My brakes or pedal power would not cope with that!
The lunch stop took us up a glen to a beautiful spot with waterfalls and woodland, preceded by a long drag on the A43 which caused a seizure. Not me, the bike. Clutch in, coast, pedal, pause then drop the clutch and away again. Must put more oil in mix! Arrived at the lodge with main pack of riders, lunch, more potatoes, etc. Don't expect to get slim on this rally!
The sun came out at last on the final 30-mile ride along the coast road again. Beautiful. Rudge just made it back with about 5psi in the back tyre, picked up a flint or something along way.
I hope this has been of interest as autocycling has no boundaries; it did test man and machine but what rewards!
The hospitality, scenery and camaraderie were second to none. We'll be back.