I was always told that you should look forward to your summer holidays. Having moved this year, I decided not to go away but to spend the odd day out exploring. One such day took me back to the small fishing town that is hidden on the southernmost point of Kent, namely Dungeness. Having been there before, I decided to return with open eyes to see if I had misjudged the place and had missed all the highlights.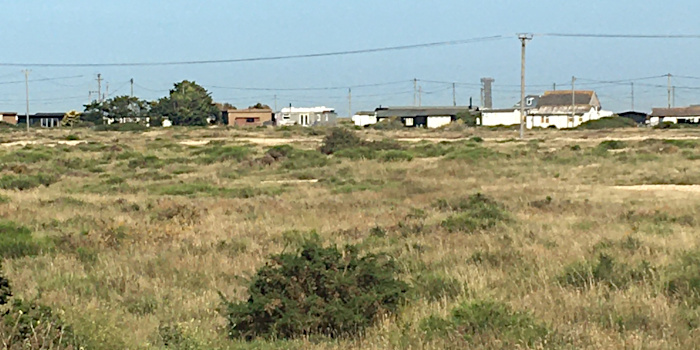 Picturesque Dungeness
The sign as we turned off the main road said 'Dungeness Estate', but there were no tree-lined avenues or even soft sandy beaches, instead we passed along a shingle lined road and, when we reached the car park, our eyes were drawn to the massive Nuclear Power Station which dominated the skyline. However, Dungeness does feel as if you have reached the end of the world but in a good way and one of the pluses is the clean toilets and café at the RH&DR Railway Station. This is a modern building that does look a bit out of place among the wooden shacks and shingle beach, which apparently is one of the largest expanses in the world and is classified by the Met Office as Britain's only desert.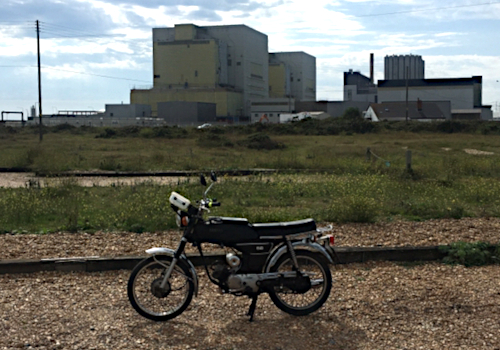 My FS1-M, and the Power Stations
I was here again along with my riding mates, Dave Raggett and Ray Tappin, for the SEME 'Marsh Owlers' Run, which was advertised as a nice flat 40-mile ride for low-powered bikes with a pub stop for lunch on Romney Marsh. The turnout was disappointing compared to last year as we only had eight riders (including us three) but, interestingly, three of the bikes were 50cc Yamaha FS1s. One was Adrian Shaw's immaculate 1976 FS1-E, a Popsicle Purple unrestricted model; one was my 1979 restricted FS1-M; and the other was Dave's 1983 FS1-SE (Chopper), which nicely showed the evolution of this iconic moped.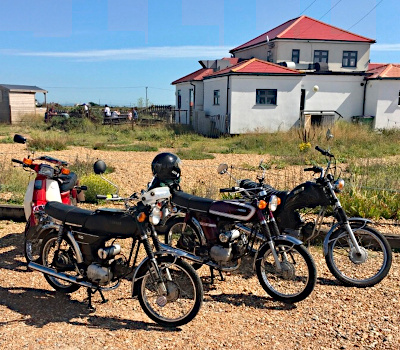 The FS1s at Dungeness
We set off out onto Romney Marsh and Old Romney which was mainly traffic and cyclist free and we meandered to the lunch stop, which was again at the Star Inn in St Mary's on Marsh (22 miles). Here I was given a history lesson, which included pointing out that the house next to the pub was once lived in by Noël Coward before he became famous and that Edith Nesbit (author of the Railway Children) is also buried in the churchyard opposite.
The return journey took us back via Ivychurch and we had an interesting stop at the Lydd Model Flying Club (36 miles). The club's flying place is on part of a disused World War 2 grass 'Advanced Landing Ground' airfield which, apparently, Typhoons flew from. We were treated to a short flying display of radio-controlled model helicopters, bi-planes, and a jet and we learned about the differences in using petrol and electric engines as well as how things have progressed and improved with modern technology.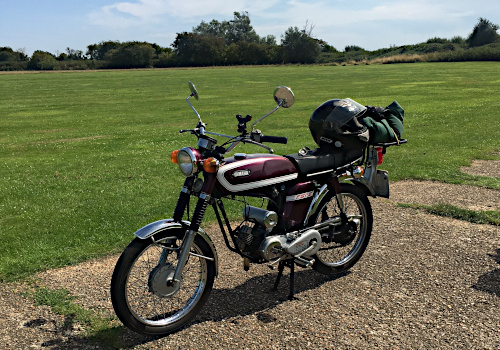 Adrian's FS1-E at Lydd
All too soon we were back in Dungeness (40 miles) and, as I was loading my bike on the trailer, I was asked by Adrian if my indicators worked? They do I said but I don't tend to use them as I forget I have them&emdash;my other bikes don't have them, so I just use hand signals as the norm. Apparently, he had upgraded his bike to 12V, so his light looked much brighter than my piddly 6V system; this is maybe something to consider for the future.
The biggest shock of the day was that Ray's Francis&endash;Barnett, which has a history of misbehaving, had manged to complete the 40-mile route without any mishaps or change of spark plug&emdash;perhaps he has broken his jinx of regular breakdowns. Thank you to Sharon and Martin for organising a great run, roll on next year as, for some strange reason, I want to return and do it all again.
Keith Clarke