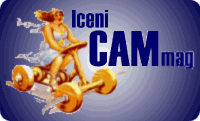 Story by Mark Daniels
Photos by Mick Cook and Andrew Pattle
---
A pleasant sunny day and another healthy turnout for the 4th annual run, despite a few of the regulars being away on hols or foreign events. The Coprolite always has a lower key and more informal air than Peninsularis, perhaps it's the absence of TigerMan's emporium in the car park as he's away chasing the big-bucks jumble at Netley Marsh instead. Still, Mick Spacey turned out his pitch on the Tiger spot this time, and seemed to have rung up some significant sales even before the hall opened!
With Ef away pouring Sangria down his neck at some god-forsaken Spanish resort, it was left to Pete Smith (New Hudson) to proudly carry the Essex standard into battle against the Saxon hordes. Other long haul attendees included Alan Course from Cambridge, Tim Shields (Moby AV78) and L Neill (Moby M40), together from west and north London, and Michael Beauchamp (Moby X7) from deepest Sussex on some serious parts hunting mission. The rest was widely made up of Anglian region riders. Andrew Pattle (James Superlux 2F) staffed the IceniCAM and literature stand again, while Evans set his Puch stall again, though nobody could ever find him manning it - yakking in the car park again! We always tell people that ask where he is, to just help themselves, it's all free!
Cookeye's Suzuki Street Magic finally made its long awaited debut: some strange hybrid between a 50cc minibike and a rocket powered helicopter! Vertical takeoff being effected by twisting open the throttle, requiring leaning forward and application of the rear brake to convert this into forward motion. As the run set off, the Magic's fearsome acceleration was effectively demonstrated as Neil Bowen's Yamaha XT500 pursued it to little effect on the Martlesham Road! Can't believe it? Just wait for the road test!
Steve 'Wally' Wright (Honda SS50) and Cookeye managed to mislead a leading group of riders toward Falkenham at the Kirton fork, but seeing the rest of us waving to them on the parallel road, scrambled across the green to rejoin at the back. Dave Berry (Raynal) rode along in spirit, and many beeped their horns in respect as we passed the site of last year's tragic accident. The route round to Ferry Road built up to a spirited ride as the group burst onto the open Golf Links Road for the traditional sprint to Felixstowe Ferry where the headwind favoured the strong. Big skies, estuary views, good lunch, and fine ales at The Victoria set everyone in good spirits for the return leg, whereupon the curse of the Solo 726 struck Paul Daniels yet again, as the wretched German monkey bike broke the throttle cable and returned to its second home: the backup van!
Beyond the Trimleys, the fast pack went away as the group entered the long straight of the passing place road. David Evans (Zündapp ZD40), Alan Bloys (Moby AV76 Special), Geoff Daw (Garelli BiMatic, and Martin Gates (Raleigh RM11 Super Tourist) however failed to get back to the hall before Paul Nelmes (Bown AutoRoadster). Local knowledge of some secret short cut was suspected. Neil Morley's tuned Moby M40 probably just edged out John Daborn's tuned M40 in another closely run heat. Others were: Laurie Coates (Honda PC50), Carl Harper (Honda Vision), C Clover (Puch Maxi), Dave Jockel (NSU Quickley), Mark Daniels (Mercury Mercette), David Whatling (Cyclaid), Ted Riceman (James Superlux JDL), Dave Watson (New Hudson Restyled), N Jones (BSA), John Gates (Kerry Capitano).
The Start at Bucklesham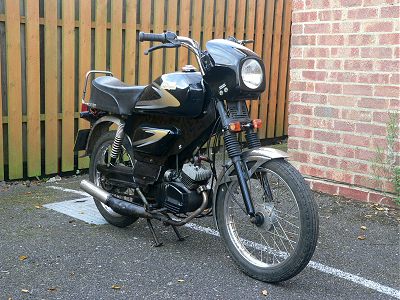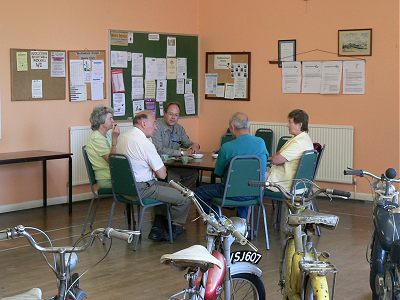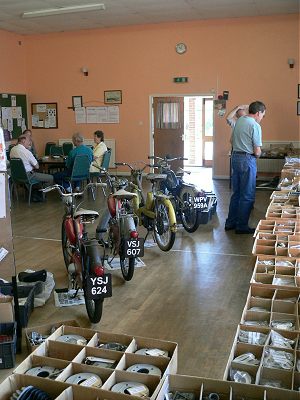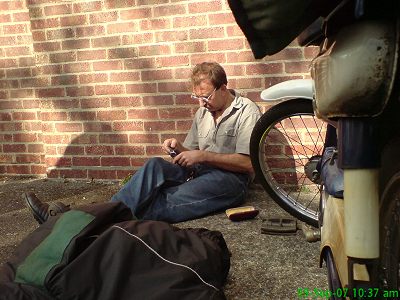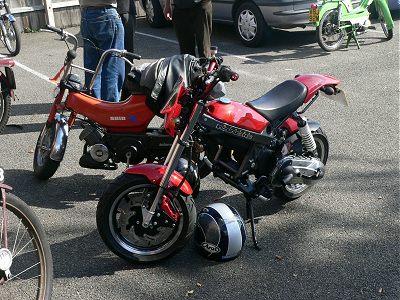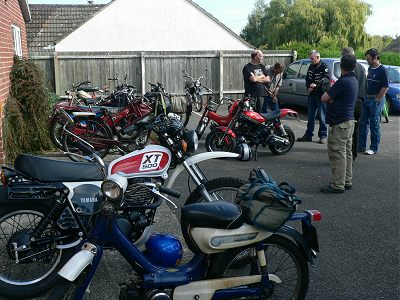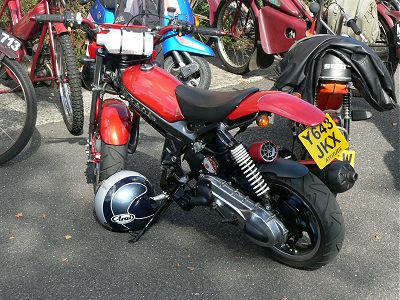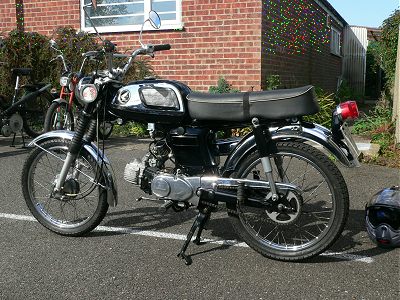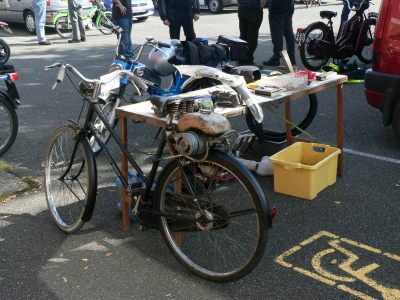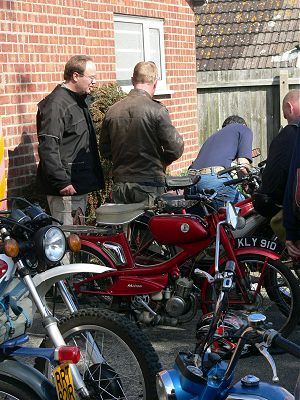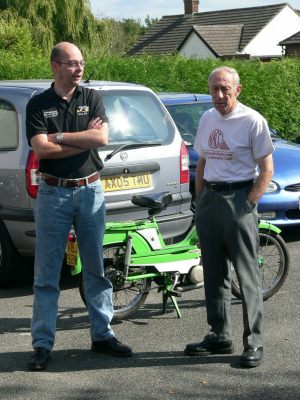 Lunch stop at Felixstowe Ferry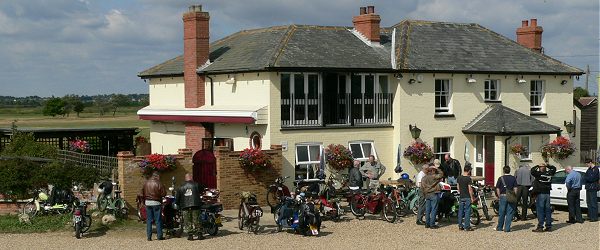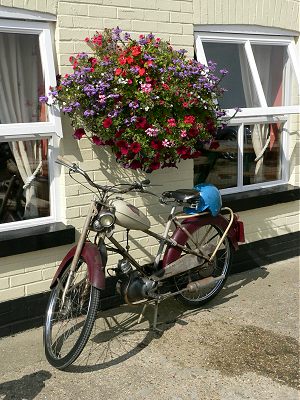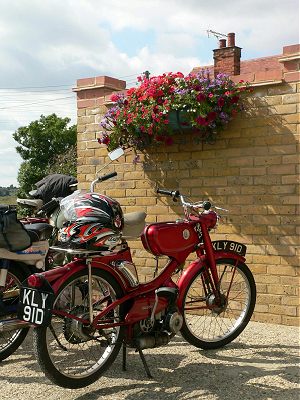 Back at Bucklesham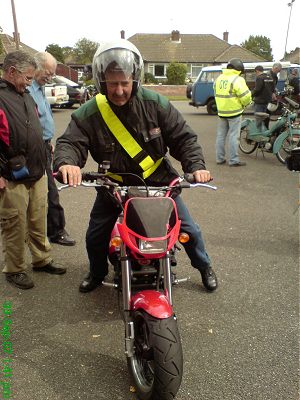 ---
| CAMmag Home Page | List of events |
---