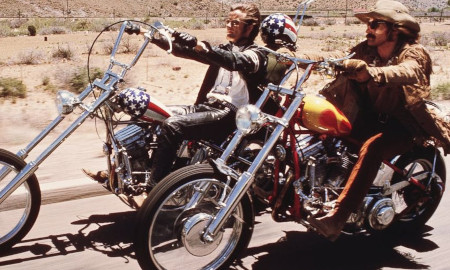 The Easy Rider movie opened on July 14th 1969 at the Beekman theatre in New York, to gross a house record of $40,422 in its first week, and this hit film arguably introduced the cool and groovy style of American chopper motor cycles to the world.
The Italian Fantic Motor Company started production of its 50cc and 125cc Fantic Choppers in 1972, which were introduced to the UK in 1972 by Barron Eurotrade Ltd, of 51 High Street, Hornchurch, Essex. The idea of forming the Barron Company and importing Fantic models came about as one of the founders saw the 50cc Chopper model publicised in an American motor cycle magazine that his brother in law had sent him from the US, beginning the business at the most ideal time to capitalise on the newly introduced 16-er law limiting riders to mopeds until the age of 17.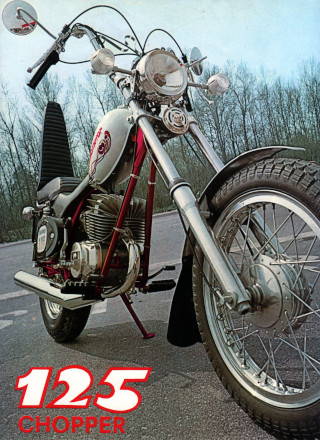 As well as the sensational Fantic Chopper moped, Barron also sold the Fantic TI Tourismo Internazionale, and other models which achieved rapid popularity with a reputation of being some of the fastest mopeds on the market.
Barron further went on to produce its own brand of motor cycles from 1976 to 1981, initially as commuter-style motor cycles, entering the market with the Baron 125. This machine was the product of an agreement between Roy Cary of Barron's and the Polish WSK Company, and replacing the WSK engine by the fitment of a Minarelli with five-speed gearbox. Barron also sold MS-T junior cross 50s that were mainly re-badged Fantic models with Minarelli automatic engines.
But this article isn't about American choppers, Fantic, or Barron … it's about a Japanese factory chopper, and we have to move on to the year 1977 when Suzuki launched the Mame-Tan 50 'Custom' model onto the Japanese home market towards the end of the year, in preparation for the new 1978 season.
The employed engine was a 'softened' version of the RG50 motor with 7.2:1 compression ratio 6.3bhp@8,500rpm and six speeds (or, in its Gamma water-cooled version, with 8.6:1 compression rated 7.2bhp@8,000rpm). The Mame-Tan motor was reduced to a five-speed gear box, 49cc air-cooled iron cylinder two-stroke with reed-valve induction, down-rated to 5.5bhp@8,000rpm and fitting a Mikuni VM16SH carburettor.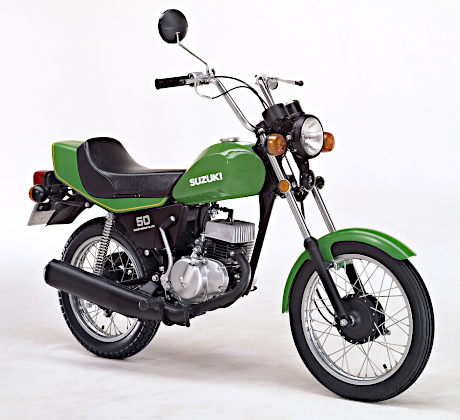 The cycle frame was of a 'mild' chopper style with spoked wheels 2.50 × 15 front and 3.00 × 14 rear, drum brakes both ends, fastback style seat, coloured fibreglass mudguards, and black exhaust system.
The Mame-Tan 50E was sold in the USA for two years, 1979 & 1980, all US models were fitted with wire wheels for both years and appeared the same as 1979 Japanese market Mame Tan version.
In 1979 the Mame-Tan 50 was extensively remodelled with a number of changes, for introduction early in the 1980 season.
The cycle frame remained the same, but the wire wheels were replaced by 'Star' cast alloy wheels with a larger 2.50 × 17 front and 3.00 × 14 rear, and changed to a hydraulic disc front brake, chrome plated exhaust system, chrome steel mudguards, remodelled seat with a grab bar instead of the fastback, and an OR50 graphic now featured on new side panels, which effectively re-created it as a new model.
These changes increased the bike's dry weight from 66kg (145lb) to 69kg (152lb).
The obvious visual changes: increase in front wheel diameter and saddle change on the new OR50, further accentuated the visual impression of chopper styling, to subsequently become exported to some European and Scandinavian countries, where in Sweden, with the Mikuni VM16S carburettor it was rated 5.5bhp@8,000rpm and quoted at 70km/h (43.5mph).
The OR50 was introduced to the UK in June 1980, and continued on listings throughout 1981.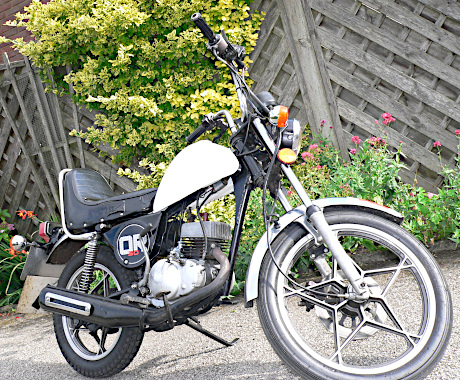 Our featured bike was W-registered on 31st March 1981, with all the expected details, however it is presented with a black exhaust system and fitted chrome-plated heat-shield on the silencer.
It's equipped with Suzuki-branded Nippon Seiki clocks, the speedometer indicating up to 70mph, and rev counter to 12,000rpm showing a red-line at 10,000. The ignition console between the clocks has warning lights indicating Turn (orange), Oil (red), Neutral (green), and 'ignition on' position illuminates the front sidelight and rear lamp, so it's one of these bikes where you can't switch the lights off.
A plastic mag cover conceals a traditional mag-set with contact points, so the OR50 has 6V electrics. There is a lighting switch on the right-hand throttle & brake lever bracket, which switches main headlamp off & on, though the main lights only work when the engine is running. The switch on the left-hand lever bracket is a four-way game controller type toggle for indicators left–off–right, and headlight up-for-high/down-for-dip. It's 6V electrics, so lights are dim high or dim dip.
There's a helmet lock to the back left-hand side just forward of the rear suspension unit.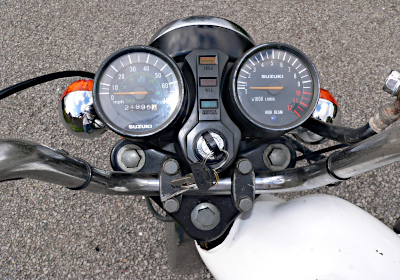 A '30mph max design speed' Slo-ped frame plate is pinned to the steering headstock, and at this point it's probably worth mentioning we're rather sceptical that our OR50 is likely to be actually limited to 30mph. The UK market motor specification for OR50 was 41mm bore × 37.8mm stroke, though we're unable to identify compression ratio of the 5.5bhp rated motor. It's also notably equipped with the same 15mm Mikuni carb as the UK (ZR50)X-1, and shows a Pozi-force oil supply feed into the inlet manifold. OR's X-1 cousin was however fitted with a different piston-ported cylinder, with lowly 6.7:1 compression ratio, and rated at a miserable 2.92bhp @ 6,000rpm (see article: The X-factor). We know our OR was definitely built with a reed-valve because the engine has been recently overhauled, and we certainly don't expect the 1mm smaller bore carb on the UK model to drop a whole 2.58bhp, so this is going to be interesting…
The 27-inch saddle height feels very low, so you seem to sit in the bike rather than on it, and the natural riding position is against the seat backrest to give you as much space as you can get. This means your bodyweight is aft of the rear shocks, so it's no surprise that the suspension readily compresses when you settle into place. The seat is clearly intended as a single saddle, since there's no room on it for a passenger, and no rear footrests. There's a fancy chopper style grab rail up the back of the seat, which is probably 20% support for the seat, and 80% decoration.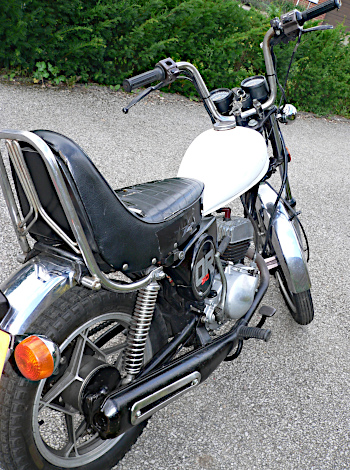 Brandishing our tape measure reveals a 43-inch wheelbase with 26-inch long forks, which are not untypical of many other 50s, so Suzuki 'tricked' the chopper look by the small diameter rear wheel and a low 6½-inch ground clearance, so it's not the bike's physical size, just the geometry is a bit different.
There's no centre-stand, just a side-stand, which leans the bike at a jaunty angle . because choppers are expected to do that.
Notching through the left-hand gear-change for the shift pattern before we start, one-down–neutral–four-up, so a five-speed gearbox.
We're told the fuel tap is always left on, and it never requires choke, so just a lazy swing of the kick-start is all that's required to easily get the motor started.
The reed-valve reveals itself immediately in an easy torque take-off, followed by rapid up-changes though the lower gears since it's just a 50cc, and you can't expect any great range in any gear when you may only have 6mph in five gears to reach the maximum design speed of 30mph. Typically Suzuki, there's a constant though soft power delivery up the range, with little impression of power, but just smooth revs.
The bike proves easily capable of getting to 30mph with still more in reserve. Our best indicated speed was achieved on the long light downhill run, with the needle hovering around 42/43mph at 8,000rpm in top, though the actual paced speed was 39mph.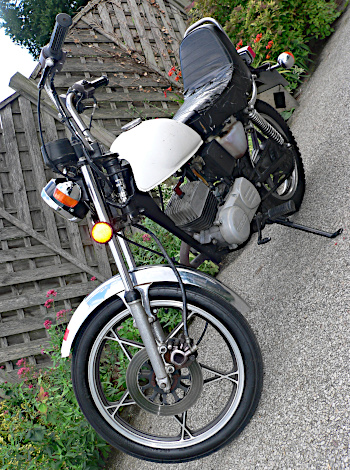 The rear suspension gave a very bouncy ride; any damping they might have had was long since expired. Combined with the frame geometry and fork angle, this resulted in a 'wandering' feel to the steering, and underlined why you never see choppers on a race track.
We've been unable to find any rated power specification for the UK model OR50, but it could only be a little below the other market quoted figures of 5.5bhp, and we weren't convinced that anything much had really been changed to limit the bike to 30mph.
Perhaps thinking that Suzuki was onto a good thing with the Mame-Tan and OR50, Yamaha introduced their own four-gear FS1-SE custom chopper model to the UK in April 1981, only to discover that there was very little interest, and it suffered from dismal sales.
Suzuki continued its five-speed OR50 through to the end of 1981, but the model didn't re-appear in listings for 1982. It never proved popular and hadn't sold very well, however its performance seemed to have been somewhat strangely better than a lot of other 30mph restricted Slo-peds.
Yamaha continued trying to sell its FS1-SE custom throughout 1982, but the situation didn't change, and the model was a total flop, and their 50cc chopper model was withdrawn in October 1983.
It seems the Japanese factory custom 50cc chopper style wasn't so appealing as the '69 movie, or perhaps the fashion had faded over 10+ years since the film.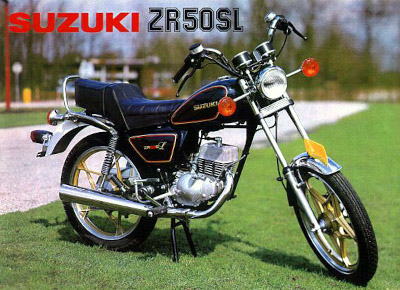 The OR50 was succeeded by further restyled custom versions with same size 18-inch wheels, or 18-inch front and 16-inch rear wheels as ZR50L, ZR50SL models, and lots of other derivatives with the puzzling jumbles of seemingly meaningless random letters that was now becoming a typical Suzuki hallmark, eg: SKX, SLKX, KEN, KEX. Over 40 years after the event, it's now practically impossible to identify differences between the many models (unless you're a dedicated train spotter).
There were many other versions and derivatives of the OR50 for different markets in different countries. The Netherlands received several 'interesting and bizarre' versions to suit the Dutch market specifications. OR50 (1980 Mame-Tan version), OR50 (1980), ZR50SL (1981 four-speed custom chopper with footrests and kickstart, Mikuni 12mm carb, 6.1:1 compression ratio, limited to 40km/h?), ZR50SLP (1981 four-speed custom chopper with pedals and kick-start, Mikuni 12mm carb, limited to 40kmh?), ZR50SLAP (1983 automatic custom chopper with pedals), and TS50XAP (1983 automatic trail bike with pedals).
If you think you're now muddled by all these derivatives, there are lots more, and even Suzuki's marketing department didn't seem able to match the right pictures with the model codes on some of its sales leaflets, eg: the illustrated ZR50SL is actually a ZR50SLP (with pedals).