The name Rondine (English: Swallow) was used over the years by three completely unconnected Italian motor cycle companies, and one Spanish manufacturer also adopted the brand name.
This history lesson starts with Compagnia Nazionale Aeronautica, as a manufacturer of aircraft and aero engines established in Italy in 1920 by Count Giovanni Bonmartini; together with a group of veteran pilots from World War 1, he operated a flying school in Rome from a field that would become developed into Littorio airport in years to come. Our feature begins with Benito Mussolini's Nazionale Fascista March on Rome in late October 1922, when a CNA aeroplane called 'Rondine' famously overflew the march.
Founded by E Prinelli in 1923 at the town of Melegnano, 25km south of Milan, his factory was called Ditta Prinelli & Co, Melegnano, and started production building small capacity motor cycles for sale under the brand of Rondine, presumably in honour of the plane, using 98cc French Train engines from Société Anonyme des Etablissements Emile Train, of 9 rue Rouget-de-l'Isle, Courbevoie (Seine).
A new Rondine motor cycle was displayed at the 1924 Milan Show, now fitted with a 123cc Train two-stroke engine, having two speeds and chain transmission, and in the same year a Rondine won the Parma–Poggio di Berceto race. 1925 saw both Turismo and Sport versions offered, and by 1926 Prinelli was using its own horizontal engine, but Rondine ceased production in 1928 … so we have no further interest in this company, and moving right along…

In 1923, Carlo Gianini and Piero Remor began to develop a design to build a 490cc engine for a motor cycle. The motor was to be a transverse mounted four-cylinder of 51mm bore × 60mm stroke, and single overhead camshaft, driven by a train of gears set between two pairs of cylinders. For 1923, this was a pretty radical concept!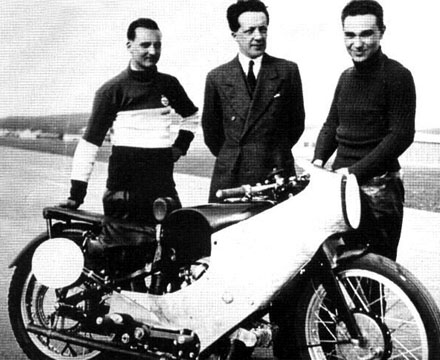 Rosetti, Gianini, & Taruffi with
the CNA Rondine at Tripoli in 1935
In 1924 the project caught the attention of Count Bonmartini who also owned the Officine di Precisione Romane Automobilistiche (OPRA) company in Rome, and Bonmartini decided to provide financial support by establishing a new company together with Remor and Gianini. At first, this company was named GRB (Gianini, Remor, Bonmartini), and the initial air-cooled engine development continued up to 1928, when it was producing 28bhp @ 8,000rpm. Progress however had been fairly slow, because to earn money to fund the project, work also had to be carried out for the aviation industry. The air-cooled engine was subsequently topped by a water-cooled head, with power increased to 32bhp @ 8,500rpm, and in 1929 the prototype was now built into a very simple frame and called 'OPRA'.
Piero Taruffi was hired as a test rider, having made a name for himself racing with Norton, but when the OPRA was entered in its first race at the Grand Prix of Rome, it was ridden by a then more famous driver, Umberto Faraglia. The OPRA led the race for a short time, but the engine blew up, and while Taruffi was probably disappointed because he had been passed for the ride, he may have found some consolation as he won the race with his Norton.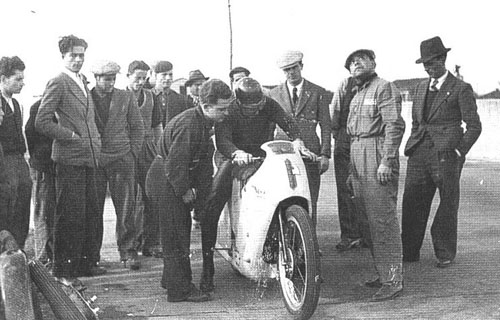 Preparing the CNA Rondine for a record attempt in 1935
Piero Remor left the OPRA company in 1930 after a dispute with Count Bonmartini, and the whole GRB project was becoming in danger of collapse due the loss of one of its designers and a lack of financial resource, till Bonmartini's Compagnia Nazionale Aeronautica stepped in and took control. Piero Taruffi and Carlo Gianini continued to develop the motor cycle, which was re-branded as the 'CNA Rondine', in honour of the Rondine aeroplane which over-flew the 1922 March on Rome.
On-going developments again seemed to go though another slow phase, and it was not until 1934 that the motor cycle returned to the track under the 'Rondine' name.
Its engine had been completely revised by Gianini with the intention of sending two motor cycles to contest the 1935 GP at Tripoli. The engine was now DOHC, completely water-cooled, and carried a Roots supercharger for 86bhp @ 9,000rpm. Six copies of the Rondine were built, and Taruffi and Amilcare Rossetti rode the machines in the prestigious Grand Prix of Tripoli, where they came first and second. On 19th November 1935, Taruffi also rode a fully streamlined Rondine to a world record speed, covering a kilometre in 14.72 seconds, an average of 244.316km/h.
Towards the end of 1935 Compagnia Nazionale Aeronautica was nationalised and, along with this transfer of business, Rondine found itself falling under new ownership of the Caproni aircraft manufacturer in Milan. Caproni at this time though, was a company that had little interest in motor cycles, since the looming prospect of war was promising a lucrative demand for its aircraft. Fearing the project he had been involved in for eight years could be lost, Piero Taruffi approached Giuseppe Gilera, who was interested in the advertising aspect of road racing to promote his Gilera brand, though he also saw weaknesses in the Rondine, and some need to have it developed further before it could be used in major competition, so declined to bid.
It was then offered to Gnome et Rhône and to Moto Guzzi, but still with no takers; however after his initial rejection, Gilera made a tactical low offer for the six Rondine machines, drawings, rights, and spare parts. The offer was accepted by Caproni, who just wanted to be rid of the motor cycle, then Gilera hired Taruffi as rider, team leader and chief engineer, and subsequently developed the Rondine into the famous Gilera 500 4C.
Well, that was quite a historically significant Rondine, but it's not the one we're after…

FIMLE SpA (Fabrica Italiana Macchine Lampade Elettriche), San Martino Siccomario, Pavia was founded by Ettore Buralli of Milan in 1950, and became a small producer of motor cycles from 1951, which sold under Guia branding in Tourism Lusso and Sport versions. The basic commercial model employed a traditional tubular chassis with 98cc, 123cc and 147cc two-stroke Sachs engines, while the other was of a more modern design using a pressed sheet-steel frame and mounting a sports 125cc two-stroke engine inspired by a contemporary MV design.
Guia only remained in production until 1954, but a combination of the tubular frame design and Sport model engine would become the starting basis of a new Spanish Rondine as the Swallow returned again!
In 1950 a group of Spanish industrialists had financed the construction of a factory by three Italian engineers to establish the Moto Scooter SA company in Madrid on October 8, 1951, and hired the Italian technician Bruno Hettor to design and manufacture a 125cc Rondine scooter, and a 125cc 'Titano' motocarro three-wheel rear carrier version that was based on the scooter.
These were produced in relatively small numbers, but an announcement about the forthcoming manufacture of Vespa scooters in Spain from 1953 initiated a change to their plans, because their own scooter would become uncompetitive. In 1952 they presented an authentic single-seat Rondine 125cc Sport motor cycle based on the FIMLE design, with plunger rear suspension, and rated 6.5bhp @ 4,850rpm. This model remained in production with only small changes until 1956, when it was remodelled into a second series version with swing-arm rear suspension and single or dual-seat options, while further engine developments saw power increased to 6.8bhp @ 5,000rpm. This version remained in manufacture until 1962, when production ceased. So again, we have no further interest in that Rondine either…

Next up is Meccaniche Vigevanese Angelo Copeta, Via Persani, Vigevano, which was established by ex-MV Agusta rider Angelo (or Alfredo) Copeta, whose racing career included two rides in the Ultra Lightweight (125cc) TT, coming fifth in 1952 and fourth in 1953. He rode eleven 125cc GPs from 1952 to 1955, was always in the points (excluding DNFs), and won the 1953 Spanish GP. Copeta was born in 1919, so would have been a 16-year-old when the race-winning, and record-breaking CNA Rondine seemingly appeared out of nowhere. With its awesome supercharged DOHC four-cylinder motor, it's probably not stretching the imagination too far to assume that a teenager, who later became a GP rider, might have been so impressed that he'd want to use the same name when he started building bikes himself.
Copeta began the construction of 49cc road race and off-road motocross motor cycles in 1967, and adopted the Rondine brand, which he was able to do because no-one else was using it at the time. Since Rondine was simply Italian for Swallow, Copeta could take up the name without there necessarily being any unwanted direct political associations of commemorating the March on Rome (Fascista ideology had somewhat gone out of fashion by the mid-1940s).
Copeta's interest was in the speciality sports machines, of which production was fairly limited, but was supported by production of some utility and commercial models. Production seems to have ended in 1971, though some sources suggest that the business continued into 1973, but perhaps this just represented the selling off of remaining machines.
Models produced were:
Monza: sports model,
Ringo: monotube frame with automatic transmission,
Speedy: 10 inch wheels,
Tris: with conventional open frame,
Cross: Off-road.
The mopeds were equipped with Franco Morini, Minarelli, or Malanca engines, and there seems to have been some tie-up with Malanca, as the Rondine Speedy Export Testarossa was identical to the Malanca Minicompetizione.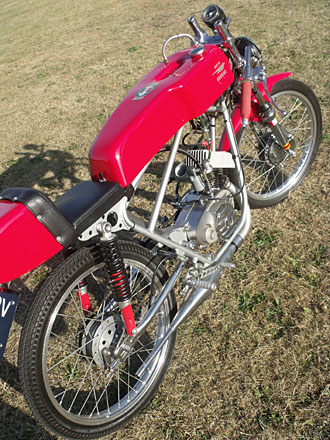 Our Rondine Monza Export Sports model, with frame number 01872 and dated 1971, mounts a Minarelli P4 motor with cast iron cylinder, topped by a big-fin alloy head, with the front corner fins cut back so it will fit into the twin down tube frame. There are Simonini (Minarelli) custom engine & tuning sporting accessories fitted, in the form of a rough-cast finned clutch case, and rough-cast finned mag cover with mechanical rev-counter drive running off the magneto centre nut, leaving an exposed front sprocket to complete that full-race look.
And that Dell'orto UB22s cross-slide, side-float down-draft is a serious piece of carburetion too…
There's a whole load of expensive and sporty equipment on the cycle frame too, like Marzocchi hydraulic front forks set in alloy yokes, with the stanchions set 60mm through the top yoke to lower the frontal height.
Both wheels are laced into CMB alloy rims, with a Grimeca double-sided front hub and two single-leading, air-scoop brake plates on each side of the hub, while the rear hub is a single-leading Grimeca.
The gear change operates from rear sets, with a foot-peg-located and detachable prop-stand, which can fit on either side.
The fibreglass tank and fastback single racing seat were probably not original fitments, and the seat gives one of the most uncomfortable riding positions we've ever encountered.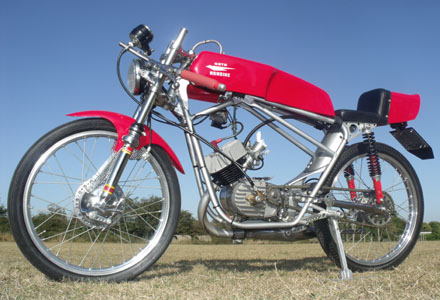 A silver plastic frame trim is the nearest this gets to a rear mudguard, and a small fibreglass front guard, which is little more than a cosmetic trim, clearly wouldn't protect the motor from anything and everything the front wheel chucked at it. This is no all-weather commuter…
Chrome steel headlamp brackets clamp around the fork legs at the bottom yoke, so the clip-on handlebars are next up on the fork legs, and just 50mm above the bottom yoke! Yes that's the bottom yoke, not the top yoke…
The rev-counter mounts on a stay in front of the headstock (which also serves to mount a number 56 competition plate), but the tacho cable routes right across in front of the headlamp, so we're really not sure if this was actually a road bike converted into a track racer, or a track racer pretending to be a road bike?
From the immaculate condition of the insides of the mudguards, under the engine, beneath the seat, and between the head & barrel fins, this bike has been little more than an ornamental toy, and experienced no practical use … so will it even go at all?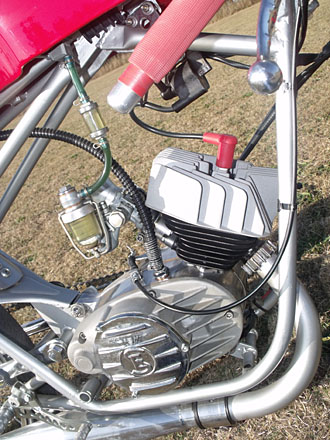 Fuel on, choke, a couple of kicks and to our surprise, Rondine fires right up, but needs to warm and run for a while before it'll entertain the choke being opened up. When the choke is cleared, throttle response proves very snappy, and readily convinces us this is likely to be a lively 50 … but is the gearing going to be suitable?
Following race fashion, there is no speedometer, just the CEV rev-counter, which indicates up to 12,000rpm. A redline is marked by a strip of red tape at 8,000rpm, which is how we coasted round on the first lap, and representing a paced 51mph in top gear—but that's not full throttle.
What do sticky tape red lines mean? On a proper race bike, it means you're going to lose the race, so second lap, the engine is warmed up and we go for it. Tucked in as tight as we could, and full throttle on flat in still air paced 57mph at 10,000rpm. With a fearless, younger, smaller, slimmer and lighter jockey, we're pretty sure the Rondine could well have topped 60, but piloted by an aging 14-stone pilot with a sense of self preservation, and wondering whether the old and obsolete 2.00×18 rear Michelin Rapido moped tyre with cracked sidewalls and treads might be beyond its safe speed rating, it's possible we didn't get the very best out of the bike…
The front is a 2.00×18 Pirelli radial-rib motor cycle tyre, but it's also old and hard, and you wouldn't be wanting to push that fast round corners, or it could let go on you too.
Front brake-plate stays are cut out of perforated, chrome plated steel sheet, which we think looked a bit brash and tacky, though the dual front brake operates really well with a strong and progressive feel. The cable operated rear brake is less decisive, and requires a firm foot pressure to create much effect.
While the headlight looks to be wired in, we couldn't find any switch, and it doesn't seem to work, while the tail light is a bicycle battery LED.
Acceleration was spectacularly brisk considering the bike was only 50cc, and every bit as amazing as the bike looked. This now stands as the fastest 50 we've ever tested, and eclipsing the Testi from Track Day '70s by 1mph. The remarkable Rondine also achieved this performance with easy starting and reliable running throughout the test, where the Testi was just a two-wheeled nightmare!
But was this Rondine ever really intended for road use?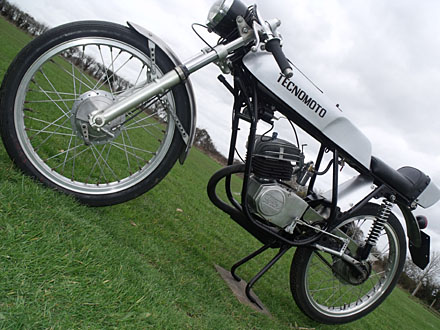 As well as the exotic Rondine, we have this matched with another slightly more familiar slice of exotica…
We got really lucky securing a Tecnomoto Special-50 model for our second Track Day '70s feature in July 2017, and we could never imagine that lightning might strike in the same place twice (but sometimes you just have to believe) … because remarkably, we've got another Tecnomoto Special-50 to run against the Rondine around the track.
Wearing frame serial TM3☆242☆ this silver painted machine is slightly earlier in the series than our previous blue example No.438, but still dated at 1973.
Though many aspects are the same, there are a few differences, like 242 has only one central fuel tap in the centre back of the tank, where 438 had taps each side at the back. The central tap is certainly more difficult to access, so perhaps the twin-side taps were a development?
The most obvious difference is the motor. 438 had an FM4R TurboStar with alloy cylinder. 242 has an FM4M with iron cylinder and radial-fin alloy head. Its Dell'orto UB20S vertical action slide carburettor with straight-through bell mouth is also different, 438 'just' had a Dell'orto 19mm with induction filter.
242's frame shows all the same top quality fittings that characterised this breed, a widely spaced twin-tube frame designed for maximum rigidity, 30mm Ceriani forks with alloy legs and alloy yolks, and Ceriani rear shocks.
No expense was spared on the 120mm single-leading Grimeca full width alloy rear hub, and 110mm double-sided, single-leading Grimeca full-width alloy front hub with air scoop brake plates, laced into San Remo alloy 'gulley' rims with stainless spokes.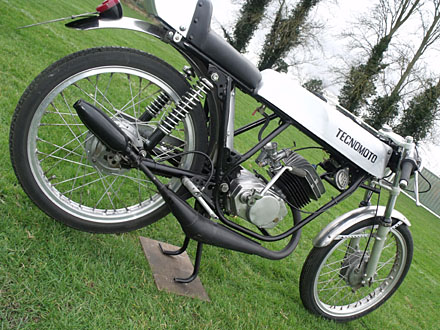 The frame is trimmed the same, with stainless mudguards front and rear, and fibreglass trim fixed into the frame to form the lower front rear mudguard section.
The fuel tank appears the same, but the seat and its fastback tailpiece are a different form.
Once again our silver Tecnomoto is fully fitted with lights, which actually work too, and though it looks every bit the part of a track racer, was clearly intended for road use.
The Franco-Morini engine exhausts into a no-name expansion system, crudely capped with what looks like a modern Motocross after-market silencer, to try and address the obviously piercing racket these sports systems always produce.
Turn on the fuel tap, flood the carb with the float chamber button, press down the slide choke, then noting to try and avoid catching your foot on the rear-set (which is obviously just looking for an opportunity to bruise your instep), a couple of kicks bring the motor to life.
Trying to lift off the choke prematurely leads the motor to die out, and we also find it necessary to continue teasing the float chamber flood button to keep the motor interested … which seems to go on a bit too long for our liking. No fast getaways here…
Still blipping the throttle, we mount up, and roll off the paddock style centre stand, then settle back in the seat to enjoy the masochistic discomfort of the nut-crusher saddle. After a bit of trying to find a comfortable position, we come to the conclusion there isn't one, but console ourselves with the knowledge that the Pope should certainly be considering us on his shortlist for the Vatican choir…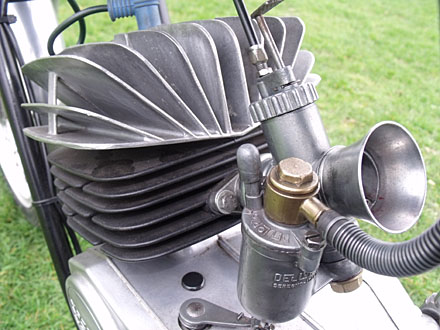 Left foot on the rear-set to feel for the gear-shift position, then pull in the clutch … oh, that feels a bit slack on the clutch lever, and stiff to shift the gear … so we adjust up the cable and try again, but it's quickly apparent the motor won't pull in gear and under load because it's obviously underfueling, it just dies out on throttle, so we're off to the workshops to check this out.
An ultrasonic clean for the fuel tap and filters restores a better flow to the carb, though still doesn't really change much in the way it runs, so we strip the carb body and ultrasonic its components, but again to little avail—it's still underfueling. We see if the float needle can be lowered in the float, but that's not adjustable, so we consider the prospect of raising the needle in the air slide, which we remove to see what notch it's on.
There are three machined notches at the top of the needle, and it looks to have been set in the middle notch, so maybe we could try raising it to the highest position … but we also notice a fourth notch, crudely hand cut 3mm below the bottom groove. This looks as if someone previously knew about the under-fueling problem by 'sawing' in an extra high groove, but that was obviously never going to work, because its really going to need a larger main jet.
The fitted 5mm main jet proves to be a 100, and the biggest 5mm jet in the workshops is 110, so we swap it over to try again…
A 10% increase to the main jet size is surely going to improve the under-fueling problem, but will it be enough?
A brief test run now shows that once the motor is warmed up, you can actually throttle up without the choke now, and it doesn't require encouragement from the flood button either. We try a few acceleration bursts on throttle though first and second, and yes, the motor now seems to rev up, and feels to pull pretty well.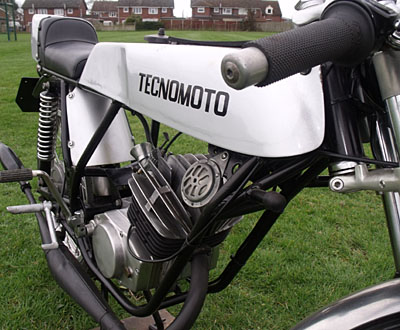 OK, so we muster our pacer for a run around the track, since there is no speedometer fitted.
Even though the iron barrel motor is an earlier generation than the TurboStar in the blue 438, 242's acceleration is just as strong, and its open bell mouth induction roars loudly as the throttle winds back, so it still sounds good, though exhaust tone is definitely subdued by the additional silencer. The 'bubble' on the end of the tailpipe might look naff, but it does work to quieten down what would certainly be a very antisocial straight-through expansion system.
We power into third, then ease up into fourth to give the motor chance to warm up a bit—little point in gunning a cold motor since the performance probably won't be there yet. Everything feels mechanically OK cruising around for a couple of miles, but the seat remains unforgiving in its tortuous discomfort.
With the motor now up to temperature, we start to build up the power and pace into the light uphill section in third—hmmm, was that maybe a hint of clutch slip? So we twiddle back the clutch adjuster a little going over the crest, then into fourth and power back on into the light downhill, then onto the flat straight … and that clutch still feels to be slipping a little under load on throttle. Not only that, but the motor still feels to under-fueling toward the top end as we try to balance the amount of throttle against the slightly slipping clutch.
Maybe we can ease the bike up to top speed? No … that's definitely holding back at the top end, it's still under-fueling slightly … then the motor stops abruptly, a bit of a shriek from the back tyre as the wheel briefly locks up and we snatch in the clutch to silently coast to the side of the track. Bet that flat spotted a bit of the tyre…
That was an under-fueling heat seizure, and most probably induced by the main jet still wanting to be larger. It probably wants a 120.
By the time we've stopped, the motor has already freed off, and we're joined by our pacer who reports reading 51mph before our motor cut out. The motor restarts again first kick, and as we cruise conservatively back toward the pits, it's an easy decision to abandon further efforts with our Tecnomoto still under-fueling and suffering a slipping clutch. These are issues that need fixing to get the best from this bike, and we don't have the parts.
The lights did work, but we forgot to try the horn. Is there a horn? Actually, we can't even see one…
Suspension and handling were great, good on the turns, rock steady on the straight, a really good chassis.
The dual front brake was strong and progressive with an easy feel, but no snatch. The rear brake was less effective, requiring a fairly high foot pressure to get results, but not untypical of cable operated systems from the small leverage afforded from the rear-set lever.
Possibly helped by the bigger and better carb this earlier series engine had, and even with its earlier cast iron cylinder, the silver bike could undoubtedly achieve a better top speed performance than 438's TurboStar motor's peak at 51mph. 242 achieved exactly the same speed with a slipping clutch and off carburetion, so it certainly has the potential to make a quicker machine, but needs a bit more sorting out—and something doing with that crippling saddle.
Despite the issues of this Tecnomoto test machine, it's still a great 50, but was seriously outclassed by the awesome Rondine on the track.