When Honda first presented its new Super Cub in 1958, the launch didn't exactly get off to a great start.
Not helped by an ongoing Japanese recession at the time, initial home market sales proved quite poor, then, within three months, early machines began having problems with slipping clutches, so Honda staff and factory workers gave up their holidays to personally visit all individual customers and repair the affected machines.
Soichiro Honda stuck with his faith in the little bike and, by the end of the year, unprecedented demand for the new C100 scooterette was fast making it the most fashionable and sought-after machine in Japan.
Honda's further ambitions for high volume production captured a vision beyond the scale of its home market, and needed sales securing in the giant markets of North America, which demanded the necessary distribution, service and spare parts support, to which end it established the American Honda Motor Company in 1959.
When Honda's new Suzuka factory completed in 1960, it became the largest motor cycle factory in the world, and a model toward Honda's mass production facilities of the future. The economies of scale achieved at Suzuka when the works could be run at full capacity, would cut 18% from the cost of producing each Super Cub, and every motor cycle sale that the new cost-efficient super-plant could secure was a sale that its competitors would lose.
Honda had boldly leapfrogged into first place as an international manufacturer, and now all the other motor cycle producers in Japan would need to come up with something to catch up fast—or be in danger of going out of business.
Honda certainly came up with a top selling model in the 50cc Cub, so what happens when you have found a new winning formula? That's right, everybody copies it! Well … sort of copies it.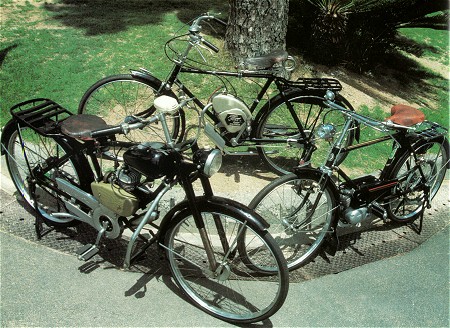 Suzuki Power Free
Suzuki Diamond Free Suzuki Mini Free
Because of patents, there have to be variations on the theme… In 1909, Michio Suzuki (1887–1982) founded his Suzuki Loom Works in the small sea coast village of Hamamatsu, Japan, and business blossomed as Suzuki built weaving looms for Japan's giant silk industry of the time.
In 1929, Michio invented a new type of weaving machine, which secured overseas exports. In the following years he focused on the development and production of these machines but, despite the success of his loom business, Suzuki believed that his company would benefit from diversification, so he began to look at other products. Based on a developing demand for motor vehicles, he decided that building a small car would be the most practical new venture, so the project began in 1937, and within two years Suzuki had completed several prototype models. These first Suzuki motor vehicles were powered by a then innovative, liquid-cooled, four-stroke, four-cylinder engine with a cast aluminium crankcase and gearbox, and producing 13bhp (9.7 kW) from a displacement of less than 800cc. With the onset of World War II, production plans for Suzuki's new vehicles were halted as the government declared civilian passenger cars a 'non-essential commodity'. At the conclusion of the war, Suzuki returned to loom production, which was given a boost when the US government approved the shipping of cotton to Japan. Suzuki's fortunes brightened as orders began to increase from domestic textile manufacturers, but these prospects proved short-lived as the cotton market collapsed in 1951. Now, faced with a depressed market for its primary product, Suzuki renewed its earlier diversion into motor vehicles. Like many recovering countries after the war, the Japanese economy had also developed a high need for affordable and reliable personal transportation. A number of firms began offering 'clip-on' cyclemotor engines that could be attached to the typical bicycle, and Suzuki's first two-wheeled vehicle was indeed one such bicycle fitted with a motor called the 'Power Free'. Designed to be simple and inexpensive to build and maintain, the Power Free had a 36cc, 1bhp two-stroke engine. A new double-sprocket gear system enabled the rider to either pedal with the engine assisting, pedal without engine assist, or simply disconnect the pedals and run on engine power alone. The patent office of the new democratic government granted Suzuki a financial subsidy to continue its developments in motor cycle engineering and, by 1954, Suzuki was producing 6,000 motor cycles per month and had officially changed its name to Suzuki Motor Co Ltd. Following the success of its first motor cycles, Suzuki created an even more successful automobile: the 1955 Suzuki Suzulight. The Suzulight was promoted with advanced features of front-wheel drive, four-wheel independent suspension and rack and pinion steering.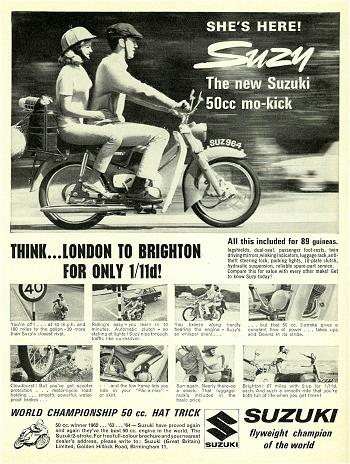 M30 Suzy advert from 1964
Reacting to the popularity of Honda's four-stroke Cub scooterette, Suzuki introduced its own similar-looking two-stroke M30 Suzy 50cc circa 1963, which came to Britain in 1966, while a 55cc M31 Suzy model was also sold onto the Japanese home market. These semi-automatic three-speed Suzuki models used a pre-mix fuel, which was probably seen as some disadvantage to Honda's clean fuel four-stroke Cub, but a new U50 Suzy came to Britain in April 1968, and introduced a Pozi-force oil pump injection system which was fed from a reservoir tank, and put an end to pre-mixing the fuel.
The U50 was succeeded by a new F50 step-through scooterette imported to the UK from March 1971 to January 1974, but replaced by a newer FR50 version, and joined by a larger capacity engine FR70 model in January 1975. This resulted in the discontinuance of the FR50 the following August. In turn the 70 was itself replaced by an even bigger FR80 in August 1976. The 50cc Scooterette returned again as an FS50 in May 1980, though now as a semi-automatic two-speed model.
To the casual glance our Suzuki FR80 could easily be taken for its Honda Cub ancestor, and it's only when looking closer at the detail that one begins to appreciate it is a different machine.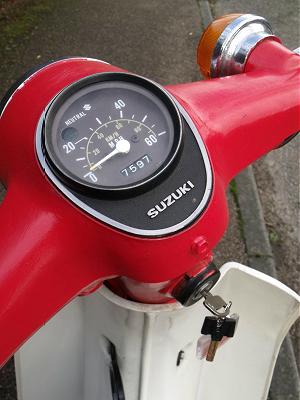 The first thing you pick up on has to be the round 60mph speedometer mounted in the nacelle topped handlebar bezel. Honda featured a distinctive square-ish speedometer form, and never fitted a circular dial. Suzuki's round dial stands out, but doesn't look wrong—just different.
Peer under the leg-shields and the engine is obviously very different; it's a near horizontal cylinder two-stroke with alloy head on a cast iron cylinder, reed-valve induction, and rated at 6.8bhp @ 5,500rpm.
With a three-speed semi-auto heel & toe rocking pedal change on the left-hand side, gears select back for neutral, then all forward/down to go up the box.
Raise the seat from a latch at the back to fill the fuel tank beneath but if you were expecting to find the Pozi-force oil tank filler conveniently located there too, it's not. The oil reservoir is located inside the left side panel with a level sight indicator at the top front of the tank; this can be seen through a small porthole in the panel—though it's difficult to figure out quite what the marker is trying to tell you, so you end up taking the cover off anyway to check the actual level in the tank.
Indicators are switched on the right-hand bar: L–off–R, and ignition switch on the steering head off–on–main lights–parking light (key removable), while beam–dip and horn are on the left bar set.
The bike has a six-Volt electrical set, with the headlamp operating directly from the generator coils, so the main lighting only works when the engine is running.
The centre stand is thoughtfully complemented by a side stand, as standard equipment for casual parking.
A vacuum fuel tap is marked on–res–prime, but the vacuum diaphragm doesn't seem to work on this bike, so it has to be run in the 'prime' position (just like a traditional off–on petrol tap), so you have to remember to turn it off 'prime' when you stop or the carburetter may flood.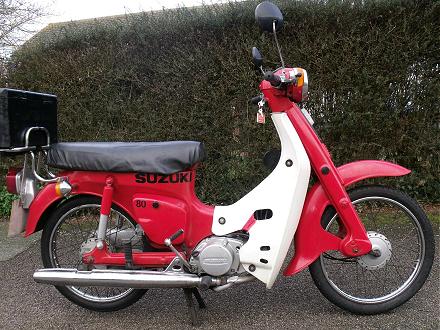 There's a small rotary choke lever under the left-hand bar control cluster, but just a couple of kicks had the motor started easily enough, and it didn't seem bothered about wanting any choke despite this being a cold and damp January morning.
Gear selection changes click through readily enough, though will be accompanied by the inevitable semi-automatic lurch, particularly when changing up.
You're also likely to suffer the dreaded semi-auto lurch on downshifts too, though this can be beaten on the down change by coasting the speed in top gear right down to an almost stop, when the auto clutch disengages, at which point the gears can be clicked through silently and lurch-free. Lurching gear changes aside, the auto clutch delivers a smooth and steady acceleration that capably and easily gets the bike up to speed. The Suzuki also delivers enough torque to pull to a stop in third, then actually pull away again in top gear, though that's not recommended since it might be a bit hard on the transmission.
First gear is pitched quite low (primarily for hill starts and pulling away with a pillion passenger), and with the snappy two-stroke response, proves quite capable of delivering wheelies if the throttle is snatched back.
The two-stroke Suzuki 80cc engine delivers appreciably more acceleration than its equivalent Honda 90cc four-stroke motor, and you're readily up to a leisurely urban cruising pace at 30mph. Twisting on more throttle delivers further acceleration beyond this, though the motor does become quite buzzy and angry running beyond 35, which can become somewhat wearing.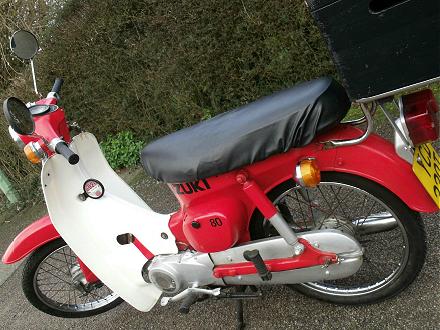 Best on flat in upright position was an indicated 46, the pacer also reported 46.
Best on flat in crouch: indicated 48/49, pacer reported 50.
Downhill run: indicated 50/51, pacer reported 52 (though the conditions were very wet at the time and we didn't get the opportunity to fully max out after having to come through the lower bend with the throttle off in the interest of not sliding into the hedge—so we're pretty sure that it would have been possible to wring out a couple more mph if we really tried).
The FR80 absolutely stormed the following climb as if it wasn't there, barely even noticing the hill, and hardly slowed at all. Discretion required us to back off the throttle a little on the light uphill bend in fear of sliding the bike into the bank on the wet road—and Suz still crested the rise at 45mph. It absolutely steams up hills—easy!
Both brakes proved to have more than adequate performance while running our test in very wet conditions, and considering the rearing-up/skid reputation of the dreaded leading-link front suspension arrangement, this certainly wasn't the most suitable time to be testing the braking limit.
The bike rode comfortably enough on its suspension, and seemed to steer OK, but taking hands from the bars to test the balance resulted in a nasty oscillation developing from the front end, which very quickly demanded the pilot to regain control, so we did wonder if there might be some issue with front wheel balance—that was certainly no exercise to want to be repeating.
Strikingly similar to Honda's Cub design, even Bridgestone introduced a 50cc 'Homer' step-through scooterette in 1963 … we don't have one of those, but we do have another Copycat story…
Nippon Gakki Seizō Kabushiki Kaisha (Nippon Gakki Company Limited) was established in 1887 as a piano and reed organ manufacturer by Torakusu Yamaha, and incorporated, on October 12th 1897, as the Nippon Gakki (Japan Musical Instrument) Manufacturing Corporation in Hamamatsu, Shizuoka prefecture.
The business origins are still reflected today in the group's logo, which is a trio of interlocking tuning forks, and the company is of course: Yamaha.
During World War Two, Nippon Gakki stopped producing musical instruments entirely and, under military instruction, its resources were deployed to make propellers for Mitsubishi Zero fighters, fuel tanks and wing parts.
After the war, company president Genichi Kawakami redirected the surviving remains of the company's war-time production machinery and its technological expertise to begin the manufacture of motor cycles. The YA-1 Akatombo (Red Dragonfly) model, built just 125 machines in its first year of production (1954). It was a single-cylinder 125cc two-stroke, and yet another clone patterned after the German DKW RT125 design, which had become popularly produced in practically every industrialised country across the world following World War II. Increasing sales success of the YA-1 in 1955 resulted in the founding of the Yamaha Motor Co Ltd.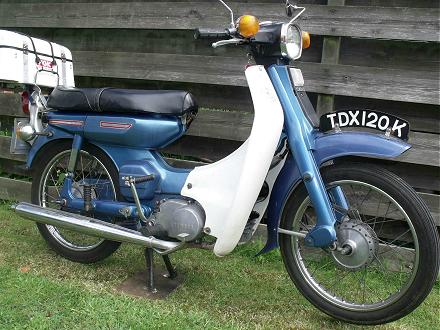 You could also be forgiven for mistaking Yamaha's copycats for Honda's Cubs as they also look quite similar.
Yamaha's U1 was an Upright piano, so also the U2, U3, and U4 Upright pianos, but before the U5 also became an Upright piano, the prefix was first applied to Yamaha's copycat Cub step-through scooterettes launched in July 1965 as the U5 and U5D 'Mate' models, and joined by the U7 Mate in December 1965.
Yamaha's first UK offering was the 73cc U7 Mate imported from November 1966, and joined by the 50cc U5 Pal from September 1967.
The U-range models were replaced by new V50 and V90 Scooterette models during 1971.
Our first Yamaha scoot is a 1972 K-reg V90 … now over 40 years old.
Its wheels & tyres are 2.50×17 with healthy sized full-width aluminium hub brakes.
The typical scooterette-style pressed-steel frame, leading link forks and swing-arm rear suspension look much like the Honda Cub, but we're warned the V90 rides very much in accordance with the reputation that Yamaha established at the time: it handles like a Lazy-boy armchair, with soft and bouncy springs, and no effective damping—watch out, it's all over the road!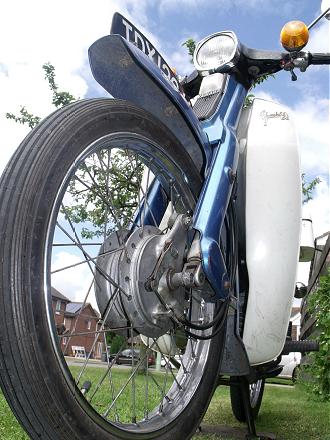 There's a few more metal pressed parts than one might expect in this new age of plastic, both frame side panels and the handlebar nacelle are made of steel.
V90 is well appointed with centre stand and side stand, and a fully enclosed chain case, which seem to be established features on all these scooterettes. One model sets the standard, so every other manufacturer has to follow it.
Now with 12-Volt electrics, a four-position ignition switch mounts on the steering head off–on–sidelight–headlight, with beam–dip controlled from the left-hand cluster, as are horn & indicators, left–off–right + a manual choke trigger under the left-hand bar.
Since there's no clutch lever with the semi-auto gearshift, Yamaha probably figured that the rider could operate all the electrical controls from the left side, since that hand would have nothing else to do. The right-hand bar just has the twist throttle and front brake lever.
In 1972 this was still such an old-time scoot that it wasn't yet fitted with a front brake light switch, the brake light only activates on the rear footbrake.
A Nippon Seiki 80mph speedometer is set into the handlebar nacelle, but we probably don't expect it to be going quite that fast…
There's a vacuum operated fuel tap with three-positions: off–on–prime, so you wouldn't normally expect to be switching that unless you ran out of petrol.
Below each side of the rear seat section there are two small toolboxes that neatly blend into the trim-line of the fuel tank, and the seat is a very generous 26 inches long, so there's plenty of space for comfortably carrying a passenger.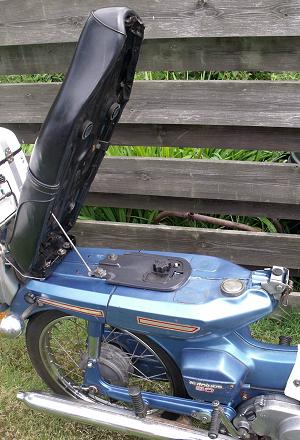 Release a catch at the front of the saddle and the seat hinges up from the rear, to latch on a rod so it stays up for filling fuel at the front, or autolube oil in the middle. There's a murky window in the top of the oil reservoir, presumably intended for viewing the level, but this doesn't seem too effective since you can't really make anything out inside. There's also a push-switch next to the oil cap, which looks like the operating button for a fridge interior light—what's that about?
It obviously doesn't contact the seat base when that's down, so shall we give a tentative press to see if anything happens? Trying … to … resist … OK, press the button—ah! An interior light illuminates the autolube tank, but you still can't make out the oil level, so that's another useless novelty!
The established three-speed semi-automatic gear-change operates by rocking pedal to the left foot with neutral at the top of the box and toe down for moving up the ratios. The notchy and clonky gear-change is something you really can't get away from however you ride this bike, it's just there every time you shift ratio, so it is going to bug you forever.
Despite having a 12-Volt electrical system, it might be surprising there's no electric starter, but that's how they came in the 1970s, so it's just good old fashioned kick-starting.
The motor is an 89cc two-stroke with horizontal cylinder and reed-valve induction, giving a best on flat indicated 52 (pace 53), while downhill run indicated 55 (pace 55).
The V90 positively stormed the uphill climb, hardly slowing much, and crested the rise at 39.
There was some feeling that our V90 would easily pull a higher ratio drive by fitment of a larger front sprocket, since the on-flat and downhill readings were fairly close, and indicating the motor was pretty much revving out.
Features of the V90 engine are strong acceleration and good useable power on tap when you need it.
Normally the Yamaha motors run quietly and smoothly but the engine on our test bike was getting a little old and noisy, with a noticeable vibration through the nearside footrest (left hand main bearing maybe on the way out?) but it still went well enough. The brakes were good, but the handling sure was diabolical…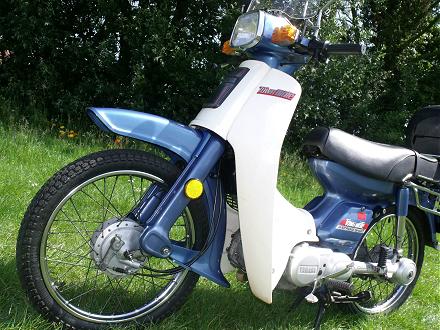 Yamaha discontinued the entire V-range of two-stroke scooterettes in 1985.
Yamaha's T-80 Townmate was introduced in to the UK in June 1983. This was a particularly interesting variation on the scooterette theme, having a 79cc OHC four-stroke motor, with a four-speed semi-automatic gearbox and shaft drive!
Our example is dated 1985 on a B-prefix plate.
The ignition switch is prominently set into the speedometer face, with a pop-over waterproofing cap.
There's a two-position vacuum operated automatic fuel tap, and the choke is worked by a trigger on the left handlebar, but our bike didn't require any choke and started up first time.
First gear seems very low and snappy on the throttle (presumably to enable pulling off with a passenger), second and third feel evenly spaced as you progress up the range, then notching into top, fourth gives a larger ratio jump, but the motor pulls it smoothly enough right from below 20mph.
The speedometer dial is graduated up to 60mph, but our speedometer indications seemed to be reading slow during the test, as the pace bike reported higher results throughout.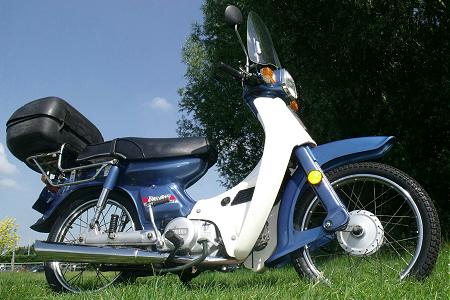 Happy cruising was found around indicated 40 (pace 43), above which the motor starts to buzz, though it handles these higher revs quite capably, it's just a motor-comfort thing.
Best on flat indicated 48–49 (paced 53).
Downhill indicated 51 (paced 58).
Uphill fell back to indicated 35 (paced 38), but it still coped quite capably with the climb in top gear.
The four-speed semi-auto foot-change is on the left with a rocking pedal giving neutral at the back and four-down straight shift up the box. Holding the gear-change rocking pedal down would automatically operate the clutch until the pedal was released.
Gear selection mostly engaged OK except changing up into fourth where it was easy to find a false neutral if the lever wasn't pressed firmly down. A lazy change here would invariably fail to find the top cog.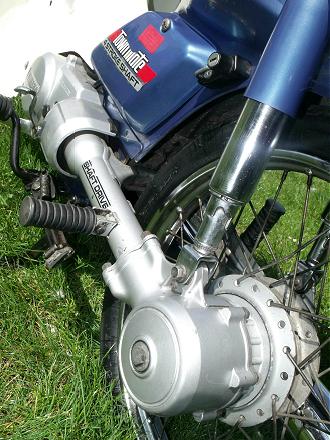 There was some tendency to tramline on tracked road surfaces, so you might sometimes find yourself unexpectedly drifting across the road.
Handling found some little wallows on bumpy bends at speed, but generally the bike rode well.
Rather than having separate winker lights on stems as seemed to be the general practice for scooterettes, the compact rear light cluster has separate indicator lenses either side of the main red lens.
Our appreciation of T80's standard was slightly compromised by a comedy aftermarket indicator warning bleeper that screeched loudly and quickly in time with the indicators—until you pulled on a brake, which took much of the available power to work the brake light, slowing the indicators and reducing the bleeper to a quiet croak, until you let off the brake, whereupon it resumed the loud screech as before.
General engine sound was smooth, and generated a nice exhaust beat on tick-over from the conical silencer with stylish slash-cut end.
Overall impression of the T80 was of a good quality machine … dare we suggest it felt even better than the Honda?
Yamaha also produced a smaller version: the 50cc Townmate T50, beginning UK imports in March 1986.
Yamaha Townmate models continued until they were de-listed in 1997.
The major Japanese manufacturers no longer produce scooterette models in the traditional style; however a number of Chinese licence-built copies still continue the original pattern—though reported quality issues with some of these makes wouldn't seem to be recommending them.