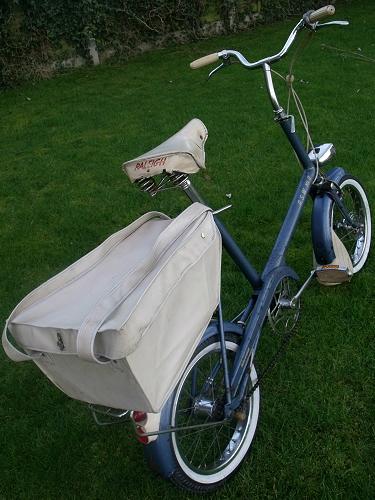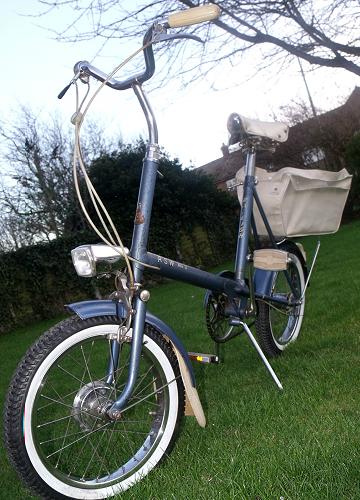 This tale has to start with a chap called Alex Moulton, an aircraft engineer, who came up with designs in the late 1950s to produce small-wheeled bicycles. He approached Raleigh with the idea, but negotiations broke down, so he formed his own company as Moulton Bicycles Ltd and established a factory at Bradford-on-Avon, to begin building bicycles himself.
The original Moulton Bicycle was launched in 1962 at the Earls Court Cycle Show, and presented as a fresh new approach to cycling design. It proved the right product at the right time, quickly being adopted as an icon of the 'swinging-'60s', and a fashionable mini-bike to go with mini-skirts and mini cars.
Within a year, Moulton Bicycles had become the second-largest frame builder in the country, of which Raleigh, as leading supplier, was now only too aware. Having seen the roaring success of the Moulton small-wheel cycle, Raleigh now felt the pressure to come up with another small-wheel cycle design that wouldn't infringe any of the Moulton patents. A Raleigh Small Wheel 16 pre-production model was shown to Alex Moulton as early as 1964, to go on sale in 1965 as the RSW16, and differing from the Moulton enough in the critically patent covered aspects to get away with the design.
Both cycle types had a similar appearance with open-style frames and carrying capacity.
Moulton employed small diameter wheels of thin section to reduce frictional resistance, and used suspension to soften its ride. The Raleigh had a rigid frame, using instead a new 16×2 'balloon' tyre to give a suspension effect, though at the cost of greater drag and effort to the rider. The Moulton was more efficient, but the RSW16 came at a cheaper price and looked the part, so it began to capture sales back from Moulton.
The RSW16 evolved through a number of changes and different mark models. Initially introduced in two metallic colours, green and bronze (red), with a round chrome-plated headlight mounted on the front mudguard, and calliper rear brake. The RSW also introduced the twistgrip gear-change selector, mounted on the right hand bar in the manner of a motor cycle throttle, with gear position shown by an indicator.
More colour options were added to the range, along with a stowaway RSW 'Compact' version with fold-down handlebars and break-frame that was humorously derided 'to occupy more space in folded form than it did as an assembled cycle'!
RSWs were further promoted by use of models around 'The Village' in the popular 17-part 'The Prisoner' surrealist television series from September 1967 to February 1968. This was filmed at Clough Williams-Ellis's mysterious Portmeirion Italianate coastal resort near Porthmadoc in North Wakes, and featuring Patrick McGoohan as the former secret agent No.6.
Our featured example is a blue RSW16 MkII version, with tidy three-speed Sturmey–Archer SB3 rear hub brake, which was specially designed for the model, and a rectangular headlamp now mounted on a bracket off the bottom steering head. The length of the frame head tube was increased over the Mk1.
The lighting set is powered from a front wheel hub-dynamo, there's a tidy integral prop stand which makes parking the bike easy, and the rear bag detaches by a sprung clip at the back for use as a carrier with two handle straps. No tools are required for adjustment of the handlebar or saddle height as these are locked-up by quick release levers.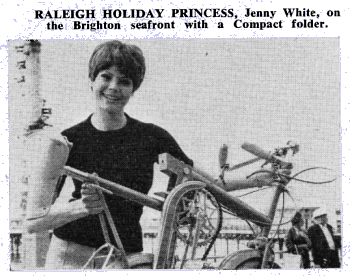 RSW Compact at the 1965 Brighton Show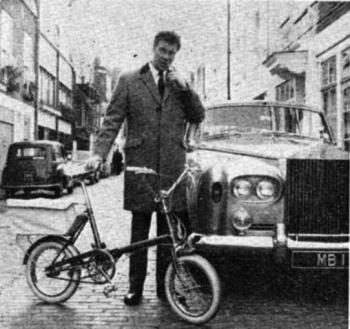 Max Bygraves with an RSW Compact
For the purposes of our road test we got a fit young fellow who foolishly volunteered to give his all, while we tracked his performance from the relaxing comfort of the pace vehicle…
First gear (a frantic effort) 12mph. Second gear (furious pedalling) 16mph. Third gear (giving all and getting red in the face) 22mph.
It was commented by our rider that the RSW felt to be quite hard work to pedal in comparison to a conventional modern bicycle, so it looks as if the period criticisms of its cycling efficiency may well have been justified. It seems more practical to keep the tyres firmly pumped up, and to use the bike best at a steady and economical pace, after all, it's a trendy shopper—not a racer!
One particularly irritating aspect worthy of observation was that trying to back the bike with the side stand down would cause the left-hand pedal to rotate backward, and lock solid against the stand. The bike would always come to a very firm stop, invariably resulting in some suitable cursing, then requiring forward pedal rotation to clear the jam.
Popular success of the RSW16 significantly ate into Moulton's sales, driving the new company into financial difficulties, resulting in Raleigh buying the Moulton business, then finding itself building both types of small-wheeled bicycles.
Raleigh continued production of the RSW until 1974, by which time sales of small-wheeled bicycles had slowed to a trickle—the trendy fashion had fizzled out! The '16' was discontinued after reportedly selling some 100,000 models over nine years, but it's slightly larger and more popular RSW20 version endured well into the 1980s.
A new Alex Moulton company continues to manufacture and sell specialist small-wheeled cycles today.