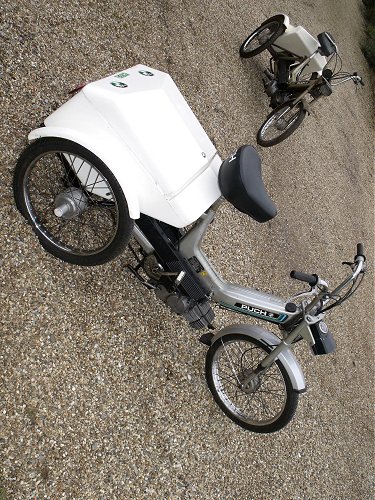 Powered tricycles represent a fairly unusual group of vehicles in the UK, and this particularly obscure example has never previously been featured in any article. Plan-Z is therefore presented as a reference piece, and tracks the trail of people and events relating to the machine.
Our established practice in painting a sequence of background events enables the greater picture to tell a story, so just drift into this and see where it leads...
We join the tale in the 1930s, at Bishops Stortford's only cycle and motor cycle shop, called Thomas Brothers. The business is run by two Welshmen, both incidentally called Mr Thomas, but completely unrelated, and certainly not brothers!
Alfred Tucker came to work for them in better days before the end of the decade, but with trade dwindling away towards the outbreak of World War Two, Alf took up work with the Fire Service. One Mr Thomas had earlier left the partnership, and the second Mr Thomas went off to fight in the war, leaving the business practically mothballed.
Upon conclusion of the unpleasantness with Mr Hitler, the second Mr Thomas returned to other work and living away from Bishops Stortford. Seeking to dispose of the dormant enterprise at this time was probably not the optimum moment to find potential buyers for any business, but Alf was still around due to his reserved occupation, and took the chance to acquire the opportunity for a nominal sum.
From 1945, many people were returning from the forces and Walter (Wally) Claydon, freshly discharged out of military service, came to work at the Thomas Brothers Cycle Shop, reopened by Alf Tucker on 1st October 1945.
Wally Claydon was still there many years later when Norman Tucker took over the enterprise from his father in 1957. Various motor cycle agencies were secured over the decades, with the business going on to sell a lot of Lambretta scooters, NSU Quicklys, Honda, Raleigh, Suzuki, and subsequently Puch models.
In a diversion from their established cycle and motor cycle trade, the premises next door at 70 South Street were acquired, and 35 years to the very day, opened as Thomas Toys on 1st October 1970.
In 1971, Thomas Brothers established another branch at West Gate in Harlow and transferred staff from Bishops Stortford to operate the satellite. Wally Claydon relocated to manage the new outlet, which repeated the unlikely formula of cycles, motorbikes and toys.
Meanwhile, back at Bishops Stortford, Jim Lawson had established Lawson Engineering Works in 1969 on the London Road, producing motor cycle parts and accessories, go-karts, engine tuning, and print services. It also manufactured the LE Sports Sidecar from 1976 to 1983 and, not only constructed the structural and mechanical aspects of these sidecars, but also produced the fibreglass body mouldings from a GRP shop within the business.
Sharing common motor cycling interests, Jim Lawson had come together with Wally Claydon in a number of engineering initiatives, such as the design and manufacture of motor cycle exhaust systems and off-road hand protectors. Primarily for the purpose of marketing such motor cycle accessories, this partnership adopted Zorplan Limited as an off-the-peg name simply purchased from a pre-registered companies list.
At an Earls Court Motor Cycle Show in the late 1970s, attended by Norman Tucker, with Jim Lawson and Wally Claydon on the Zorplan stand, they demonstrated their new 'Minuteman' tool. This was a device for quickly removing tyres from motor cycle rims, and they took orders for some 220 units from dealers attending the event. The Minuteman proved an effective device, going on to sell some 3,000 units but, despite having a patent applied, it was quickly copied, and the market soon became overrun with imitations.
The popularity of machines about this time attracted many and varied people to the moped as a means of motorised transport, but not everyone found they could readily come to terms with the riding experience. So it was that Jim Lawson thought up the idea of a tricycle conversion to specifically appeal to customers who struggled with two-wheel stability. The wording of the brochure 'A must for the housewife', gives some indication of where this potential was perceived to be—the middle-aged lady shopper!
The project was based upon the rigid frame Puch Maxi, being a popular and robust moped of the time, and readily available through the Thomas Brothers agency.
The designs were developed during 1977 by Jim Lawson and components were produced at Lawson Engineering, including the rear box carrier, which was manufactured in the established GRP facility.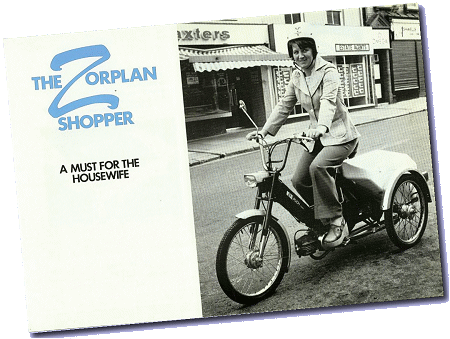 Zorplan Shopper publicity leaflet
The red Zorplan illustrated on the publicity leaflet was assembled at Harlow by Wally Claydon, registered by Essex Registration Authority on 13th February 1978, and indicated as two-wheel plan. This first model became the only machine fitted with metal rear mudguards, since Wally reportedly couldn't wait for the fibreglass mudguard moulds to be completed.
Lawson Engineering produced an initial batch of one hundred Zorplan Shopper tricycle component sets, comprising a rear axle set, second rear wheel with brakeplate, GRP box & mudguards, which bolted to the carrier. Conversion required the Puch rear mudguard and carrier to be removed, the original rear sprocket to be refitted to the axle set, then the assembly rebuilt as a tricycle.
The Zorplan Shopper kit was listed at £110 as the trade sale price.
Since the kit utilised the donor Puch chassis in complete and unmodified form, authorities still seem to have recognised and recorded converted vehicles as Puch machines using their original factory serials, the only aspect that might have changed in the registering details may have been indication of three-wheel in 'wheelplan' in place of two-wheel.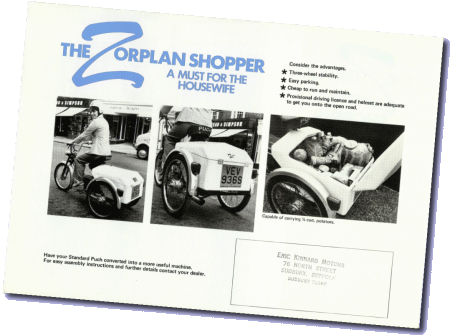 Zorplan Shopper publicity leaflet
Zorplan tricycles were initially built from new mopeds, and assembled from the engineered kits into complete machines for registration. Machines sold from the Harlow outlet were registered at Essex Authority (EV, HK, NO, OO, PU, TW, VW, VX & WC), while any assembled at Bishops Stortford would have been recorded with Hertfordshire (AR, JH, NK, RO & UR) registrations.
With the circulation of printed sales leaflets to the trade outlets, further sources came to offer the vehicle, and other machines were built-up from the Zorplan kit by agents such as Eric Kinnard Motors of Sudbury, Suffolk, who registered their machines with the local East Suffolk (BJ & RT) or Ipswich (DX & PV) registrationss.
Kinnard observed that machines they registered with Ipswich Authority were recorded as three-wheel plan tricycles, though this may not have occurred in cases with other authorities, as several examples still indicate a two-wheel plan.
With the Zorplan being offered as a kit, it would have been quite possible for any existing Puch Maxis initially registered as two-wheel mopeds, to be subsequently converted into tricycles, so the concept probably made any indicated wheelplan on the registration documentation fairly academic.
Early models featured the pedal-start Maxi motor, but as UK law changed on 1st August 1977, the specification of a moped became simply 'a 50cc machine limited to 30mph', no longer demanding the traditional requirement for it to be equipped with pedals, and now permitting footrests and kick-start, so later conversions reflected this transition.
The one common theme that runs through these tricycles is that none of the vehicles appears to have ever been recorded as Make—Zorplan, Model—Shopper, they all seem to have been registered as Puch, so any field search of the DVLA vehicle files would probably only suggest that the Zorplan tricycle never existed!
The remaining Thomas Brothers files are incomplete, so we can't really be sure how many machines were built up in Harlow and Bishops Stortford, or what proportion were sold as kits to other agents. The surviving references are only entered as partial records of registered machines with odd notes.
VEV 936S. The original Zorplan Shopper model as illustrated in the brochure, was registered on 13th February 1978, to Puch frame & engine serials 6818188, colour—red, and two-wheel plan. The pictures were taken in North Street at Bishops Stortford, with Jim Lawson's wife Cathleen modelling for the photographs. Log note—hired to GPO.
BTW 383T. No notes. Vehicle file shows: Registered on: 10/11/78, frame/engine serial: 6839404, colour: silver, Door Plan: Moped, Wheel Plan: 2-Wheel.
BTW 384T. No notes. Vehicle file shows: Registered on: 23/11/78 frame/engine serial: 6856873, colour: silver, Door Plan: Moped, Wheel Plan: 2-Wheel.
GAR 896T. Log note—Sold to Zorplan. This is presumed to represent a machine that was personally used by Cathleen Lawson around Bishops Stortford. Vehicle file: Registered on: 13/07/79, frame/engine serial: E4236479, colour: yellow, Door Plan—Passenger Tricycle, Wheel Plan: 3-Wheel.
NVX 12V. Log note—Puch frame/engine serial 6881832, sold 18th March 1980, and since this vehicle is our first featured machine, we can add the further vehicle file references: Registered: 9th March 1980, Body type: M/C Combination, 2-wheel plan, colour: silver.
---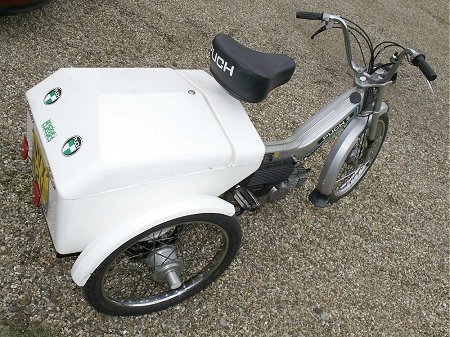 Our first Zorplan is a pedal equipped model, with fuel tap at bottom right of the tank, forward for off, down for on, back for reserve, then push down the rod at left side on the carb to close the shutter choke. Unlike a normal Maxi moped, it's really not practical to try pedal starting a triped on the stand, so it's down to the process of pedalling down the road to build up speed, then pull in the clutch-lock lever below the left bar to start the engine spinning. This lever effects a dual function of engaging the decompressor too, so the motor won't start as long as the lever remains held in, you have to drop the lever again once the engine's turning, and the motor may fire as the decompressor valve closes—then again, it might not...
It may take a couple of repeat attempts to get the motor to catch on a cold day, and opening the throttle too soon will automatically lift off the choke, so it's a matter of judging the moment to get the engine to pick up.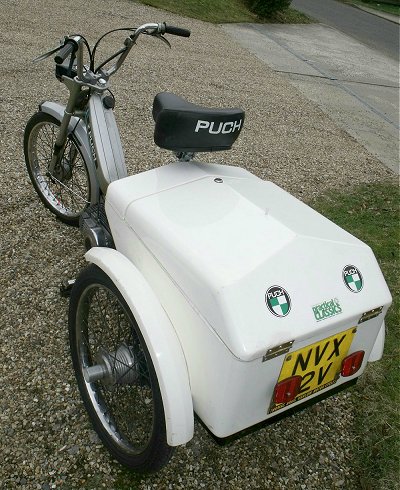 Once running, the automatic clutch operation is pretty straightforward from there on, just twist and go—only it's not quite so simple to anyone unfamiliar with riding tricycles! They really do require a very different technique, and the experience can prove quite a surprise to the unacquainted. The effect of having to corner 'flat' instead of being able to 'bank' the machine involves completely different physics. As well as needing to steer a trike much more than a cycle, being unable to lean the bike for taking bends at speed requires the rider to compensate in different ways, by shifting their own weight off the seat and hang off the opposite side—or take corners appreciably slower.
The Zorplan has a 26 inch centre track width, and is propelled through its nearside rear wheel, while the offside freewheels, so the rider may feel some effects of this arrangement since the drive is not on the centreline (13 inches offset). When coming under power, the nearside drive will act towards the centre of the road (UK drive on left, effect reversed for countries who drive on right), and may require compensating by slightly steering-in, but when the power is taken off, the change in state can feel as if the machine is headed for the kerb, requiring the rider to steer out.
Further complications arise from the effects of road camber, with the result that managing a powered tricycle may certainly take a little rider 'adjustment'. They tend to feel comfortable enough at low speed, but become increasingly difficult above 20mph.
If the rider survives the initial learning process, there may be some sense of achievement in mastering the challenge.
Once riding confidence is established, generally running around up to 25mph is fairly manageable. Best on flat was paced at 28, and it hit a maximum of 32mph on a downhill run, but really required a straight section with level surface to safely attempt such ambitious efforts. As expected, the following uphill climb was easily managed by the gutsy little 2.2bhp Maxi motor, which crested the rise at 22mph with little indication of being concerned by the challenge.
The box carrier lid rattled away behind as we navigated our course, and the rigid back end felt to be bouncing about on occasions, but our following pace driver was a survivor of Ariel 3 experience, and reported the Zorplan to appear rather better planted on the road than the notorious BSA 'granny-killer' with its narrower 13 inch rear track!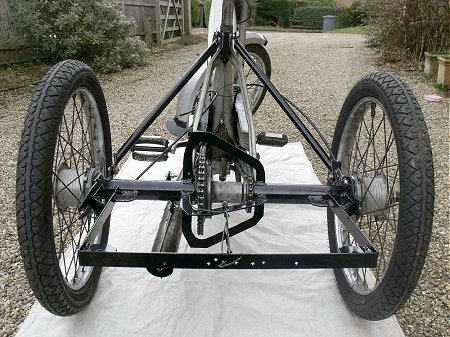 From a standard frame Maxi weighing in around 80 pounds (36 kilogrammes) dry, the Zorplan conversion pushed total weight up to 125 pounds (57 kilogrammes) wet, at which the awkwardness of the tricycle configuration probably represents a two-man lift for transportation in another vehicle. The additional weight however, didn't appear to adversely compromise the Maxi's performance much, which seemed to build up to a similar expectation as a conventional two-wheel machine.
Addition of the third wheel also included the addition of a third brake, with both rear brakes operated by separate cables to the left hand lever. Presenting twice the braking load at the same lever does certainly make the hand pressure feel heavier, but the stopping ability still proved adequate for the vehicle's performance.
Wrist and arm muscles quickly reflect the difference in steering a powered tricycle, compared to riding a conventional moped, so the Zorplan would appear more arduous on longer runs—but that was never its intended purpose.
With the standard 17 Watt Bosch flywheel mag generator bolstered by the addition of a 5 Watt boost coil, the headlamp seemed pretty reasonable for an unregulated AC lighting set on a moped, and the horn also produced a more excited buzzy tone as a result of the extra current.
Readings from the fitted VDO speedometer prove fairly consistent with reports from the pace vehicle.
No entry of our second featured machine appears among the Thomas Brothers records, and the DW serial indicates issue from Newport, Monmouthshire, so it's concluded this machine was built-up by another agent from one of the supplied kits.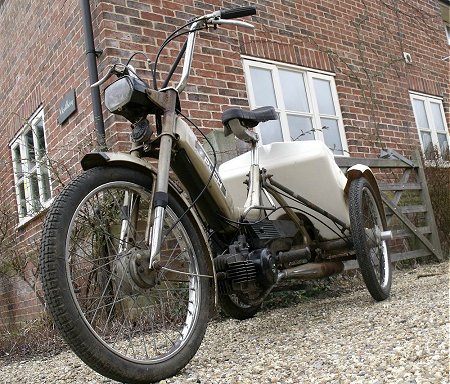 GDW 12W. Puch frame/engine serial 4242416, registered 23rd October 1980, 2-wheel plan, colour: gold.
Our second Zorplan is one of the footrest models, so just turn on the fuel, push down the choke, and it kick-starts first time. Appreciably easier than the pedal start process, and rather more suitable for a tricycle. It is rare to find the gutsy little Puch Maxi motor ever wanting any pedal assistance, so the pedals are a feature that isn't really missed.
Without having a pedal set, the front chain wheel, pedal chain, and freewheel become redundant, so the clutter is reduced as only the drive chain remains.
The gold Shopper completes its test run similarly to the first machine, but appears a little more nervous, with a mind of its own that feels inclined to veer across the road or dive for the bushes of its own accord. The tilt on the box carrier seems to show that the axle is positioned at a different angle for some reason, so we assume the assembly is probably not correctly set somewhere.
Thomas Brothers' log also records—1 × Kinnard Puch frame/engine 6846891, and seemingly dated 1983? It is presumed this would represent a machine supplied as a new bike + kit, for Kinnard to convert and register with Ipswich Authority.
Eric Kinnard recalled certainly building a pair of Zorplans for an elderly couple in Sudbury who wanted these tricycles, and possibly a third machine for another customer.
Additional rear box mouldings were reportedly supplied to a cycle trade customer, and presumed to have been for fitment as carriers on cycle trailers.
The Shopper kit was specifically designed for rigid frame Maxis, and is not expected to be compatible to the S-frame rear-sprung models.
Thomas Brothers closed the branch at 27 West Gate, Harlow, Essex in 1980. The last of the pilot batch of a hundred Zorplan Shopper kits was believed to have been sold in 1980 and, despite receiving enquires after further kits for a couple of years, no subsequent batches were ever produced.
Lawson Engineering Works still operates as a motor garage from London Road at Bishops Stortford, though Jim Lawson sold the business in 1982.
Thomas Brothers closed the main shop at 72 South Street, Bishops Stortford, Hertfordshire in 1985.
After 40 years service to the business, Wally Claydon took the opportunity and retired at the same time, however Norman and Alice Tucker continued Thomas Toys until 1988.
We're very grateful to all the people who took the time and trouble to talk to us, and help so much in the production of this article. Without their help it would never have been possible (please see production notes for credits).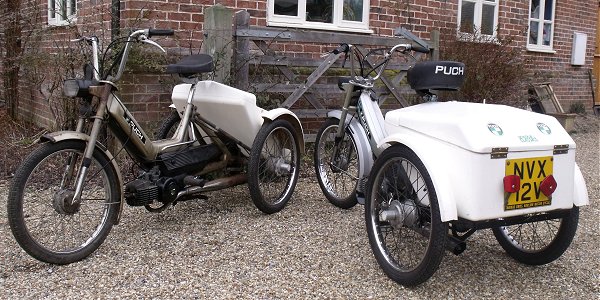 ---
Next—Whatever becomes of an old moped after it's of no further use, and taken that long, last ride to the ramshackle shed at the bottom of the garden?
Is this what happens to a Raleigh Wisp in The Afterlife?
---
[Text and photos © 2010 M Daniels. Period documents from IceniCAM Information Service.]
---
Making
Plan Z
Just as we start wondering what subject we might find next to keep the third feature rolling on its oddball theme, as if by magic, someone seems to turn up with something unusual that somehow fits the bill. On this occasion though, the subject was a most considerable challenge.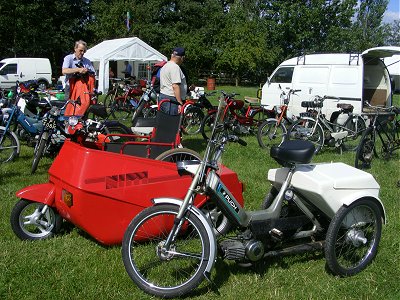 Guy's Zorplan at the microcar rally
The saga started when Guy Bolton turned up at Stonham Barns MicroCar Rally in 2009 on a Puch Maxi powered tricycle! No question about the decision right there and then, we just had to do an article on it—so what references do we have on the Zorplan Shopper? Answer: basically nothing, little other than a single basic sales leaflet that seems to give no indication who even made the machine! Enquiries to the VMCC archive obtained no response at all, so that probably explains what they knew about it too!
In short, no one knows anything about the Zorplan Shopper, so it was going to come down to following the most obscure leads in the hope something may lead to an answer.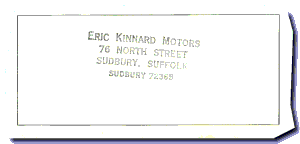 Eric Kinnard's stamp
on the Zorplan leaflet
It seemed that the only possible lead might be a faint dealer stamp of Eric Kinnard Motors at Sudbury (which had long since ceased trading), on the sales leaflet.
Further magnified examination of the sales leaflet pictures revealed print at the bottom of the rear number plate of the illustrated machine, reading Thomas Bros Limited (Harlow).
The Puch service manual that came with our feature trike being inscribed with 'Thomas Bros, Harlow', which closed in 1980; and "Thomas Bros, Bishops Stortford", which closed in 1985. So there's the research, starting with nothing but dead ends!
A series of speculative enquiries finally led to an interview with the long retired Eric Kinnard, who could offer little enlightenment, other than a lead to David Stone, who used to run the cycle shop next door. Following this lead to TGA Mobility Scooters, Mr Stone could only confirm the Zorplan parts came as a kit from Bishops Stortford, and that the fibreglass boxes were specially made for this tricycle.
Now almost grasping for straws, wildly optimistic searches into motor cycle businesses around Harlow promisingly turned up "a family business since 1965", which hopeful enquiry to Harlow Motorcycle Centre recalled servicing these Puch trikes in the past, and suggested contact to Bernard Ashpole Engineering at Bishops Stortford. This chance call was answered by Bill Russell, who particularly recalled the Zorplan Shopper straight away, since as a lad, he took his first employment with Thomas Bros, confirmed the business as being involved with the machine, and suggested a few names.
Then, through Daniel Kodesh at Bishops Stortford, we managed to trace and speak to Norman Tucker, former owner of Thomas Bros, then through him, established contact with Jim Lawson just a matter of weeks before the editorial deadline. It's hard to say whether being able to present Plan Z actually came down to careful research, or just a lot of blind luck!
Whatever anyone may care to attribute it to, it's yet another publication first for IceniCAM and certainly another reference piece on the scoreboard.
Though production on the Zorplan soaked up a huge amount of time, costs were pretty minimal, just £15 for fuel. Thanks to Keith Robinson, IceniCAM reader in Hartlepool, for sponsorship of the article
Looking back now, the decision to present these three very ambitious features together was little short of utter madness—but somehow, against seemingly impossible odds, it actually came off!
---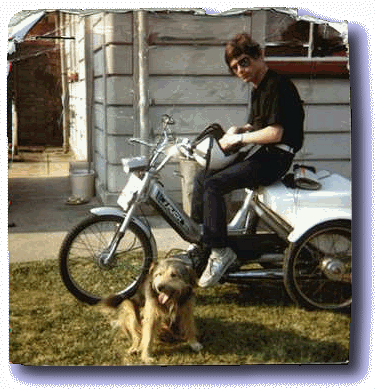 Richard on his Zorplan
Feedback
After a search on Google for a Puch Maxi trike, I found your website and, you will never guess it, but I owned one.
The reason for having one is that I am disabled and I wanted a motor bike but, not being able to stand and balance well, three wheels were the better option. The trike came up for sale in 1981 for £250, after the previous owner passed away, but I was informed that she had had it from new (1977) because she had lost both her legs and had artificial legs. The only thing I had to do to be able to ride it was change the throttle from the right to the left.
I had the trike for about three years and, if I could go back in time, I would have a serious talk to myself about looking after the thing, but I was young and stupid (16). I must tell you that, for me, it was absolutely a brilliant machine. Three months into owning it, I ran it into the back of a car, full throttle. I was taken to hospital, where a junior Doctor turned to the police officer with me and exclaimed 'he is going to be disabled after this' and the officer just looked at her and calmly said, 'No love, he was like that before'.
Anyway, it was repaired by our local bike dealer at the time, Mead and Thompkins, who put a new frame and front end on, and it was like new. The only difference was that the leg guards were not replaced and it was now silver instead of gold.
I did have one little party trick though. One day, I was riding through Hereford and there were two kids who had seen me pass and they had turned to follow me, so they could take the p***. I got to a T-junction where the tarmac was very smooth. I stopped and they did behind. I could hear them laughing at me, so I pulled forward a little, then cranked the handle bar to full left and opened the throttle fully, and just smoked the left wheel. They laughed no more.
Now the irony is, I live only a few houses from where I bought it from all those years ago. I hope you enjoyed my little tale and, just so you know, 35mph was possible, on the flat.
Regards,
Richard Dutton.