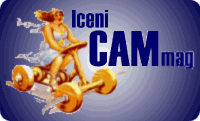 ---
We're hunting Monkey, and there's a whole troop in the clearing up ahead. We're downwind of them, so there's a darn good chance we can get the drop on the little blighters this time and bag a few for the pot! Quietly does it chaps!
As we stalk our unsuspecting targets, we can see there are in fact several different breeds gathered together in this group. We stealthily edge to a better vantage point to identify our victims...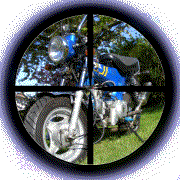 Yes, that's a Honda Dax, you see a few of those about...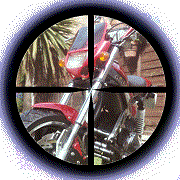 and a Suzuki Street Magic, they're a cute little critter!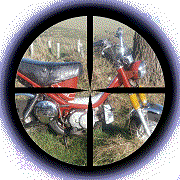 Over there! What's that? A Yamaha Chappy! That's something you hardly come across!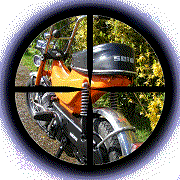 And back over to the right, never seen one of those before! Thought they were supposed to be extinct - a Solo model 726! Now that is unusual!
Well, no time for sentiment over rare breeds chaps - just load up and let 'em have it!
As you probably figure, we're not really hunting apes - today we're testing Monkey Bikes! It's a bit of a diversion from our usual classic 'peds, but these things do feature within the general group and, further, seem to be fairly popular with riders at events because of the practicality of being able to stow them in the boot of a car relatively easily.
So where did the Monkey Bike originate?
Most people will probably equate the term with Japanese mini-bikes and this may indeed present the first time the phrase was coined, but this characteristic small wheel and high handlebar arrangement has certainly been in existence long before the familiar term might have been adopted to describe it. In Britain the style is traceable back over time through the Winn City Electric Bikes of the mid 60s, the classic Brockhouse Corgi from the post-war years up to 1954, and even the Corgi was an evolution from the earlier Excelsior-built military paratrooper's Welbike of the wartime period.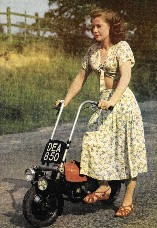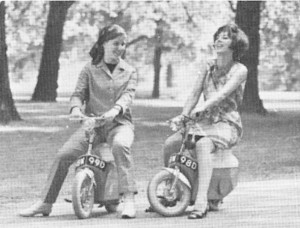 Brockhouse Corgi and Winn City Bikes
Perhaps some of our knowledgeable readers may suggest other earlier examples?
While the general arrangement of the machine has clearly been living among us for quite some time, many may be satisfied that the actual term "Monkey Bike" is indeed to be credited from Japanese origins.
As Honda were developing the Suzuka circuit, scheduled to open for operation in 1962, the theme wasn't limited to simply motor racing, but also as an activity centre to promoting the joy of mobility for all ages through an amusement theme park and traffic safety educational facility. Tama Tech was established in 1961 at Hino, Tokyo, to operate the Motopia Amusement Park as a facility at Suzuka Circuitland. During creation of the park in 1961, Honda engineers used the 50cc Cub engine to produce the original Z100 mini-bike for riding by youngsters and adults alike, on a miniature circuit at Motopia.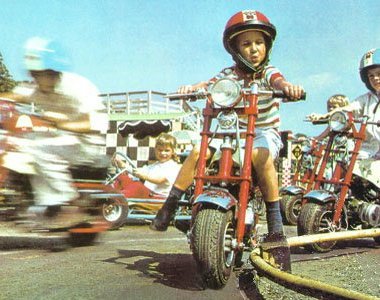 Monkey bikes at Tama Tech
The novelty ride soon became the park's most popular attraction, and as people remarked how 'simian' riders looked as they cruised around the track, so the little novelty machine quickly adopted the title of the "monkey bike".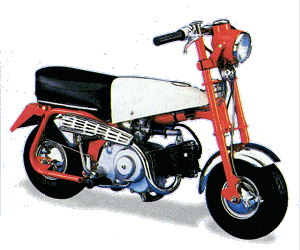 Honda Z100
The original Z100 was never made available for public sale, though a few somehow managed to 'escape', and are now highly prized by private collectors.
Honda re-modelled the original concept of the park bike for use on public roads, still using the C100 Cub engine, but now fitting the bike with a tank and seat from the Sport Cub C111, resulting in the production CZ100, and listed this version out for export sales in 1963.
First up of our set has to be the Dax, since it's a classic evolution of Honda's original Monkey Bike.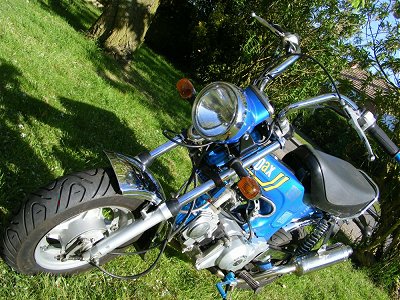 Honda Dax
Our featured Honda Dax is 35 years old, and looks as if it's probably going to be a little livelier today than when it was first sold back in 1975. The frame stickers suggest that it might have started life with the 50cc 3-speed semi-auto Honda crunch, but it now sports a much more modern Loncin electric-start engine with 4-speed foot change and manual clutch. Founded in 1996, the Loncin Group is one of the largest private enterprises in China specialising in manufacture of petrol engines, motor cycles and spare parts. Quoted annual production exceeds 3,000,000 gasoline engines and 2,000,000 motor cycles, so that's some pretty serious numbers.
Custom Monkey has become increasingly popular over the years, and there now appears a bewildering selection of accessory parts and tuning equipment available to individualise a machine to your own style and taste. Factory references seem to quote this LC149FMH engine as 102cc, but the fitted cylinder on this motor is reportedly 119cc. Further tuning goodies include conversion to a 25mm Keihin carb on big bore manifold to slosh in the fuel, with a loud and flashy 1-into-2 stainless steel, high level, exhaust system to chuck the spent gas out the other end.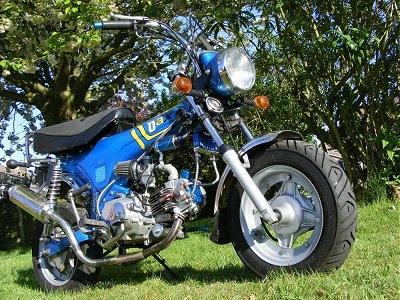 Honda Dax
The bike is further ornamented with a plethora of matching aftermarket blue anodised bolt on goodies, bar ends, gear lever, valve cap, rocker inspection cover, oil cooler, and steam breather, all plumbed in with glittering stainless braided line. Depending on your generation and taste in bikes, it's either decorated like a Christmas tree, or looks really cool.
Dax sits on 10" mini tyres, and what they lack in diameter seems to be made up by their 3.50" width.
Ignition and fuel on, choke, kick-start, and we notice the original 50mph speedo is still fitted - so might be of only limited value. With a nice four-stroke thumping, our monkey pulls away smartly on the throttle, and may readily lift the front wheel in first and second if you give it handful without leaning forward. The useful acceleration makes this Dax a handy little machine for nipping about town, though the intrusive noise the custom exhaust creates is somewhat disproportionate to the size of the bike. There's no trouble running the needle off the end of the speedo out on the country roads, but we find it revs out in top as the pace bike reports 55mph, so would undoubtedly pull a higher ratio for more top speed if the sprockets were changed.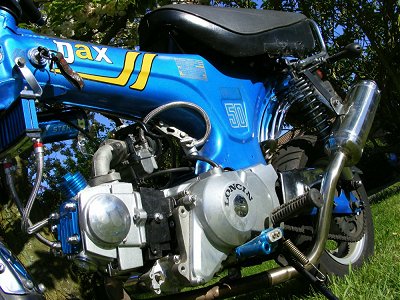 Our Dax's Loncin engine
Probably helped by the modern, super-sticky rubbers, handling is surprisingly good. Where one may typically expect poor characteristics from small, fat tyres, cornering this Dax shows no concerns at all, the hub brakes stop really well, and the rider can confidently hustle the bike along with no reservation.
In case you're wondering, Dax's tiny fuel tank is tucked away inside the frame, and the filler accessed by lifting the seat. With the original Dax 70 rated at 150mpg, the ½ gallon tank capacity generally isn't likely to be much of an issue for a novelty town bike.
Since Dax's handlebars can be folded down for compact stowage, it's probably of interest to anybody thinking to lift one into the back of a car, the given weight was 65Kg, or 10st 3lb to people living west of the English Channel.
Honda produced a selection of monkey bike styles over the years, with licensed versions and modern copies now widely manufactured across Asia under a number of different brands. The continuing popularity of the classic monkey bike is very much a testament to its novel appeal, and an enduring design that even seems to have developed its very own cult status.
The Suzuki Street Magic street-styled minibike only appears on the Suzuki GB parts fiche for two model years, as TR50SW (1998), and TR50SX (1999), in colours given as yellow, black, red, silver and purple. Listed at £1,524 at the time, the overpriced tag clearly wasn't helping with the sales, and our example is a TR50W machine not registered till year 2000.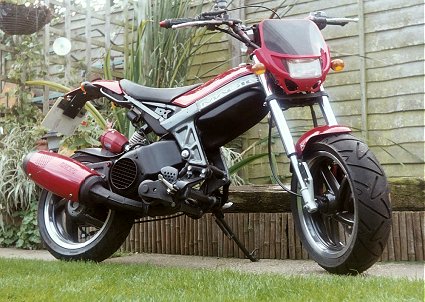 Suzuki Street Magic
Magic looks kinda sporty, but is based on a 50cc scooter motor unit rated at only 3.5bhp, with restricted CDI and a lower final drive ratio limiting the bike at 30mph so it qualifies as a moped. When you grasp the small physical size of this machine, limited specification might seem to make a lot of sense - but our 'Alien' feature bike flips that theory right on its head!
If you read the modern scooter mags and know about this stuff, then the list of engine modifications might leave you gasping, and if you're not part of this scene, just read anyway and you'll get the general gist - which will still leave you gasping!
There's nothing particularly obvious when looking at the anonymous black lump that comprises Magic's engine, but 50cc no more - Alien's motor comes from an Aprilia SR125, fitted with a Malossi 172cc big bore conversion! Fuel is dumped down a Malossi direct intake inlet manifold through carbon fibre reeds, from 25mm Dell'orto carb, with a Doppler air filter (to silence the induction roar), while spent gas exits through a Giannelli touring exhaust/silencer (to keep it quiet and discreet). A run on the dyno at Felixstowe Motorcycle & Auto Centre reads out 13.5bhp, so pretty much four times the original output!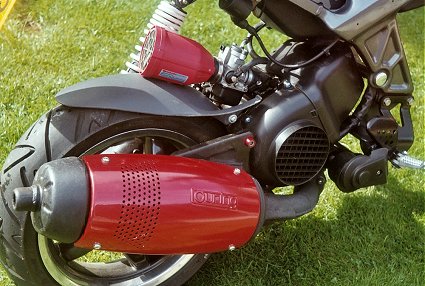 Power unit of the Street Magic
The motor mounts on an Aprilia SR125 rear shock, which required the frame anchor point changing to make the connection. Suzuki's original 12" graphite grey Enkei wheels are replaced by polished 13" Aprilia SR mag alloys, with Continental Conti Twist Sport 130/60 13 tyres rated to 100mph. Stopping is uprated from the 190mm stock Aprilia ring, to a 260mm front disc conversion that's nearly as big as the wheel, taken off a Husaberg 550 Supermoto, with 4-pot calliper and master cylinder from an Aprilia RS250. The braking is so mad, you couldn't stop any quicker if you drove into a wall!
Gone is the gawky centre stand, and Magic now leans jauntily on a side-stand instead (to look cooler), plus a whole saucer full of other out-of-this-world modifications to the electrics: LED back light, Micro flashers, and a completely custom wiring harness to hook up the electrics. An appreciably larger battery was needed to turn the bigger motor on the electric start, and could only be squeezed in where the oil tank used to live, so fuel has gone back to pre-mix. The petrol tap had to be relocated, sacrificing reserve function, so ½ litre is always trapped in the bottom, and effective tank capacity is reduced to 4½ litres - this micro-bike has a fearsome thirst, and that's just a 50 mile range!
Slimmer red anodised alloy handlebars and modified mounts mean you don't tangle with your knees anymore (see, some changes are sensible) since you're certainly not going to want anything to impair control of this contraption, while the little headlamp screen comforts slightly by keeping a bit of breeze off the pilot and placing a thin piece of plastic between the horrors of reality... You can't even see the speedo from the riding position, not that it matters since it's wildly inaccurate - and only reads to 60!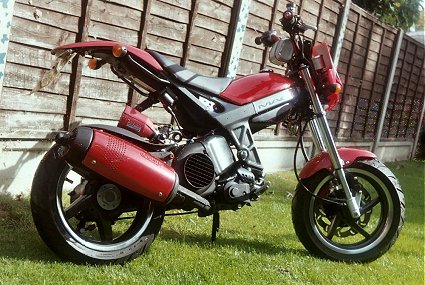 Suzuki Street Magic
To road test Alien Magic, we needed a slightly quicker pace bike than our usual machines, so we got a new DOHC 4-valve CCM650 R30 Supermoto - but even that couldn't start to overhaul the Alien until 55mph, at which point the Magic frame weaves through a nervy twitch, but you can go through it up to a top speed of 70mph. The other thing to consider here, is that Alien is still in low ratio configuration. A simple kit could easily gear up another 20%, but would you want to be doing 84mph on a minibike that measures only 64" tip to tail?
If you're crazy enough to dare to wind the throttle back, acceleration is pretty phenomenal. You have to lean forward, and drag the rear brake to try to hold it down, otherwise vertical take-off engages to point the nose skyward. There's more brake than you could ever possibly want at the front, so use with considerable discretion, while handling and feel of the Magic chassis is probably best summed up for this bike as 'engineering pretty close to the limit'.
Unable to attract many sales with its high price tag as a restricted moped, Street Magic was already gone from the listed UK range by the time Suzuki's brochure appeared for the 2001 season.
It found a little more popularity in other markets with less limiting regulations, and supporting a wider range of models. Japanese specification TR50SD and TR110SD versions were available as 50cc or 110cc, could have round headlamps with crash bar, raised front mudguard, gold wheels, knobbly tyres, taller seat and rear carrier.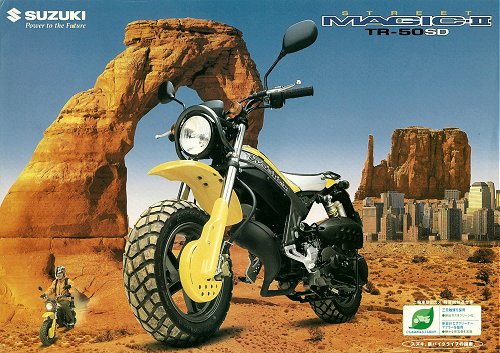 Street Magic TR50SD: Japanese sales brochure
Seemingly following in the commercial footsteps of Honda's monkey bike success, Yamaha launched their own 2-stroke equivalent in Japan in 1973, calling their LB series prefixed model the Chappy. Versions started arriving in Europe from 1975 as a 50cc 2-speed auto model with pedals to qualify as a moped, and 80cc geared alternative with manual clutch. With varying moped definitions across a number of European states, several different Chappy versions evolved to meet the changing markets, like France excluding manual gearboxes from moped classification in 1980, so Yamaha engineered an automatic double centrifugal clutch motor to comply. In 1984, France then decided to allow footrest mopeds, so the pedals disappeared. Other motor configurations with 3-speed semi-auto, 4-speed manual and 72cc capacity further expanded the combinations, until it may be possible to find practically any permutation in the seemingly infinite range of models.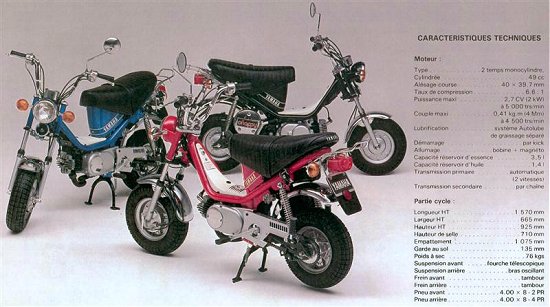 Yamaha Chappy: French sales brochure
Available colours started as black, blue, and red, which later was dropped in favour of white.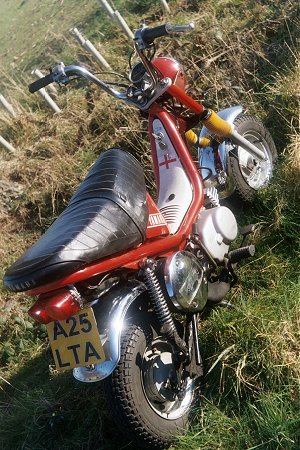 Yamaha Chappy
Sizing up our red little Chappy, the bike measures 4' 9" tip to tail, and feels pretty heftily built if you were thinking of picking one up and slipping it in the boot of your hatchback. Rolling onto the scales, our little lump was registered in 1984 and weighs in at 11st - which is probably enough to develop a fairly memorable hernia!
This engine is one of the 72cc 2-strokes with reed valve induction, while the carb is hidden away under the frame trim panel, and we decide not to bother disturbing it just to find out what size it is. There's a gear selector lever on the left-hand engine case: Drive - Neutral - Low. You can roll the bike backwards in D & L, but if you want to wheel forwards the engine turns over, so you have to engage neutral. This theoretically means you might be able to bump start the motor if the kick-start breaks.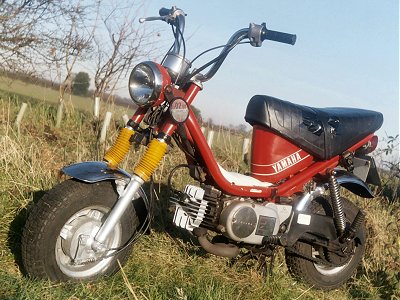 Yamaha Chappy
There's a squat dual seat with rear pegs, so the bike's intended as a proper 2-seater. Release a catch under the seat, and it folds up to reveal an oil reservoir in front and a fuel tank to the back. Tyres are sized at 3.50×8 on composite wheels, comprising cast alloy hubs + spokes bolted to steel rims. Wheels are hung on swingarm suspension at the back and telescopic forks up front, hydraulically damped at both ends. We figure the groovy yellow fork gaiters aren't original and probably just camouflaging leaky fork seals from the MoT man. The exhaust pipe snakes its way around the right hand side to a small round cake-tin silencer ahead of the rear wheel.
Under the left hand side of the petrol tank is a vacuum operated fuel tap, so you don't really have to bother turning it off, it's just there if you need to switch to reserve. Being an automatic with kick-start and a footbrake on the right, the nearside bar has no lever at all. A lever to a cable operated choke sits under the cluster, which also sports a switch for indicators, but those are long gone.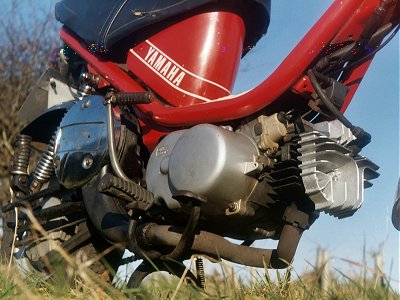 The Chappy's engine
Ignition switches on with a key just below the headstock, at the top of the trim panel, tweak the choke, and with a couple of jabs the engine fires up. If you start the engine in N, then there's a bit of a jolt when you engage gear, but we find you can still start with the drive ratios engaged. Low ratio (presumably for hill climbs or off-road use) allows you to do throttle wheelies, and revs out at 25mph. Drive ratio delivers responsive acceleration, to a comfortable cruising speed a little above 30mph, a top speed of 39mph on the flat, and a screaming maximum 44 downhill.
The handling is alright as long as your expectations remain conservative, otherwise the front end becomes rather unpredictable, diving in at low speed on tight turns, and partial to tramlining through surface changes at higher speeds. After a couple of 'exciting moments, discretion becomes the better part of valour.
Finally declared obsolete with the introduction of the new Booster and Nitro scooter models, 1996 was the last year the Chappy was officially listed, ending its run in any colour you like - as long as it's black!
Beyond the well-known far eastern manufacturers, there probably won't be too many familiar with the next make in the rare breeds section. The company was founded in West Germany on 2nd February 1948 by brothers Hans & Heinz Emmerich to initiate development of small lightweight 2-stroke engines, the first of which was run on June 20th. The following year at the DLG Exhibition in Hanover, the company exhibited prototypes in portable pumping applications, claiming the first horizontal rotary lawnmower, and showed a prototype 60cc scooter to Prof Heinkel. Only in 1951 with the development of the world's first motorised backpack plant sprayer that could be operated by one person (instead of stationary engine driven pumps with long spray hoses requiring lots of manpower), came the company's future trading name: Solo.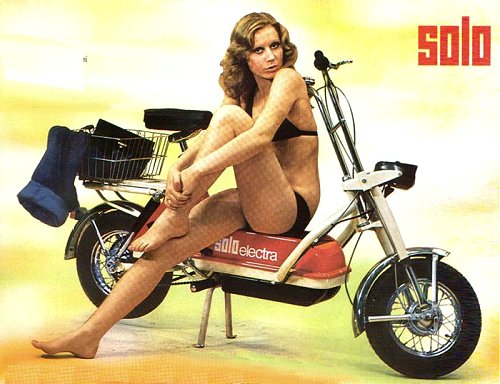 A 1974 publicity shot of the Electra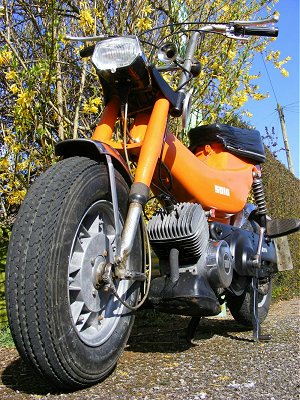 Solo 726
Powered cultivators and lawnmowers followed in 1956, and chainsaws in 1958. 1971 introduced a Solo 750 6-wheel all-terrain vehicle, the first 704 moped powered by their own make engine, and was joined by the 24 Volt Solo Electra battery moped for 1972.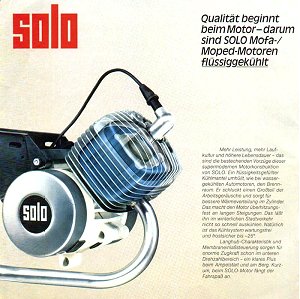 Solo cylinder water jacket
Our 726 monkey bike was built from 1975, featuring the same 50cc motor as the Solo moped range. The engine looks fairly typical, with mag-set on the right, a centrifugal clutch on the left, and V-belt take off to a driven flywheel - moulded out of plastic (hmmm, nasty)! The 10mm Bing carb is under the motor, with inlet manifold into the crankcase, drafting in by reed-valve induction. Then while you're down there looking at the carb, you can't help noticing those big fins around the barrel don't go down very deep! Its seems as if there's such a big core around the cylinder that you'd expect it to be much more than 50cc - but it's not. In the cylinder head is also an Allen plug for filling it up, 'cause the cylinder has a water jacket! So where's the radiator? Nope, there isn't one, no pipes, no pump - nothing. The engine just has a sealed water jacket around the cylinder!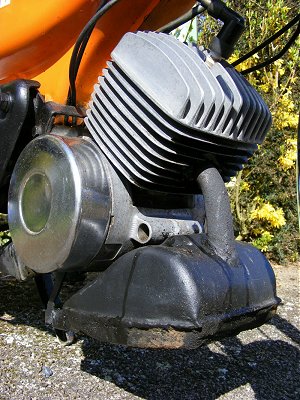 The engine on our Solo
It's puzzling to be exactly sure what that's all about, since it's hard to see it contributing anything much to the cooling function, and Solo don't make any particularly obvious claims in their literature to explain what the intention was, so the only conclusion might be that it's intended to quieten piston noise? We're not aware that this is generally much of an intrusive problem with mopeds, but there you have it. In case you're wondering why the combustion heat doesn't boil the water and blow the engine apart like a steam bomb, there's an expansion space allowed in the cylinder head, and you're probably recommended to use anti-freeze coolant mix or the hot water might eat your aluminium, or freeze in winter and crack the sleeve. Power output is given as 2.1bhp @ 5,000rpm, so that would seem fairly reasonable.
A plastic petrol tank is sleeved up the inside of the frame and accessed for filling by lifting the seat, while the fuel tap comprises a dial style switch that appears through the frame on the left hand side. Starting is really simple, just pull on the choke trigger under the left handgrip, pedal away, and the engine fires up easily when the clutch engages to spin it over. The choke trigger can be released immediately and the engine runs fine.
Twist back the throttle and initial acceleration proves fairly gradual due to the limitations of the single-stage automatic clutch coming in quite early, so the motor doesn't really begin to pull until the revs start getting up around 20mph. The undamped suspension, small wheels and wide tyres do make cornering a rather vague and unsure experience. Where any bumps are concerned, the 726 wallows around in a drunken fashion, and you just know you wouldn't want to try hustling this machine around at much speed, so it's probably just as well that our Solo doesn't prove an overly quick performer. Pace bike clocked 33 to 34 as best on flat with a tailwind. The downhill run scraped only slightly faster at 34 to 35mph, with further revs held back by continuous 4-stroking from restricted porting. Solo held its revs well for the climb back up the other side, maintaining 23 all the way up, but it would have been a sadly different story if we'd been attempting a hill start as the single-stage clutch would certainly demand significant assistance from the rider with the pedals.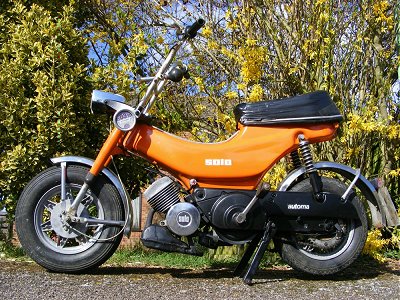 Solo 726
Solo's wavering VDO speedo did manage to indicate a surprisingly reasonable approximation of actual speed. While typically expecting good brakes with small wheels, perhaps Solo weren't quite conversant with the mechanics of these physics; though both brakes proved adequate, they did require heavy pressure on the levers to achieve the desired effect. A hole in front of the bottom yoke probably indicates where an electric horn was originally mounted, but a bulb hooter on the handlebars now seemed to have adopted this function. Lights operated by a switch on the headlamp, but in a seeming tribute to post-war autocycles - still delivered no more than a golden glow!
Returning to base, Solo was happily ticking over, but how to stop it? There's no decompressor, and no obvious cut-out switch, so we ended up pulling in the choke trigger until it petered out.
Solo's performance proved limited by its restricted porting, but was probably as much as the rider would want considering the unsurity of 726's cornering abilities. The single-stage centrifugal clutch barely seemed practical for general usage, and would certainly prove woefully inadequate in hilly terrain. We have seen other Solo motors fitted with hydrostatic clutches, so the manufacturer may seem to have attempted to address this shortcoming.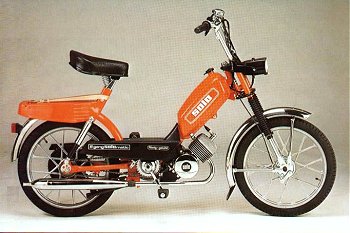 1981 Solo 712
726 measures 4' 10" from end to end and, fully fuelled, barely tips the scales at 8st 5lb, so might nearly make a genuine flyweight of 112lbs if weighed-in with a dry tank.
Advertising references to Solo mopeds seem to conclude around the early 1980s, and moped models appear to have been discontinued during that decade. The company continues with motorised garden products.
---
Next - Smaller than Monkey, is that possible?
The world is shrinking, the Witches rule supreme, and a hero of the cinder track promotes a micro-bike of every schoolboy's dreams.
This could represent the last chapter of a mission we started 8 years ago, to produce features on all previously unpublished machines of local interest. Stella - Ostler Mini-Auto - Atco Trainer - just SIM to complete the set, but this article is barely started yet ... can we make it in time?
---
[Text and photos © 2009 M Daniels.]
---
Making
Monkey Business
Monkey Business, had been slowly evolving in the trees for some time. It probably started around November 2005 with Paul Daniels purchasing the Solo 726 at Kneel's Wheels Mopedjumble. Being such an oddball machine, it was just begging for an article once it was fixed up. With Julian Bocsi already running the Loncin Dax at local events, Paul Nelmes acquiring the Yamaha Chappy, and Mick Cook building the Suzuki Magic special, it became clear there was a regional outbreak of monkey fever going on.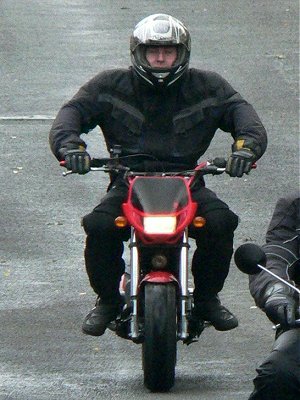 So ... why are they
called Monkey Bikes?
In these pre-IceniCAM days, articles were being developed for a thankless club magazine, the limited format really only allowing space for presentation on individual bikes, but the committee of appointed zombies managed to solve that problem by deciding its members no longer wanted to read feature articles anymore! Beset with all manner of issues from appalling management and control politics poisoning the club like some systemic disease, that failing situation was obviously beyond the capacity of anyone to help it (nothing has changed).
Evolution has a natural history of adapting to fill gaps, and the creation of IceniCAM established a new horizon in March 2007. It quickly became clear that the unrestrained structure offered appreciably more capacity to produce far more comprehensive and much bigger features, so you might say the new fish grew to fill the bigger pond.
With the four monkeys now banded together in a troop, the 'Monbus' text file began to develop over much the same period as the super-sequence of In the Trade, Pandamonium, and The Autocycle Roadshow. Although also growing into a truly monster feature, it always stood independently from the other three due to the nature of its content. News had leaked out that we were testing monkey bikes, and a number of people started pressuring us for the item, so as the triple sequence closed, Monkey Business became the logical successor.
Working the text to completion on four different makes in just one feature involved a mountain of work, and research, but only as the article completed came the realisation of what a gargantuan item it had become. Nearly four A4 pages of text with small margins in a 10 point font size was a huge body of work and, by the time all the pictures were added and laid up in magazine column format, was no surprise it stretched to six pages - our biggest ever article!
Being such a change from the traditional type of bike presentations, involved different sources from our usual general research, and special thanks have to go to Monkeyrun and Carl Evans for assistance with research and material, particularly on the Magic.
Considering the size of the finished production, costs seemed pretty reasonable at only £20 for film/CD and £30 fuel. Sponsorship became split between Sid at Felixstowe Motorcycle and Auto Centre, and Ivan A Flogalot (because Ivan likes monkey!)
---