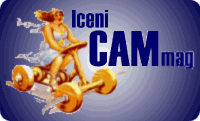 IceniCAM Privacy Policy
---
Our commitment to your data protection.
Our policy is to respect and protect the privacy of anyone who visits our website. Therefore, we do not collect any personal information (which means data from which you can be identified, including your name, address, e-mail address and other information that identifies you as an individual) from users of this site.
What about the advertisements?
If you place an advertisement on this site, you will have to provide contact details so people can respond to the advertisement. The contact information you provide is entirely your choice. Adverts will remain on the site for three months and will appear in the printed magazine published during those three months. If you inform us that the articles advertised are sold, your contact details are removed. Unsuccessful advertisements are archived so they can be re-run if requested.
Magazine subscriptions
You can subscribe to a printed copy of our magazine. If you do this, we need a name and address to post the magazine to. This data is used to send out the magazine, remind you when your subsciption expires, and nothing else.
Starting in January 2020, we will be operating an e-mail mailing list. this will be used to send notifications when a new magazine is published—and nothing else. The only data held on the list will be the e-mail address and a name (which doesn't even have to be your real name).
What about cookies?
We do not use any cookies on our site and we do not track how you use our site.
This site contains links to third-party websites, which will have their own cookie policies that we have no control over. For example, the site search facility is provided a third party; they will have their own privacy policies, which we suggest you should check. The embedded YouTube™ videos on this site link to the youtube-nocookies.com domain.
What is the jurisdiction of this policy?
These conditions of use are governed by English law and any dispute connected with this site is subject to the exclusive jurisdiction of the English courts.
---


This page was updated on 3 November 2019

| CAMmag Home Page |
---