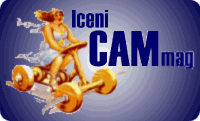 ---
Here are some pictures from Rando Cyclos at Sar Poteries in the Avesnois region on Northern France. This event has been running for 20 years and attracts riders from many countries.
Dave Watson supplied the pictures, but we've made up the captions... so blame us for any mistakes, not Dave!
The Rando takes place on Sunday, but many participants make a weekend of it, so our first picture is from...
Friday evening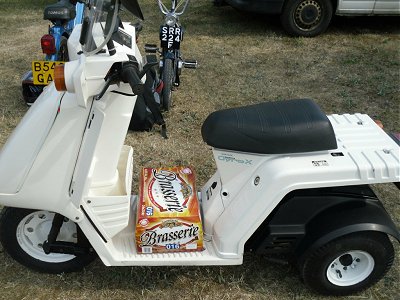 Honda Gyro on the campsite at Felleries
Saturday evening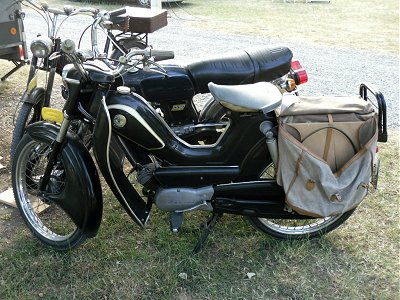 A look at some of the Berini mopeds on the camp site, starting with this Corona.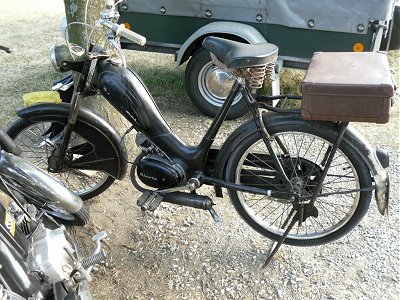 This is a Berini M21 single-speed moped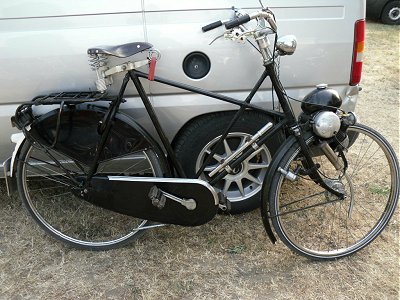 Berini M13 cyclemotor
Sunday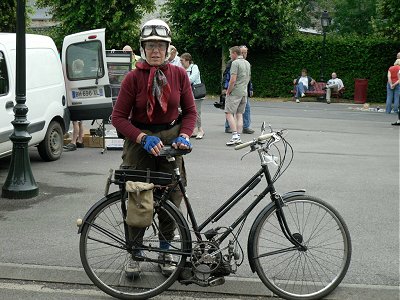 In the morning, entrants gather in the town square of Sar Poteries. Here's Philippa Wheeler with her Vincent Firefly.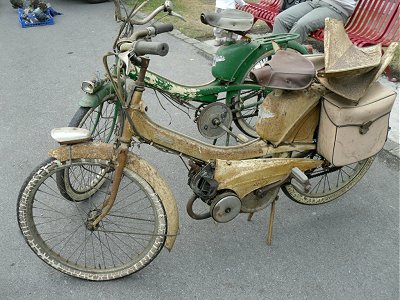 There's a small jumble there too. A Mobylette en son jus.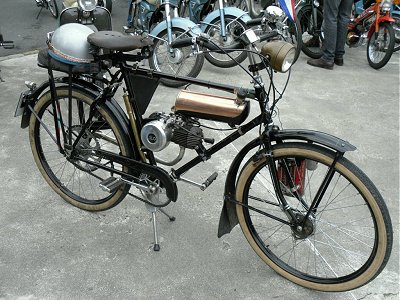 An Jlo FM48 cyclemotor.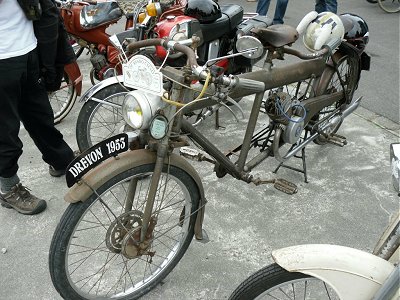 This Drevon tandem is powered by a Sachs 98cc engine; its a purfose-built bmachine with the frame top tube acting as the fuel tank.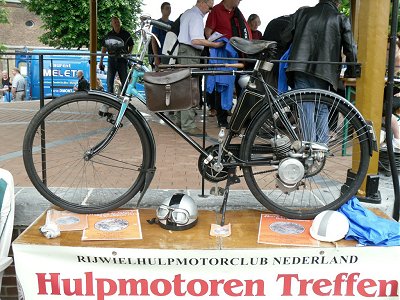 RHC-Nederland had a stand, displaying a MAW cyclemotor.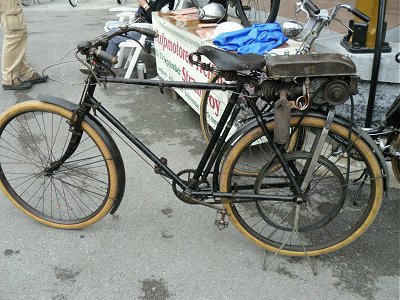 One of the older machines at the event: a DKW Hilfsmotor from the 1920s.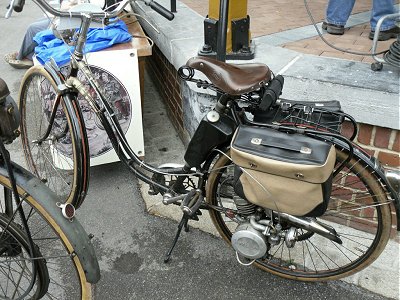 Another one of those East German MAW cyclemotors.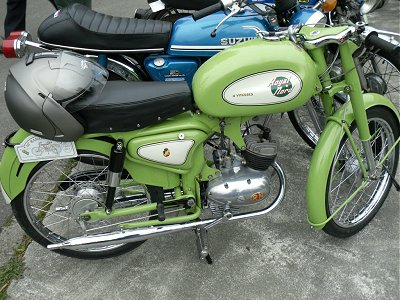 Royal Nord Grande Tourisme 4V.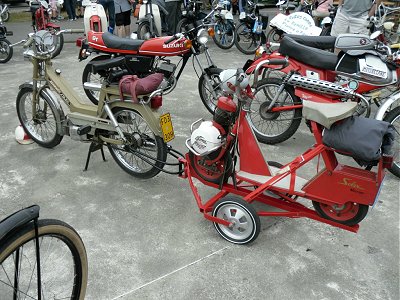 Two Solexes: a Micron on the trailer and a Ténor towing it.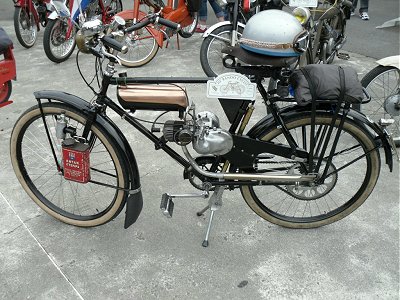 Another look at the Jlo FM48 cyclemotor.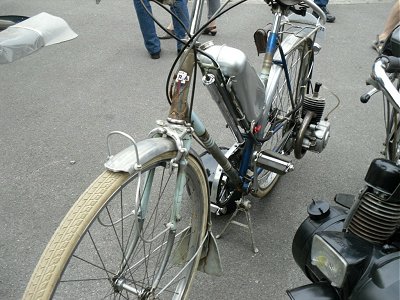 A mystery cyclemotor.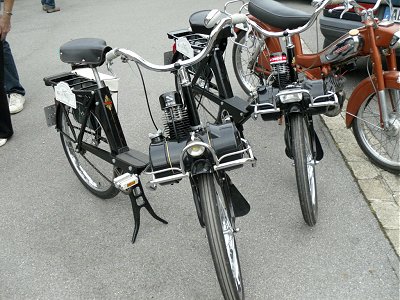 Two more conventional VéloSoleXes: the nearer one is a 2200 and the other a 3800.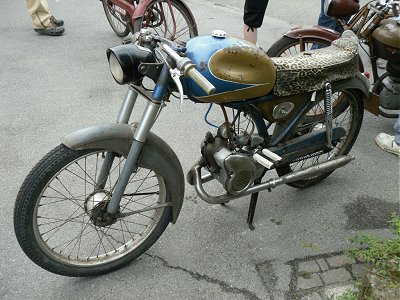 Flandria Ultra Sport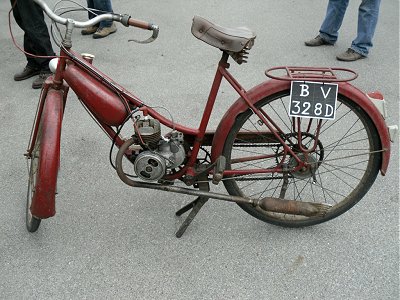 We're not sure what make this moped is, but we can tell you that it has aa ABG VAP-4/DT engine..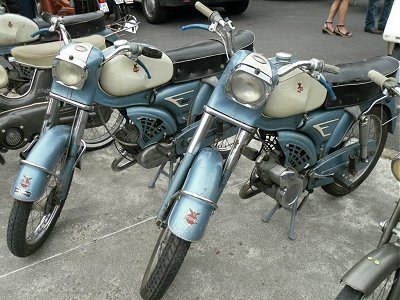 A matching pair of Flandria Rally mopeds.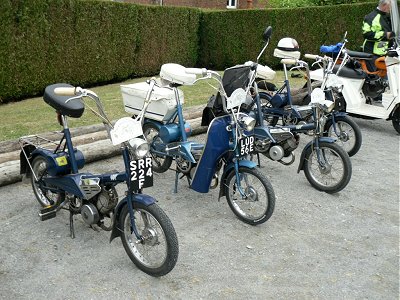 From left to right: Raleigh Wisp, Raleigh Wisp, Raleigh Wisp and Raleigh Wisp.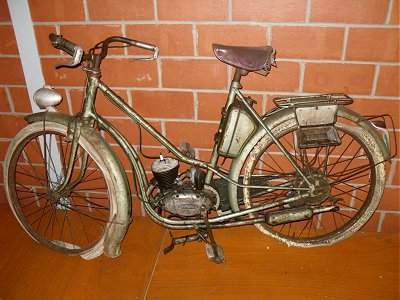 This le Poulain powered VBF moped was the raffle prize. It dates from 1952 or 1953 and was made in St Etienne. Bernard, who won it, is planning to have it restored in time to do next year's Rando Cyclos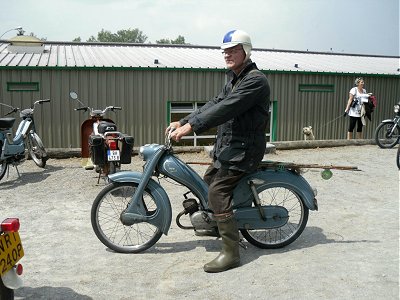 DKW Hummel.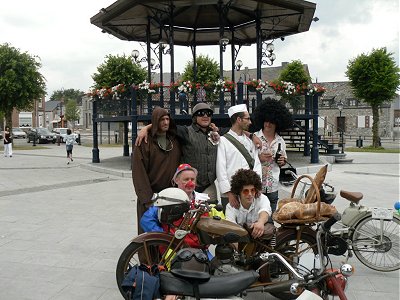 To celebrate the 20th anniversary of the Rando, the organisers suggested that entrants could come in Fanct dress - these participants entered into the spirit of the occasion.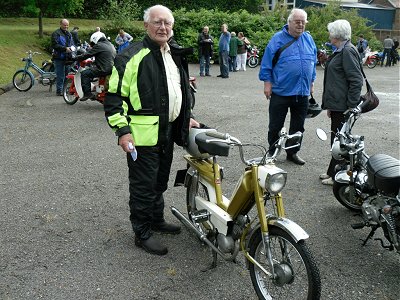 Peter Lawson with his Flandria.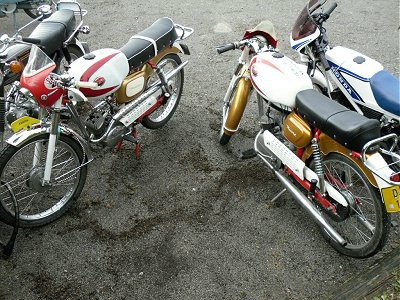 Two different versions of the Eysink Record.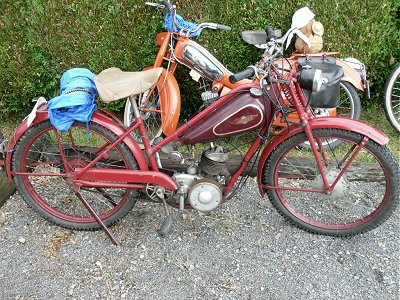 James Superlux autocycle.
And no 20th anniversary would be complete without a cake.
---
June 2011
| CAMmag Home Page | List of articles |
---