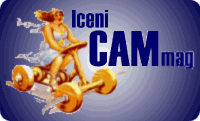 ---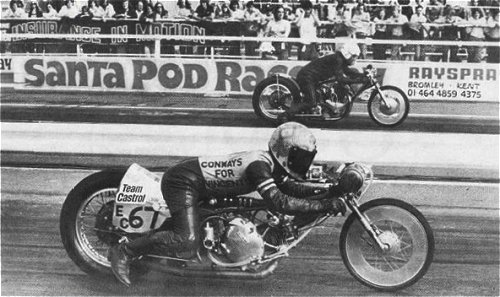 This photograph appeared in the February 2010 issue of Old Bike Mart. Upon closer inspection, the rider in the background is none other than 'laughing' Pete Smith, EACC Essex Chapter patriarch.
In 1973, he began drag racing, riding a Triumph Bonneville with a 750cc barrel. He later bored it out to 820cc.
At this time he was sponsored by Hadleigh Custom Bikes. This sponsorship was vital, as the bikes ran on Nitro methane. This cost £5.50 a gallon and Pete's bike only reached ½ mile per gallon.
In 1976, Pete was runner-up to John Hobbs in the British Championships. His highest recorded speed was 158mph, with a standing start ¼ mile clocked at 9.05 seconds.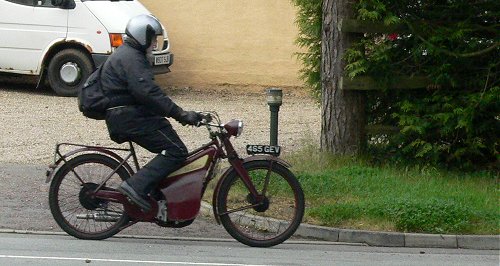 Mr Smith's New Hudson autocycle is slightly slower.
Bearing this in mind, your reporter has vowed to no longer make Pete the butt of his jokes ... well ...
---
From the April 2010 edition of Iceni CAM Magazine
---
---