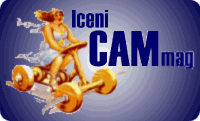 ---
A few years ago, the rally scene in Icenia seemed to be slipping into decline as a number of traditional organisers dropped out, and events faded from the calendar. Eventually, the East Anglian & Mince Pie Runs were pretty much left carrying the standard, with a couple of other occasional minor events to support, but on the whole, the local calendar became a desert. For a while, the remaining rally enthusiasts found themselves travelling up to 150 miles to attend events in other regions, simply because there was little in the home patch, but at least that enabled some opportunity to take stock of how other events operated.
In January 2003, the Iceni rally team was formed, comprising Neil Morley, Laurence Coates and Mark Daniels, with the intention of reviving local events. Nobody else was going to do it for us, so the best solution was to take on the task ourselves.
The plan was to introduce one run each, but with the team working together on all events to spread the load. It was agreed from the outset that all the new events would be venue-based, since the experience of anyone travelling some 100 miles to a run, only to find the event starting from some bleak and windswept car park with no facilities or reception, didn't tend to set one in the best frame of mind to appreciate the event. In the 21st century, we believed that people deserved better. This wasn't actually a new idea, the concept merely being taken from a few previously established examples of venue-based events: David Evans's Mince Pie Run from Orwell Yacht Club and Steve Cobb's Roydon Rebels Run from Roydon Village Hall, particularly standing out.
We also agreed that all courses would be fully marked to appreciably reduce the common problem of route finding, in trying to follow generally dodgy direction notes in unfamiliar countryside, and often under inclement weather. Anyone who's ridden rallies and got detached from the course maker (who generally gallops off), will know how frustrating direction finding can be, and the more you have to stop and refer to notes, the further you fall behind. We believed people deserved better in the 21st century, so we developed comprehensive course notes with maps, and operate a marker system over the full route.
Village Hall based venues offer the advantage of freeing organisers from the obligation of being tied to favouring landlords premises when using their car parks as base, so allow the most pleasantly structured event of two legs, with a halfway break at the most ideal hostelry of choice.
We all negotiated, booked and paid for our own selected Village Hall venues, Neil handled course planning, communications, printed course notes and maps, Laurence managed and marked all courses, and Danny handled further course planning, registration, promotion, communications & later jumbles. So the team's event series commenced, with the pilot 'Peninsularis' in June 2003, followed by Laurie's 'Radar Run' in April 04, 2nd Peninsularis in July 04, the 'Coprolite Run' in September 04, and 'Kneels Wheels' in November 04.
I remember well that first Radar Run from Hasketon Village Hall, and how grateful everyone was for the venue, as they registered in the dry, drinking hot coffee, munching biscuits, and looking out the porch as the rain hammered down outside. I also recall looking round at the unused capacity within that hall, and thinking - now what could we do to use all this empty space? And that was the seed - Mopedjumbles!
The idea was taken from across the North Sea, in The Netherlands, where the hugely popular and established Dutch moped scene operates on an unimaginable scale compared to the UK's token situation. I have been to many Dutch Mopedjumbles (Bromfietsbeurs), almost exclusively indoors, held with pitches set up in industrial units and attracting many hundreds to thousands of punters from across The Netherlands in search of parts, and traders that come from as far as Italy, Germany and Belgium. And, we're not talking just the big venue at Utrecht here, but also many provincial events across the country, Barnaveld, Zaandam, Vriezenveen, Hardenberg, Meppel, NVT at Woerden, Mierlo, Ubachsberg, even a specialist sports moped event at Heerhugowaard. That's just a few, there are many more!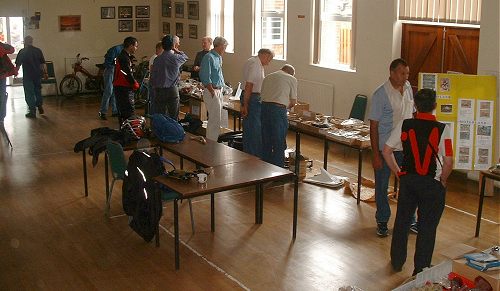 2005 Peninsularis Jumble
If you're after Cyclemotor, Autocycle or Moped parts in this country, where can you go? The main circuit motor cycle jumble traders are not interested in the small stuff, so what have we got - nothing! And if we don't do something for ourselves, then nobody is going to do it for us! Putting together our own club-based mini-jumbles in the village halls would complement events and utilise the available space that comes at no more cost as part of the venue package. The Dutch style indoor format doesn't leave the event to the mercy of the elements; tables and chairs are standardly provided by the village halls, so no-one needs to drag around pitch equipment, and can just bring along their spread of parts. When the run sets off, the venue can be secured, with no need to remain behind and mind the pitch, so anyone operating a stall can ride or drive along with the run, knowing their stand is safely locked up till the rally returns.
While the formula was ideal, the greatest difficulty was that almost nobody was initially geared up with any stock to support such events with Cyclemotor/Autocycle/Moped parts on any regular basis. You can't just push a button and have these things happen overnight. It really is a matter of getting committed members, enthusiasts and dedicated stall operators working together to progressively build up their jumble and stock over a period of time.
Though village halls will always involve some hire cost, you can't really charge members or stall operators to try to recover these costs or you'll simply put everyone off before you've even got up and going. These have to be viewed primarily as locally-based events, so it's mainly for the interest of regional club members, and with the attending numbers, accepting the jumble aspect will certainly involve far more effort than profit. As probably our most dedicated 'main circuit' jumbler, TigerMan says, "you never make any money from jumbling, you just get more stock".
So, 3 Kneels Wheels Run/Jumbles, 5 Peninsularis Run/Jumbles, 4 Radar Run/Jumbles, and 3 Coprolite Run/Jumbles, and where are the events today? Well, the mopedjumbles certainly complement the rallies, generally doubling the expected number riding the event, and are typically matched by a similar number of non-riders turning up just to attend the jumble - so an event traditionally attracting say seventeen riders would double to around 35 riders, and a total attendance around 70. The advantage of civilised facilities and complimentary refreshment services upon arrival, consistently attracts people from further afield, confident that a proper reception awaits their arrival.
These excellent courses prove popular with riders of all types of machine, the halfway stops are all prime selections for scenic locations, good menus, service, and fine ales. The route-finder marker system practically eliminates any requirement for map reading, meaning no one gets lost, and the back-up/support vehicles that circulate the courses collect any stragglers without any fuss.
The mopedjumbles continue to develop, due greatly to the dedication of regular pitches making constant efforts to expand the range of parts available, but also complemented by the varied interest of general members' smaller stalls from occasional shed clearances.
For its 2nd year, The Radar Run relocated to Bromeswell in 2005, and the Iceni Rally Team expanded by one in 2006, as Paul Nelmes took over organisation of the Radar Run from Laurence Coates. Laurie continues his position as senior course marker for all events, and is now to be assisted in this task by new fifth member to the team, Martin Gates.
Constantly increasing attendance at Iceni joint run/jumbles have seen Peninsularis, Coprolite, and particularly the Radar Run (over 100 attended the last event on April 15th 2007) coming under pressure as the venues approach their capacities - still, it makes for a great atmosphere!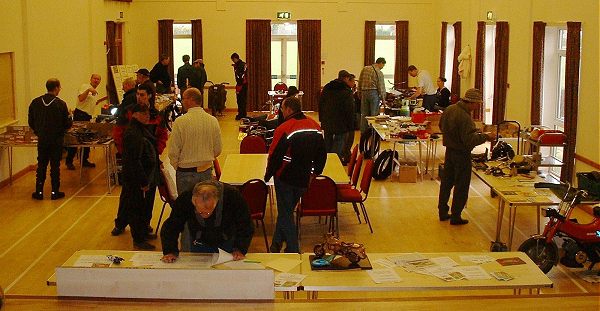 2006 Kneels Wheels Jumble
Rising costs to hire the modern and impressive Henley Community Centre for Kneels Wheels Run and Mopedjumble means that another venue will probably have to be secured for 2008, and the rally route amended accordingly.
Voluntary donation at the catering facilities is the only means by which these events are financed (or not financed sometimes, in which case they become 'sponsored' by the organiser). Any surplus is always carried forward to the next event.
Radar, Peninsularis, Coprolite, and Kneels Wheels are completely unique in the way these events are structured. There is nothing else like them on the rally calendar. The constantly increasing attendance they achieve, serves to underline the popularity and success of their 'New Generation' format. They could well point toward a better future for Cyclemotor/Autocycle/Moped rallying in the UK, but could anyone else pick up the formula and follow the model? This seems unlikely, since without financial support from any parent organisation to establish events, few section organisers are likely even to consider the prospect, never even minding the work involved to actually deliver the jumble concept to reality. Certainly, the most difficult aspect is finding committed people with related stock to present, or you simply won't have any jumble at all! Any events take time to develop, building up reputations and earning their attendance, and seemingly need to allow a period of several years to establish, before achieving any prospect of stability. These four pilot events have very clearly crossed the brow of that hill now, and gathering momentum as they roll away across the green plains of success.
Considering the Dutch scene, delivering established mopedjumbles on a national scale, the UK situation is a sad comparison! Probably many enthusiasts would love the prospect of dedicated mopedjumbles establishing in their local section area, and the Iceni Team would be happy to advise, assist, and support (if practical) any organisers considering events based around the Run/Jumble joint format, and Anglia region now has a small established team of moderately mobile mopedjumble operators, some now capable of delivering quite significant pitches, to support events beyond the immediate local area. The Iceni Team believes this could be the way forward, to draw more dormant enthusiasts out to events. Our invitation is open to all, visit these events and see what the 'New Generation' formula has to offer, then consider what it might achieve in your section!
---
This article appeared in the July 2007 Iceni CAM Magazine.

| CAMmag Home Page | List of articles |
---