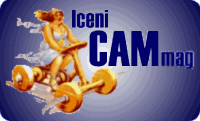 ---
Page 1
Our first trip to the Netherlands in 2012 and we're off to Utrecht for the big Vehikel jumble. This will be the last one held at the Veemarkt in Utrecht. Veemarkt has been threatened with closure for quite a while now, but this time it's really going to happen. The next Vehikel (on 3 June 2012) will be at a new location: Home Boxx..
Today we're at the first day od a three-day event. We've turned up early in the morning (it doesn't open untill 14:00) to get some pictures while the stands are still being set up.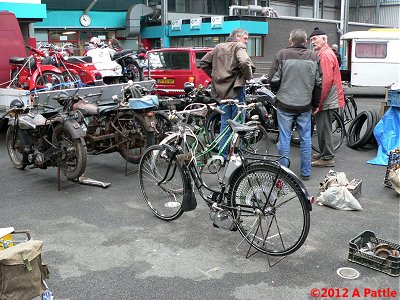 Almost the first thing we see as we come through the door is this Lohmann - it's the Hispania version.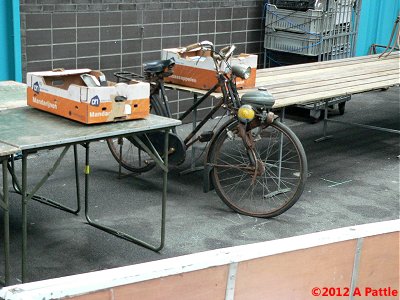 A Berini trying to hide between two tables.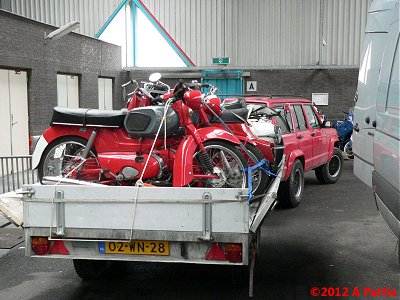 A trailer load of bikes turns up and goes into the hall.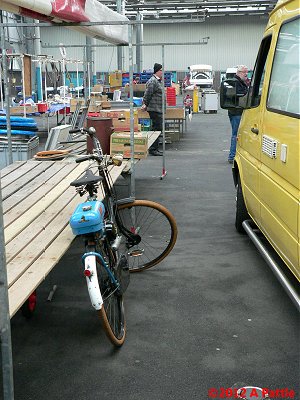 A Mini-Motor looking a little lost and abandoned.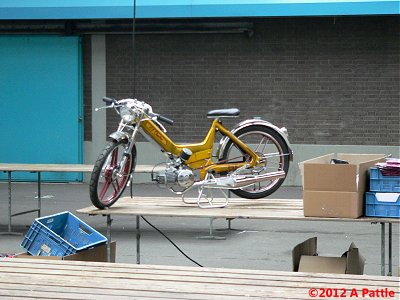 This used to be a Puch Maxi; now the name on the tank says "El Disastro".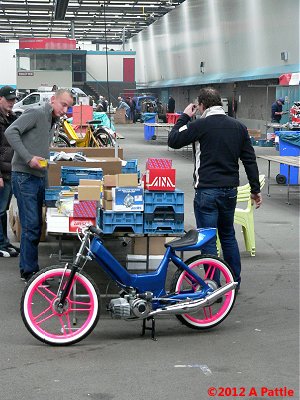 Another customised Puch Maxi ...
... and another. The Puch Maxi seems to be the favourite bike to customise - possibly the Dutch are running out of fan-coooled Puch mopeds to do up.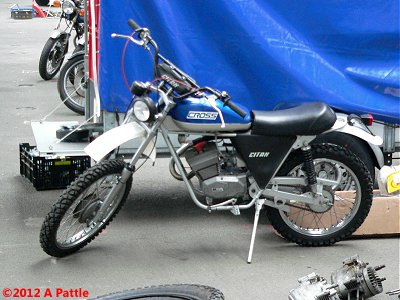 A Gitane Cross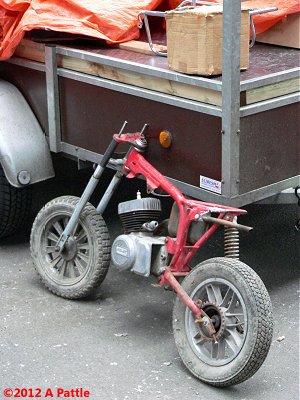 The remains of an Italjet child's motor bike.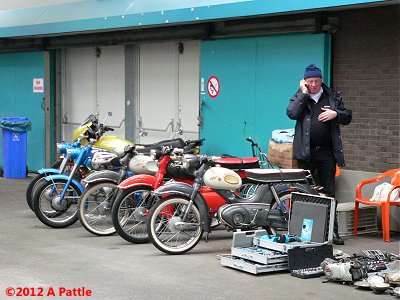 The first three in this line up are Kreidlers - the other two look like Zündapps from here.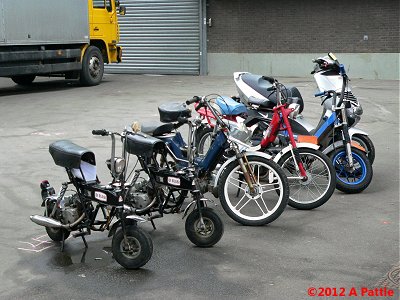 Another line-up. Two little Di Blasi folding mopeds start this line.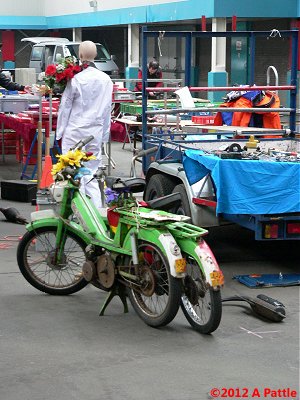 A pair of Mobylettes cling together for mutual protection.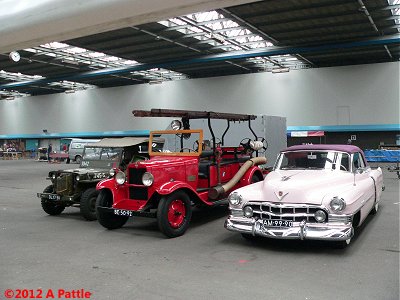 This event isn't just for bikes - you could buy a Jeep, or a fire engine ... or a pink thing.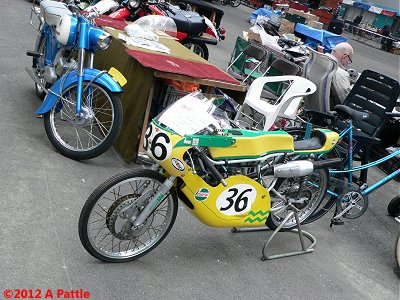 At the more exotic end of the 50cc spectrum is this Minarelli-powered racing machine. It could be yours for just €5,750.00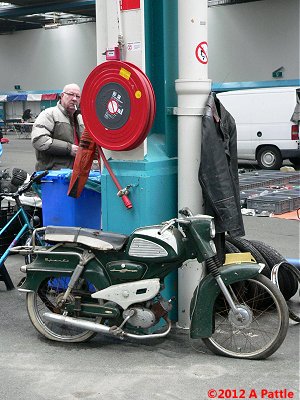 This Sparta looks a bit sad with its flat tyres but, apart from that, it's in very good order.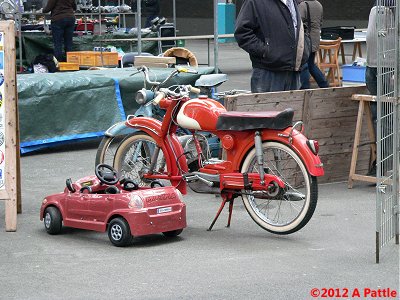 The start line of an unfair race - even with the standard Dutch carburetter, the Victoria Avnti should win easily.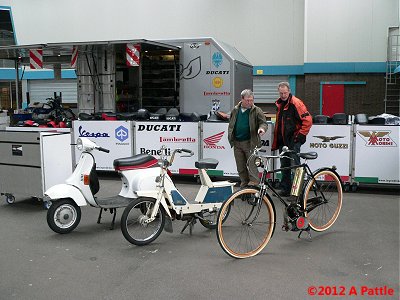 A mixed selection: a Mosquito cyclemotor, a VéloSoleX Flash shaft-drive moped and a Vespa scooter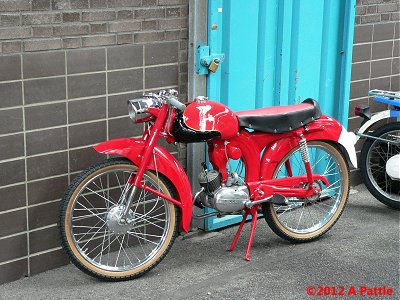 This Vesting sports moped is powered by a Demm engine.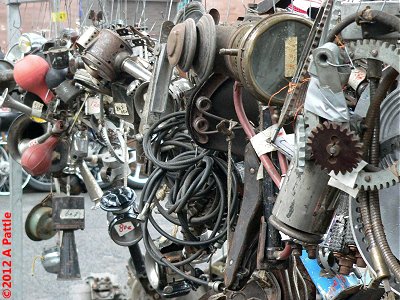 A wall made of stuff - all sorts of stuff.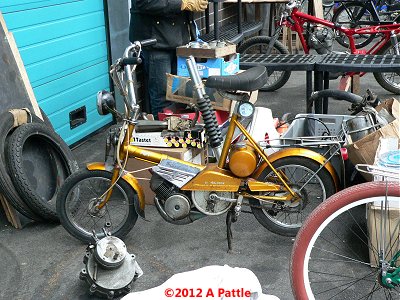 A Raleigh Wisp - well, what else would you expect a Frenchman to be selling at an event in the Netherlands?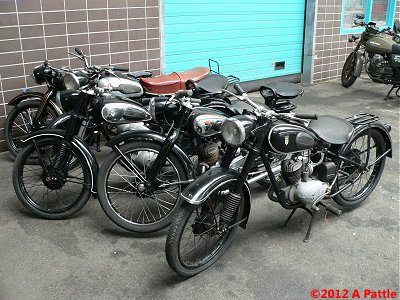 Most of the machines in this little clump are NSU Foxes - the bike Vincent had a go at selling in the UK - but there's a DKW in there too.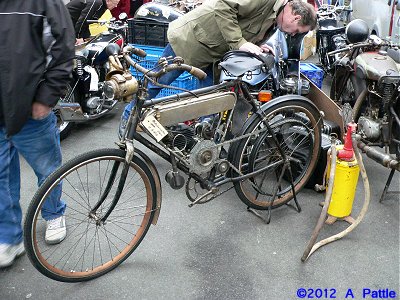 The price on this Motosacoche was €8,950.00. The label says it dates from 1906; we reckoned the engine number dated it to 1907.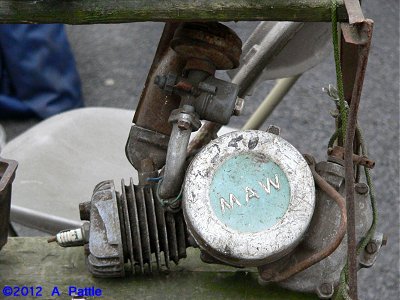 MAW cyclemotor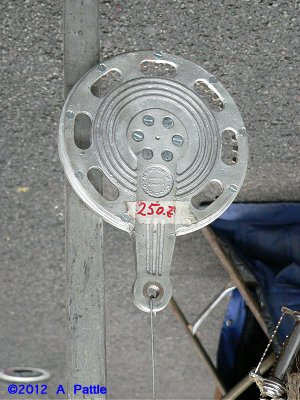 A chainwheel for a Ducati Cucciolo will cost you €250.00; that may seem like a lot of money but, if you have a Cucciolo with the chainwheel missing (as they often are), you're going to need one. (Cucciolo chainwheels aren't really lighter than air - we've turned the picture upside-down to make the price label easier to read.)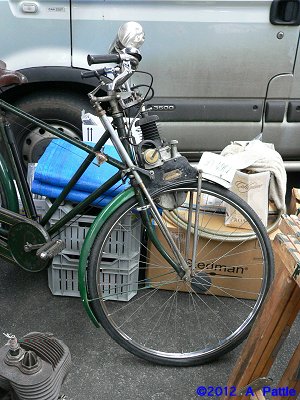 We're sure we've seen this Cyclotracteur at previous Vehikel jumbles.
That's a few pictures to be getting on with; we'll bring you some more in the next day or two.
---
March 2012
| CAMmag Home Page | List of events |
---